Enjoy this Creamy Blueberry Balsamic Salad Dressing on your salads all summer long. This homemade salad dressing recipe is easy to make and is loaded with blueberry goodness.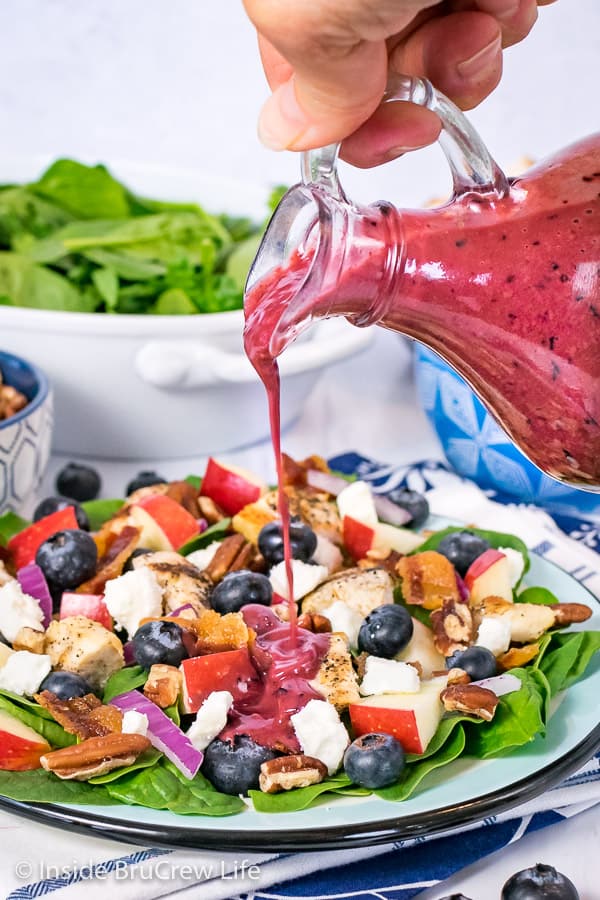 A few weeks ago our kids were all about eating lots of fresh fruit. We couldn't buy it fast enough. It seemed like as soon as we bought a box or two, the fruit would disappear right away.
Then last week we bought a few more boxes, and they just sat there. I guess the kids are over fruit for right now.
Before the blueberries went bad, I decided to get creative and make a spinach salad with a homemade blueberry salad dressing for dinner. It is officially my new favorite summer salad!!!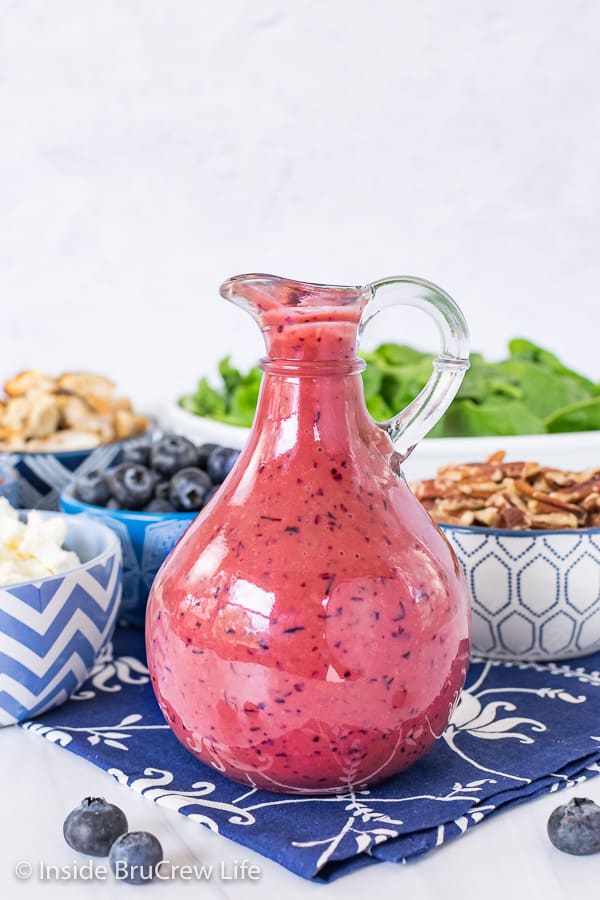 Most of the time we just buy a few different bottles of salad dressing. But a few years ago I started making a few homemade salad dressings.
It's actually easier than you think to make salad dressing. All you need are a few key ingredients and a few extra additions depending on what flavor you want.
This Homemade Honey Balsamic Vinaigrette is one of my favorites, and it is great on green salads or pasta salads.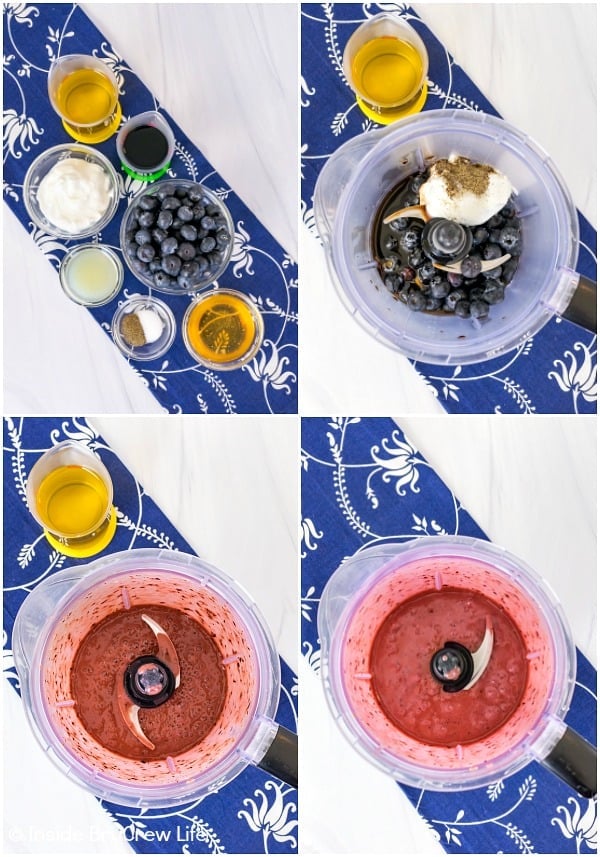 Most salad dressings consist of a base of extra virgin olive oil and vinegar. I generally like to use 2 parts olive oil to 1 part vinegar, but you can adjust to a 3:1 ratio if you want it less tangy.
How to make Creamy Blueberry Balsamic Salad Dressing:
Place blueberries, vinegar, yogurt, honey, lime juice, salt, and pepper in a blender or food processor. (full recipe at bottom)
Pulse until creamy and blended together.
Pour the olive oil in a little bit at a time, pulsing after each addition. Once everything is emulsified, it is ready to be served.
You can also whisk in the oil a little bit at a time, but this will take more time and the dressing will not come together as well. I recommend using a blender if you can.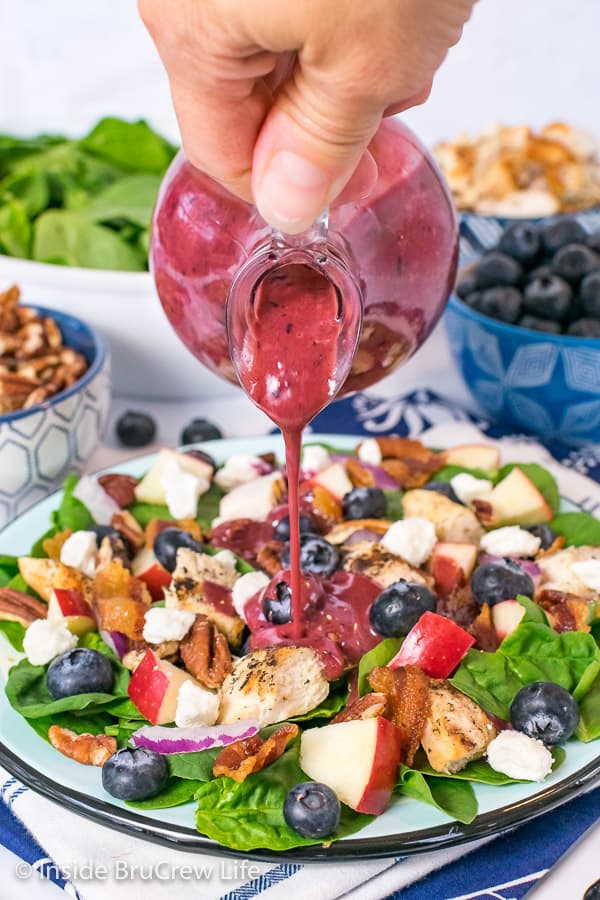 This blueberry salad dressing is the perfect way to use up blueberries that are starting to get squishy in your fridge. This Avocado Lime Salad Dressing is great for ripe avocados.
Can you use other fruits in this salad dressing?
You sure can. Raspberries, blackberries, or strawberries would be a great substitution for the blueberries.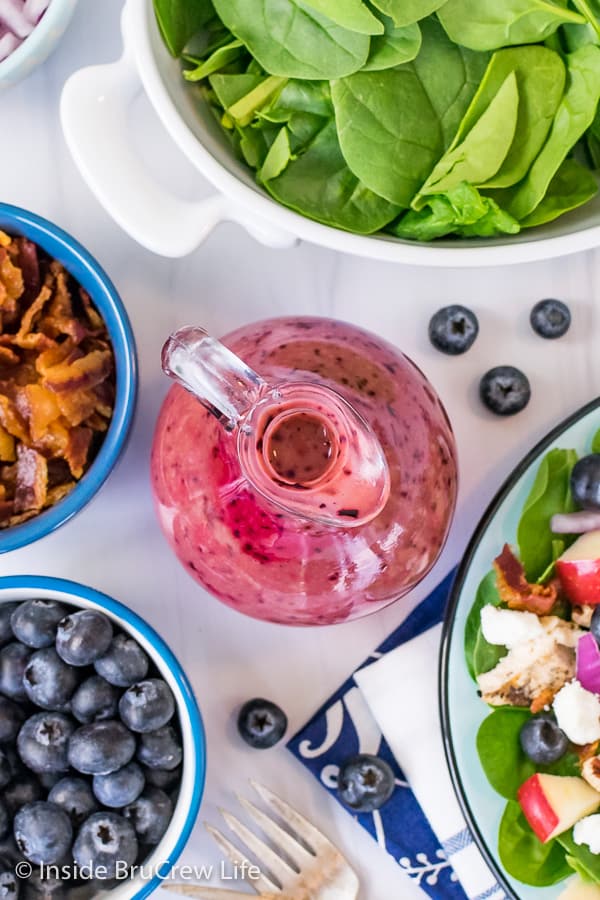 Do you need to refrigerate this creamy blueberry salad dressing?
Yes, there is yogurt in this dressing so you will need to keep it in the fridge.
How long will this homemade salad dressing last?
There are no preservatives in this dressing so it will only keep for about a week. It may start to separate as it sits in the refrigerator, so you will need to shake or blend it again before using.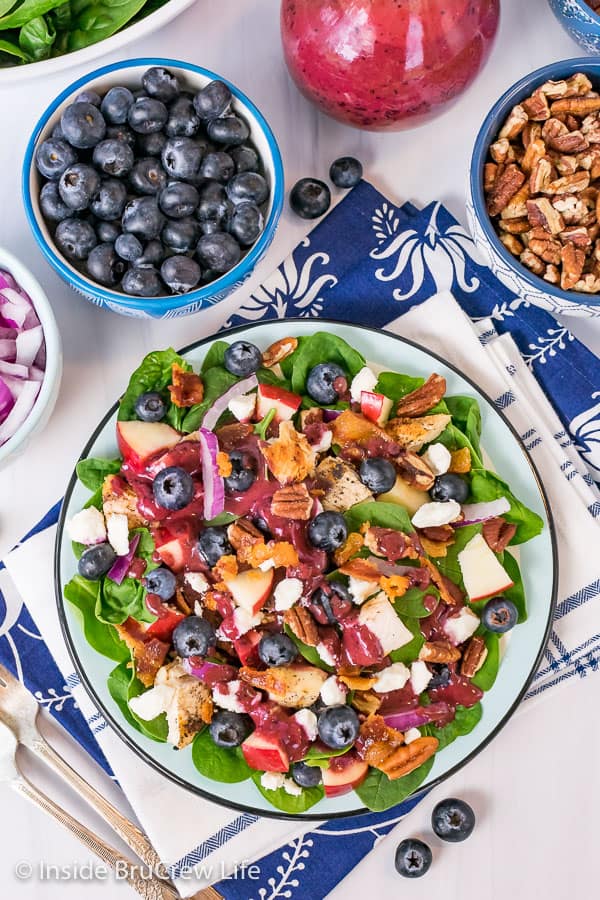 Other salads you may enjoy: