Say hello to your new favorite healthy dessert. These little Low Carb Cherry Jello Parfaits are easy to make and are low in calories. Perfect little snack to curb those sugar cravings and desires.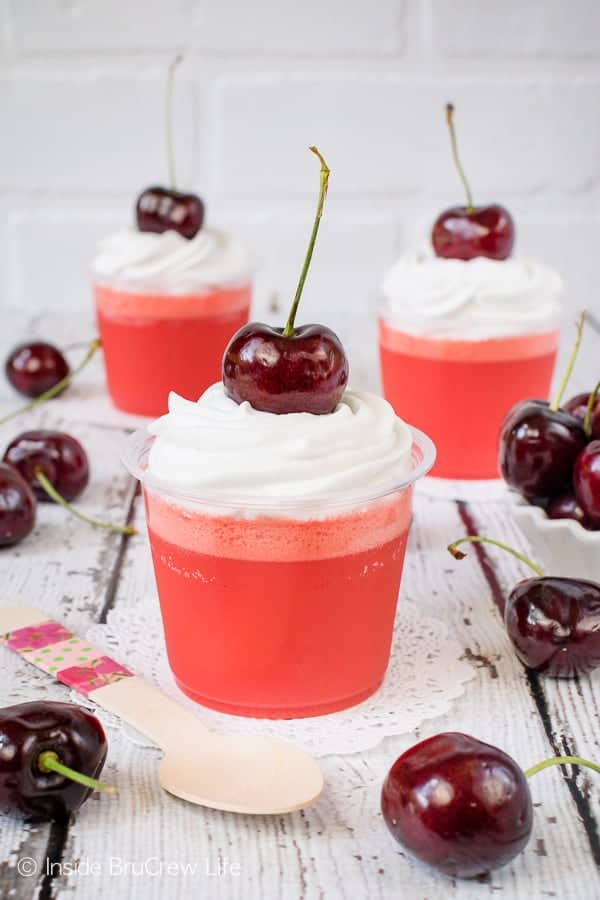 I realized that it seems like lately all I have been sharing is healthy food. I promise this isn't becoming a diet site where all I talk about is working out and our healthy eating. Although, some of you may feel that way...
The way we started eating a year and a half ago is NOT a diet, but it has been a lifestyle change for everyone in our family. Since that is what we have been eating and making, I have been sharing these foods and why we are eating them here on the blog.
Please tell me there are others of you that are happy about the healthier options I have been posting.
Trust me, I still have a sweet tooth the size of Texas that no amount of healthy eating has been able to change. So, there are lots of decadent desserts I still need to share with you!
We do limit certain foods most of the time, but nothing is off-limits to us. If the urge for a certain food hits, we indulge from time to time. Or if it's the holidays or a special occasion, we eat what we want. Basically this ends up looking like an 80/20 way of eating.
80 percent of the time we eat clean and make lean and green meals for dinner. The other 20 percent of the time we eat pizza, pasta, and desserts. It's definitely a balance, along with working out and keeping active.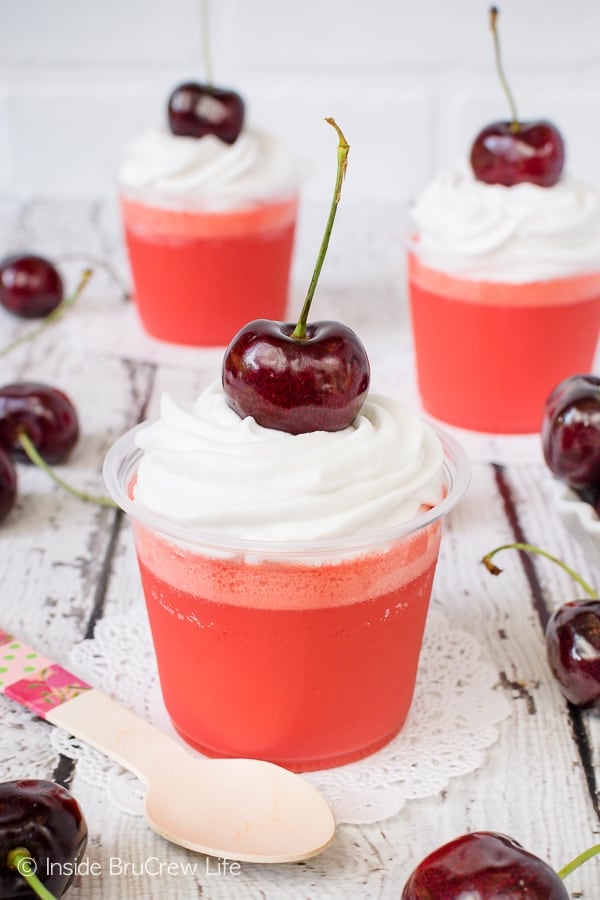 For me, I have to keep a closer track of what I eat and what I weigh because I have a slower metabolism and my body type tends to pack the weight on quickly when I go crazy eating all the things. So, I track my weight and my measurements in a journal a few times a month. This helps keep me accountable for what I eat.
Your body type and metabolism may be completely different, so you may not need to do that at all. It is all about finding what works for you and sticking with it. Plus, that accountability sure helps when I have to taste test Ultimate Reese's Cheesecake Brownies or a Cheesecake Apple Pie.
Someone has to take one for the team and taste and enjoy all these yummy desserts that happen in our kitchen. My sweet tooth is so glad it gets to be me.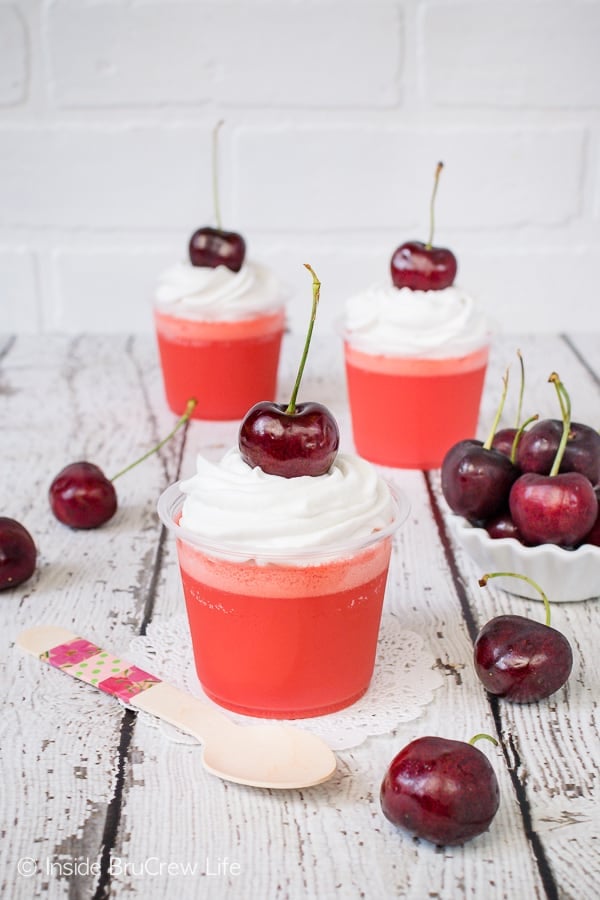 My sweet tooth is also glad that these two ingredient Jello cups are sugar free and carb free. Gotta love a dessert you can enjoy more of, right?
Of course, I enjoyed the month of December and all the desserts that were around a little too much. There were a few too many cookies and candies consumed, so a little weight crept on. That means this month I'm pulling back and eating healthy, so I can enjoy snacks for Super Bowl and treats for Valentine's Day.
Speaking of which, these easy Jello parfaits or this Healthy Chocolate Lava Cake would be the perfect ending to a sweet Valentine's dinner. Just saying..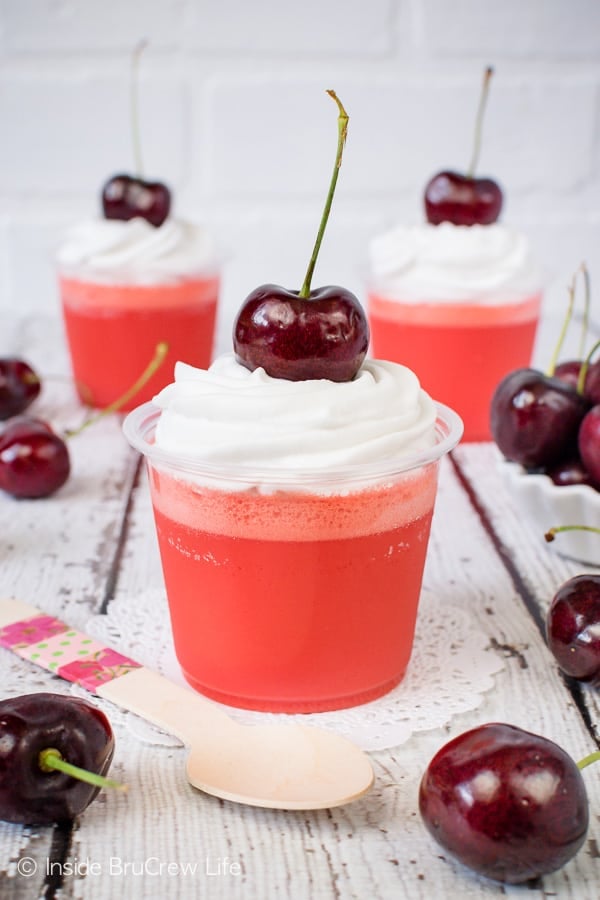 Ingredients for low carb Jello parfaits:
Sugar-Free Jello - any flavor works. Feel free to change it up with your favorite gelatin flavor.
Boiling Water - needed to dissolve the Jello.
Coconut Milk - you can also use almond milk, half & half, or heavy cream. You could even use sugar-free coffee creamer, if you like, but that will add more carbs. If you use heavy cream, make sure you do not over blend the mixture or it will be chunky.
How to make Low Carb Cherry Jello Parfaits:
Stir together the boiling water and sugar-free Jello.
Once the Jello is completely dissolved, pour it into a blender and pour in the coconut milk. Pulse for about 20-30 seconds or until light and frothy.
Pour the mixture into 6 little cups or jars and refrigerate until firm. The layers will separate as it chills and you will end up with a foamy Jello layer on top of the bottom gelatin layer. This is normal because of the type of milk.
Top each one with some Reddi Whip and fresh fruit and enjoy the low carb sweet treats!
*You can also pour the mixture into popsicle molds and freeze them to make low carb Jello pops.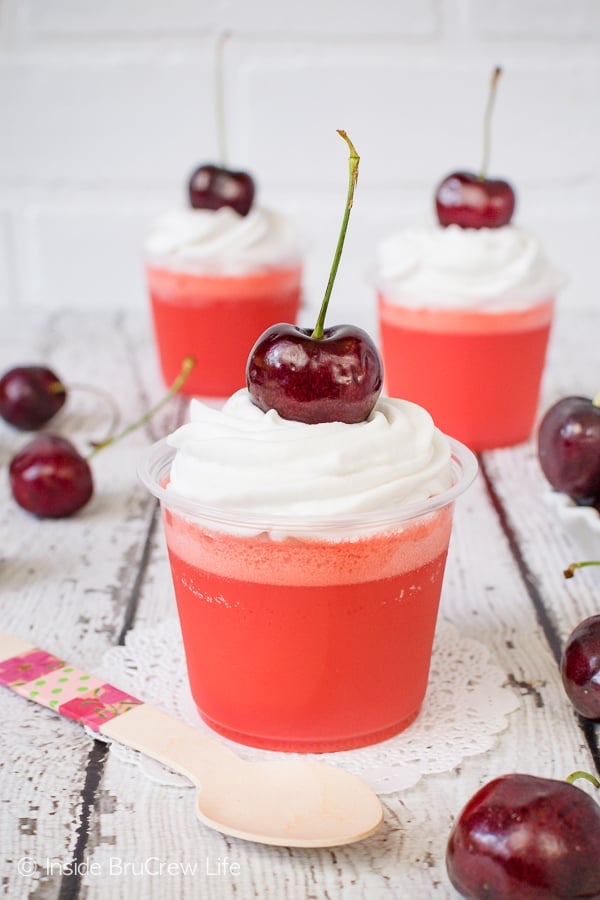 More easy healthy desserts:
Caramel and sea salt adds a fun sweet and salty twist to this Salted Caramel Chocolate Chip Yogurt Dip. It is a delicious and light way to add a little bit of fun to fruit and pretzels.
Layering fruit, yogurt, and granola in a cute jar is an easy way to have breakfast on hand as you walk out the door. Try these Cherry Yogurt Parfaits when you need a quick breakfast on the go.
This Skinny Apple Blueberry Salsa is a healthier dip to dig into. Grab a bag of cinnamon chips or a spoon to eat this easy honey orange flavored dip.
Keep a batch of these Healthy Peanut Butter Chocolate Chip Bites in your refrigerator for when those sweet cravings hit. These nutritious homemade energy bites are perfect for when you want a healthy snack.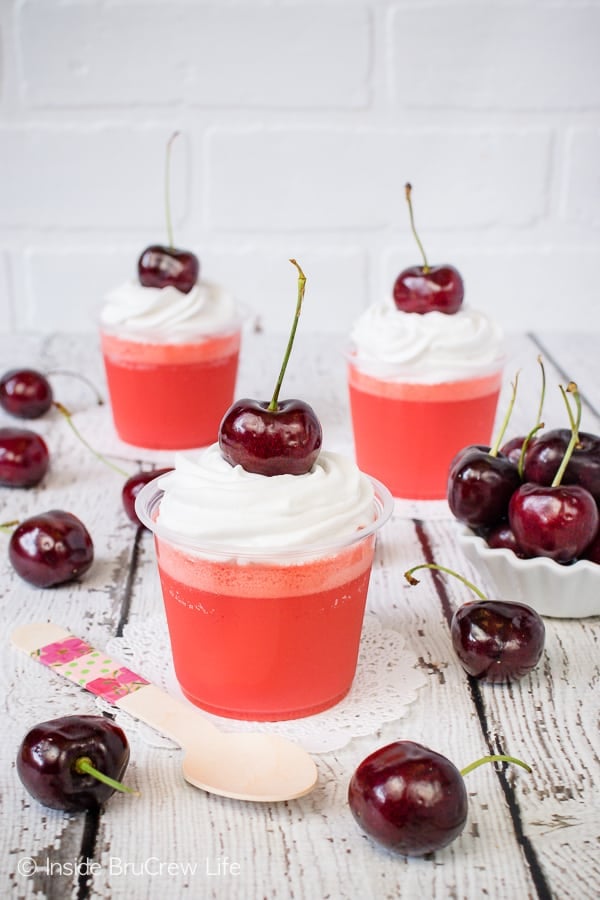 *The post for Low Carb Cherry Jello Parfaits was first published January 9, 2019. The post was updated and republished January 5, 2021.