You guys! Can you believe it has been 4 months since I have done a Top Ten post? The last one was right before the holidays, and then I just never got back to it. I have been a huge slacker on sharing randomness with you guys, and I kind of miss it. So my goal is to do one a month.
1. I want you to meet my new baking assistant, Ruby! Isn't she beautiful? I finally convinced my hubby that our new white tile backsplash needed a red KitchenAid for some fun kitchen color. One thing that I have learned with having a colored mixer is that you see all the flour you spill right away. Ruby gets cleaned many times a day since I like to bake like a crazy person.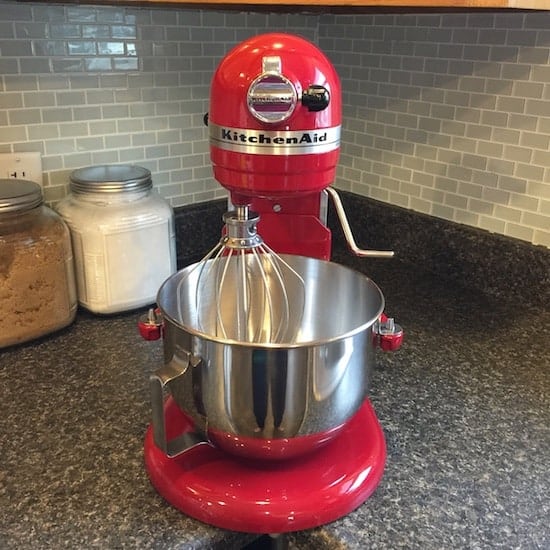 2. This little guy was begging for some peanut butter balls. But instead of just making them for him, I got the recipe out and let him make them. He did an awesome job of measuring all the ingredients and rolling them into balls. Although I did have to watch him closely when he was rolling them. There were a few that were slightly larger than normal.
Then the next night he wanted to make brownies, so he made a pan all by himself. I have a feeling this kid could take over the blog for me soon 🙂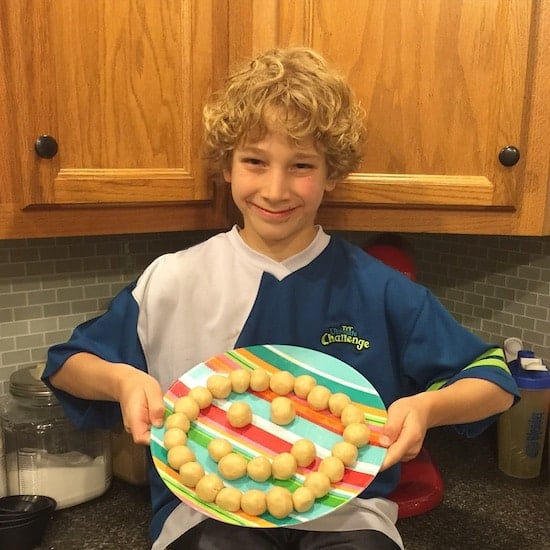 3. This month I had the awesome opportunity to share some recipes on Better Homes and Garden's blog, Delish Dish. February was chocolate month, so I got to choose a chocolate recipe on BHG to give a BruCrew twist.
If you were having trouble finding the recipes, make sure you email me. I had to post them a certain way, so the recipes weren't the easiest to get too. But hey, I got to make and eat chocolate all month long, and all 4 recipes are keepers!!!
Best Chocolate Peanut Butter Cake | Mocha Coconut Chocolate Blooms
Chocolate Caramel Cheesecake Tart | Chocolate Coconut Cake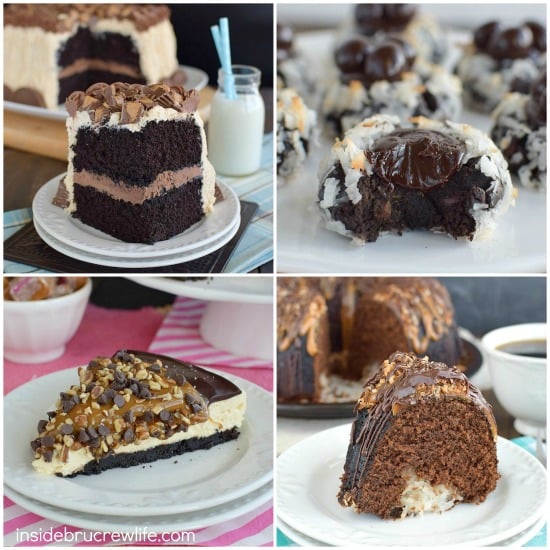 4. Want to know what shoes you will find me in most days? I have traded in my wardrobe for sweatshirts and pink Converse. Forget wearing heels and dressing up...I'm loving these comfy clothes. Don't tell my hubby, but I think I need a few more colors.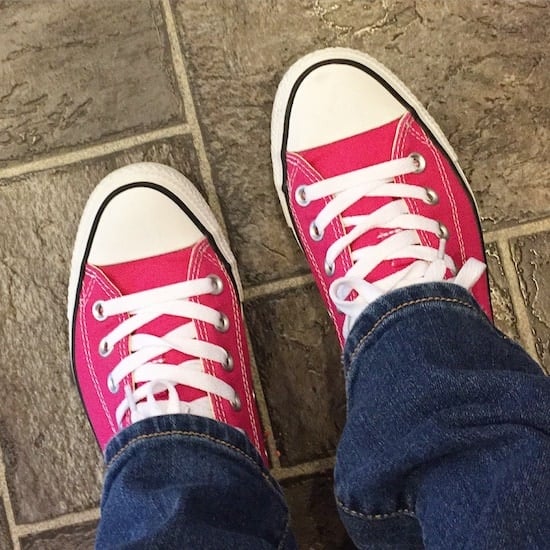 5. I love how fun these Bloomin' Garlic Cheese Biscuits from The Gunny Sack are. Such a fun way to eat cheesy biscuits!!! She is definitely the "bloomin" queen with these fun recipes she keeps creating.
6. How cute and creative are these Boozy Shamrock Shake Cakes from Beyond Frosting? Green minty cupcakes with fluffy malt frosting...I am in love!!!
7. I definitely want these Buffalo Fries from Mantitlement in my life. They sound amazing! And doesn't that picture make you just want to grab a cup of fries right out of your screen?
8. Want cake, but do not want the temptation of the whole thing? This Snickerdoodle Mug Cake from Foodie with Family sounds like the perfect plan! I can't wait to try it out!
9. Yay for shamrock shakes being back!!! Bigger yay to making these Copycat Shamrock Shakes from Chocolate Moosey in your own home!!!
10. These Peanut Butter Cup Rice Krispie Treats are going crazy on Pinterest right now. Thank you Country Living for including them in the rice krispie round up. Now I'm craving another pan...how about you?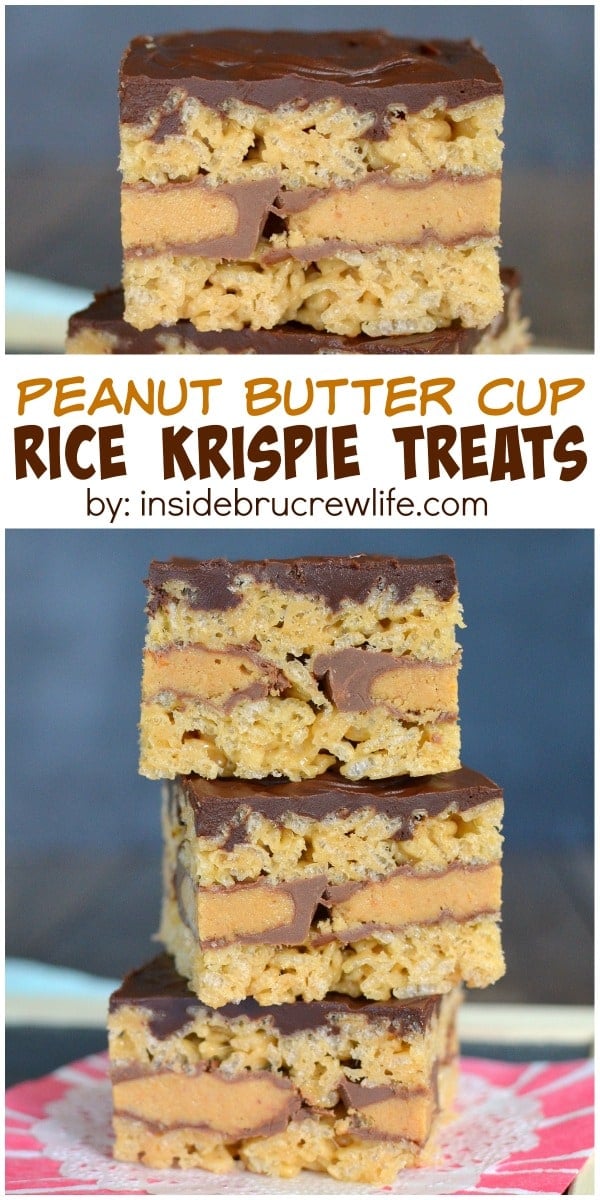 I hope you are having a great weekend. We have snow coming down here yet again. I have my fingers crossed that this is the last time that happens. Until I know for sure though, I am staying inside with a space heater at my feet and a cup of coffee in my hands.
*This post does contain affiliate links. We do receive a small percentage of sales made from these links. I will only share products that we know and love. Thank you for supporting BruCrew Life this way.