The Best Chocolate Peanut Butter Cake has layers of chocolate and peanut butter frosting and is topped with Reese's peanut butter cups. It's the perfect dessert for chocolate lover's.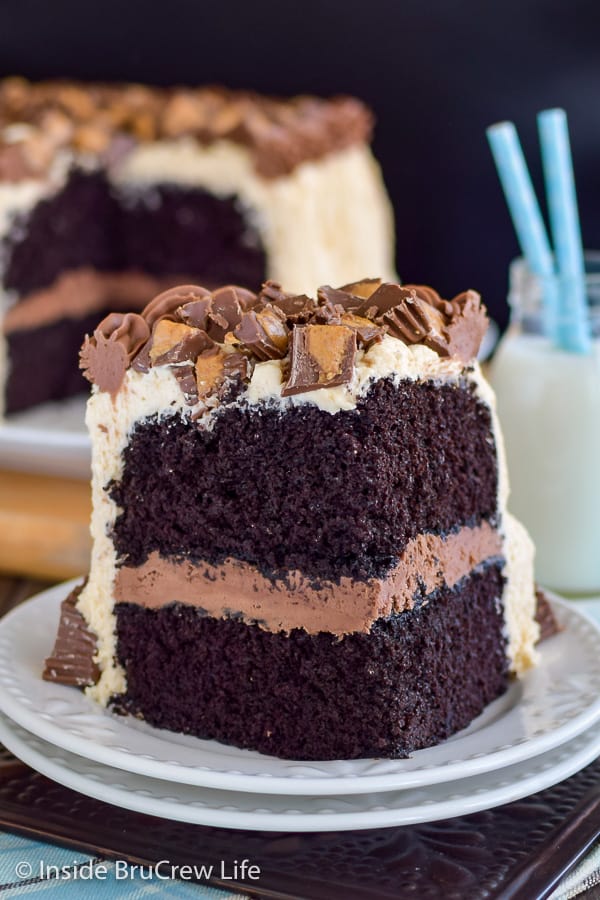 CLICK HERE TO PIN THIS RECIPE FOR LATER!
Whenever we go out to eat, I love to check out the dessert menu. It doesn't matter if we have been to that restaurant a thousand times before. I am still going to sit and drool over the desserts.
It's like I have a thing for desserts or something. Especially if it is chocolate cake. I definitely have a weakness for that sweet goodness!
Now some times we leave room for dessert, and sometimes we walk away. Mainly because I either ate way too much dinner, or there is some crazy dessert like this Thin Mint Cheesecake Brownie Cake or these Chocolate Lava Cakes already waiting in our kitchen at home.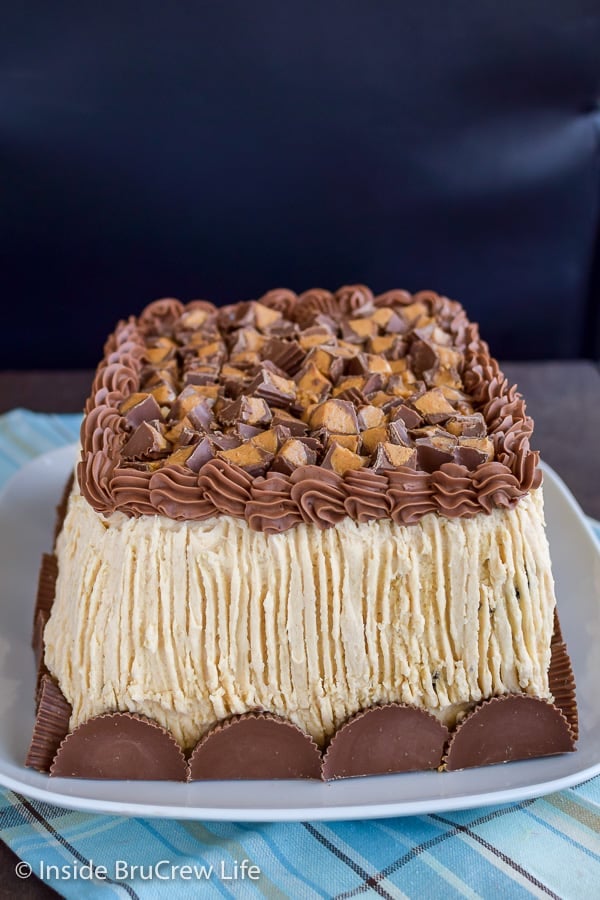 But then sometimes we say no to dessert because we can't justify the price. Who wants to pay $9 for a slice of soft moist chocolate cake?
Especially when I know that I can bake an entire homemade chocolate cake for that same price.
I do love a good chocolate cake, so I started looking for the best chocolate cake recipe that I could give a BruCrew twist to for my birthday. Of course, peanut butter had to be involved too.
As soon as I saw a cake that was called the Best-Ever Chocolate Cake, I knew that was the first one I was going to make and see if it was worthy of the name. Not that I doubted it was good, but I was very curious to see if it would live up to my particular sweet tooth expectations.
I have to admit that I have become a very, very picky dessert eater in the last few years.
It was so fun to look at the chocolate cake recipe and see what little tweaks and changes I would make based on how I like to bake.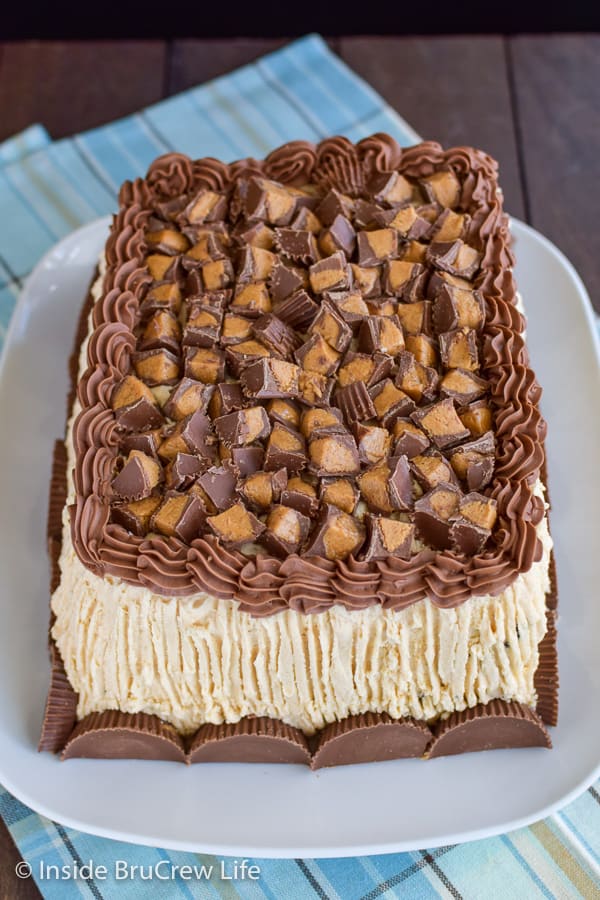 How to make The Best Chocolate Peanut Butter Cake:
Make sure to beat the butter until light and fluffy, then add the sugar and beat it again.
Add the eggs and vanilla and mix it one more time.
Stir together the dry ingredients in a bowl and add them alternately with the milk and coffee mixture. Trust me. You will not taste the coffee in this cake. Coffee just enhances the chocolate flavor making it more intense and delicious.
Bake the chocolate cake batter in a 9×13 pan that has been greased very well. Let it cool for 15 minutes in the pan, then flip it out on a wire rack to cool completely.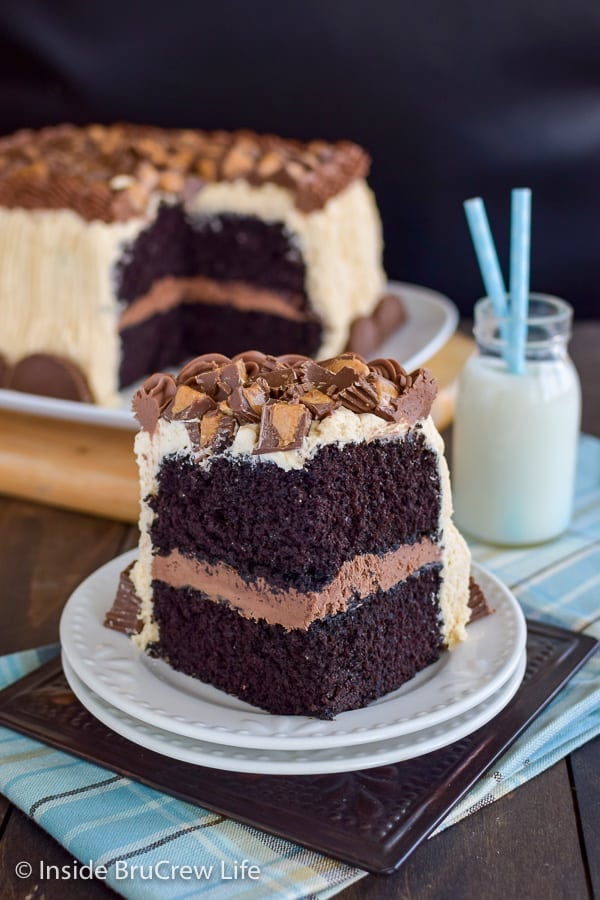 Make a batch of homemade chocolate frosting for the center of the cake layers. Sometimes I switch it up and use this Dark Ch0colate Buttercream Frosting. It just depends what mood I'm in. Either one is delicious!
Cut the cake in half, making two 4 1/2 x 6 1/2 inch cake rectangles. Set aside 1/2 cup of the homemade chocolate frosting, then frost the top of one of the layers with the rest of the chocolate frosting. Top it with the other cake layer.
Cover the entire cake with the Best Honey Peanut Butter Frosting. Use the reserved chocolate frosting to pipe a border around the top of the cake with an icing tip 21 or 27.
Add chopped up peanut butter cups to the top of the cake and halved peanut butter cups around the bottom.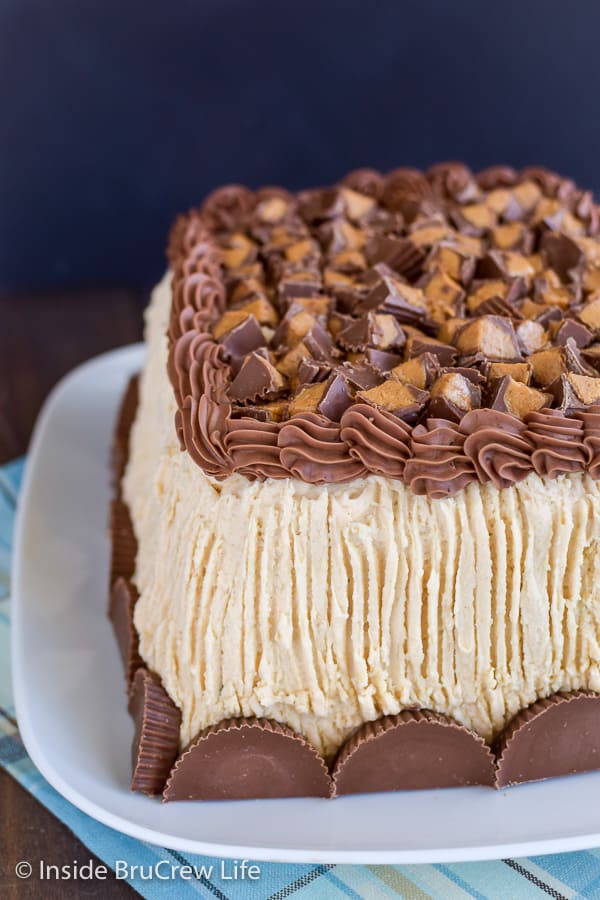 I do have to admit that this was seriously one of the best homemade chocolate cakes I have ever tried. In fact, it was so good that it is hands down my new go-to recipe when I want to make chocolate cake from scratch.
So, if you are looking for an impressive dessert to make, this is your cake. It looks like a lot of work, but it really is very easy to put together.
The best part is that you will getting the entire Best Chocolate Peanut Butter Cake for the price of one cake slice. I'd say that is winning at dessert!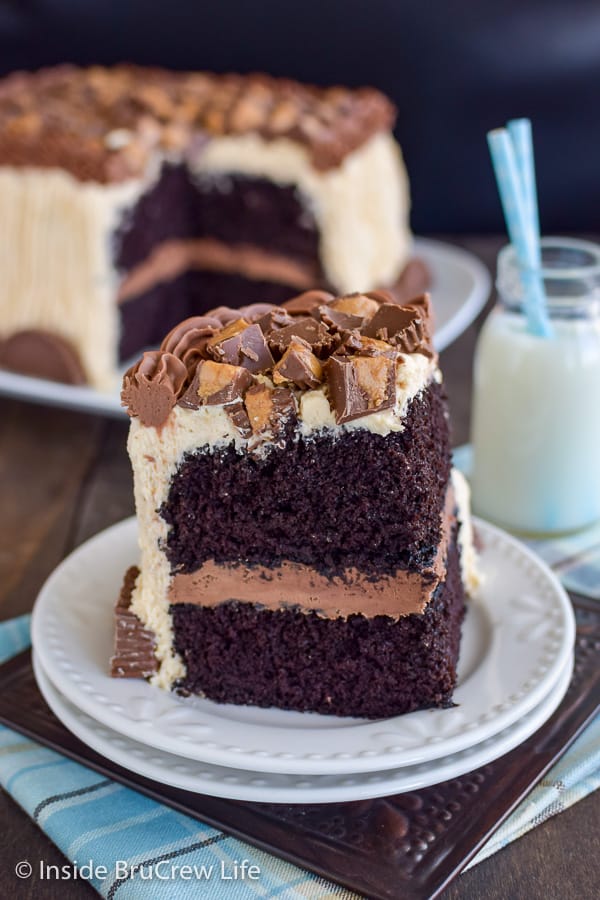 More chocolate recipes you may like:
Three times the chocolate makes these Mini Triple Chocolate Cheesecakes a dream dessert for the chocolate lovers in your life.
These Chocolate Cookies and Cream Cheesecake Bars will get rave reviews when you bring them to parties and picnics.
I love all the chocolate and marshmallow goodness in these Hot Chocolate Cookies.
A graham cracker crust, chocolate pudding, and a marshmallow topping make this Chocolate S'mores Pudding Cake the perfect summer dessert.
A creamy coffee frosting and a layer of chocolate makes these decadent homemade Coffee Cream Brownies a great dessert.
Connect with Inside BruCrew Life! Follow us on social media, so you never miss a post.
Email Subscription | Facebook | Pinterest | Twitter | Instagram | Bloglovin
I also created a fun new Facebook group, and I would love for you to join. It's a group where you can share your favorite recipes, ask questions, share photos, and see what's new with the BruCrew. If you would like to check it out, you can request to join HERE.
Yield: 14 cake slices
Best Chocolate Peanut Butter Cake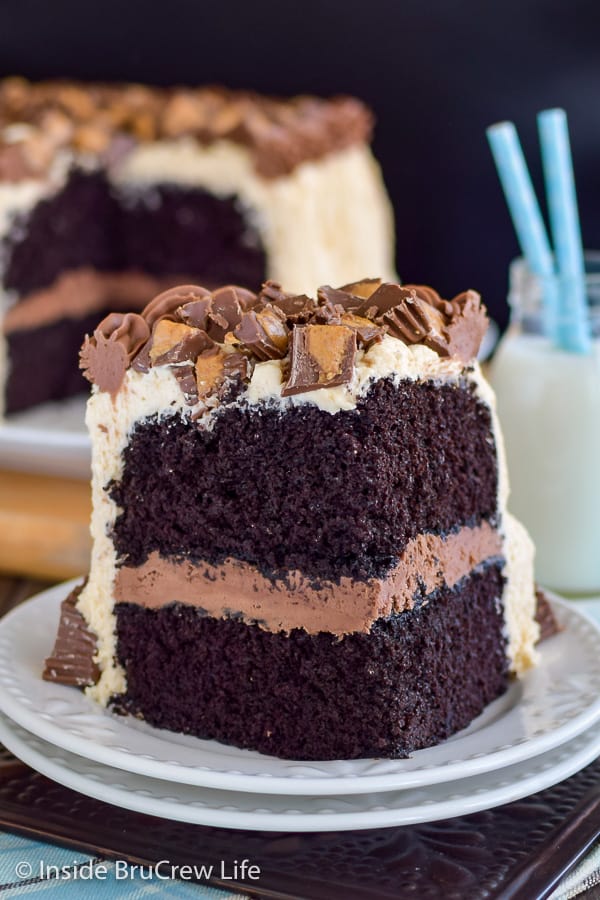 The Best Chocolate Peanut Butter Cake has layers of chocolate and peanut butter frosting and Reese's peanut butter cups. It's the perfect dessert for chocolate lover's.

Prep Time 1 hour 30 minutes

Cook Time 30 minutes

Total Time 2 hours
Ingredients
For the Cake
3/4 cup butter
3 eggs
2 cups flour
3/4 cup dark cocoa powder
1 teaspoon baking soda
3/4 teaspoon baking powder
1/2 teaspoon salt
1 cup sugar
1 cup brown sugar
2 teaspoons vanilla
3/4 cup milk
3/4 cup cooled strong coffee
For the Chocolate Frosting
1 cup dark chocolate chips
1/4 cup butter
1/2 cup sour cream
2 cups powdered sugar
1/4 cup dark cocoa powder
Peanut Butter Cups
Instructions
Preheat the oven to 350 degrees. Spray a 9x13 pan with nonstick spray.
Beat the butter until light and fluffy. Add the sugars and beat again.
Add the eggs one at a time and beat until mixed in. Stir in the vanilla.
Sift together the flour, cocoa powder, baking soda, baking powder, and salt. Stir together the milk and coffee.
Add the flour mixture alternately with the milk mixture to the butter mixture. Beat on medium speed for 2 minutes.
Pour the batter in a foil lined greased 9x13 pan. Bake at 350 degrees for 30-35 minutes. Remove and let cool. Cut the cake in half and set aside. You will have two 4 1/2 x 6 1/2 rectangles.
Melt the chocolate chips and butter in a saucepan. Let cool for 5 minutes. Beat in the sour cream.
Sift together the powdered sugar and cocoa powder. Slowly beat into the mixture. Set aside 1/2 cup of the frosting for later.
Spread the rest of the chocolate frosting on top of one side of the cake. Place the other layer on top.
Cover the cake with the best honey peanut butter frosting.
Add chopped peanut butter cups to the top, and halved peanut butter cups to the sides, if desired. Store in a covered container. Serves 14.
Nutrition Information:
Yield:
14
Serving Size:
1
Amount Per Serving:Calories: 617 Total Fat: 28g Saturated Fat: 15g Trans Fat: 1g Unsaturated Fat: 11g Cholesterol: 90mg Sodium: 396mg Carbohydrates: 85g Fiber: 3g Sugar: 63g Protein: 8g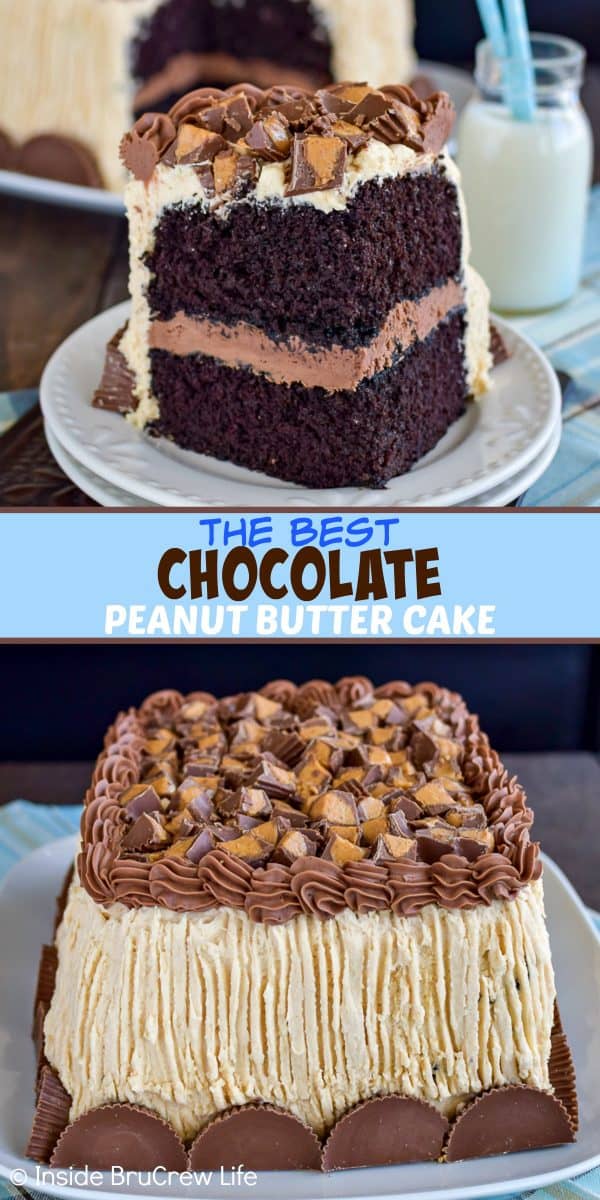 *The post and recipe for the Best Chocolate Peanut Butter Cake was first published on February 4, 2015. The photos have been updated and it was republished on April 9, 2019.