Adding a layer of caramel cheesecake makes this gooey dessert a delicious way to end any meal. Try this Chocolate Caramel Cheesecake Tart the next time you need a dessert to wow everyone with.
Sweet and salty desserts always get my vote!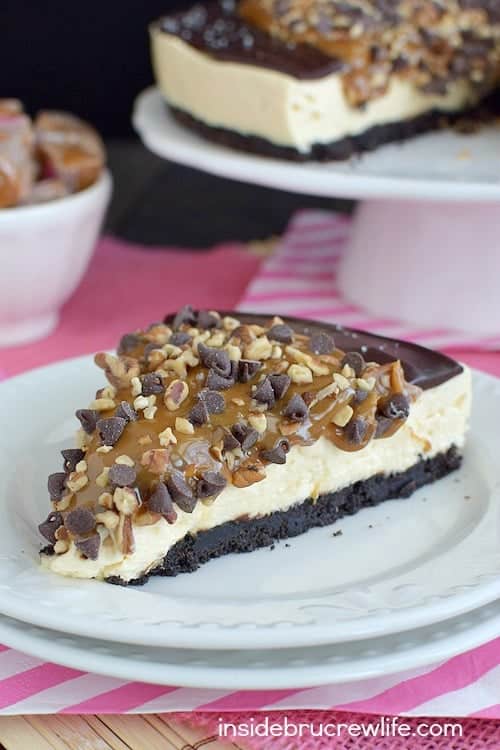 By now I think that it is safe to say that I am kind of crazy for cheesecake. I am always looking for ways to include it in every dessert that I make.
Over the years cheesecake has made its way into icebox cakes, cupcakes, and cookies. I'm pretty sure I will keep finding new ways to enjoy the creaminess that is cheesecake. My list of ideas is still pretty long!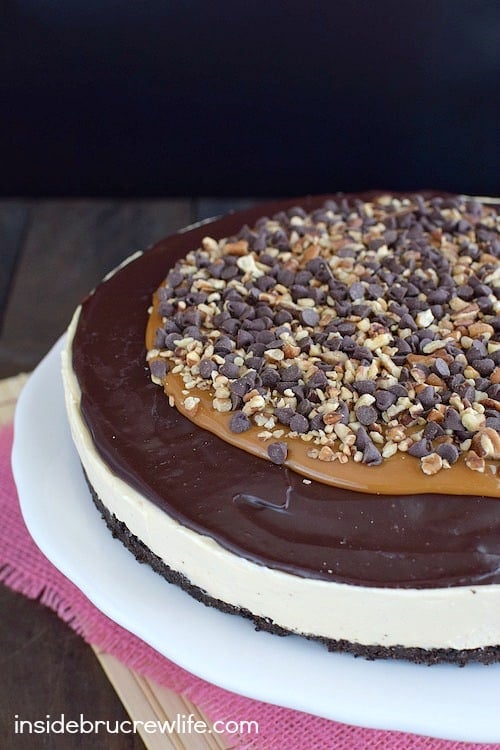 Ok, so just so you know. Making a decadent gooey caramel cheesecake and trying to only "eat" juice for the day is not the smartest idea in the world. I had this amazing dessert sitting in my fridge right in front of the juice I needed to get to for dinner.
That wasn't the smartest thing I've done this week! I may have slipped up a little and had a small sliver of this salted caramel cheesecake! What? You would have done the same thing, right???
It's a good thing our kids were gaga over this dessert too. They took care of getting rid of all this Chocolate Caramel Cheesecake Tart for me.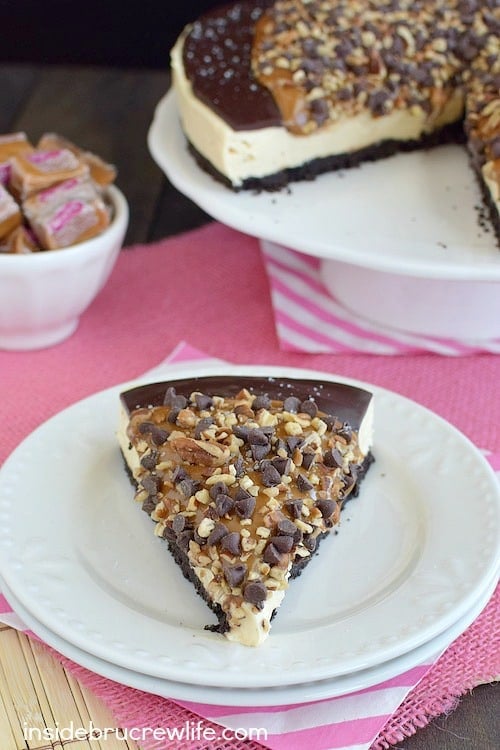 How To Make
This is the third recipe that I have tweaked from Better Homes and Gardens, and I have to say it has moved into first place! It totally beat out the Best Chocolate Peanut Butter Cake and these Mocha Coconut Chocolate Blooms by a landslide. Yup, one tiny sliver and I knew this was a winner!
Cookies, cheesecake, chocolate, caramel, nuts, salt...you can kind of see why it has become my new favorite dessert. All the good stuff in one glorious dessert!
And the best part is that it is really easy to make. The only thing that you are going to bake is the crust.
Just make sure to cool the crust completely before adding the no bake caramel cheesecake layer. Chill it again before adding the chocolate and caramel toppings.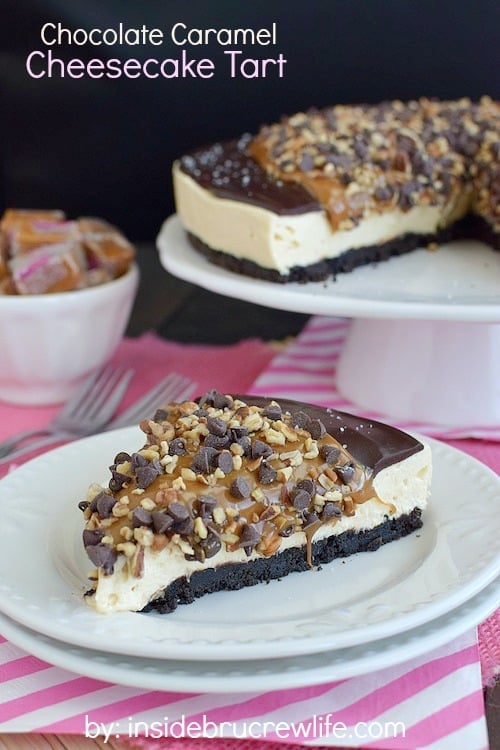 More Cheesecake Recipes

*Today's post and recipe for Chocolate Caramel Cheesecake Tart was originally posted on Inside BruCrew Life on February 19, 2015, and it has been republished August 2018.