This Candy Corn M&M Brownie Galette is an easy, but impressive dessert for after dinner.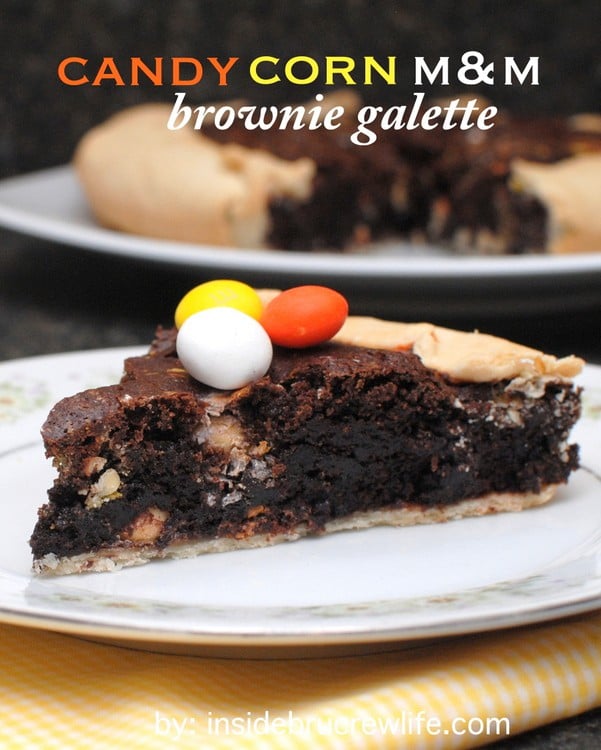 Have you tried the new White Chocolate Candy Corn M&M's?
I don't know if it is the foodie in me, or if I just need to be in on the next thing.
But I was stalking our local Walmart just about every day trying to find these M&M's.
I mean everyone was talking about them on facebook, so they had to be good.
Our Walmart finally got with the program, and I found an entire shelf devoted to these newbies.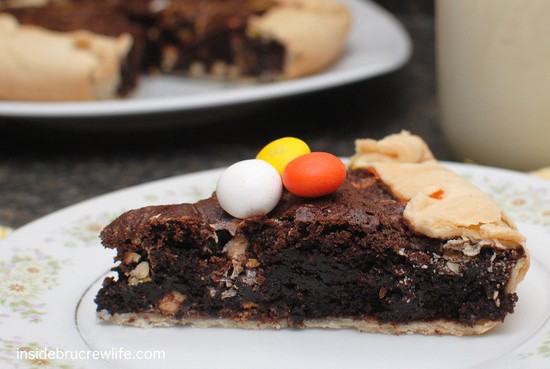 They are good. Just super sweet. Lucky for my hips, I can only eat a few at a time.
Since we weren't going to finish two whole bags on their own. I know!  Why did I buy 2 bags?
Call me crazy, but I had such a hard time finding them that I wasn't going to be on the search again for them.
Now that I have them…what should I bake? I'm thinking a Candy Corn M&M Brownie Galette!
Because they weren't sweet enough on their own, they needed to be surrounded with a fudge brownie!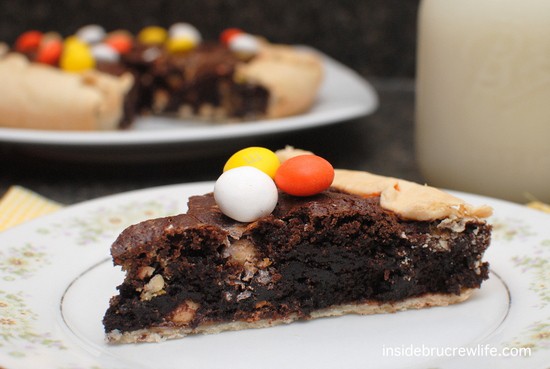 Fudge brownies with white chocolate M&M candies baked in a pie crust.
Ingredients
1 refrigerated pie crust (I use Pillsbury)
1 box brownie mix
1 package White Chocolate Candy Corn M&M's, divided
Instructions
Unroll pie crust and place in a 9 inch pie plate with the edges hanging over.
Prepare brownie mix according to the 2 egg directions. Stir in M&M's by hand, reserving 1/2 cup for garnish. Pour brownie batter into pie shell. Very carefully fold over the edges of the pie crust, folding and pleating where needed.
Bake at 350* for 50 minutes, or until a knife inserted in the center, comes out clean. Cool on a wire rack before removing from the pie plate to a serving plate. Cut into pie wedges and top with extra M&M's. Makes 10 slices.
Notes
You can cover the edges of the pie crust with foil if it is getting too brown.
https://insidebrucrewlife.com/candy-corn-mm-brownie-galette/
Copyright Inside BruCrew Life