This Candy Corn M&M Brownie Pie is an easy dessert to make for Halloween parties. Swirls of candy corn colored frosting and crunchy M&M candies will have everyone going back for another slice.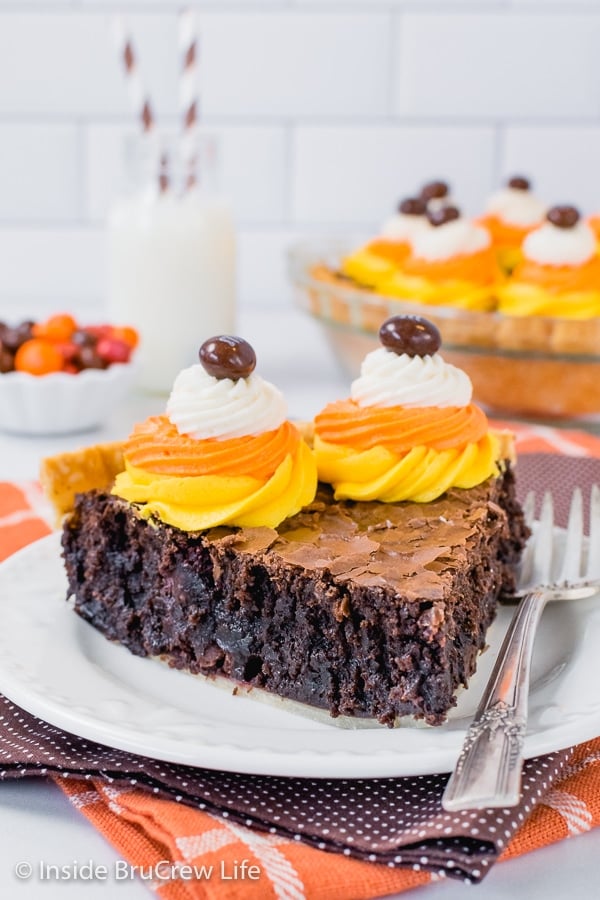 My downfall when I am shopping at stores are all the specialty candies and cookies that come out every season. The foodie in me just has to know what they taste like.
So of course, when I saw the creepy cocoa crisp M&M's on the store shelf I had to buy a bag right away. For research purposes...wink, wink.
I really loved the crispy texture that these candies have in the center. In order to keep myself from eating the entire bag, I had to come up with a fun Halloween dessert that I could share with our church life group.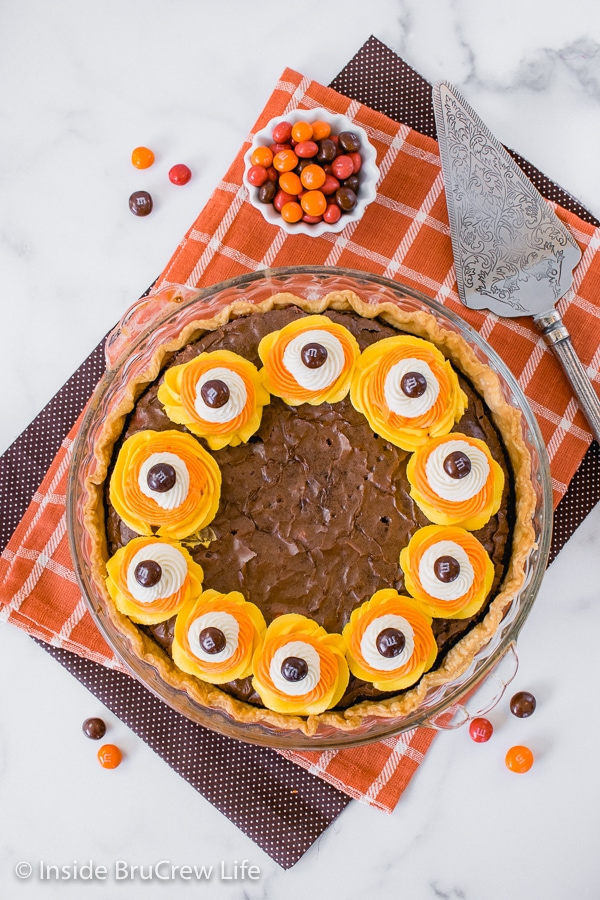 At the moment I am obsessed with all things candy corn. So far this month I have made a big bowl of Candy Corn Snack Mix and a pan of Candy Corn Fudge.
If you are not a candy corn lover, you can start rejoicing because there is actually NO candy corn in this easy brownie pie.
Swirls of yellow, orange, and white vanilla buttercream frosting just gives the chocolate pie a fun candy corn look.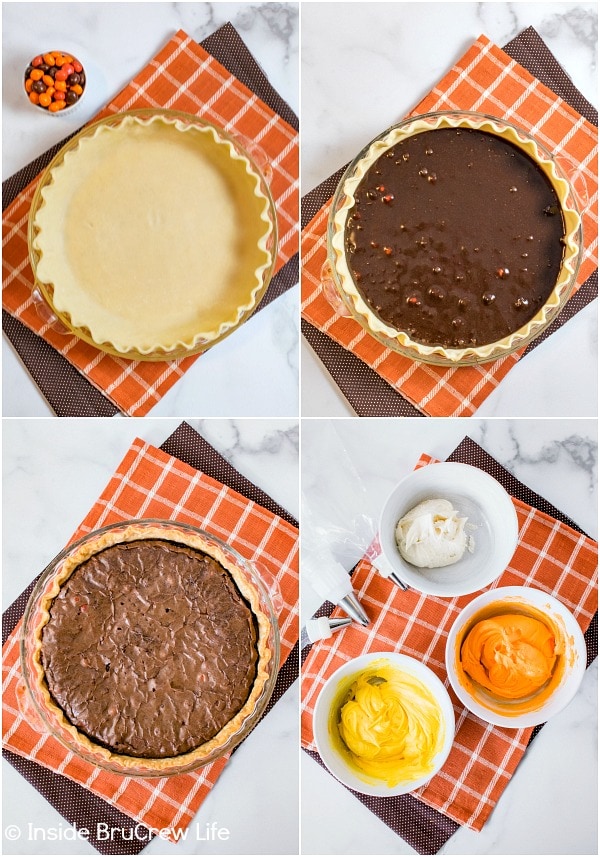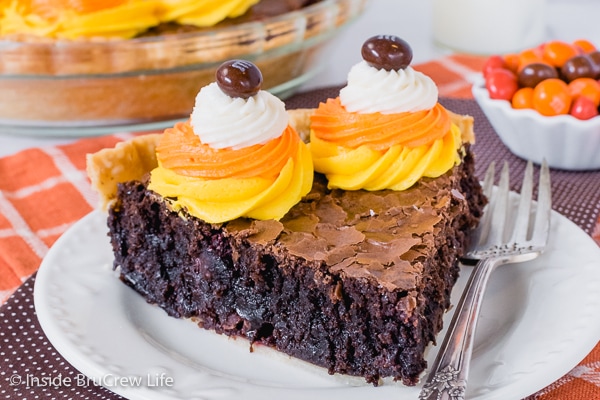 How to make a Candy Corn M&M Brownie Pie:
Unroll a refrigerated pie crust and place in in deep dish pie plate. Crimp the edges of the crust, then place the plate in the fridge because you do not want your pie crust to get too soft.
Mix together the box brownie mix. PRO TIP: Don't like using box mixes? You can make a double batch of these Homemade Chocolate Chip Brownies instead. (Just skip the chocolate chips from that recipe.)
Stir 1 cup of M&M's into the brownie batter, then spoon it into the chilled pie crust and bake until done. A knife inserted in the center should come out with moist crumbs.
Let the pie cool completely, then add swirls of frosting around the edges and top with more candies.
Do I have to use the pie crust?
No, you can leave that out if you like. But then it's just a brownie in a pie plate, not a brownie pie. LOL!
Can I use a different candy in this brownie pie recipe?
Yes you can. You can use any flavor of chocolate chips, nuts, or chocolate candies instead of the M&M's.
CLICK HERE TO PIN THIS RECIPE FOR LATER!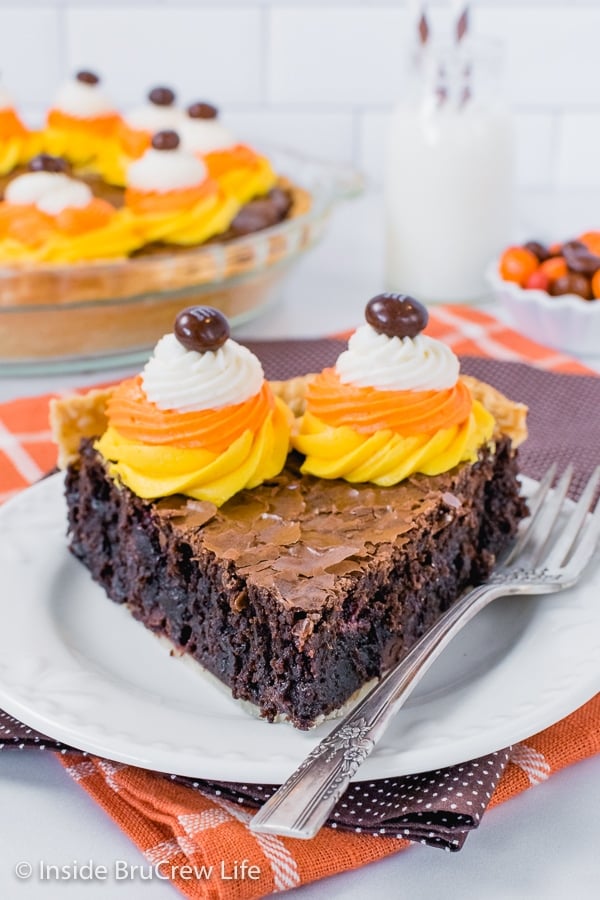 More fun Halloween desserts: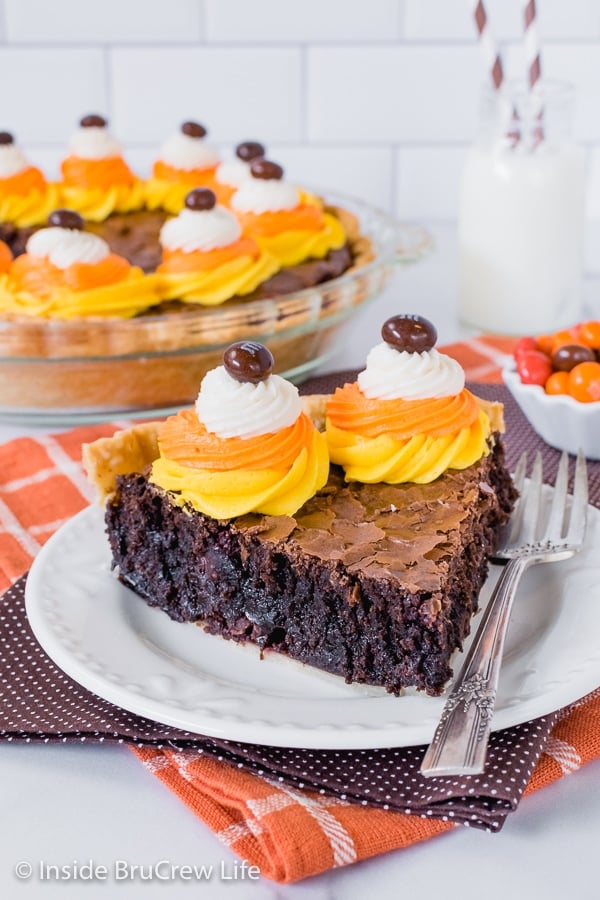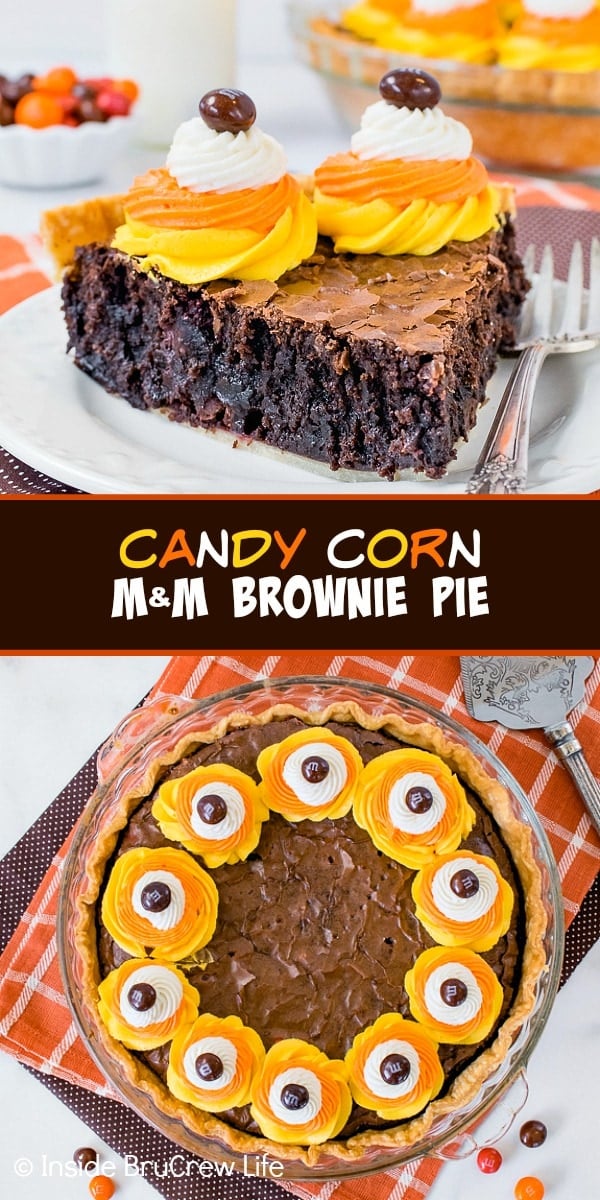 *The post for Candy Corn M&M Brownie Pie was first published October 25, 2011. The photos and post were updated and republished October 22, 2020.