A bowl of this easy Monster Mix Popcorn is loaded with peanuts, holiday cereal, and candy corn. It's the perfect snack mix to munch on at Halloween parties or movies.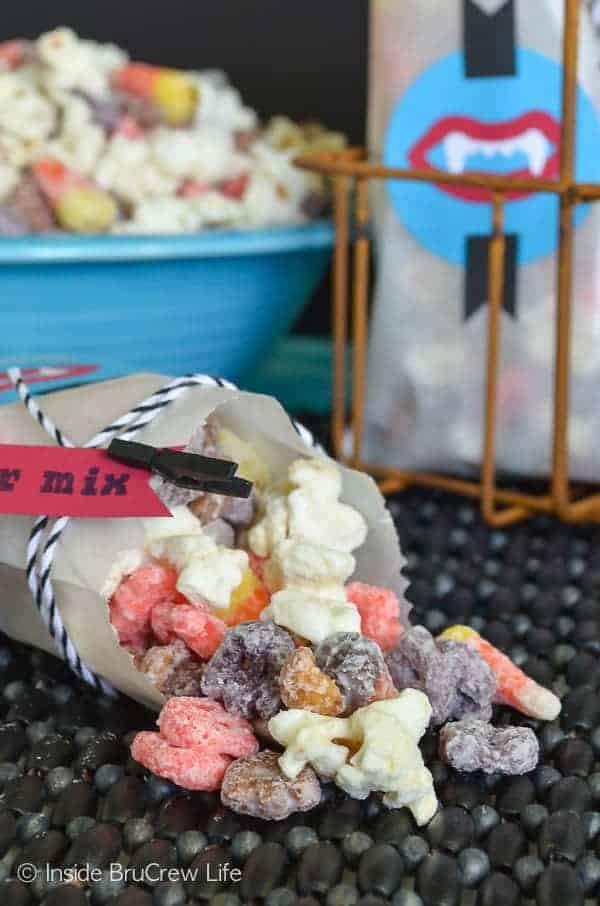 One of my favorite things to make is chocolate covered popcorn. It is such a blank canvas for so many different variations!
Every fall I buy the three seasonal cereals Count Chocula, Boo Berry, and Franken Berry. And every fall they sit there, because for some reason ours kids will only eat one bowl.
It's marshmallow cereal. Why don't they eat more of it? I remember as a kid eating this Halloween cereal and loving it.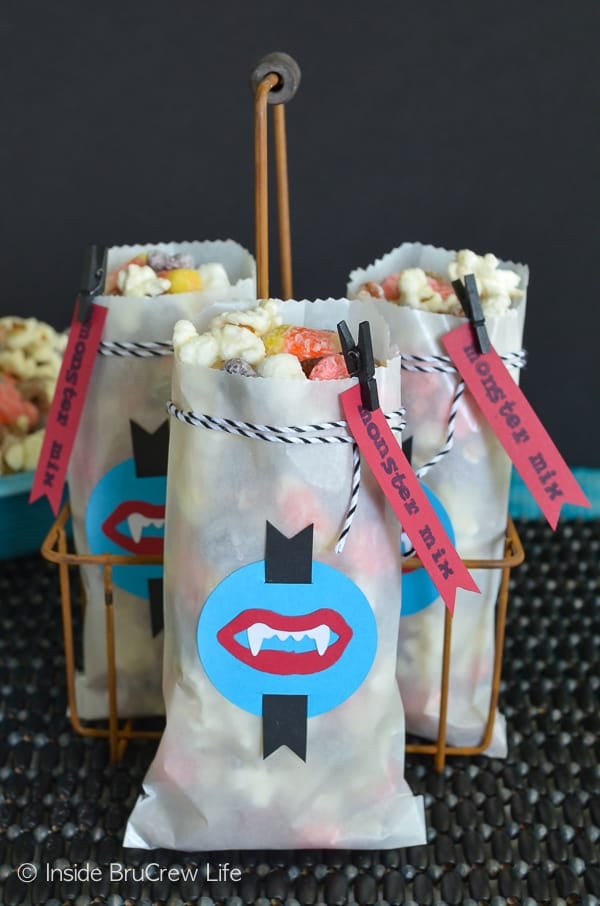 So this year, I decided that I was going to add it to a bowl of chocolate covered popcorn, because I didn't have a Halloween snack mix in my recipe archives yet.
And because I love the taste of peanuts and candy corn together, I decided to add that in with the cereal.
What I love most about this was that the popcorn still tasted like the cereal.only with so much more to it!!!
I also decided to decorate some bags with my Cuttlebug and some die cuts. The fangs on these die cuts are just too much!!!
While I created the tag for the popcorn bags, my kids made monster face cards for their cousins.
I also pulled out a flag die cut that I bought a few months ago to make the round blue tag and the black and red tags.
Black & white twine and letter stamps that I found for a $1 at Walmart added the perfect little touch for the top tag.
Little black clothespins were the perfect way to attach the tags to the treat bags. If you drop these into a large plastic treat bag, they would be a fun gift to pass out at Halloween parties.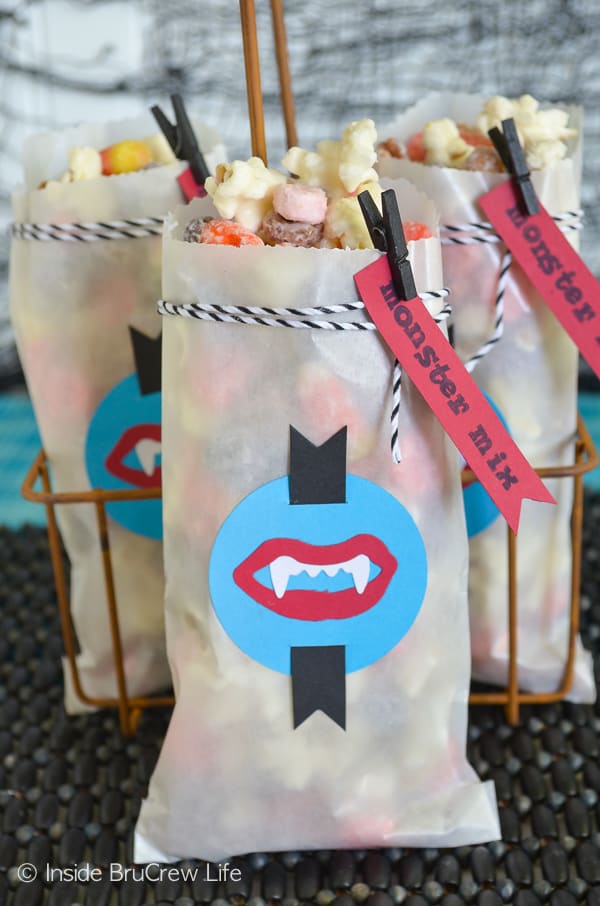 Tips for making Monster Mix Popcorn:
Mix together the popcorn, marshmallows, cereal, peanuts, and candy corn in a large bowl.
Melt the white chocolate melts in the microwave according to the package directions. (I like to use Ghirardelli white chocolate melts)
Pour the melted chocolate over the popcorn mix. Stir the mixture thoroughly until everything is coated.
Spread the mixture out on a wax paper or parchment paper lined baking sheet. Refrigerate it for 5 minutes.
Remove and break the popcorn mix apart into chunks. Store it in a sealed container or bag.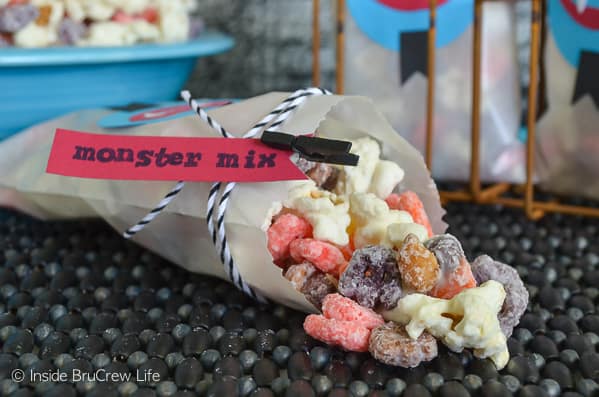 More fun and easy Halloween treats:
Monster Mix Popcorn recipe: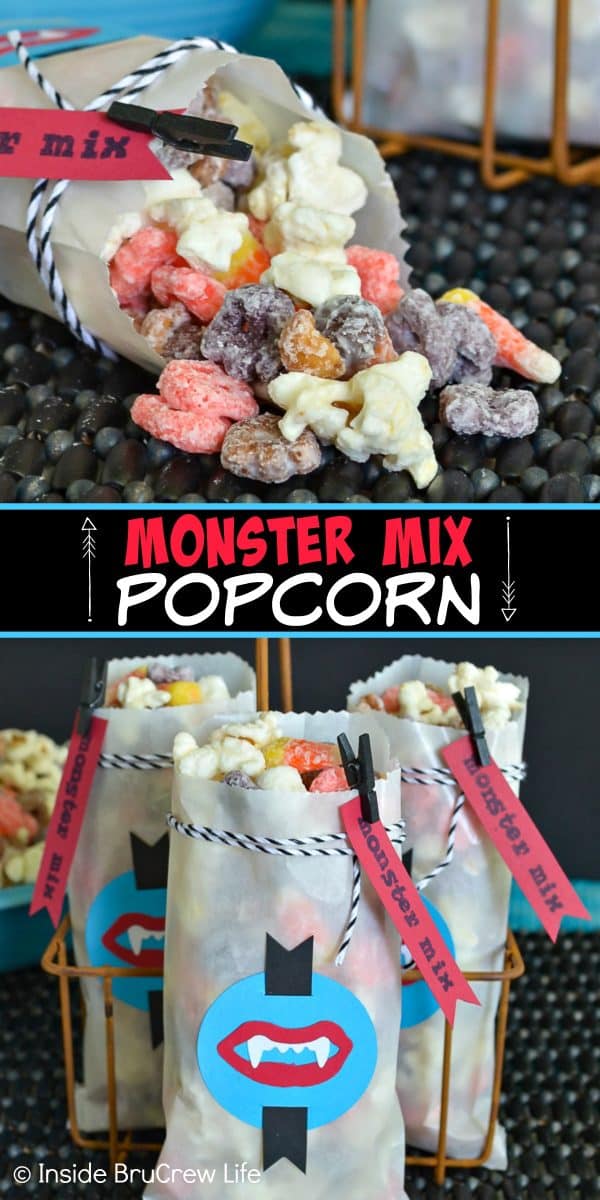 *This post contains affiliate links. We may make a small percentage from purchases made through these links. As always, these links do not cost you any extra. Thank you for letting us share products we use and love.