Drizzles of caramel and chocolate add a fun flair to these easy Caramel Apple Cheesecake Tarts. Enjoy plain for breakfast or add a scoop of ice cream for a delicious fall dessert.
*This post was sponsored by Crunch Pak apples. I am partnering with them as a blog ambassador creating delicious apple recipes. All opinions are 100% my own.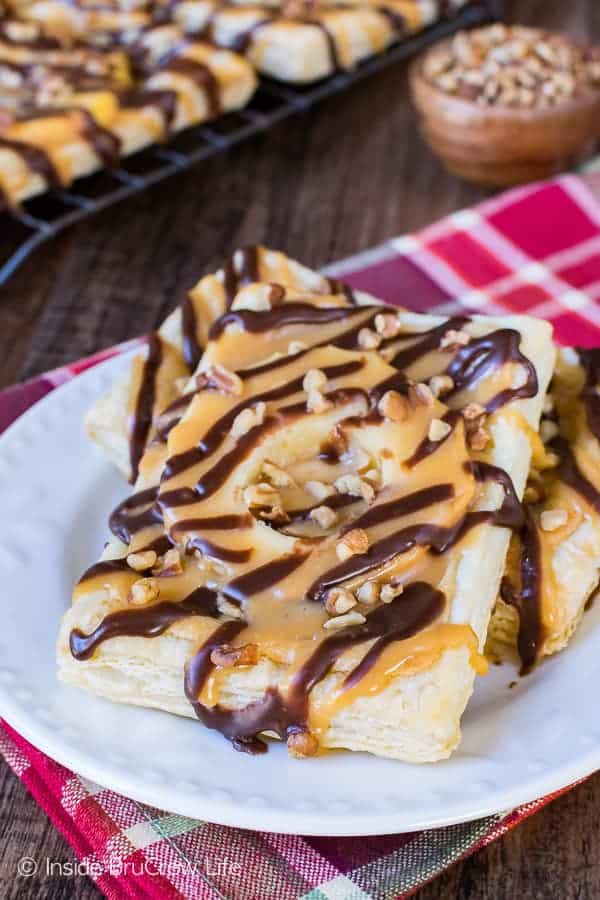 CLICK HERE TO PIN THIS RECIPE FOR LATER!
The weather here is not cooperating with my desire for fall. It's hard to stay in the fall mood when you are wearing shorts and tank tops because it is 80 million degrees outside with 150% humidity. Ok, so maybe I'm exaggerating slightly.
Our fall decorations up on the shelves, and the air conditioner has been set to low. I'm trying to trick myself into believing that fall has come to FL. As long as I never leave the house again, I will never know that it's still summer here. Sounds like a plan to me.
Oh, but then I can't go shopping for more baking supplies. Hhhhmmm, this could pose a problem. Maybe it's time to invest in a grocery delivery service because food and hair spray are necessities here.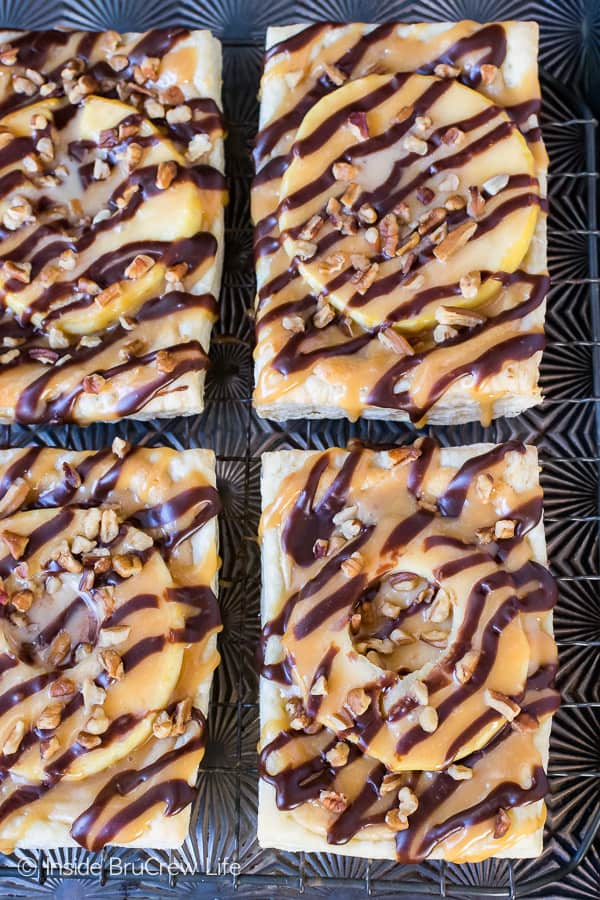 I'm kidding you guys. Well, kidding about most of that anyway. I am still wearing shorts and tank tops, and the air conditioner is running nonstop. The heat hasn't stopped me from baking another Maple Apple Walnut Cake, Pumpkin Oreo Cheesecake and lots of fun apple ring treats.
You guys! It's apple week!! I am super excited to share more apple recipes with you. I am partnering with Crunch Pak apples to bring you an ENTIRE WEEK of apple goodness.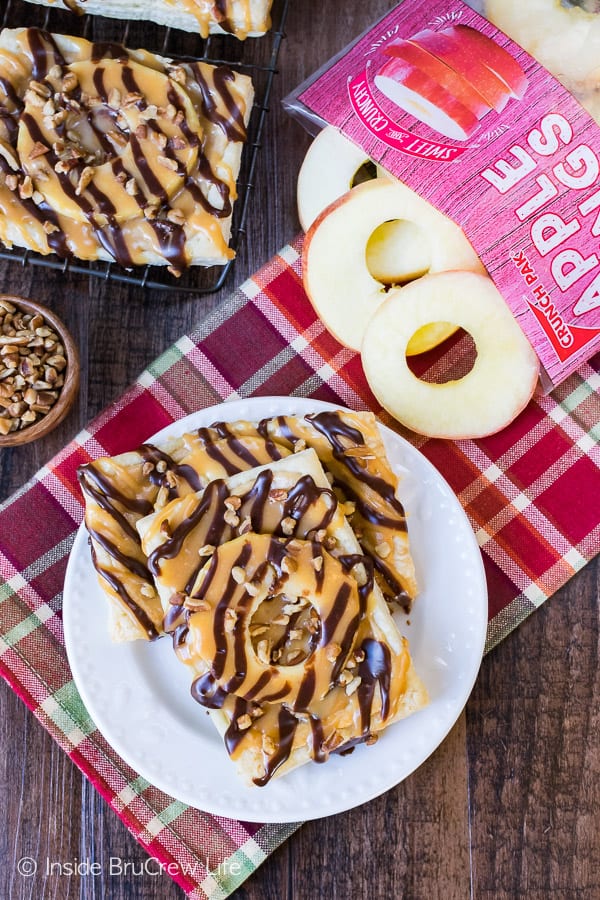 Before we go any further though, I have to share some exciting news with you. Crunch Pak now sells sliced apple rings!!!! I know! I am so excited for this new product too! Just think of all the possibilities for ring treats. They are awesome for munching on and for using in recipes.
This week I will each be sharing 3 new recipes showing you fun ways that you can use the new apple rings. It's time to apple all the things, so I hope you are ready!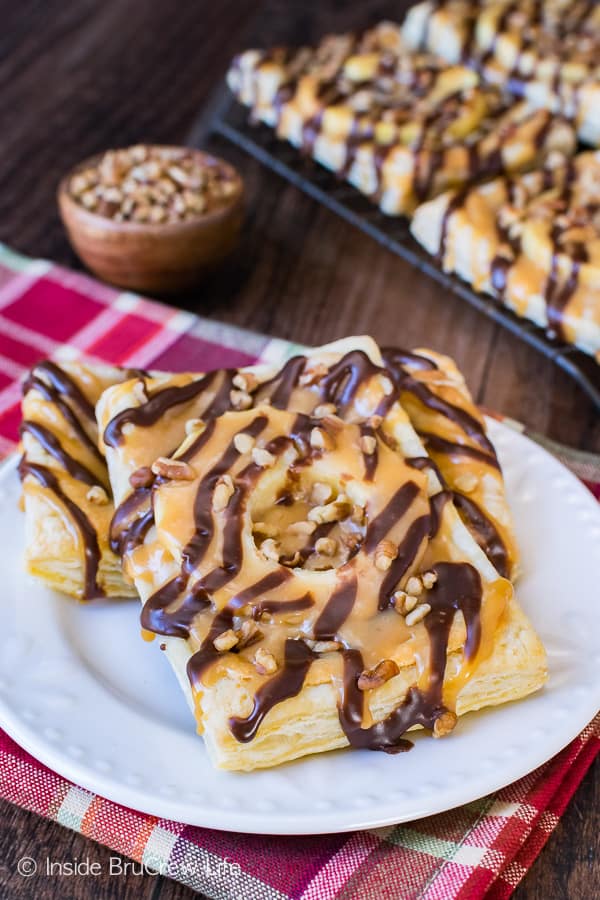 Our kids love toaster strudels for breakfast, so to start off the week, I made a simple apple tart recipe. Sounds easy enough, right?
Now you could stop right there, and everything would be perfectly delicious. But I like to add a little bit of flair to my baked goods, so I added some caramel and chocolate drizzles to the top of each caramel apple puff pastry. Trust me! It takes them to new levels of deliciousness.
How to make Caramel Apple Cheesecake Tarts:
Set out the box of puff pastry and cream cheese at least 40 minutes before you get started.
Beat the cream cheese, sugar, and caramel topping until it is light and creamy.
Unroll the pastry sheets and cut each one into 6 rectangles. Use a fork to poke holes about a ¼ inch from the edge.
Spread the cheesecake in the centers and top with apple rings. Bake and cool.
Enjoy plain or drizzle the tops with caramel and chocolate.
Enjoy the apple goodness for breakfast. Or add a scoop of ice cream and call it dessert.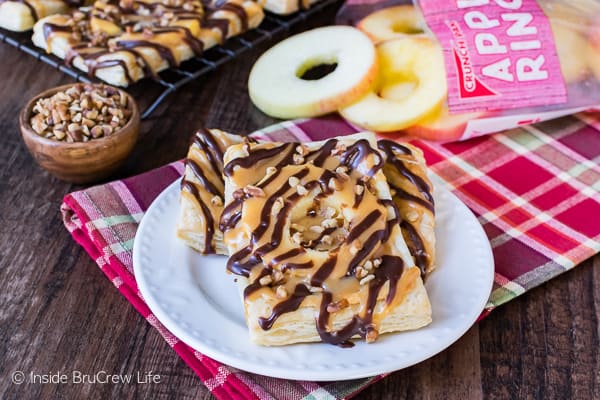 More apple recipes you may like:

*Crunch Pak compensated my time as a brand ambassador. All opinions expressed in this post are 100% my own.