This easy Maple Apple Walnut Cake is loaded with fruit and nuts. It's the perfect fall cake recipe for any party or dinner.
*Crunch Pak apples sponsored this post. I am partnering with them as a blog ambassador creating delicious apple recipes. All opinions expressed are 100% my own.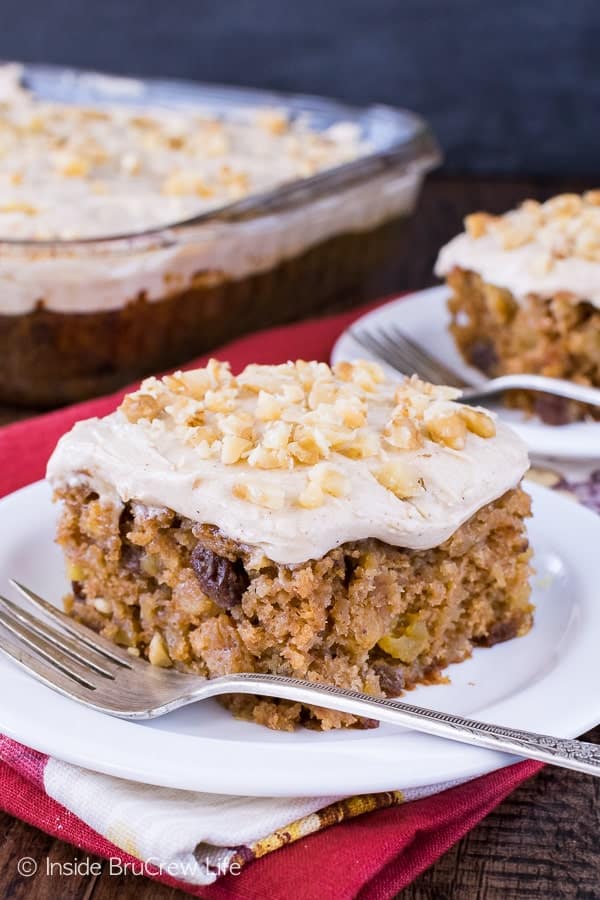 CLICK HERE TO PIN THIS RECIPE FOR LATER!
There are certain classes that you have to take in high school to graduate. Some classes you remember even when you get to be my age, and then there are those classes like Geometry that you forget the minute you leave school.
Unfortunately, then you have children who get to that class and ask you to help them with their homework because dad isn't home at the moment. Yikes!
I took one look at her problems and wanted to cry. After figuring out a few on our own, we had to do a FaceTime call with my husband for help with the rest. Plotting points and figuring out endpoints and lengths with the Pythagorean theorem is just NOT in my memory banks.
He explained it pretty well over the phone, and I think both of us got it. After that homework session my brain hurt, so dessert was a must that night. Homemade Chocolate Chip Brownies always help in any situation. Am I right?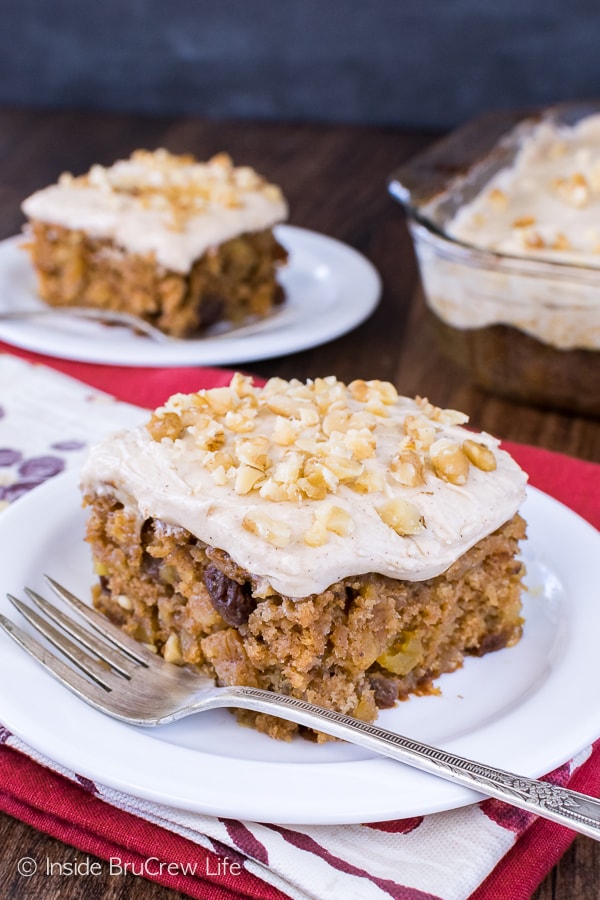 The extent of my math memory is really just simple basic addition. Things like angles, lengths, points, and planes have been forgotten long ago.
I prefer to rely on using my basic math skills in the kitchen for working with ingredients. A few weeks ago I figured out that apples + walnuts + maple frosting = the best apple cake you will eat this fall!
It's just how my mind works. Dessert math always works out for me. Well, most of the time anyway. We won't talk about the few failures that end up in the garbage can.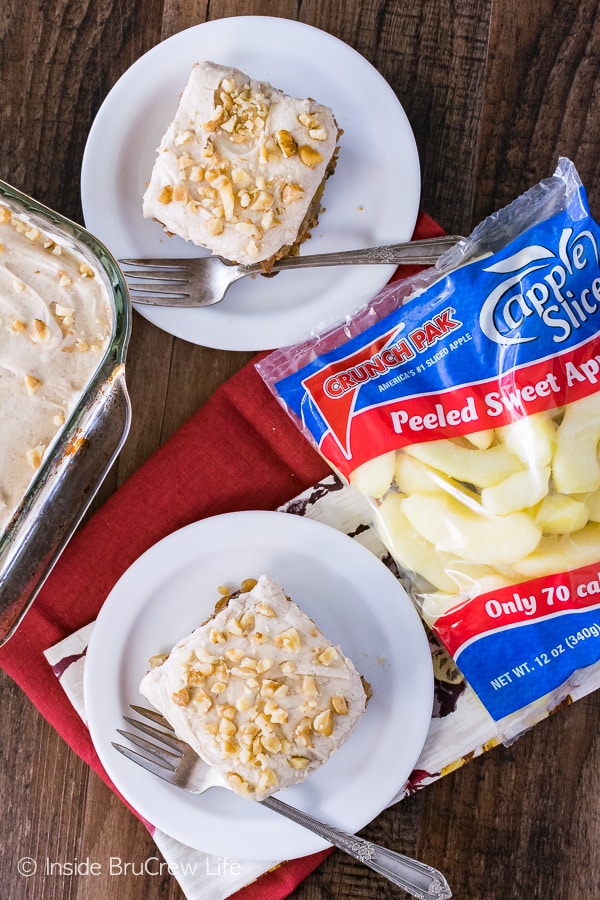 I am so excited to share another Crunch Pak apple recipe with you as we head into the fall months. Apple and pumpkin recipes are getting me excited to bake! How about you? Hopefully you are ready to bake up a storm because I've got some good recipes coming here on the blog as those temps start to drop.
We love keeping a few bags of sliced apples in our fridge for easy snacking or baking. Having lots of fruit available keeps my kids from grabbing too many cookies and brownies. Well, most of the time anyway.
A few years ago I made this Apple Praline Cake, and it has held the number one apple spot on the blog. Until now. Oh, my goodness! I can't even begin to describe to you how good this new cake recipe is. There is so much fruit and nut goodness loaded into this soft and fluffy fall cake!
The creamy maple frosting compliments it so well too. But don't take my word for it. Run out and buy a bag of sliced apples today, so you can enjoy this maple apple cake all weekend long.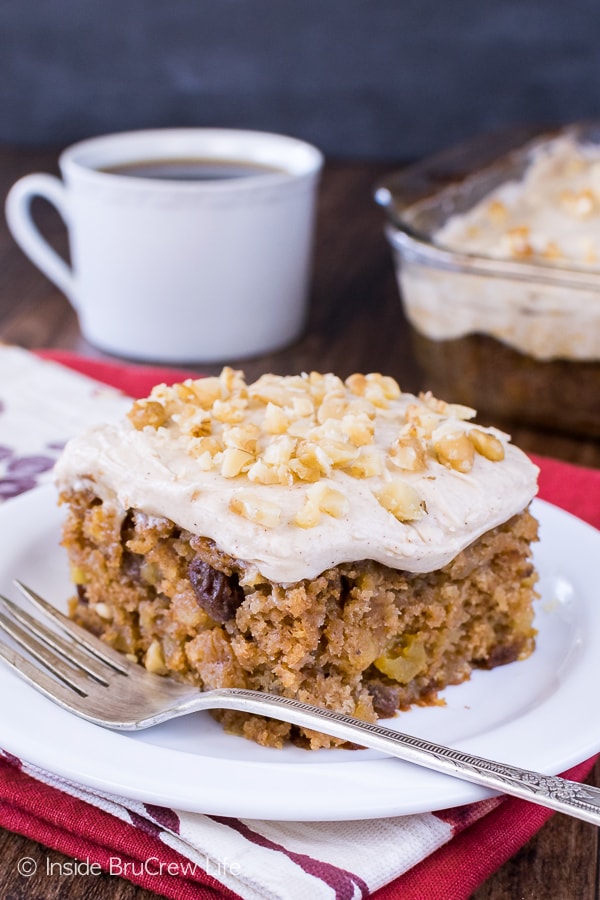 One of my favorite things to get for breakfast when I am on the go is the maple fruit oatmeal at McDonald's. I love all the chunks of apple, raisins, and walnuts in each bite, so I decided to incorporate all those ingredients into this easy apple cake.
I realize that some people have issues with raisins in their desserts, but I am not one of those people. You will find two different varieties of raisins in this cake because I like them so much. Feel free to leave them out if they freak you out too much. Honestly though, I love finding a chewy raisin or crunchy walnut chunk in every bite of my cake.
Looking for more apple recipes to indulge in this fall? Here are a few that I found that look amazing. Pull out the crock pot and make this Slow Cooker Apple Cake from Shugary Sweets. Add a scoop of vanilla ice cream and dig in. This Apple Monkey Bread from That Skinny Cook Can Bake sounds perfect for fall mornings! And this Honeycrisp Apple Sangria from Nutmeg Nanny would be the perfect weekend drink to relax with! Enjoy!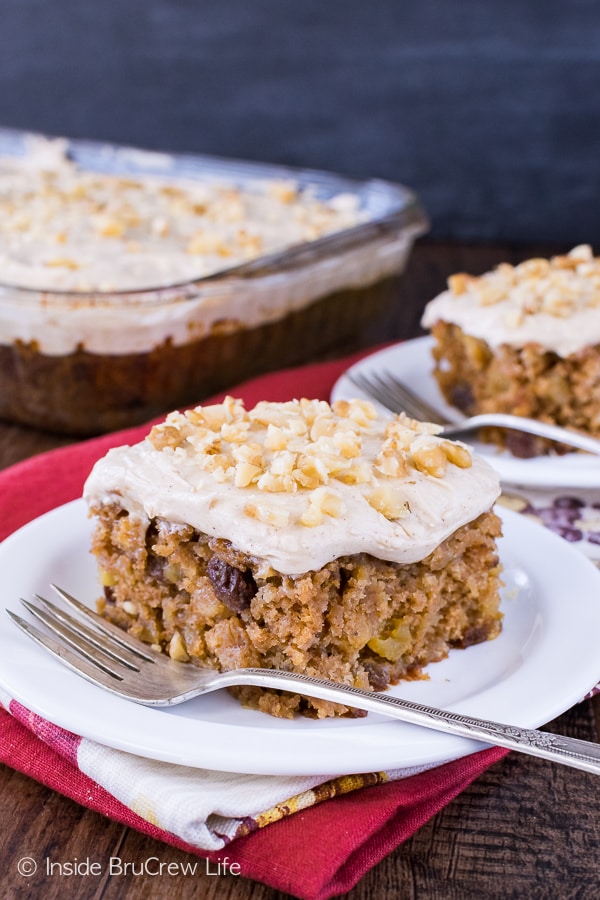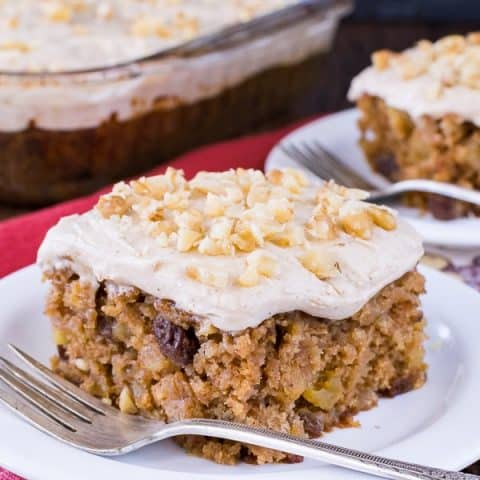 Maple Apple Walnut Cake
Total Time:
1 hour
10 minutes
This easy Maple Apple Walnut Cake is loaded with fruit and nuts. It's such a great fall cake recipe for parties and dinners.
Ingredients
For the Cake
1/2 cup granulated sugar
1/2 cup brown sugar
1 cup applesauce
2 large eggs
1 teaspoon maple extract
2 cups all purpose flour
1 teaspoon baking soda
1/2 teaspoon salt
2 teaspoons apple pie spice
4 cups diced apples
1 cup finely chopped walnuts, divided
1/2 cup raisins
1/2 cup golden raisins
For the Frosting
1/2 cup unsalted butter
4 ounces cream cheese, softened
1/4 teaspoon maple extract
1/2 cup brown sugar
3 cups powdered sugar
1 teaspoon apple pie spice
4 Tablespoons heavy whipping cream
Instructions
Preheat the oven to 350 degrees. Spray a 9x13 pan with nonstick spray.
Beat the sugars, applesauce, eggs, and extract.
Stir together the flour, baking soda, salt, and apple pie spice. Slowly beat it into the sugar mixture.
Stir in the apples, 3/4 cup walnuts, and raisins by hand. Spread in the prepared pan and bake for 50-55 minutes. Let cool completely.
Beat the butter, cream cheese, and extract until creamy. Slowly add the powdered sugar, spice, and heavy whipping cream until mixed in. Then beat on high for 2 minutes or until light and fluffy.
Spread on top of the cooled cake. Sprinkle with the remaining nuts. Cut into 24 squares.
Nutrition Information:
Yield:

24
Serving Size:

1
Amount Per Serving:
Calories:

272
Total Fat:

10g
Saturated Fat:

4g
Trans Fat:

0g
Unsaturated Fat:

5g
Cholesterol:

33mg
Sodium:

124mg
Carbohydrates:

44g
Fiber:

1g
Sugar:

33g
Protein:

3g
Nutrition facts are an estimate and are not guaranteed to be accurate. If you need special diet advice, please see a registered dietician.

*Crunch Pak compensated my time as a brand ambassador. All opinions expressed in this post are 100% my own.