These Frosted Cinnamon Apple Bars are topped with a cinnamon frosting and are full of apples.  They make a delicious treat to enjoy any day of the week.
*I am part of the ambassador program for Crunch Pak apples bringing you easy to make treats full of apple goodness.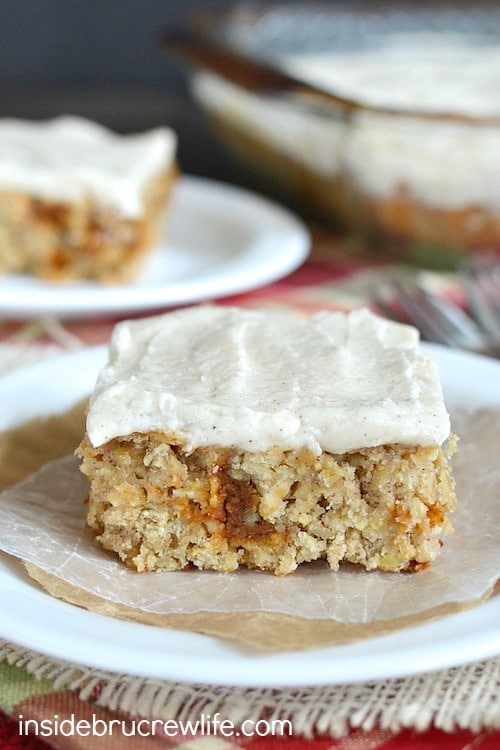 Sometimes you need to stop and take a look around you.
There are so many things in our lives to be thankful for, but we tend to get busy and not notice many of these things.  I am so guilty of doing this in so many areas of my life.  But when I get discourage or down about things going on, I try to open up my eyes and find the happy things in life to give me a better perspective on my life.
I have a loving husband who fully supports this crazy baking job that I do from our home.  As I get busier with projects and deadlines, he steps in and helps me out by driving the kids to school and making dinner some nights.  He also has offered to help me learn to learn a new editing program, so I can take on an even bigger project.
We have three kids who are getting bigger and helping out more without us always asking them.  Oh, don't get me wrong, they still try to get away with things and not do their chores each week, but they are also at such a fun stage in life.  They say and do the most hilarious things now to make us laugh.  God has definitely blessed us with easy going kids who get along and who want to please God with their life.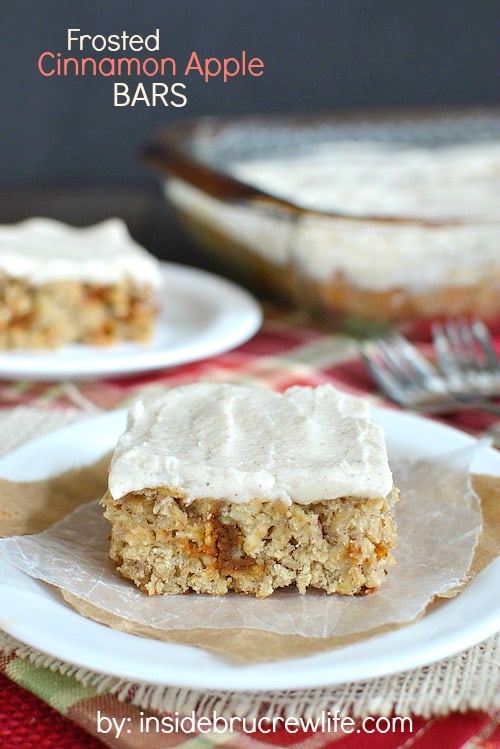 Then there are all the small things in life that I usually just take for granted and don't always notice the joy in such as new flowers growing, green grass, baby bunnies in the yard, thunderstorms with awesome streaks of lightening, a cup of coffee in the afternoon with a book, clean sheet day, or smiles from a stranger.  My goal this week is to notice the small things in life and to be thankful for where I am at this moment.
One big thing that I am thankful for is being able to work from home doing a job that I absolutely love.  I still have to pinch myself when I think about how I get to create and share fun recipes all from my own home using brands that I love and believe in.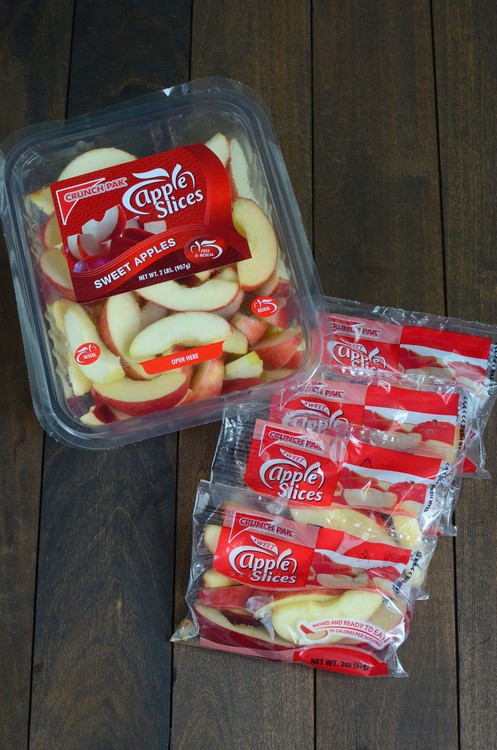 One company that I have worked with for the past few years is Crunch Pak apples.  These ready to eat apple slices come in a variety of bags for your snacking convenience. Our kids like the small bags for putting in lunches or snacking in the car.  I love having the bigger packages in my fridge for when I get the urge to throw apples into some baked goods.
I love trying to find new ways to change up these caramel oatmeal bars.  Adding shredded apples and cinnamon chips is a fun way to get that apple a day in your diet.  Oh, wait…maybe that's not what they really meant.  Wink, wink.
A cinnamon frosting just takes these apple bars to a whole new level.  I mean the plain bars are great for snacking on for breakfast, but frosting gives them a little something something more.  I kept sneaking little slivers each time I went into the kitchen.  Do you do that too?  Then the next thing I realized was that half the pan was gone…and I was the only one home!!!  My skinny jeans didn't find that so cool.
I boxed up the rest of these frosted cinnamon apple bars and sent it to work with my husband.  Yup, I'm all for making his co-workers chubby too.  If I can't stop eating this goodness, you better believe I'm taking everyone else down with me.  And now I will have to use my Yoda mind tricks to make them all forget they read this.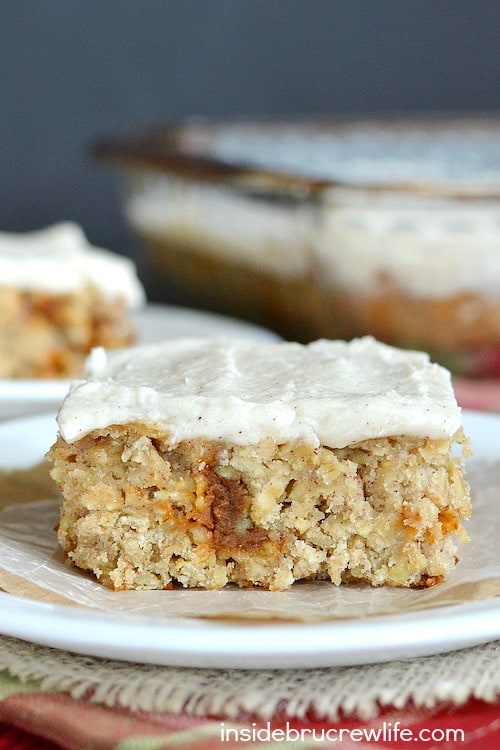 Connect more with Crunch Pak:
Website | Facebook | Pinterest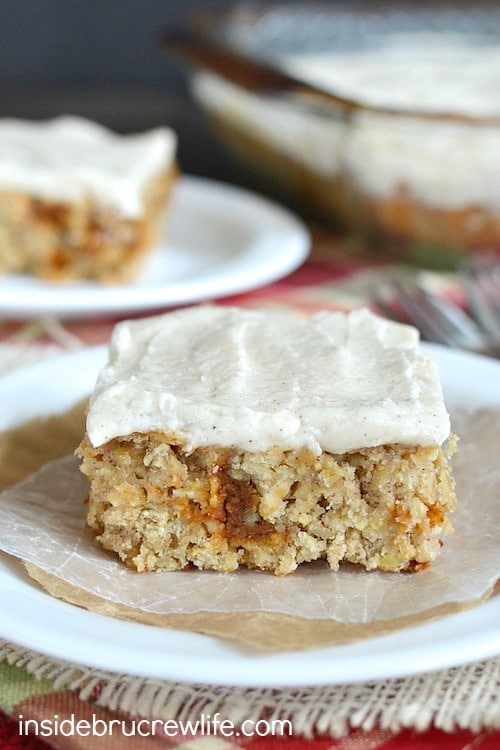 These Frosted Cinnamon Apple Bars are topped with a cinnamon frosting and are full of apples. They make a delicious treat to enjoy any day of the week.
Ingredients
For the Bars

¾ cup butter, softened
¾ cup brown sugar
2 eggs
1 teaspoon vanilla extract
1 ½ cups flour
2 ½ cups old-fashioned oats
½ teaspoon salt
2 teaspoons cinnamon
2 cups shredded Crunch Pak apples
1 cup cinnamon baking chips
For the Frosting

½ cup butter, softened
1 teaspoon vanilla extract
¼ teaspoon salt
2 cups powdered sugar
½ teaspoon cinnamon
4 Tablespoons whipping cream
Instructions
Beat the butter and sugar until creamy. Add the eggs and vanilla and beat again.
Stir together the flour, oats, salt, and cinnamon. Add the flour mixture alternately with the apples to the butter mixture.
Stir in the cinnamon chips by hand. Spread the batter in a greased 9×13 glass baking dish. Bake for 24-25 minutes at 350 degrees. Do not over bake. Remove and cool completely.
Beat the butter, vanilla, and salt until creamy. Add the powdered sugar, cinnamon, and whipping cream a little at a time until everything is mixed in. Let it whip on med-high speed until creamy. Spread over the cooled bars. Cut into 24 squares. Store in a sealed container on the counter.
https://insidebrucrewlife.com/frosted-cinnamon-apple-bars/
Copyright Inside BruCrew Life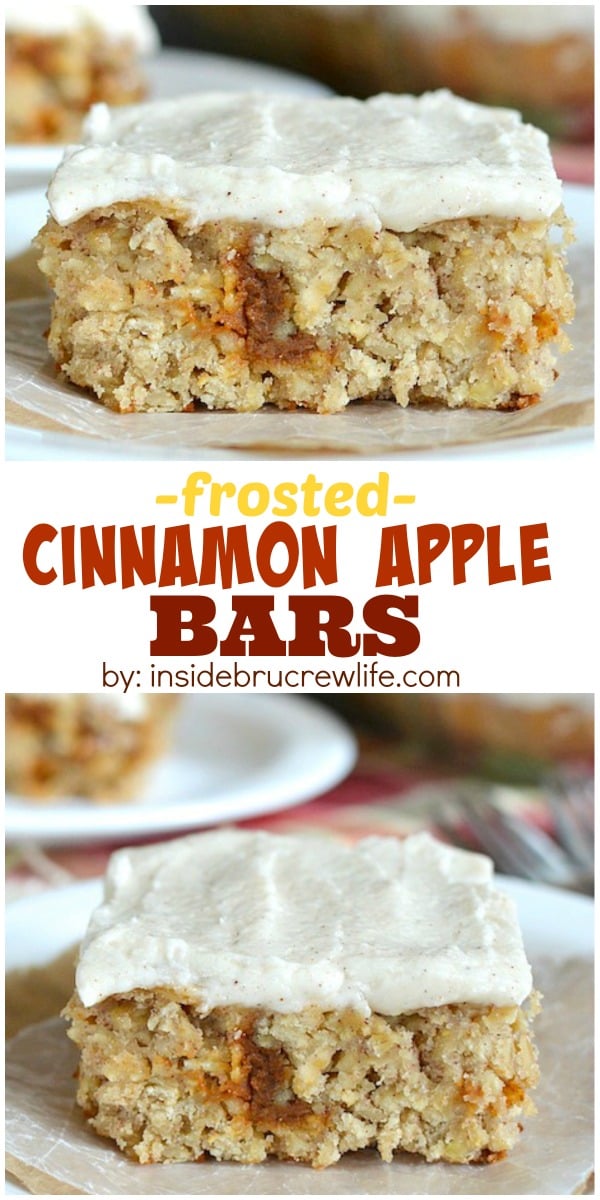 More delicious ways we enjoy using apples in our treats: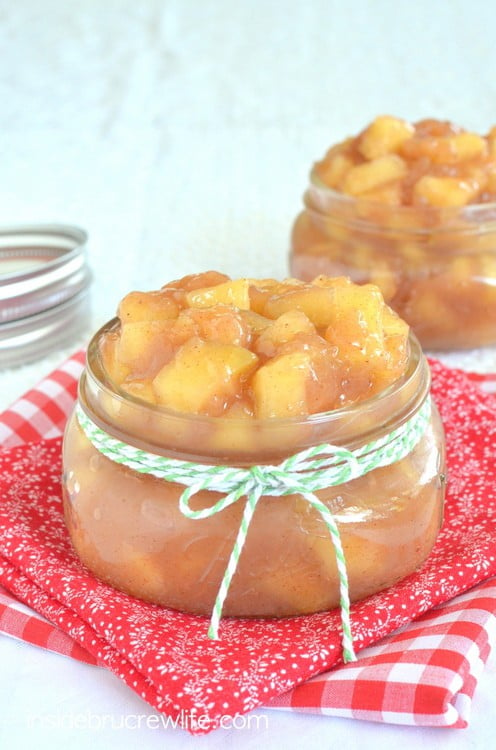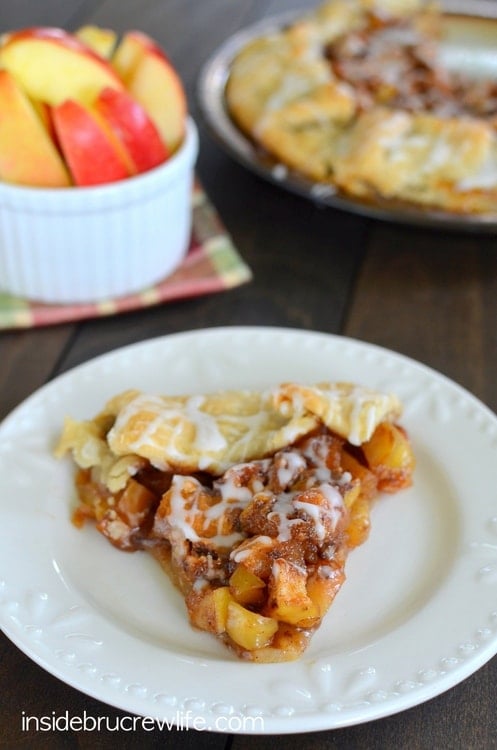 Butterfinger Apple Tart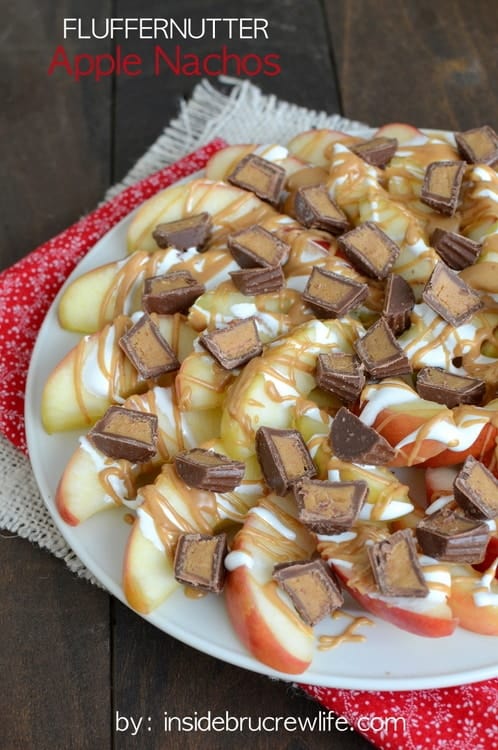 *I am part of the Ambassador program for Crunch Pak apples. This post has been compensated, but all opinions are 100% my own.