This Almond Joy Banana Bread is loaded with lots of chocolate, almonds, and coconut. Such a fun way to use up those ripe bananas on the counter.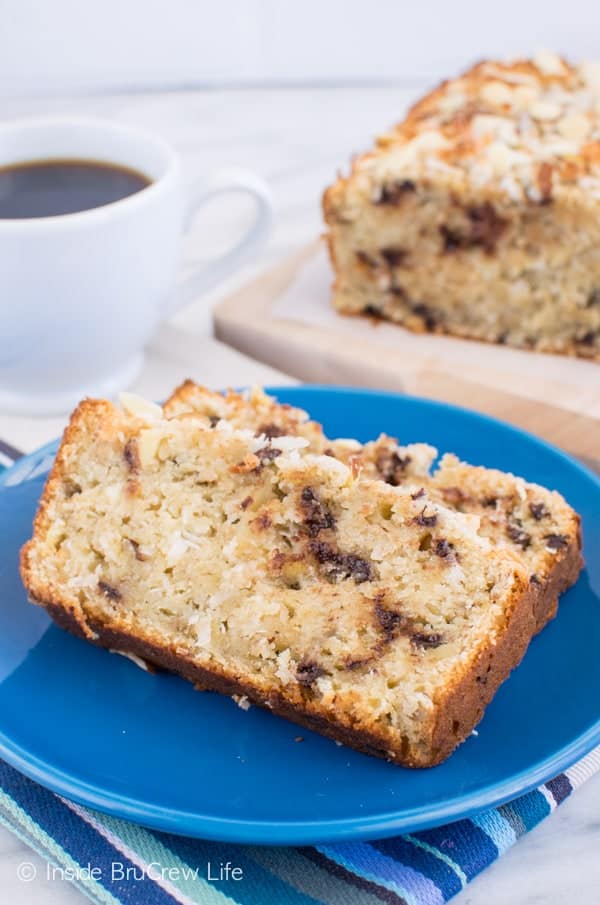 CLICK HERE TO PIN THIS RECIPE FOR LATER!
I can't seem to stop buying bananas. It is probably safe to say they are my favorite fruit.
Every single time we are at the store and they have the "baking" bananas super cheap, we come home with at least 6 or more bunches, plus some green ones to eat right away.
Most of the baking bananas get peeled, chopped, and frozen right away for smoothies and Peanut Butter Banana Ice Cream. But I usually set aside one bunch of bananas to get really good and dark.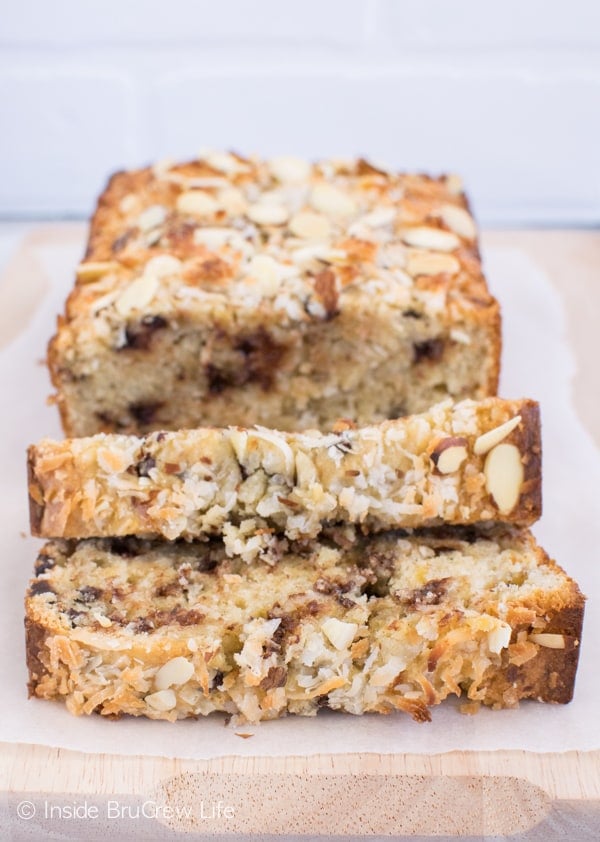 To get the best flavor in your baked goods, the bananas have to be dark...not spotty...like black dark.
They totally gross me out when I am peeling them, but I love how good they make this Cherry Chocolate Chip Banana Bread and these Banana S'mores Muffins taste.
Of course, if you are looking for the best banana bread I suggest making this Sour Cream Banana Bread. It's simple and tastes amazing!!!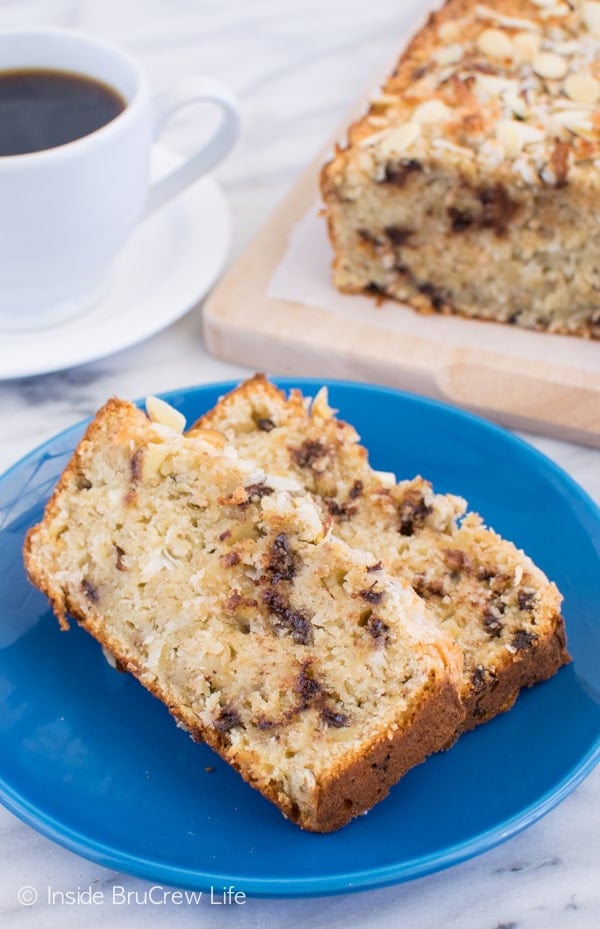 The idea to mix bananas and almond joy in a sweet bread has been swirling in my head for awhile.
Coconut is a huge addiction for me. I love to add it to everything. It has found its way into cookies, bars, and cheesecake.
Two out of three of our kids don't even bat an eye anymore when they taste the coconut in stuff! One point for mom in that category.
It totally proves that if you keep offering the same food to your kids, eventually they will eat it and maybe even like it. Well, unless they are a picky eater like our youngest. If you finds coconut in something, he will stop eating it ASAP.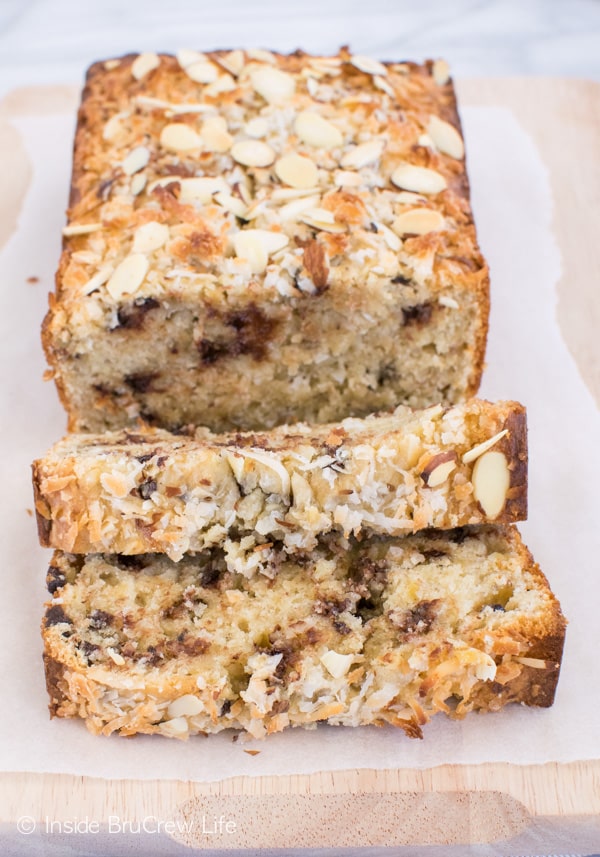 Does anyone remember the little Almond Joy candy pieces? They were so good, but I haven't seen them in stores for quite a while.
When I first made this coconut banana bread years ago, I add those candies to the batter. So the bread had spots of blue all over it from those little candies. You can imagine the amount of comments I got about moldy bread. LOL!!!
So, I decided it was time to remake this chocolate chip banana bread using just coconut and almonds.
Tips for making Almond Joy Banana Bread:
Beat the butter, cream cheese, and sugars until light and creamy.
Add the eggs, smashed bananas, and almond extract and mix again.
Stir together the flour, baking powder, baking soda, and salt. Slowly mix this into the butter mixture.
Add the diced almonds, chocolate chips, and coconut and stir gently. Spoon the mixture into two greased 9x5 loaf pans. Sprinkle the top of the batter with extra almonds and coconut.
Bake the banana bread for 45 minutes, then add a tented pieced of foil over the top of the breads to keep them from browning too much. Continue baking for an additional 10-15 minutes.
Cool the bread in the pan for 10-15 minutes, then flip the bread out onto a plate or wire rack. Gently flip the bread back over and let it cool completely.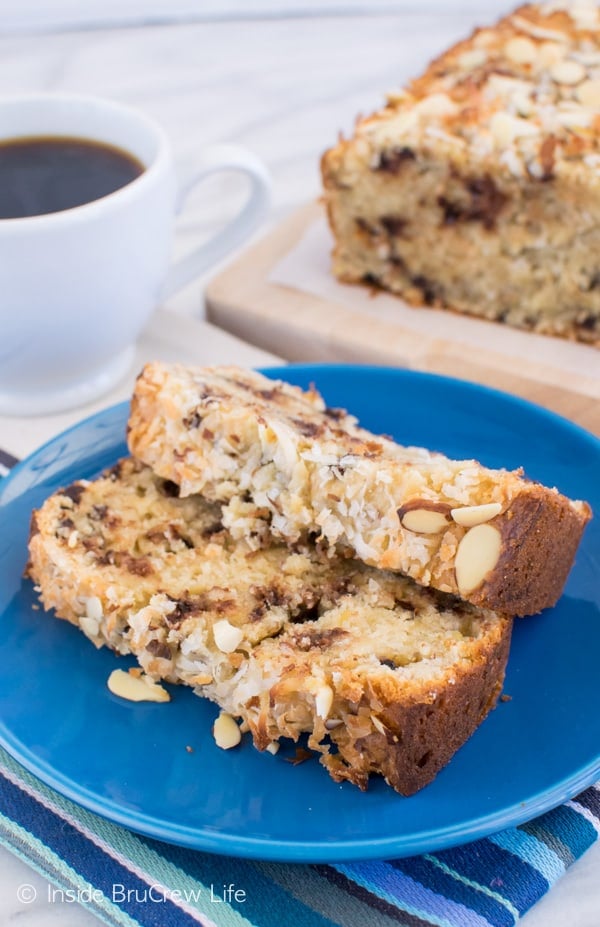 Looking for more Almond Joy recipes?
A hidden layer of coconut macaroons and the white chocolate on top make these Almond Joy Brownies an amazing dessert.
These Almond Joy Chocolate Chip Cookies have almonds, coconut, and candy pieces in them. They are perfect for dunking in a cup of milk.
Try one of these Almond Joy Hot Chocolate drinks the next time you need a drink to warm you up.
These Almond Joy Energy Bites are a little bit healthier way to have dessert while watching the calories you eat.
These Almond Joy Bars taste just like the candy bar only better. A thick chocolate layer and the coconut shortbread crust makes them so delicious.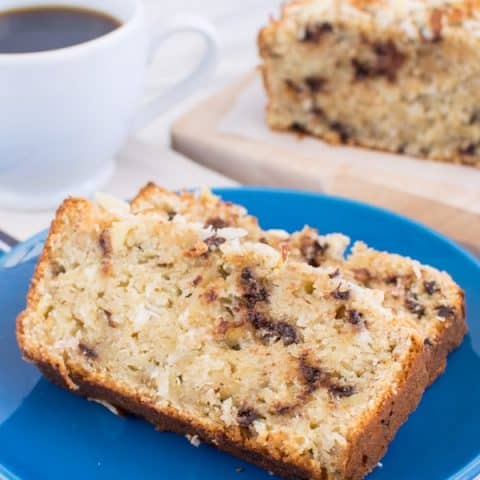 Almond Joy Banana Bread
Total Time:
1 hour
20 minutes
This Almond Joy Banana Bread is loaded with lots of chocolate, almonds, and coconut. Such a fun way to use up those ripe bananas on the counter.
Ingredients
¾ cup butter, room temperature
1 - 8 ounce cream cheese, softened
¾ cup sugar
¾ cup brown sugar
2 cups smashed bananas (4-5)
2 eggs
1 teaspoon almond extract
1 teaspoon baking powder
½ teaspoon baking soda
½ teaspoon salt
3 cups flour
1 ½ cups coconut, divided
¾ cups sliced almonds, divided
¾ cups miniature chocolate chips
Instructions
Preheat the oven to 350 degrees. Spray 2 - 9x5 loaf pans with nonstick spray.
In a large mixing bowl, beat the butter, cream cheese, and sugars until creamy. Add the eggs, banana, and almond extract.
Stir together the baking powder, baking soda, salt, and flour. Slowly add it to the butter mixture until it is incorporated.
Dice ½ cup of the sliced almonds. Stir the chocolate chip, diced almonds, and 1 cup coconut into the batter.
Spoon the batter evenly in the pans. Sprinkle the tops with the extra ½ cup coconut and ¼ cup sliced almonds.
Bake for 45 minutes. Cover the tops of the bread with foil and bake an additional 10-15 minutes, or until a toothpick comes out mostly clean.
Cool the pans of bread on a wire rack for 10-15 minutes before flipping the bread out onto a plate to cool all the way. Store in a sealed container.
Nutrition Information:
Yield:

24
Serving Size:

1
Amount Per Serving:
Calories:

277
Total Fat:

14g
Saturated Fat:

8g
Trans Fat:

0g
Unsaturated Fat:

5g
Cholesterol:

40mg
Sodium:

190mg
Carbohydrates:

35g
Fiber:

2g
Sugar:

19g
Protein:

4g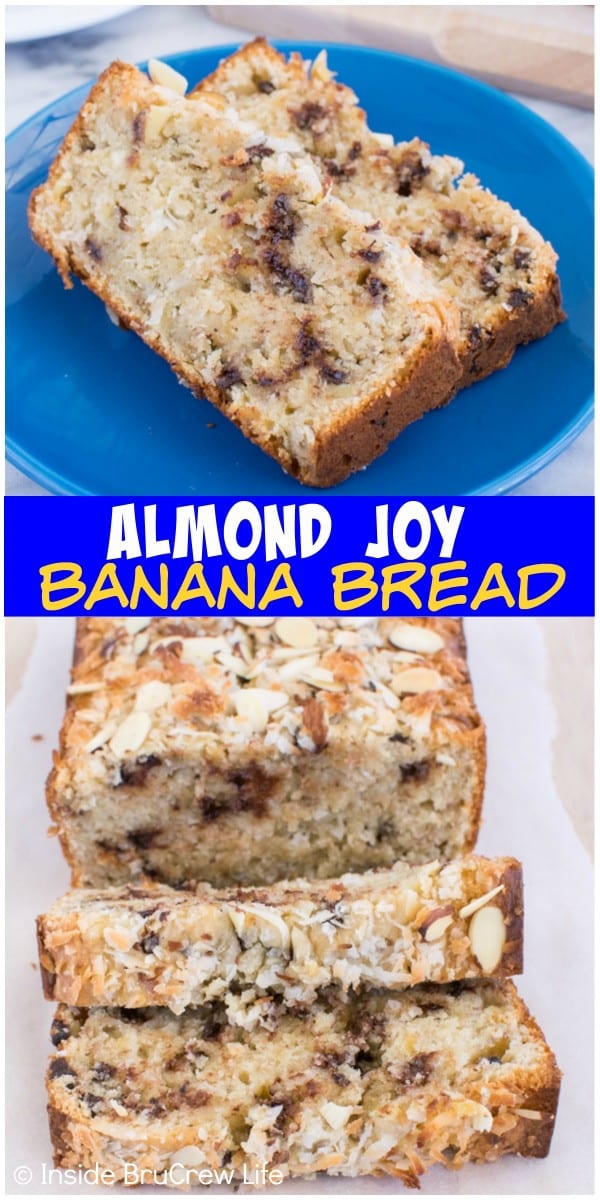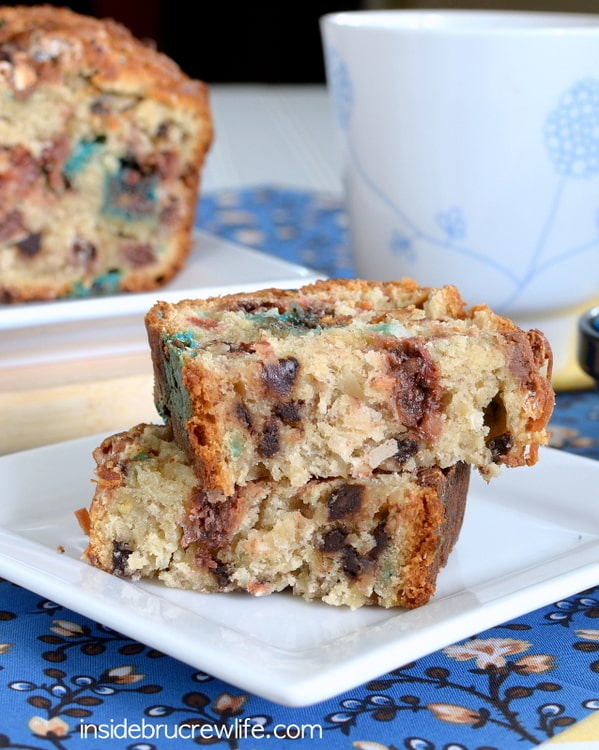 (original recipe from July 2012)
*The recipe and post for Almond Joy Banana Bread was first published on July 11, 2012. The post and pictures have been updated and it has been republished on March 11, 2019.