This Pineapple Zucchini Bread has a delicious tropical twist. It is another great way to use up all those green veggies from the garden that have started to take over!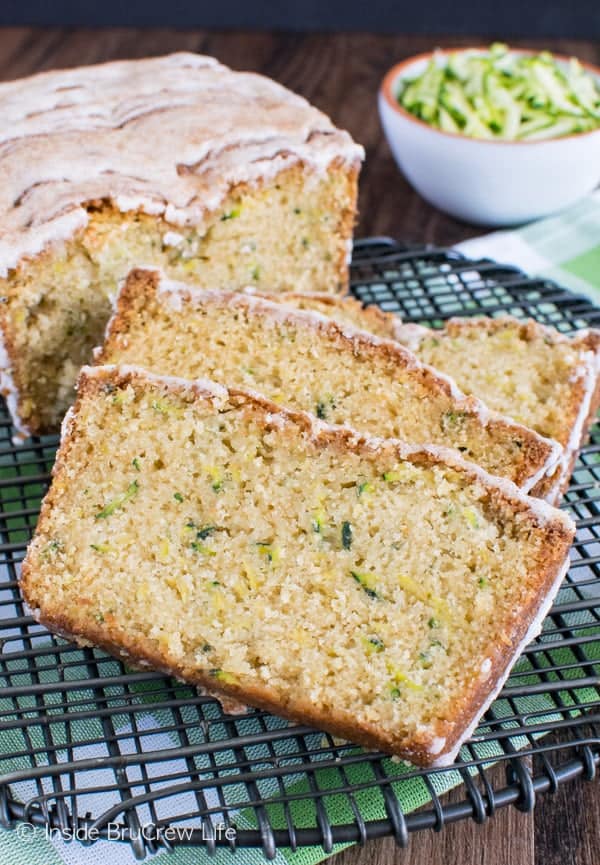 CLICK HERE TO PIN THE RECIPE FOR LATER!
This summer we have really gotten out of routine with planning dinner and having meals ready at a certain of the day. Routine is definitely something I am very ready to embrace again. I absolutely love our kids and having them home over the summer, but there comes a point when we are all ready for the normal day to day routine. Come on back school year!!!
The other day we were actually sitting at the table with our kids eating dinner when I noticed something on the front of our daughter's shirt. I casually mentioned something about it, but she must not have heard me because she kept eating.
The more I looked at it, the more it started to look like a spider to me. Now it wasn't moving, so I knew it was just a fuzzy. All of a sudden I got this funny idea to say something about the "spider" on her shirt...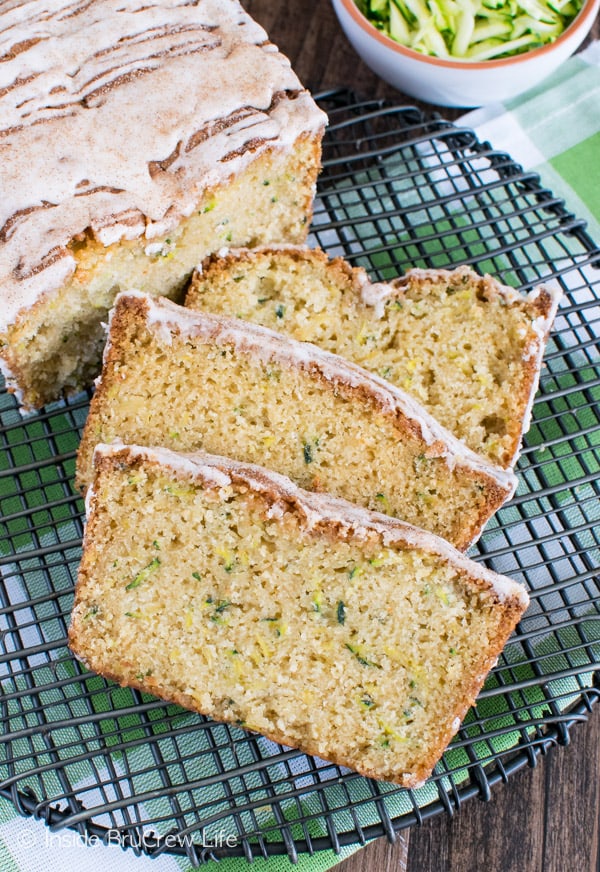 She definitely heard me that time because she jumped up out of her chair and started screaming while hitting at her shirt. The rest of us just sat there in shock at first, but then we started cracking up. It was just too funny to watch her freak out at nothing. Parenting at it's best, peeps!
I was then informed that telling someone that there is a spider on them is quite rude. I don't know, I found it quite hilarious, and I can't wait for another opportunity like that. Maybe I'll start a fuzzy collection just for those times when I need a "spider on the shirt" laugh!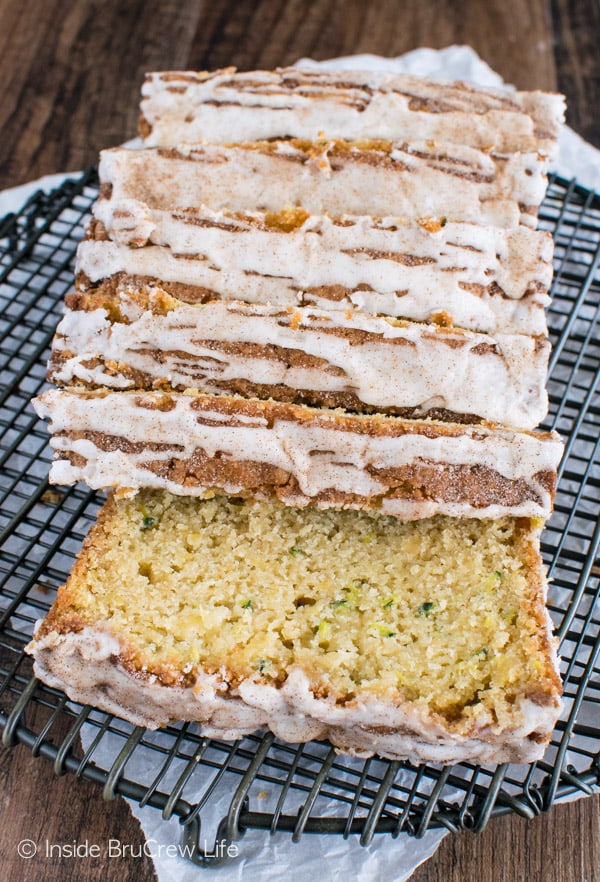 Ok, so that story had nothing to do with the pineapple zucchini bread staring at you, but I just had to share it. It had me giggling again as I wrote about it.
So, let's talk zucchini. Yes, I know this is the third recipe I have shared in the last few weeks. My fingers are crossed you have lots of green veggies in your gardens or stores because I admit that I may have gone a little crazy baking zucchini recipes. (Has anyone tried this zucchini banana cake yet?)
I would say it's the last zucchini recipe, but...I may still have some shredded in the fridge waiting for me. Maybe I should freeze it and move on to another baking obsession...like pumpkin? I can't wait to start in on some orange treats!
There was a can of crushed pineapple leftover from a different breakfast bread that I had made last week, so I decided to skip making our regular chocolate chip zucchini bread and add a tropical twist instead. I also left out the normal cinnamon and nutmeg that I usually use in zucchini bread because I wanted the pineapple to really stand out. A little bit of ground mace gave it just a little bit of flavor without taking away the tropical flair.
And of course, I can't do a sweet bread without glaze. It's just how I roll in our kitchen. Feel free to leave it off, if you prefer. Since this recipe makes two loaves, I do recommend freezing an unglazed one for later when you need a tropical getaway while staying in the comfort of your own home.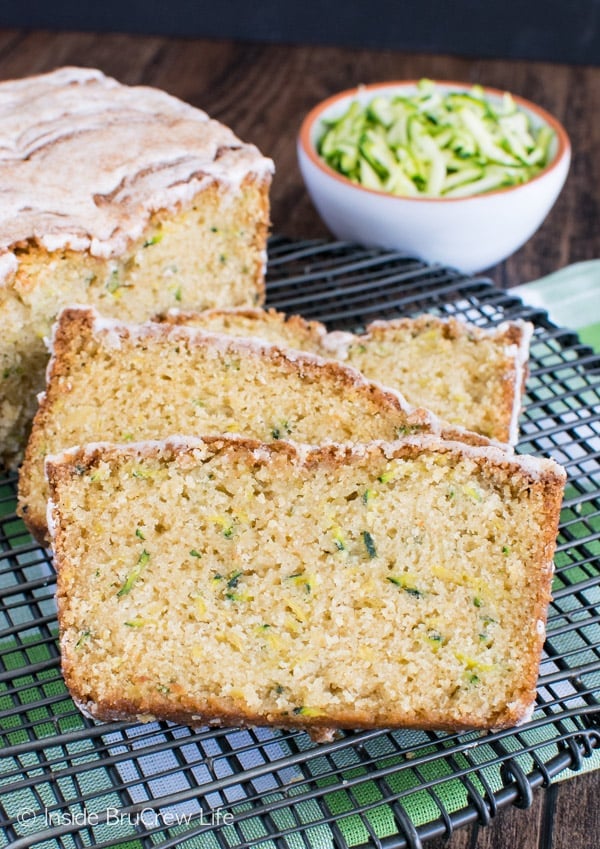 Stay up to date on all the BruCrew baking here:
FACEBOOK | PINTEREST | TWITTER | INSTAGRAM | BLOGLOVIN
Sign up to receive an email in your inbox for each new recipe:
EMAIL SUBSCRIPTION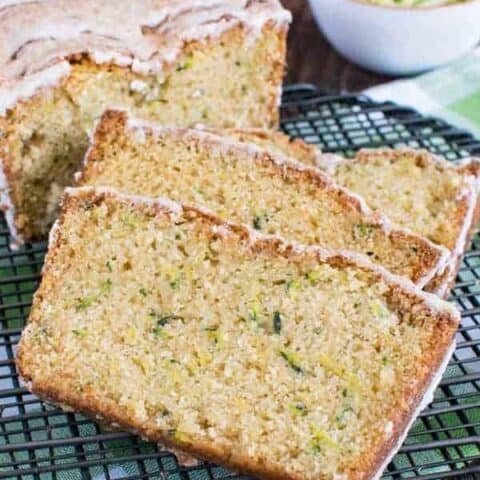 Pineapple Zucchini Bread
Total Time:
1 hour
20 minutes
This Pineapple Zucchini Bread has a great tropical flair to it that everyone will love. The sweet bread is a great way to use up that green veggie.
Ingredients
1 ½ cups oil
1 ½ cups sugar
1 ½ cups brown sugar
4 eggs
1 ½ teaspoons vanilla extract
1 ½ teaspoons rum extract
1 - 8 ounce can crushed pineapple, drained (save juice)
3 cups shredded zucchini
4 cups flour
2 teaspoons baking powder
1 teaspoon baking soda
1 teaspoon salt
2 teaspoons ground mace
2 cups powdered sugar
cinnamon sugar, optional
Instructions
Preheat the oven to 350 degrees. Spray 2 - 9x5 loaf pans with non-stick baking spray. (I prefer Baker's Joy.)
Mix together the oil, sugars, and eggs. Add the zucchini, pineapple, and extracts until mixed in.
Stir together the flour, baking powder, baking soda, salt, and mace. Slowly add to the wet mixture.
Spoon the batter evenly into the two prepared pans. Bake for 60-65 minutes, or until a toothpick or knife inserted in the center comes out mostly clean.
Remove and let cool in the pan for 10 minutes, and then flip out onto a wire rack or plate to cool completely.
Whisk together the powdered sugar and 4 Tablespoons of the saved pineapple juice.
Drizzle over the top of the loaves. Sprinkle with cinnamon sugar, if desired. Store in a sealed container.
Notes
*Feel free to peel the zucchini before shredding it. This helps hide the green flecks from the kids.
**Add 1 cup shredded coconut to the batter before baking it for an even bigger tropical flair.
Recommended Products
As an Amazon Associate and member of other affiliate programs, I earn from qualifying purchases.
Nutrition Information:
Yield:

24
Serving Size:

1
Amount Per Serving:
Calories:

378
Total Fat:

15g
Saturated Fat:

1g
Trans Fat:

0g
Unsaturated Fat:

13g
Cholesterol:

31mg
Sodium:

198mg
Carbohydrates:

59g
Fiber:

2g
Sugar:

41g
Protein:

4g

More delicious zucchini recipes that our family enjoys: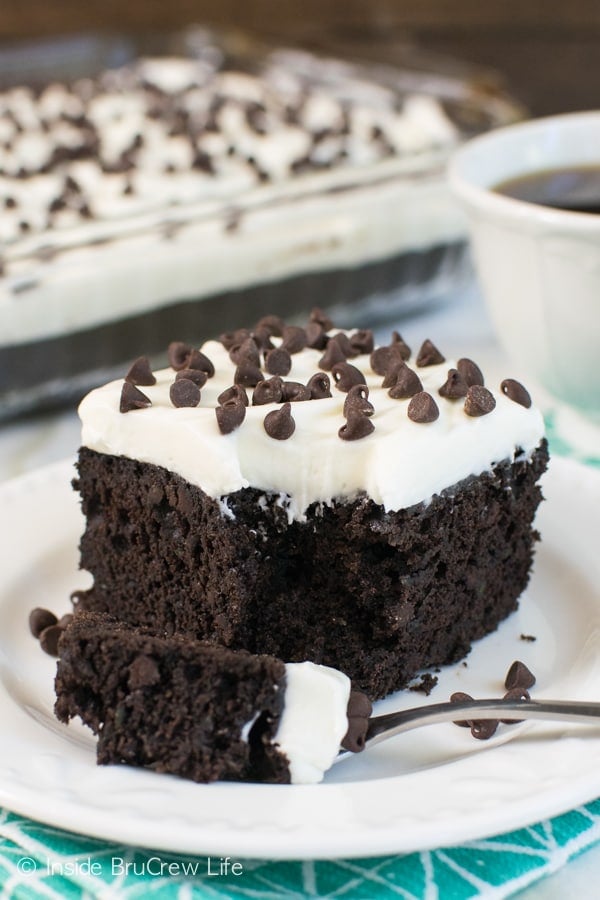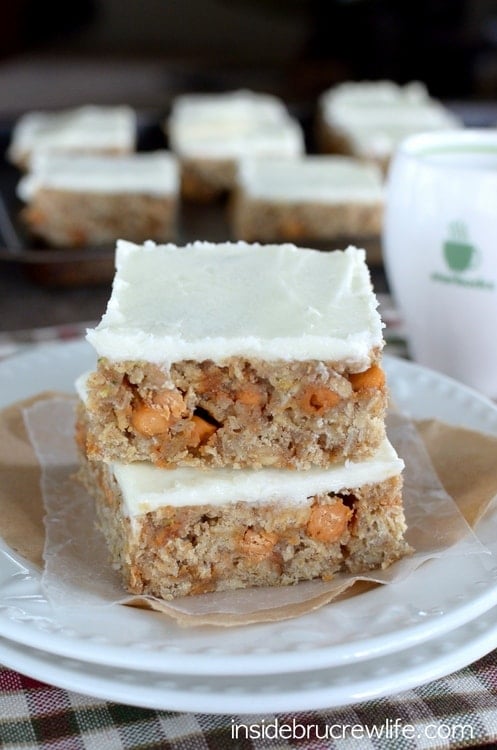 Frosted Butterscotch Zucchini Bars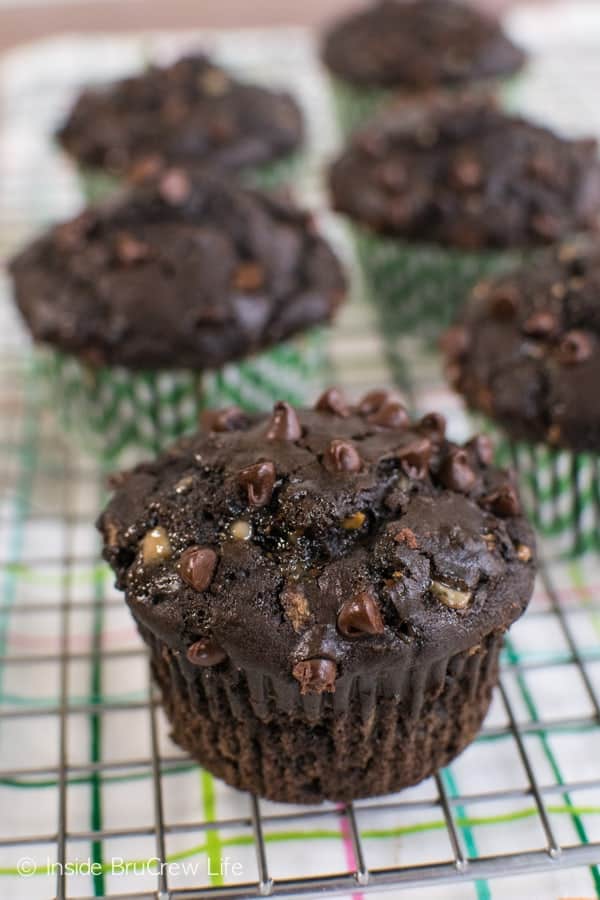 Double Chocolate Zucchini Muffins
More zucchini recipes from around the web: