Enjoy these Cheesy Beef Panini for lunch or dinner. This easy grilled cheese sandwich is loaded with goodness and will have everyone wanting more.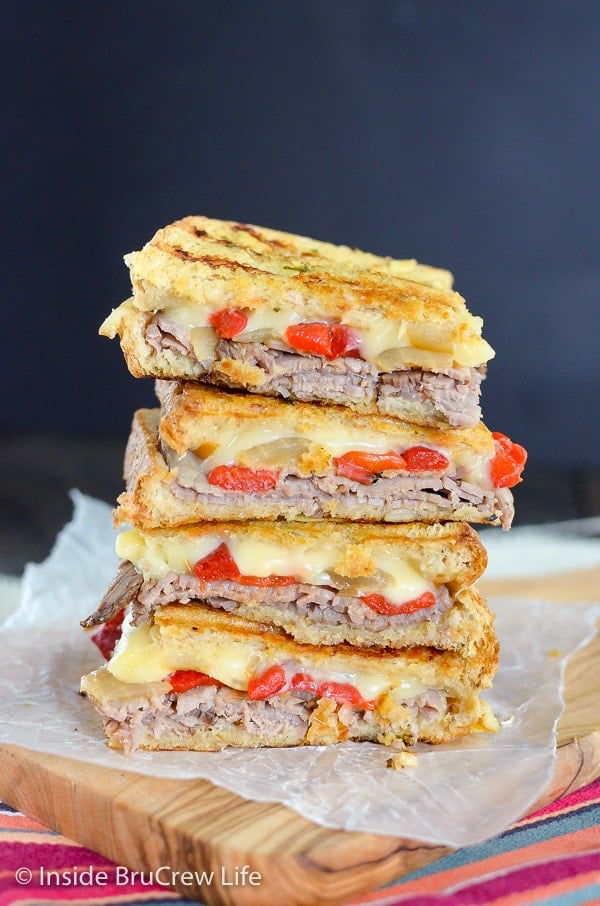 We have added a new member to our family. Now before you start thinking we have a new baby or puppy, let me set you straight. We bought a panini press. And it has been love at first use.
Honestly, I think someone has made a sandwich on it every day for the past week. My oldest even told me he was kidnapping the machine when the time comes for him to move out. I think it is safe to say this new Griddler is going to get lots of use in the next few years.
Another thing I'm thinking is thank goodness for a machine that is so easy to use that our kids can make their own BBQ Chicken & Avocado Quesadillas for lunch this summer.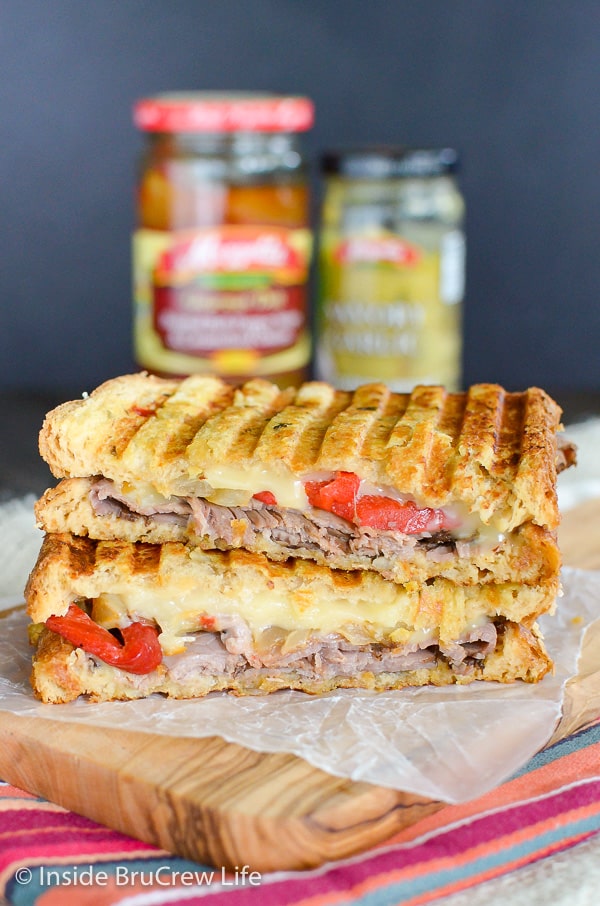 I decided to make a roast beef sandwich and add some peppers and onions to it. First though, I spread the outside of the bread with a garlic spread that I had found at our grocery store.
If you can't find that particular spread, it is just a blend of olive oil, parmesan cheese, and garlic. Or you could also use a garlic mayo in place of the spread.
Adding the beef and roasted peppers and onions turned the classic grilled cheese into an amazing gourmet sandwich.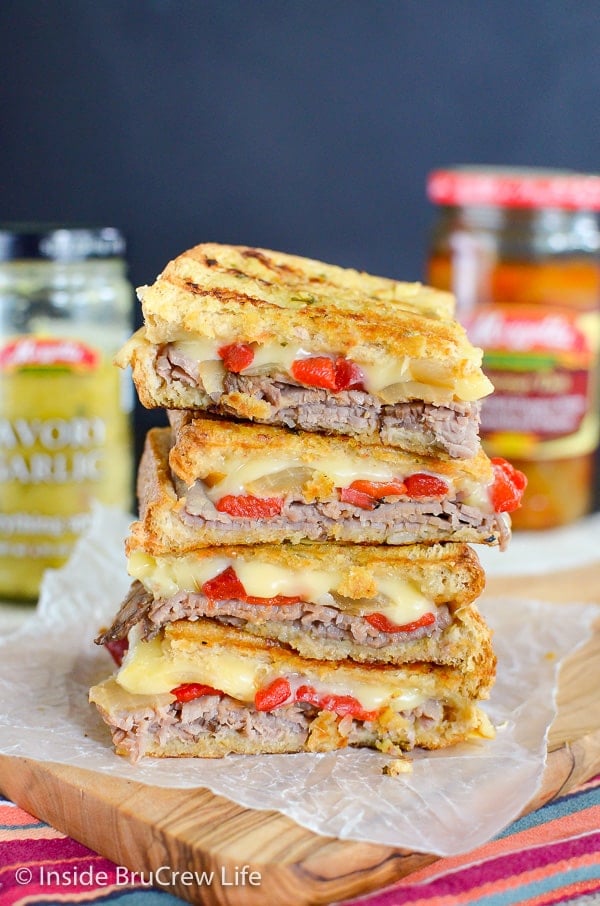 How to make a Cheesy Beef Panini
Spread one side of each slice of bread with a garlic spread. (full recipe at bottom of post)
Place the spread side of the butter down on the heated panini.
Add three slices of beef, some roasted peppers and onions, and two slices of cheese. Top with another slice of bread, spread side up.
Close the panini maker and cook until the cheese is melted and the bread is brown on each side.
Serve immediately.
If you do not have a panini press available, you can also use a griddle or a pan on the stove to grill this Philly cheese steak sandwich to perfection.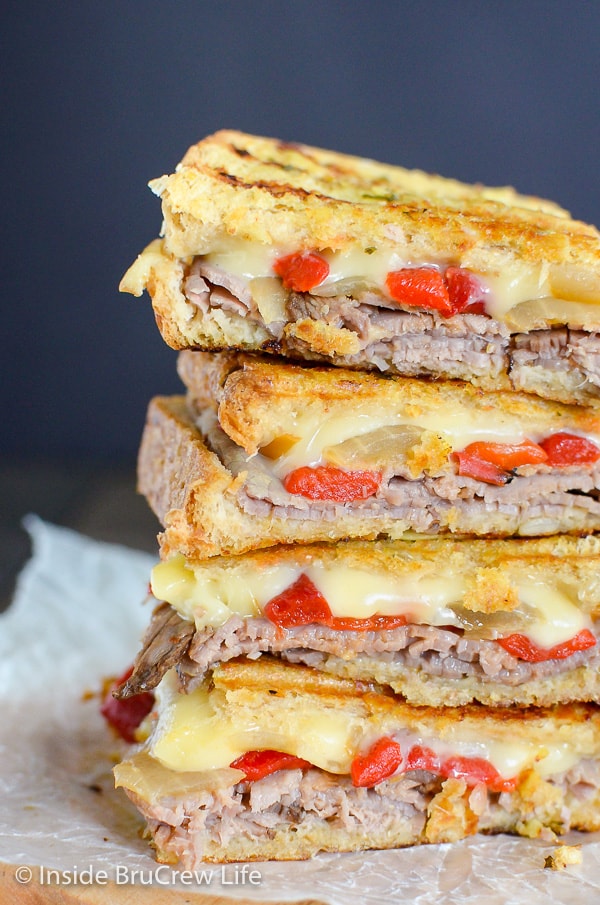 Look at all that goodness inside this grilled cheese sandwich. Who can turn down a sandwich loaded with meat, melty cheese, peppers, and garlic?
I think it's time to get my sandwich love on again for lunch and dinner today. My family shouldn't have a problem with that...I hope.
At least it's better than cold cereal for dinner, right?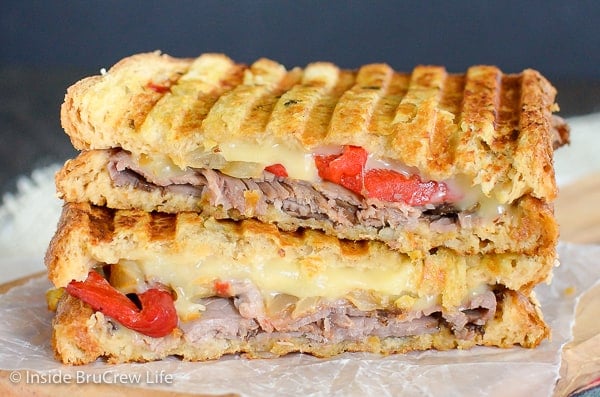 Other easy sandwich recipes you may like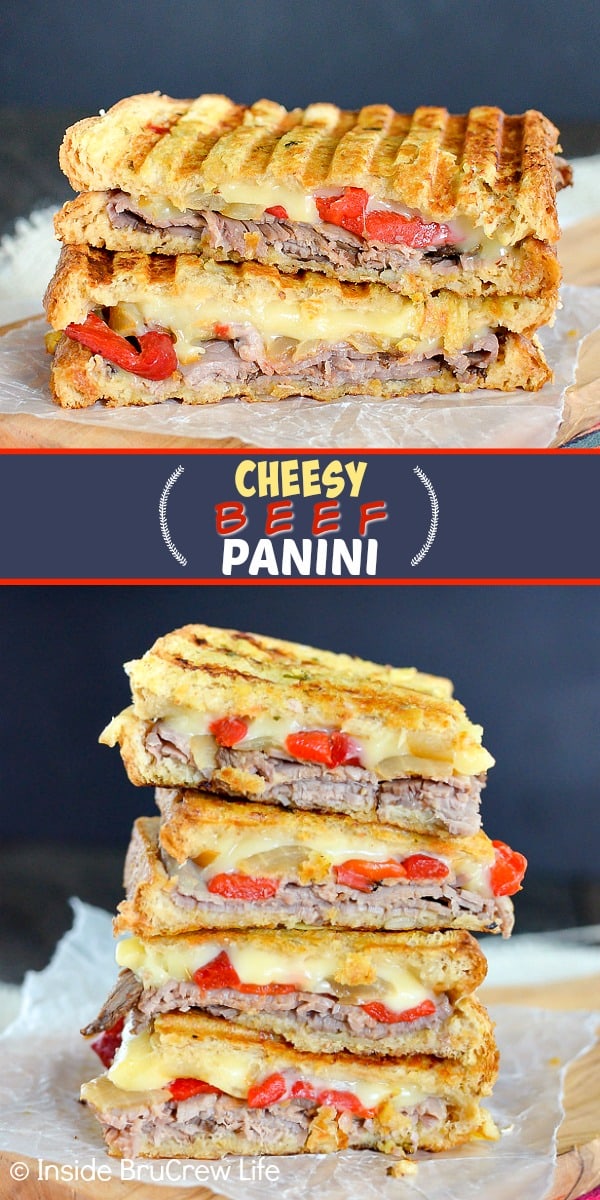 *The post for Cheesy Beef Panini was first published on June 25, 2014. The photos and post were updated May 17, 2020.