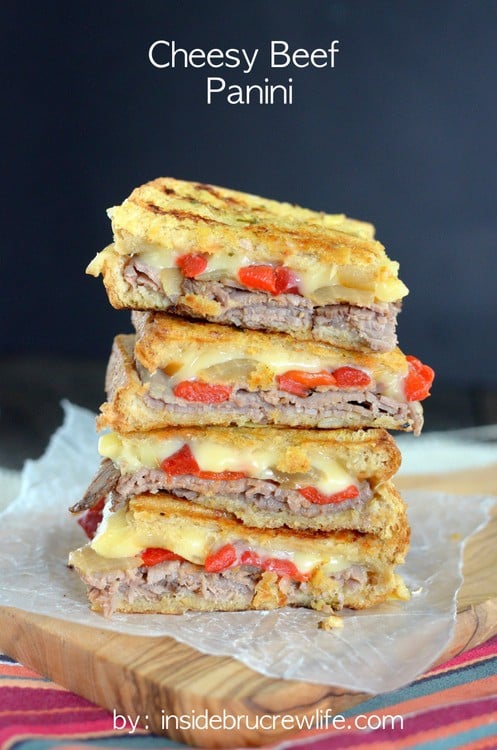 We have added a new member to our family.
Now before you start thinking we have a new baby or puppy, let me set you straight. We bought a panini press. And it has been love at first use. Honestly, I think someone has made a sandwich on it every day for the past week. My oldest even told me he was kidnapping the machine when the time comes for him to move out.  I think it is safe to say this new Cuisinart 5-in-1 Griddler
is going to get lots of use in the next few years.
Another thing I'm thinking is thank goodness for a machine that is so easy to use that our kids can make their own lunches this summer.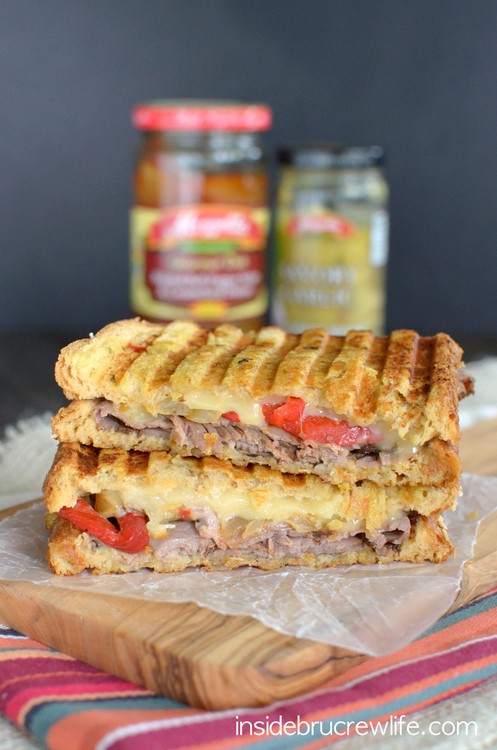 And hooray for easy to use products from Mezzetta to jazz up those summer sandwiches. They were wonderful enough to send me some jars of product to get our sandwich making started. These products are also available in the condiments aisle of your local grocery store.
I decided to start with some roast beef and add some peppers and onions. As I looked at the jars on my counter, I stopped on the Savory Garlic. This spread is a blend of olive oil, parmesan cheese, and garlic. It was the perfect thing to spread on the outside of my bread before putting the sandwich in the panini press. If you do not have a panini press available, you can use a griddle or a pan on the stove to grill it to perfection.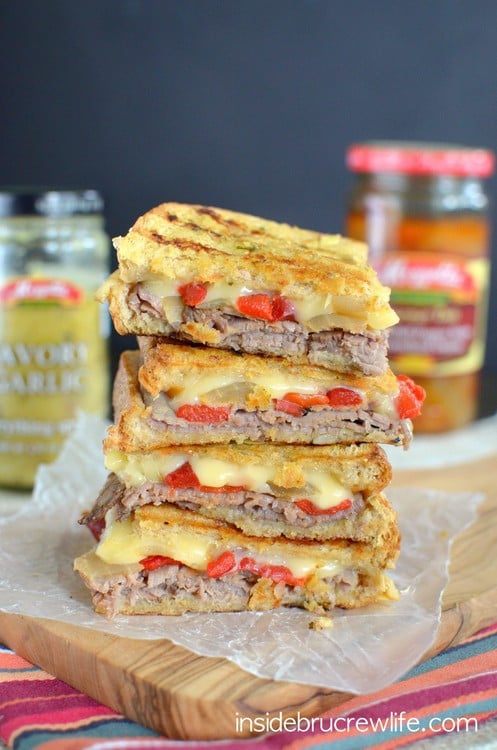 Look at all that goodness inside the sandwich. Who can turn down a sandwich loaded with meat, melty cheese, peppers, and garlic?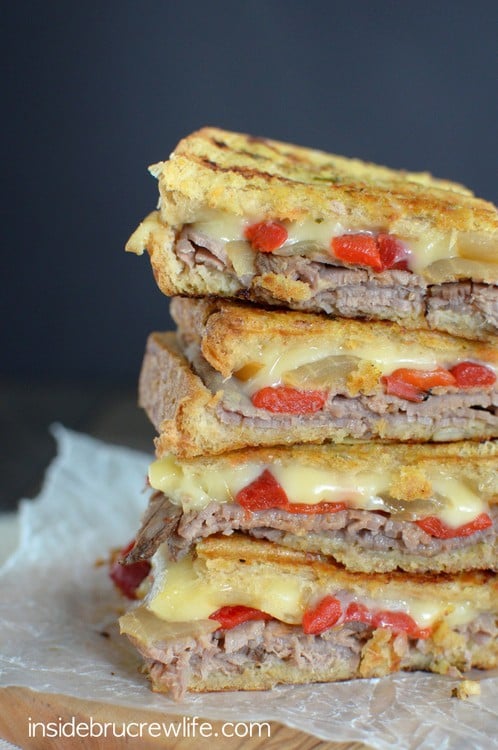 I think it's time to get my sandwich love on again for lunch and dinner today. My family shouldn't have a problem with that…I hope. At least it's better than cold cereal for dinner.
Now for some fun in the kitchen. Mezzetta is hosting a "Make That Sandwich" contest. Do you have a sandwich idea that could win? The grand prize winner will come home with $25,000 and two runners up will receive $1,000. You need to include at least two Mezzetta products in your original creation. Contest details are available here. Now get in the kitchen and start creating sandwich fun. I would love to say one of my readers won this contest.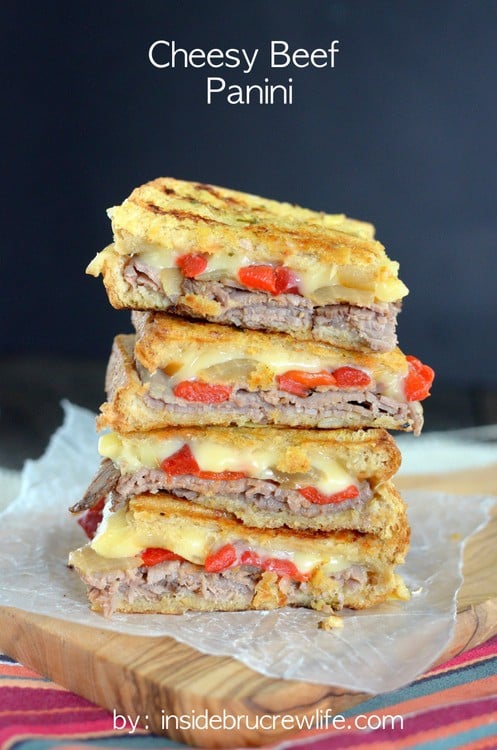 A delicious blend of roast beef, cheese, peppers, onion, and garlic in a toasted sandwich.
Ingredients
4 slices thick oat bread
6 slices deli roast beef
4 slices smoked Gouda cheese
2 teaspoons Mezzetta Savory Garlic Spread
1/4 cup Mezzetta Roasted Bell Pepper Strips & Caramelized Onions
Instructions
Spread the outside of the bread slices with the Savory Garlic spread. Place a slice of bread spread side down. Top it with 3 slices roast beef, 2 slices cheese, and 1/2 the peppers and onions. Place another piece of bread on top, spread side up. Repeat with remaining ingredients.
Place sandwiches on a panini press or griddle that has been preheated to medium high heat. Cook for a few minutes or until the bread is golden brown and the cheese has melted. Cut in half or quarters and serve. Makes 2 sandwiches.
https://insidebrucrewlife.com/cheesy-beef-panini/
Copyright Inside BruCrew Life
This is a sponsored conversation written by me on behalf of Mezzetta. The opinions and text are all mine.