A Buffalo Chicken Wrap is a quick and easy recipe to make for dinner. Enjoy all the flavor of your favorite game day wings rolled up in a tortilla with veggies and dressing.
The best part about these healthy chicken wraps is that they only take 10 minutes to make.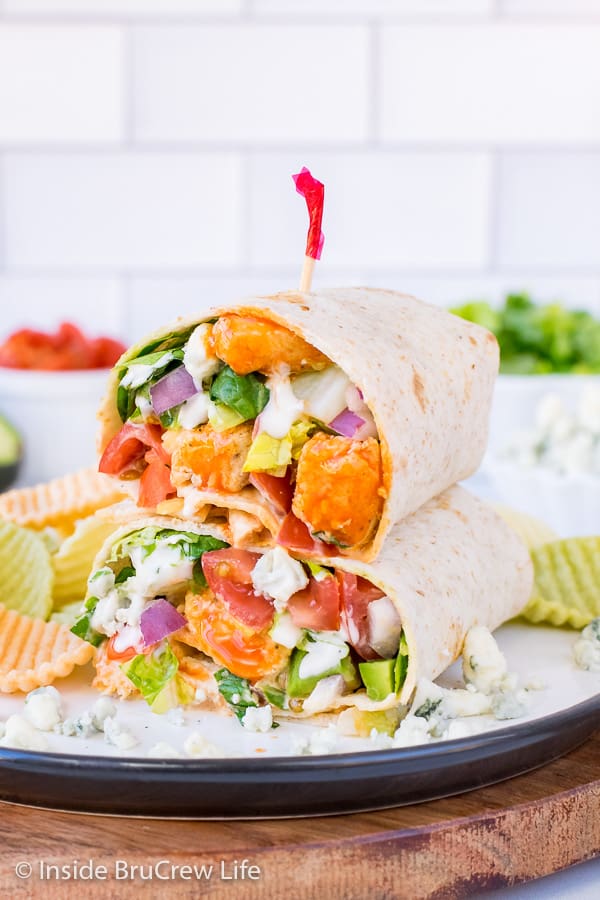 Why We Love This Recipe
Buffalo chicken anything always gets our attention. Everyone in our family loves anything and everything made with buffalo chicken.
We try to change it up by making pizza, nachos, or sandwiches, but we all agree that this Buffalo Chicken Casserole is probably one of our all time favorite ways to eat it.
When I was looking for an easy dinner for busy school nights, I decided to make a spicy chicken wrap recipe with buffalo chicken for a quick grab and go dinner.
Wraps are so easy to make, fun to customize, and taste better than a sandwich.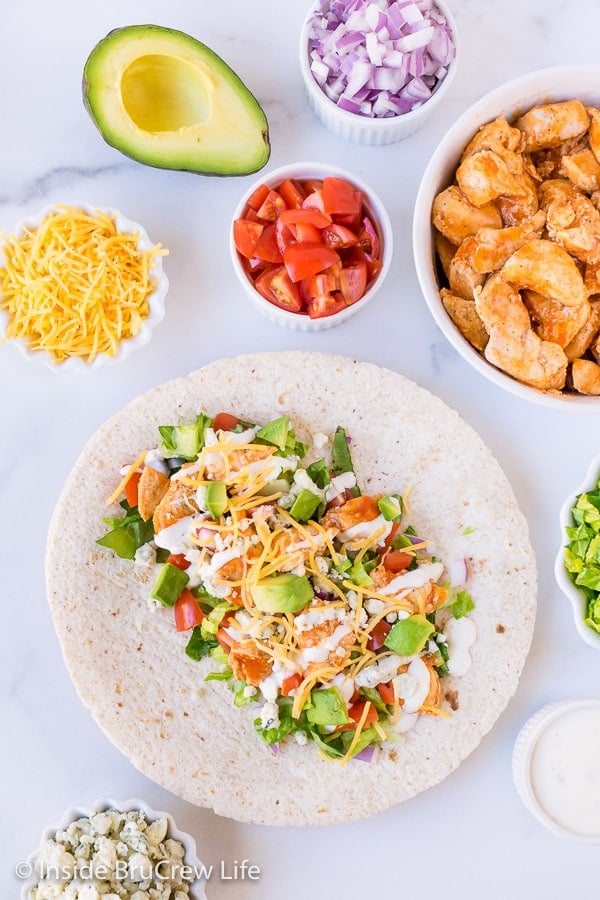 Ingredients Needed
You will need just a few ingredients to make a buffalo ranch chicken wrap for lunch or dinner.
Chicken - Diced chicken breasts or tenderloins cooked with salt and pepper is what we like to use. You can also use a rotisserie chicken, crispy chicken, or canned chicken instead.
Buffalo Wing Sauce - you can make your own with hot sauce and melted butter or use your favorite brand. We like Sweet Baby Ray's wing sauce.
Tortillas - use your choice of tortilla to wrap everything up. Flour, high fiber, low carb, and gluten free tortillas are great choices. For another low carb option use large lettuce leaves to turn them into buffalo chicken lettuce wraps.
Veggies - lettuce, tomatoes, and onions are what we like to fill our chicken wraps with
Cheese - use shredded cheddar and blue cheese crumbles to give flavor and variety
Dressing - use ranch or blue cheese depending on what you prefer with buffalo chicken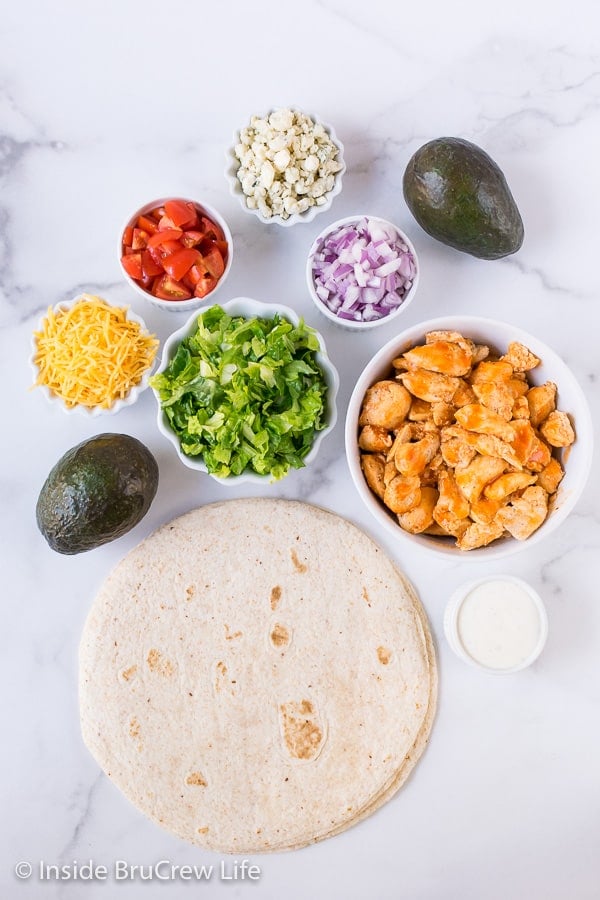 Our kids still won't touch blue cheese crumbles, but I have learned to love the flavor the crumbles add to buffalo chicken. Just don't hate me because I still drizzle my dinner wraps with ranch dressing. If you like blue cheese dressing, go for it.
How to make Buffalo Chicken Wraps
Tortillas filled with buffalo chicken, cheese, veggies, and dressing make a buffalo wrap a delicious dinner or the perfect game day meal.
Toss the cooked chicken with buffalo wing sauce.
Chop lettuce, tomatoes, and avocados.
Heat tortillas in the microwave or a warm skillet, so they are softer and easier to roll up.
Lay a tortilla flat and add the buffalo chicken and toppings of choice.
Drizzle with ranch or blue cheese dressing.
Roll carefully, tucking the ends and sides in. Secure each side of the buffalo chicken wrap with a toothpick and cut in half.
CLICK HERE TO PIN THIS RECIPE FOR LATER!
Topping Ideas
When you have buffalo chicken wraps for dinner, fill bowls with different toppings and let everyone customize their chicken wraps with the toppings that they love. Here are some of the ingredients that we like to choose from.
Veggies - romaine or iceberg lettuce, diced tomatoes, red and green onions, celery, shredded carrots, avocados
Cheese - blue cheese crumbles, shredded cheddar cheese, your favorite sliced cheese
Dressing - ranch, blue cheese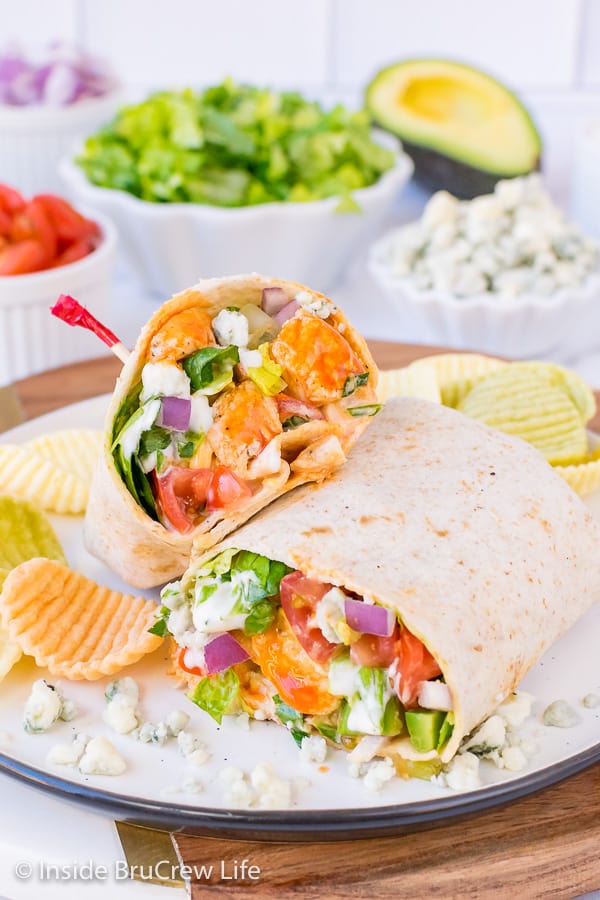 Recipe Tips
Buy prepackaged shredded lettuce to save time on dinner prep.
Use a rotisserie chicken or canned chicken instead of cooking your own.
Warm tortillas in a heated skillet, so they are easier to fold and roll.
Reheat cold wraps by heating them in an air fryer for 4-5 minutes at 350 degrees.
Storage
Chicken wraps are best eaten the day they are made. If you have leftover ingredients, refrigerate them in individual containers.
You can wrap leftover wraps in plastic wrap and refrigerate for 1-2 days, but they may start to get a little soggy.
Make it a Full Meal
A buffalo chicken wrap is delicious and filling on its own for lunch , but adding a few sides and desserts can make it a delicious choice for dinner or picnics.
Chips, French Fries, Tater Tots - baked or air fried
Garden salad - served with your favorite veggies & Honey Balsamic Vinaigrette
Coleslaw - store bought or homemade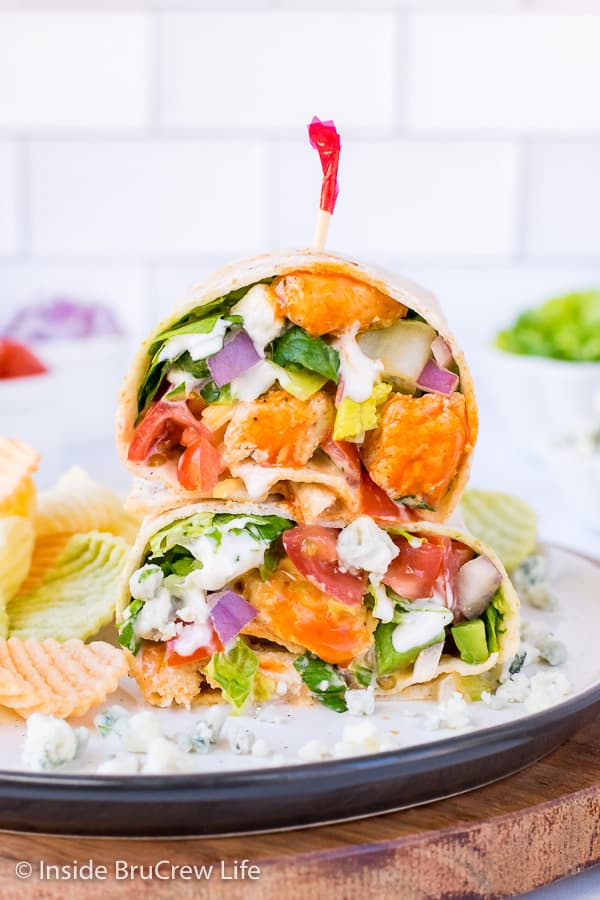 Other Chicken Wrap Recipes
More Buffalo Recipes