Cherry Chocolate Chip Cookies are a chewy and delicious cookie to add to your holiday cookie trays. They are a happy mix of chocolate chip cookies and chocolate covered cherries.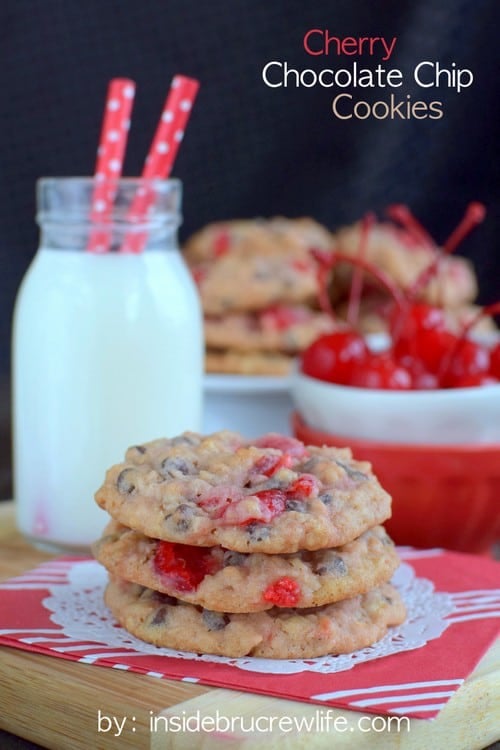 How many of you like to go crazy baking cookies in the month of December?
Each year we make a list of cookies that we want to bake for friends and families. Things like these Oreo Peppermint Crunch Cookies and these Peanut Butter Oreo Truffle Cookie Cups are always at the top of the list.
Of course, we always have to pick and choose what to make because our list of cookies is way too long to actually make every single one.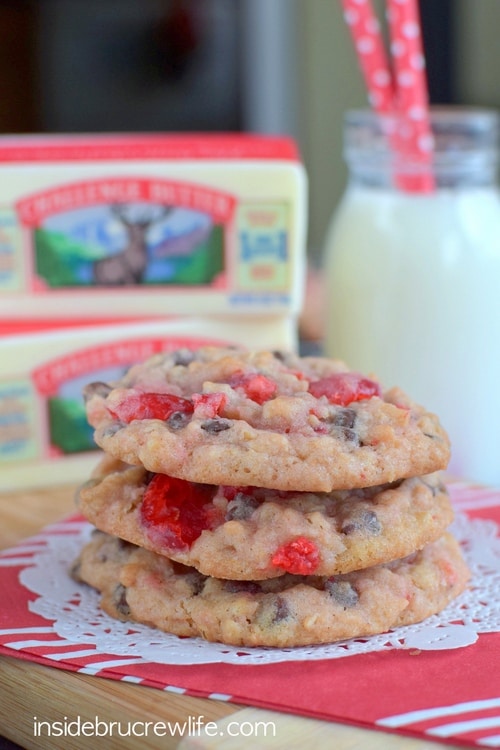 We start by picking 10 different cookies that we want to make. Everybody gets to pick their favorite cookie and make them from start to finish. With guidance from me, of course.
I'm kind of a baking hoverer or maybe picky perfectionist is more like it. Over the years I have had to let go of those tendencies and let the kids get their hands in the dough. And yes, we end up with egg shells in the batter and flour on the floor, but I'm ok with it because they are baking with me.
This year I wanted to come up with a new cookie for our top ten list. Chocolate covered cherries are one of my favorites, so I knew that somehow I wanted to incorporate that into an oatmeal cookie.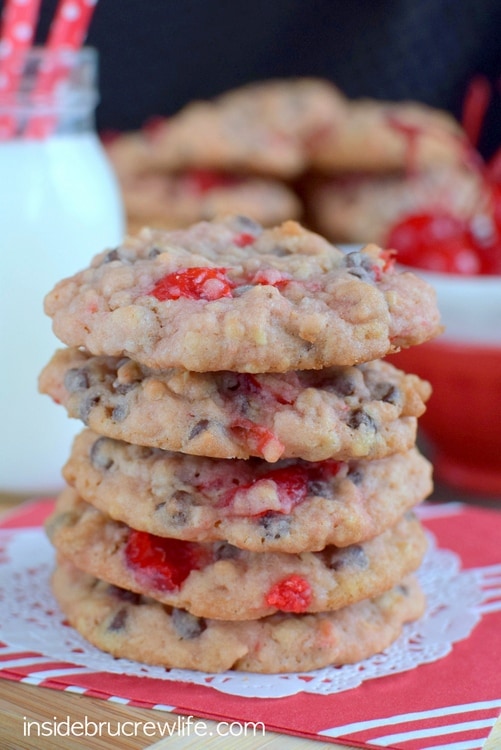 This chunky oatmeal cookie was a perfect way to get the chocolate and cherry flavors. With a few tweaks, I came up with a cookie that we will be making over and over.
Most of the cookies I make are thick and puffy like these Peppermint Mocha Pudding Cookies. I'm a fan of thick cookies, but my husband is a thin, chewy kind of cookie guy. He loved these chocolate chip cherry oatmeal cookies. They were thin with just the right amount of chew with chocolate and cherry in every bite.
How to make Cherry Chocolate Chip Cookies:
Drain a jar of maraschino cherries, making sure to save the juice. Place the cherries on paper towels and let dry.
Beat softened butter and sugars until creamy. Add egg and cherry juice and beat again.
Stir together the dry ingredients and slowly mix into the butter mixture. The dough will be stiff.
Dice the cherries into small pieces. Pat the cherries dry with more paper towels.
Stir the cherries and chocolate chips into the batter gently.
Scoop and roll the cookie dough into 36 even balls and bake for 9 minutes.
Let cool on pan for a few minutes, then gently move to parchment to cool completely.