I am partnering with Challenge Dairy to bring you this cookie recipe. Cherry Chocolate Chip Cookies are a chewy and delicious cookie to add to your holiday cookie trays.  They are a happy mix of chocolate chip cookies and chocolate covered cherries.
*Be sure to sign up for the BruCrew email subscription to receive these recipes in your inbox each day.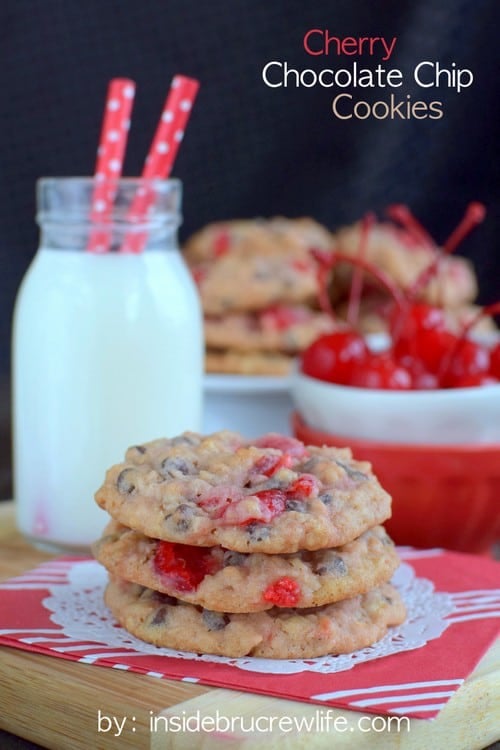 How many of you like to go crazy baking cookies in the month of December?
Each year we make a list of cookies that we want to bake for friends and families.  Things like these Oreo Peppermint Crunch Cookies and these Peanut Butter Oreo Truffle Cookie Cups are top of the list.  Of course we always have to pick and choose what to make because our list of cookies is way too long to actually make.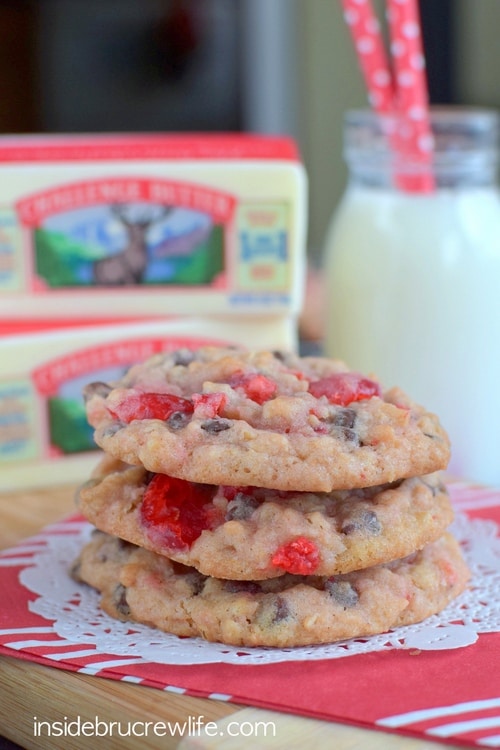 We started picking 10 different cookies to attempt making.  Everybody gets to pick what their cookie is going to be, and they make them.  With guidance from me of course.
I'm kind of a baking hoverer…or maybe picky perfectionist is more like it.  Over the years I have had to let go of those tendencies and let the kids get their hands in the dough.  And yes, we end up with egg shells in the batter and flour on the floor, but that's OK because they love helping.  So, I'm glad they are with me in the kitchen!  
I like to be picky about my baking ingredients too.  Only the best products will do for our baked goods.  Challenge Butter is made with 100% real cream and all natural products.  You can pronounce every ingredient on their package.  This means a lot to me knowing that we are consuming a natural product that does not contain extra hormones that my growing kids' bodies do not need!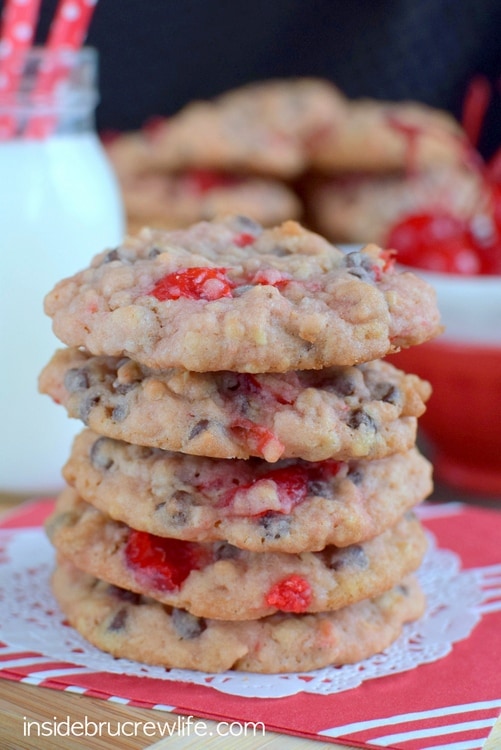 This year I wanted to come up with a new cookie for our top ten list.  Chocolate covered cherries are one of my favorites, so I knew that somehow I wanted to incorporate that into a cookie.
This chunky oatmeal cookie was a perfect way to get the chocolate and cherry flavors.  With a few tweaks, I came up with a cookie that we will be making over and over.  And since I'm a dessert blogger who never makes things the same, this is saying a lot!
Most of the cookies I make are thick and puffy like these Peppermint Mocha Pudding Cookies.  I'm kind of a fan of thick cookies, but my husband is a thin, chewy kind of cookie guy.  He loved these Cherry Chocolate Chip Cookies.  They were thin with just the right amount of chew with chocolate and cherry in every bite.
You definitely need to try this cookie if you are looking for something new and delicious!  Head over to Challenge Butter to get the recipe HERE.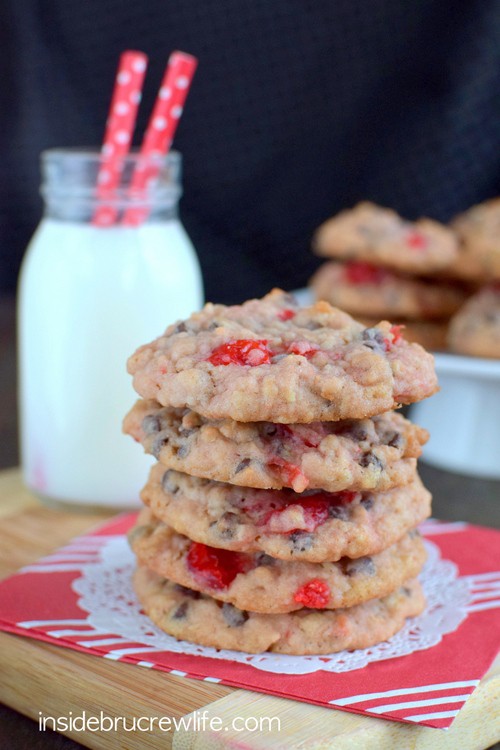 Stay up to date on all the BruCrew baking here:
FACEBOOK | PINTEREST | GOOGLE+ | TWITTER | INSTAGRAM | BLOGLOVIN
 Sign up to receive an email in your inbox for each new recipe:
EMAIL SUBSCRIPTION
Yield: 36 cookies
Cherry Chocolate Chip Cookies
Cherry Chocolate Chip Cookies get a fun holiday twist when cherry pieces and oatmeal are added to the dough.
Ingredients
¾ cup Challenge Butter, softened
½ cup brown sugar
½ cup sugar
1 egg
1 ½ teaspoons cherry juice
¼ teaspoon salt
2 teaspoons cornstarch
½ teaspoon baking soda
1 ¾ cups flour
1 cup quick oats
¾ cup miniature chocolate chips
1 – 10 ounce jar maraschino cherries, drained (save juice) and diced
Instructions
Head over to Challenge Dairy's site to get the directions HERE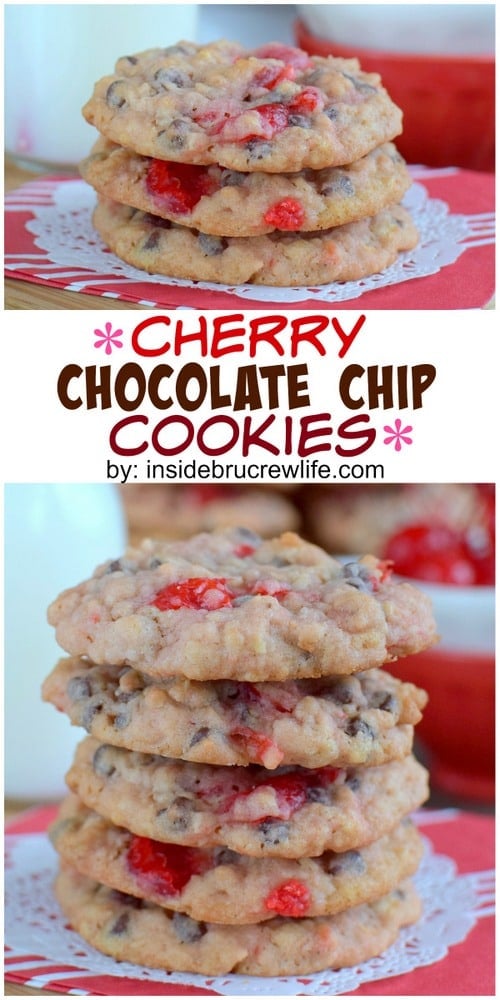 *I am part of the Challenge Dairy Ambassador Program and have been compensated for my time creating this recipe and post.  As always, all opinions expressed in this post are 100% my own.