These Banoffee Chocolate Chip Cookies are a delicious way to use up extra bananas this week. Toffee bits, bananas, and chocolate chips - all the flavors of a banoffee pie baked into a sweet cookie recipe.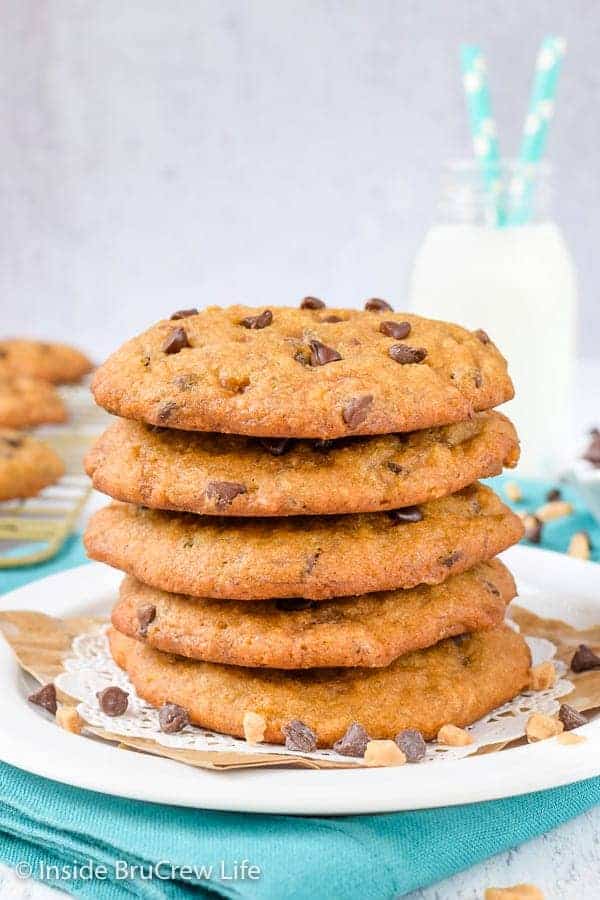 These banana toffee chocolate chip cookies are to blame for my lack of self control with sweets last week. I honestly couldn't stop eating them. Thanks a lot yummy chocolate chip cookies, now my jeans hate me.
Hhhhmmm, I should probably just blame myself and my apparent lack of self control when it comes to sweets. Naaaa...I will let the cookies take the fall. It's easier that way.
I had to freeze the rest of these banana chocolate chip cookies, just so I would stop eating them. For some odd reason, I won't pull frozen cookies out of the freezer and munch on them. So into the freezer they went until our son had friends over to swim.
Now if only I could get myself to freeze them or give them away as soon as I was done baking. That might be something I should work on this week...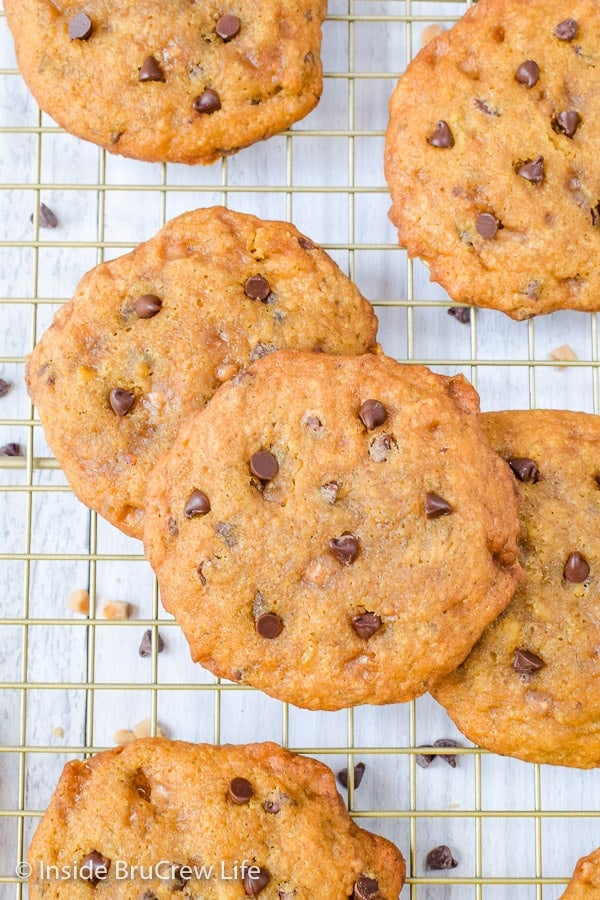 So, I am just warning you right now that if you make these banoffee cookies, (and trust me, you should) do not come crying to me when you eat all the cookies. Because it's bound to happen with a cookie this good.
Years and years ago when I first started blogging, I saw pictures of banoffee pie. Of course, I have actually never had a slice of this amazing looking dessert...yet. I think it's something that should happen soon.
What is Banoffee Pie?
The word banoffee itself is a combination of the two words banana and toffee.
Banoffee pie is a popular English dessert.
A buttery cookie crust with a caramel toffee filling topped with bananas, whipped cream, and chocolate makes one amazing dessert.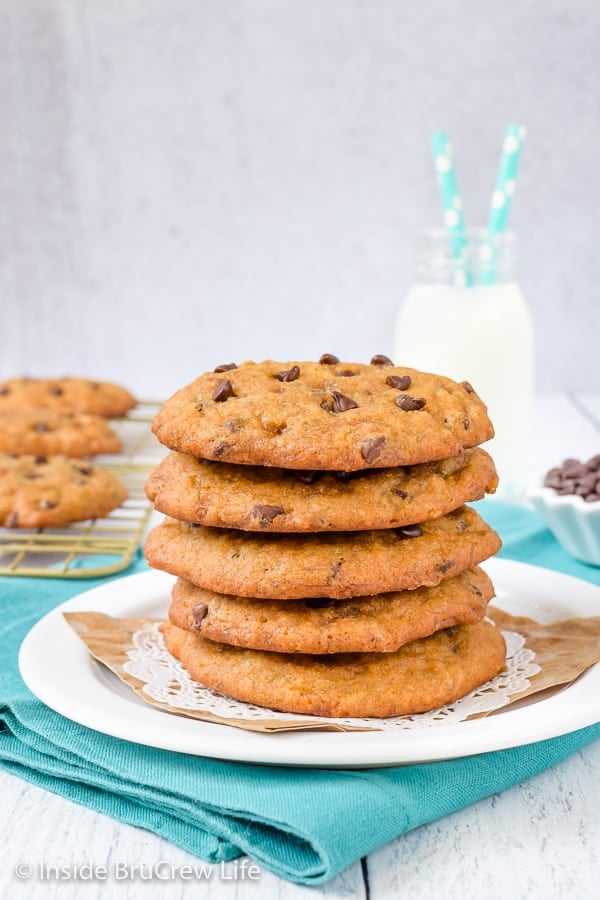 Since I'm a crazy banana buying lady, we always have extra ripe bananas lying around waiting for me to make Banana Nut Cinnamon Rolls or Peanut Butter Chocolate Chip Banana Muffins for a sweet breakfast treat.
I decided to tweak Our Favorite Chocolate Chip Cookies with some banana, toffee, and graham cracker goodness, and just like that these banoffee pie cookies happened.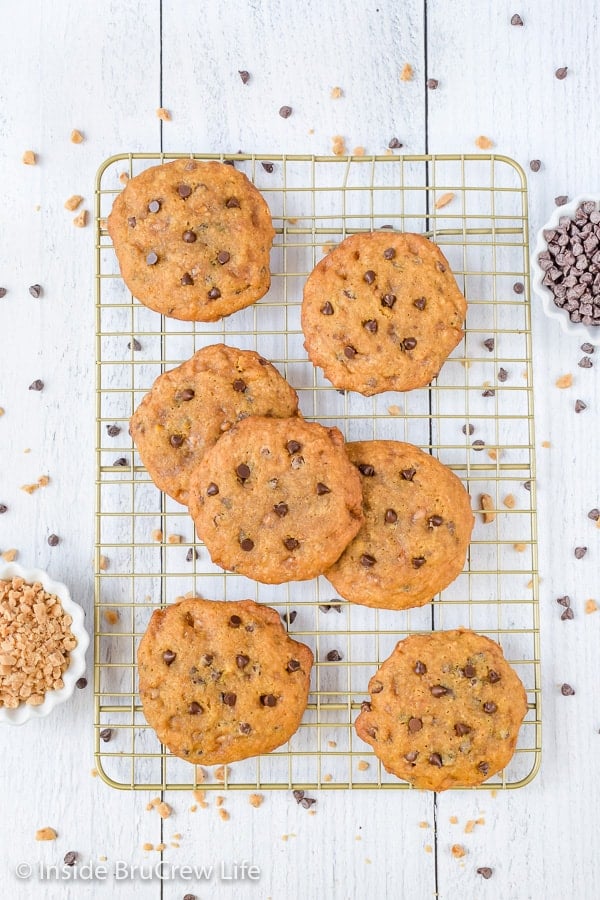 How to make Banoffee Chocolate Chip Cookies
Beat the butter shortening and sugar until creamy.
Add the vanilla, egg, and mashed banana and mix again.
Stir together the dry ingredients and slowly mix them into the banana mixture.
Add the toffee bits and chocolate chips and stir gently.
Drop spoonfuls of cookie batter onto a baking sheet and bake.
Cool and store in a tightly sealed container.
More easy banana cookie recipes
These Peanut Butter Oatmeal Banana Cookies are chewy, delicious, and loaded with peanut butter candies.
A batch of these Cinnamon Banana Oatmeal Cookies and a glass of milk makes a great after school snack.
Two times the peanut butter candies make these soft Banana Reese's Cookies a delicious choice for the cookie jar.
These Banana Chocolate Chip Zucchini Cookies are so soft and delicious. Such a great way to sneak some fruits and veggies into your dessert.
Banana Pudding Crinkle Cookies are soft, chewy, and taste like banana pudding! They are so good!
Each one of these Healthy Banana Chocolate Chip Breakfast Cookies are loaded with chocolate and only contain 73 calories each. Awesome way to eat cookies for breakfast!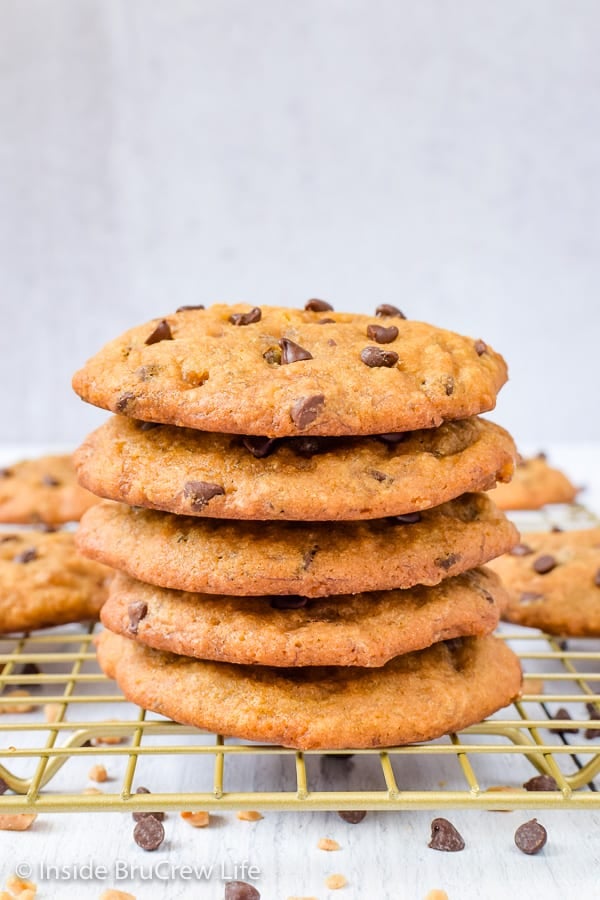 Do you love a recipe you tried from Inside BruCrew Life?
Please leave a 5-star ⭐️ rating and a review in the comments section below.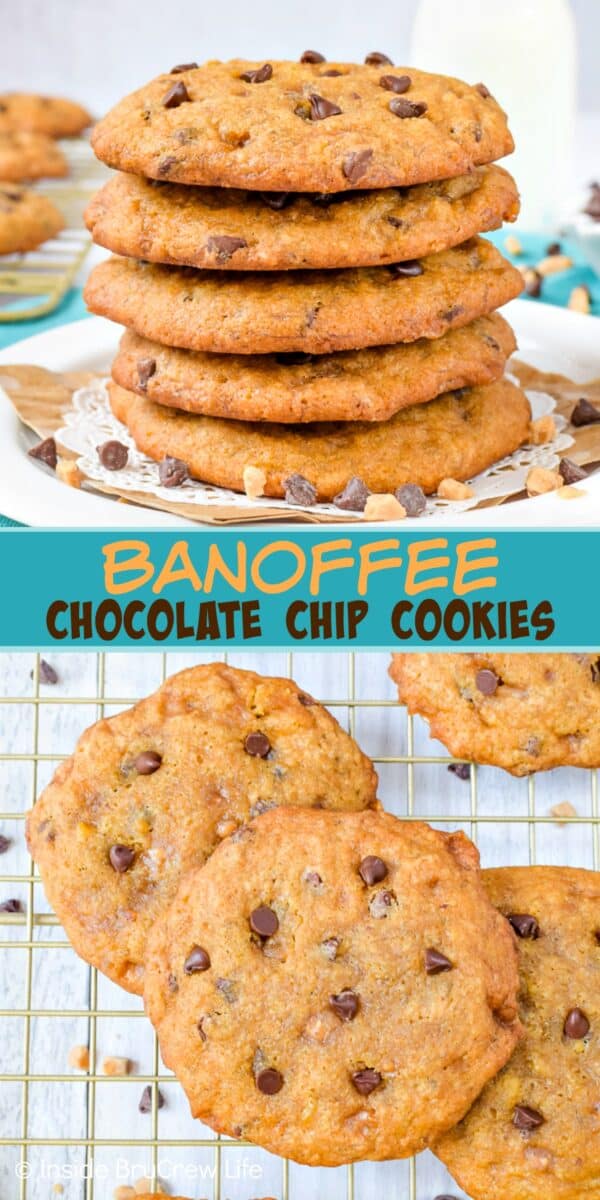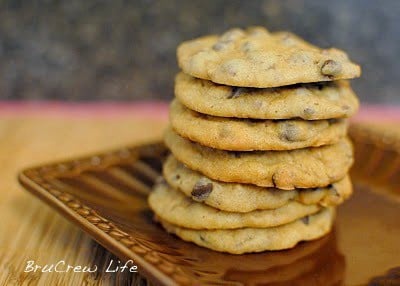 (Original photo from September 2010)
*The post for Banoffee Chocolate Chip Cookies was first published on September 7, 2010. The photos and recipe have been updated and republished on August 26, 2019.