There is a debate that goes on in our household
each and every summer.
Nothing super serious…
but one that neither of us will budge on how
we say it.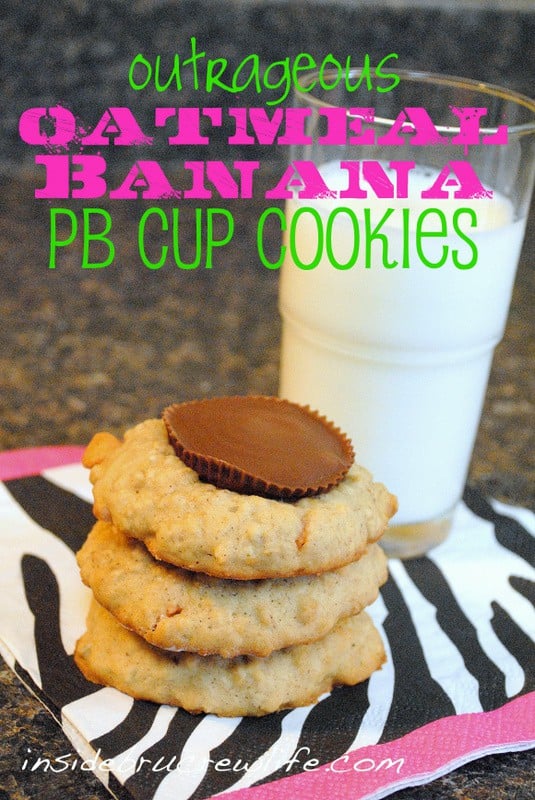 If it comes up when other people are around
we ask their opinion too.
Funny thing is, usually we get mixed answers…
So I am going to share it with you today,
in hopes that some of you are with me on this.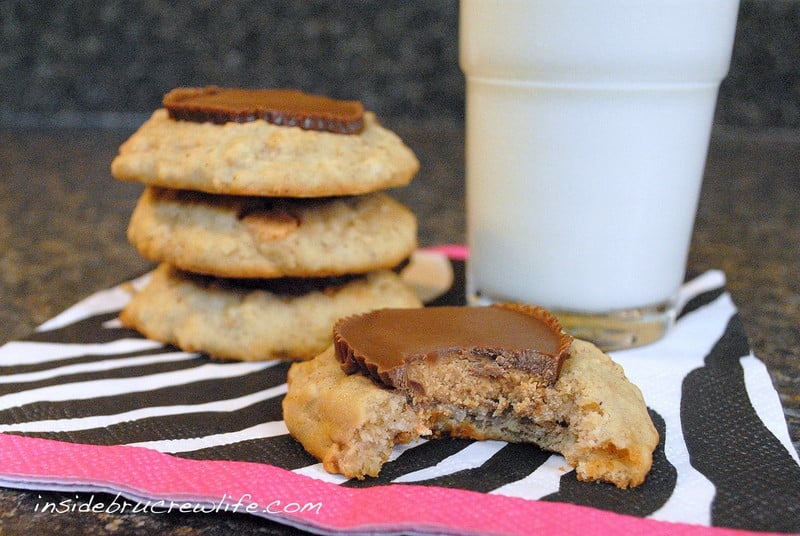 It is summer time and during the summer we run our air a lot.
When the house gets too cool,
(yes, sometimes that does happen)
I turn the air UP.
My logic for turning it up,
is that the numbers on the thermostat are rising
so it is going up and getting warmer.
My hubby disagrees totally with me.
He says when you want to stop the air conditioning from working
you turn it DOWN.
In my brain, if I am turning it down,
it will get even colder.
So now I am curious how you say it when you either
turn your air colder or warmer.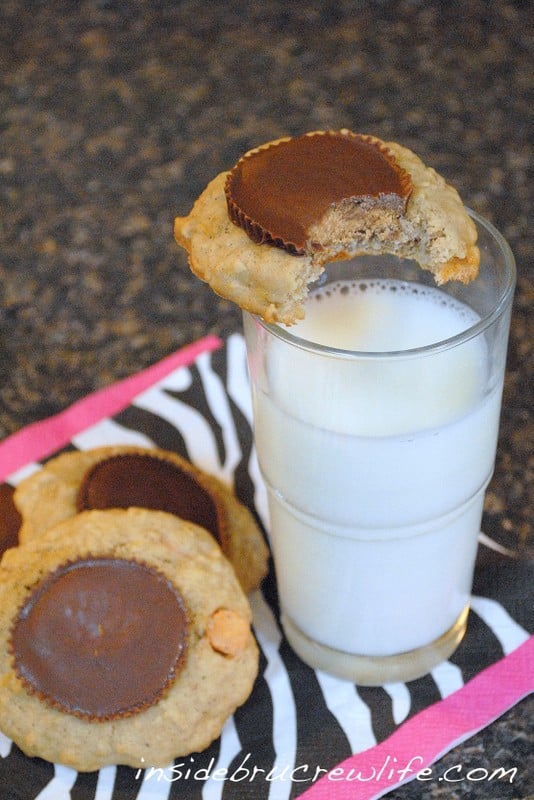 If you need to make your kitchen warmer
so that you can figure out which way you say it,
I have just the cookie recipe for you.
How about some Outrageous Oatmeal Banana Cookies
that have chocolate chips AND
a giant peanut butter cup???
Who cares about what way is right when you have cookies this good to eat.
Outrageous Oatmeal Banana Cookies Recipe
Oatmeal Banana Cookies get a little more fun from the full sized Reese's Peanut Butter Cup on the top.
Ingredients
1/2 cup unsalted butter
1 /2 cup packed brown sugar
1/4 cup granulated sugar
1 large egg
1/2 cup mashed banana (1-2 medium)
1/2 teaspoon vanilla extract
1 1/2 cups quick oats
1 1/4 cups all purpose flour
1/2 teaspoon baking soda
1/2 teaspoon salt
1/2 teaspoon cinnamon
1/4 teaspoon ground nutmeg
1 cup chocolate chips
15 full sized Reese's Peanut Butter Cups
Instructions
Preheat oven to 375 degrees. Line a sheet pan with a Silpat or parchment paper.
In a mixing bowl, beat the butter and sugars until light and creamy.
Add the egg, vanilla, and mashed bananas and mix again.
Stir in baking soda, salt, cinnamon, nutmeg, flour, and oatmeal until dough forms. Add the chocolate chips and stir gently.
Use a cookie scoop to make 15 balls of dough. Bake for 9-10 minutes.
Remove the pan from the oven and let the cookies sit for 2 minutes on the hot pan. Gently remove them and place on parchment paper.
Immediately press a full sized peanut butter cup into the tops of the hot cookies. If the sides of the cookies crack, gently press them back together with your fingers.
Let the cookies cool completely before moving. Store in a tightly sealed container.
Nutrition Information:
Yield:

15
Serving Size:

1
Amount Per Serving:
Calories:

314
Total Fat:

15.5g
Saturated Fat:

8.5g
Trans Fat:

0g
Unsaturated Fat:

4g
Cholesterol:

31mg
Sodium:

233mg
Carbohydrates:

38.5g
Fiber:

2.7g
Sugar:

21.6g
Protein:

5.6g
Nutrition facts are an estimate and are not guaranteed to be accurate. If you need special diet advice, please see a registered dietician.