Cherry Chocolate Chip Scones are a delightful way to start out any morning. Who can resist the perfect-for-your-Valentine combo of chocolate and cherries?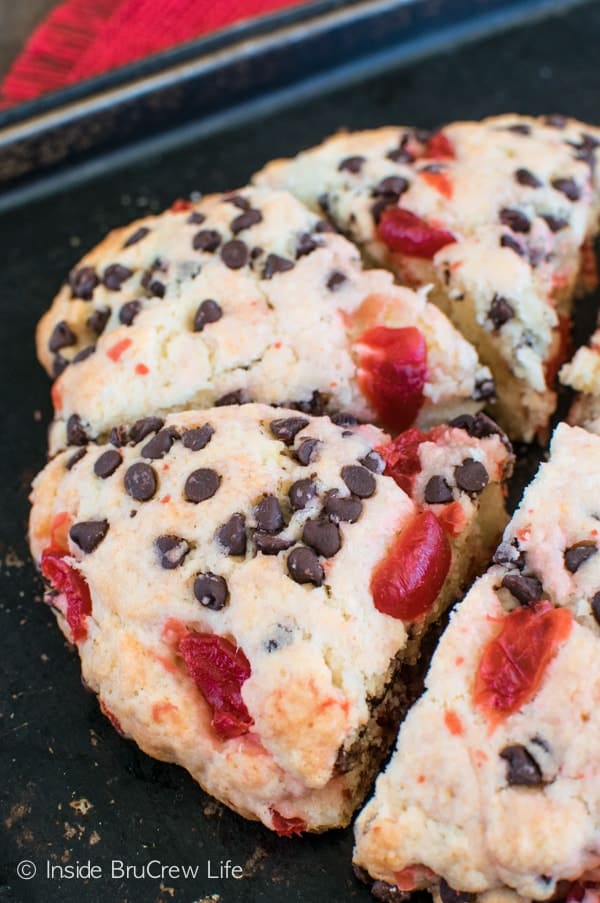 Our morning routine is getting later and later each day. We started off last month with everyone getting up early for school and having extra time in the morning before we had to leave. Everyone was getting used to a new area and routine, so getting up early was easy to do. As the weeks have gone by, everyone is starting to hit the snooze button a little bit more each morning.
I wish I could say it was just the kids doing that, but that little snooze button on my alarm has been getting some good use lately too. My husband and I have good intentions of being up early to do our work out of the day, but lately we have been getting up in just enough time to only do a short routine.
Every night I set the alarm and tell myself that tomorrow is the day to start getting up with the first alarm, but then the warm, cozy bed convinces me otherwise in the early morning hours.
It's a good thing I like to bake breakfast treats in the afternoon. There is definitely not enough time to work out, make school lunches, and make breakfast. Not to mention that my hand and eye coordination is not on par first thing in the morning around a hot stove.
Usually I have bananas on the counter ready for things like banana bread muffins or banana nut cinnamon rolls, but our kids ate so many smoothies and muffins last month, that they are boycotting the yellow fruit. I had to get creative and find a new breakfast option for them to eat.
It has been quite a while since I had made scones, so I started looking in the cupboards for some baking inspiration. I found an extra jar of cherries hiding in a basket in the pantry. Since Valentine's Day is so close, I thought the cherries would be perfect in scones along with some mini chocolate chips.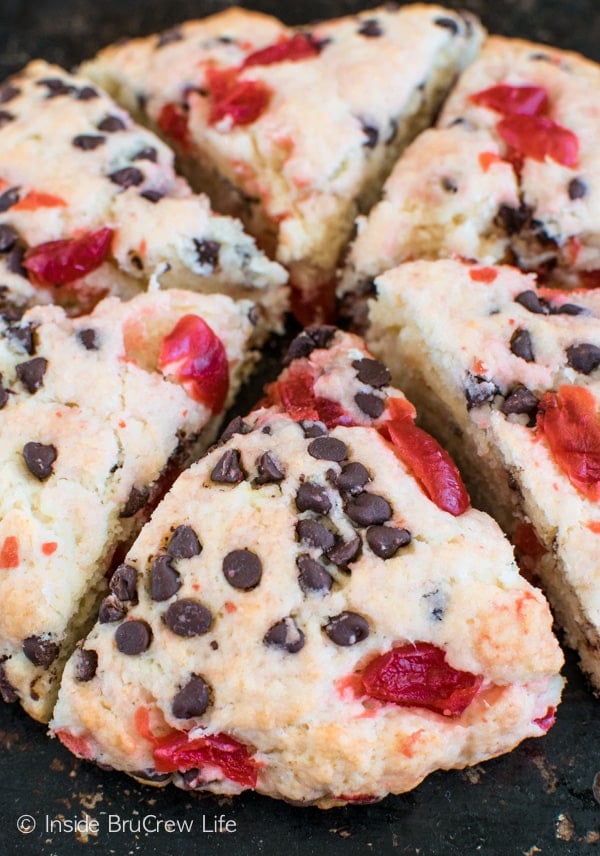 I used to think scones were hard to make. Of course, that was before I ever tried to make them at home. I think the name just gave me the impression that they were hard to bake. Say tea and scones out loud…makes you feel all fancy, right?
After I started making scones at home, I found out how easy they are, but I also found out how particular I am about them. Scones that are very crumbly and fall apart as soon as you bite into them are a fail in my mind.
Now I realize that everyone has different tastes, so if you like those kinds of scones, it's ok, I still like you. Personally, I think a scone should be dense, yet still fluffy. It should also melt in your mouth.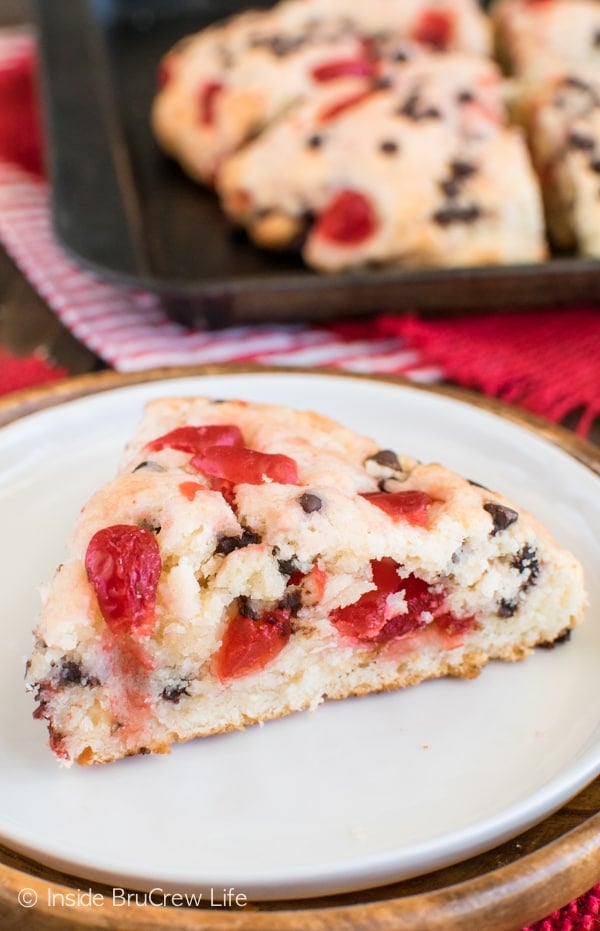 Cold butter and heavy cream are two key ingredients in getting your scones just right. Cut the butter into your dry ingredients until you see small pieces. Stir the cherries and chocolate chips in next, then create a well in the center of the bowl.
Pour your wet ingredients in the center and mix it all together with a fork. I don't recommend using a mixer because it can over work the dough, making your scones hard and tough. Divide the dough into 2 balls, and pat them into two 6-inch circles. 20 minutes in the oven and breakfast is almost ready to go.
Now these cherry chocolate chip scones are perfect to eat as is, but I like to add a cherry glaze for a little bit more fun and flair. If you like nekkid scones, go for it. I'll leave that decision up to you!
Make sure to visit Food Fanatic to print the cherry chocolate chip scones recipe.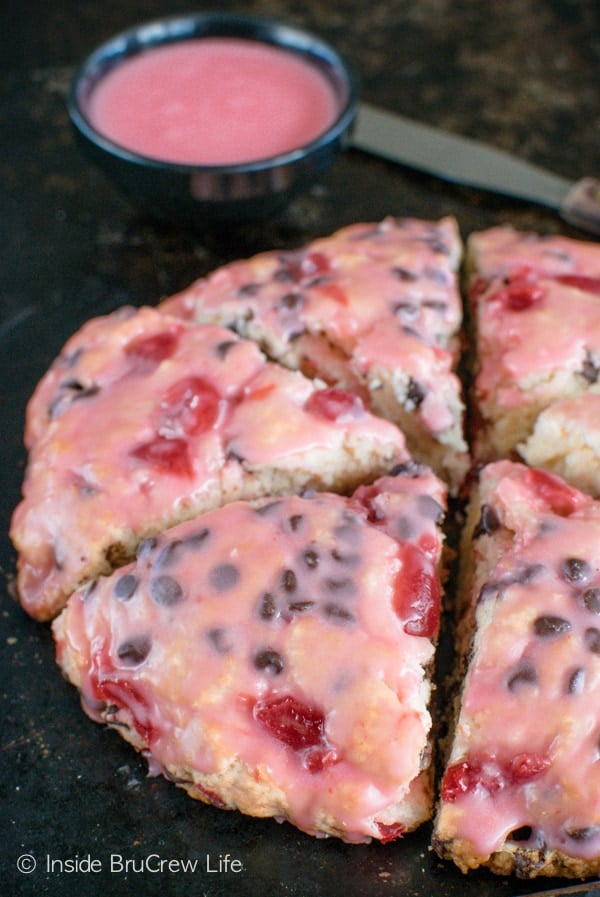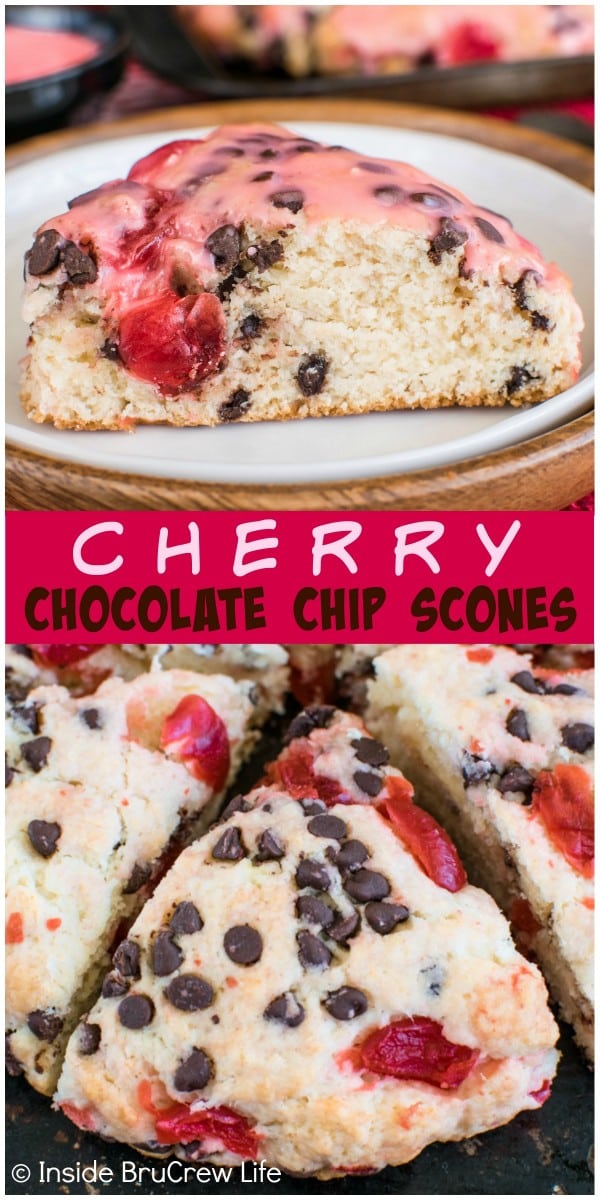 More breakfast scones recipes that our family enjoys: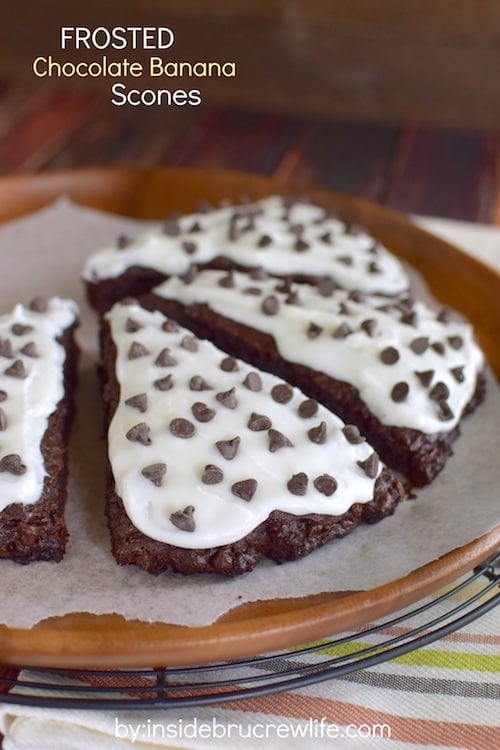 Frosted Chocolate Banana Scones