Layers of fudgy brownies, vanilla cheesecake, and cherry pie filling swirls make these Cherry Cheesecake Brownies a pretty and delicious dessert for celebrating any event. These cheesecake brownies are a simple but decadent dessert for parties.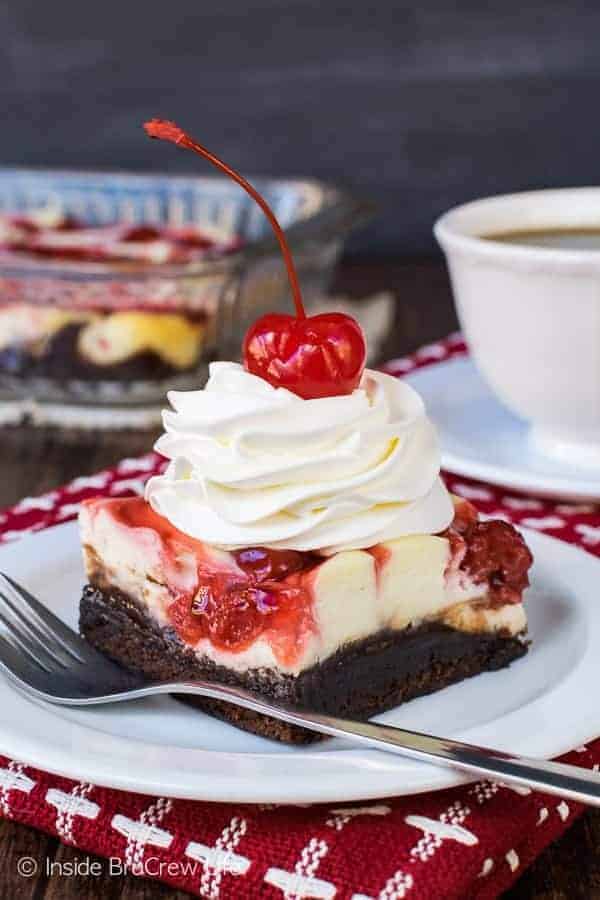 Cheesecake is one of my absolute favorite desserts to make. I love making this Banana Split Cheesecake when I need a big full-size cheesecake to take to special dinners or to a fundraiser at church. It is a jaw dropper for sure!
When I'm short on time and need a fancy dessert, these No Bake Peanut Butter Fudge Cheesecake Parfaits are perfect. Quick and easy desserts are great because they can be made in a hurry.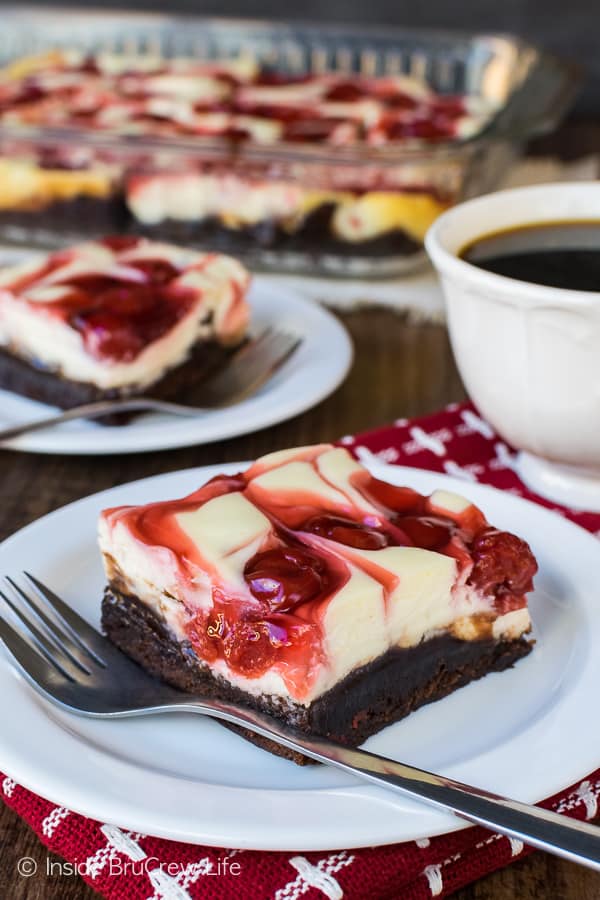 Cherry Cheesecake Bars
Baking layers in desserts is probably my all time favorite way to do cheesecake. These Take 5 Cheesecake Brownies are definitely one of the best ways to put as many layers as you can into one dessert. Of course, you can't go wrong with the Ultimate Reese's Cheesecake Brownies either!
I have been wanting to make another full-sized cheesecake for dessert, but time has gotten away from me. We were gone all day shopping at Ikea for bedroom furniture for a bedroom redo, so I didn't have time to make one.
Then my husband was going to visit some friends at his old job, so he asked for a dessert to take with him. It was the perfect reason to make an easy cherry cheesecake with a brownie crust.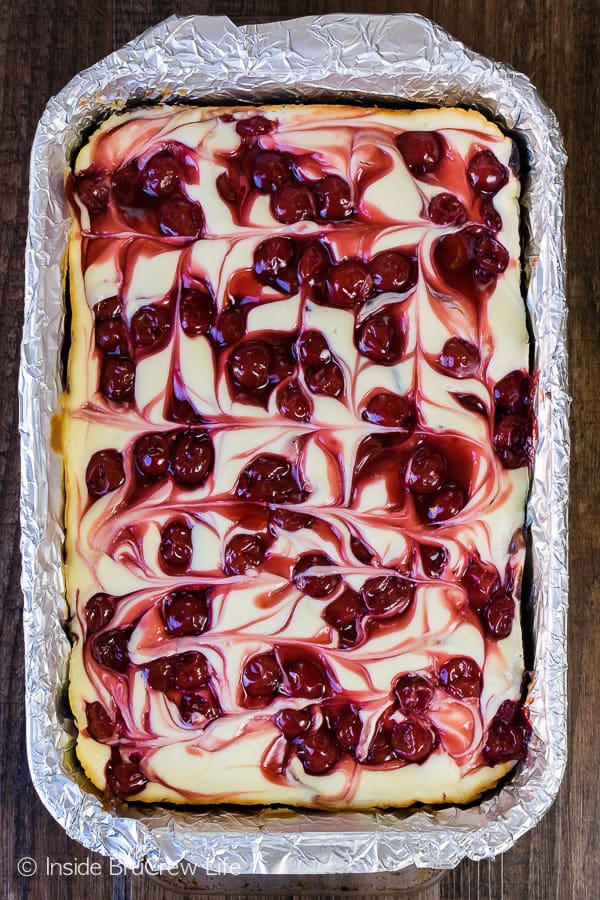 How to make Cherry Cheesecake Brownies
When there is no time to wait for a big cheesecake to cool, I almost always make cheesecake brownies. They really are so easy to make, and they cool in just a few short hours.
Sometimes I like to use a box brownie mix because it's so easy. A double batch of these Homemade Chocolate Chip Brownies works just as well too.
For these particular cheesecake brownies, I started with a box mix because I had a few in the pantry to use up. Make it according to the package directions and spread it into a 9x13 dish.
I like to line the pan with foil or parchment paper because it is easier to lift the brownies out and cut them into squares. Make sure to spray it with nonstick spray very well. The foil is an optional step though.
Make sure your cream cheese is softened before you get started. If you forget to get it out, you can always unwrap it, remove the packaging, and microwave it for about 20-30 seconds.
Beat the cream cheese with the butter before you add any other ingredients because this will help it be creamier. Slowly pour in the rest of the ingredients and beat again.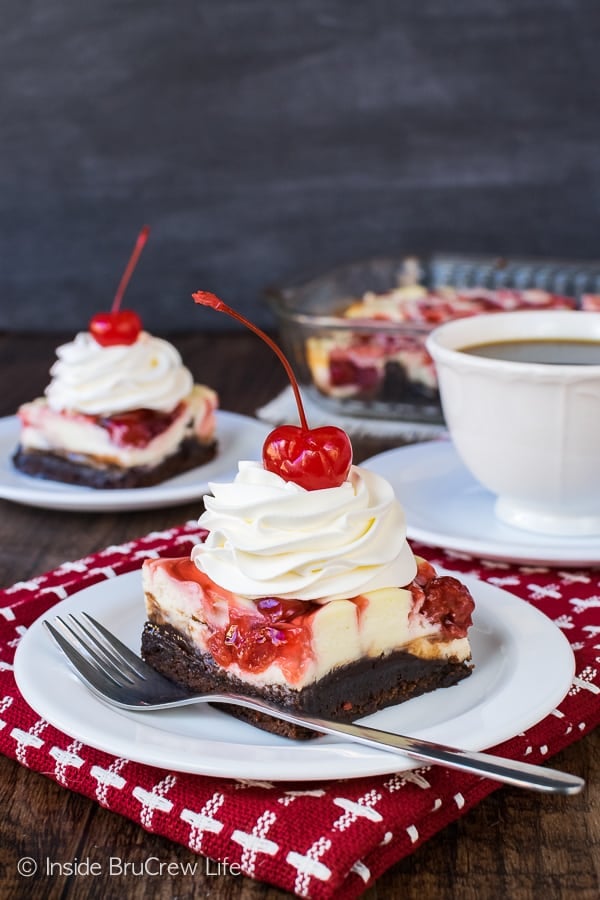 Slowly pour the cheesecake batter very carefully on top of the brownie batter because you want this to bake in distinct layers. Then very carefully spoon the cherry pie filling on top.
Use a knife to swirl just the two top layers. Do not put the knife all the way in because you want the fudgy brownie stay at the bottom.
After this bakes, give it time to cool. I usually leave the finished cheesecake bars on the counter for an hour, then place it in the refrigerator. Within 3-4 hours it is completely chilled and ready for you to dive into.
Cool Whip swirls and cherries with stems make these Cherry Cheesecake Brownies look so pretty.
My husband didn't want a fancy over the top dessert for his friends though, so he took the pan of plain cheesecake brownies.
Which way would you prefer to eat these Cherry Cheesecake Brownies? Plain or pretty??? Either way these are going to be the best brownies you ever make.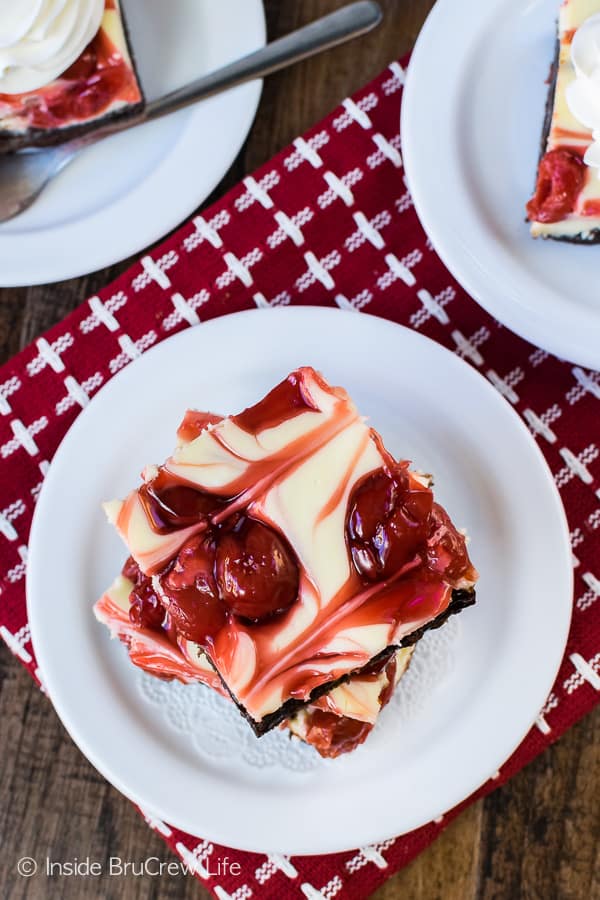 *The post and recipe for the Cherry Cheesecake Brownies was originally published on July 30, 2014. The pictures and post has been updated and republished on November 26, 2018.
**Inside BruCrew Life is a participant in the Amazon Services LLC Associate Program. We may receive a small percentage from sales made through these links with no added cost to you. Thank you for helping to support us and for letting us continue to provide free recipes for you.