This creamy Apple Cheesecake Bars recipe has a graham cracker crust and a salted caramel drizzle that makes them taste amazing!
*I am partnering with Lucky Leaf this year as a blog ambassador bringing you delicious recipes using pie filling.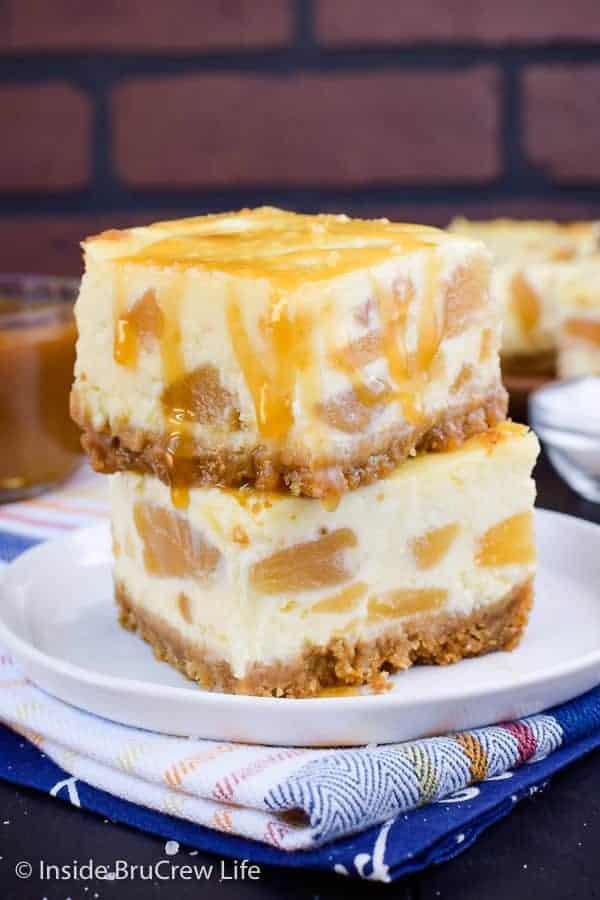 CLICK HERE TO PIN THIS RECIPE FOR LATER!
My husband and I are completely different when it comes to dessert. To be completely honest, he actually doesn't even like dessert that much.
I know! How is that even possible when there are desserts in our kitchen pretty much 24/7?!?!?!
My ideal dessert is a layered dessert with lots of chocolate and peanut butter inside and outside. So, you can see why these Ultimate Reese's Cheesecake Brownies are one of my favorites, right?
My husband on the other hand prefers plain and simple desserts.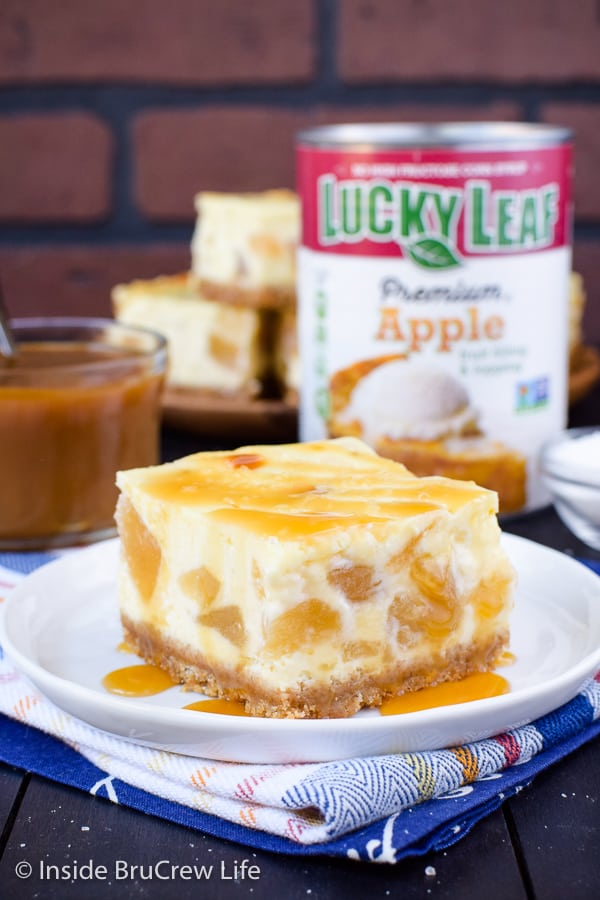 This year Lucky Leaf® asked me to make and share their Apple Cheesecake Bars with Sea Salt Caramel Sauce.
After I read through the ingredients and directions, I knew my husband was going to love these easy cheesecake bars because they were similar to this Cheesecake Apple Pie and this Cinnamon Sugar Apple Cheesecake Danish that he loves.
Sure enough, he has been slowly demolishing the pan of caramel apple cheesecake in the fridge. He was also quick to point out to me that these kind of treats were his favorite.
I think that was a "not so subtle" hint that I should make more simple recipes.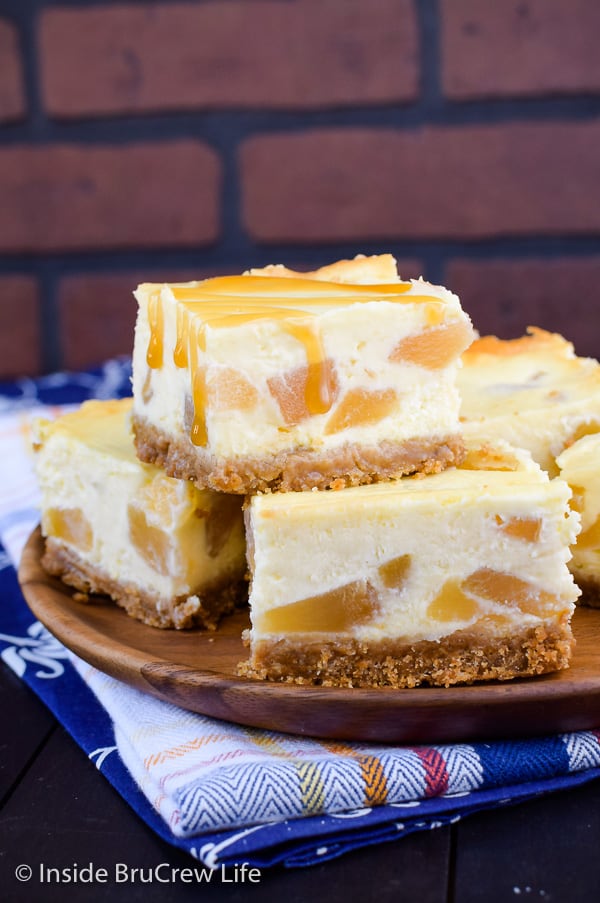 I have had the privilege of working with Lucky Leaf and their pie fillings for quite a few years now. Working with brands that I actually use in my own kitchen on a regular basis is definitely a dream job.
Lucky Leaf pie fillings do not contain any high fructose corn syrup in their fruit packed cans. They have a variety of fillings that are great for so many different kinds of recipes.
Or for eating with a big spoon if I'm being honest.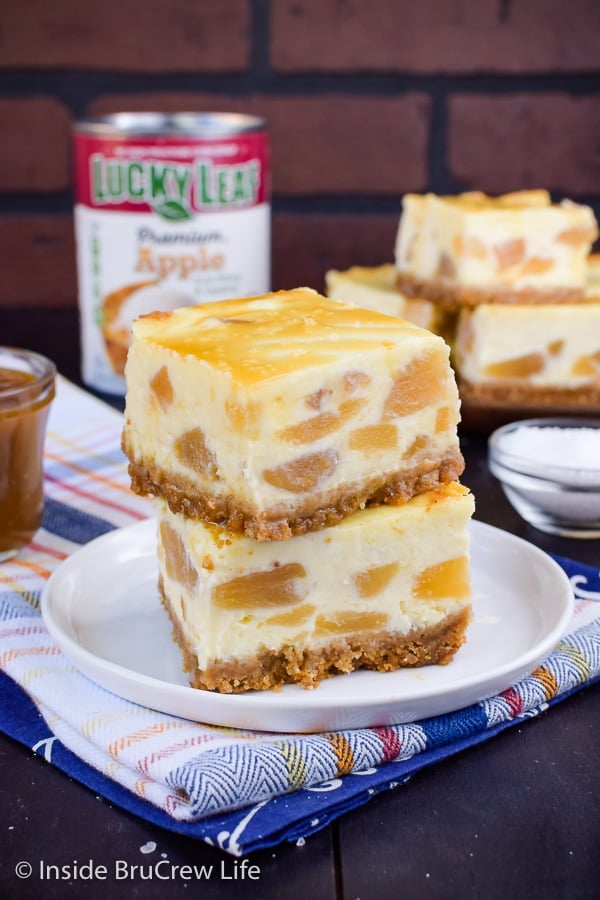 Apple Cheesecake Bars with a Graham Cracker Crust
Preheat the oven to 350 degrees. Spray an 8 or 9 inch square pan with nonstick spray.
Mix together graham cracker crumbs, sugar, and butter in a bowl. Press evenly into the bottom of your prepared pan.
Beat the softened cream cheese, sugar, and salt until creamy. Add the eggs and gently beat until they are mixed in. Do not over mix the batter because that adds air bubbles that can cause cracking.
Open a can of Lucky Leaf apple pie filling. Stir the apple chunks into the cheesecake batter gently.
Bake the Apple Cheesecake Bars for 45-50 minutes depending on the size pan you use. I used an 8 inch pan and the cheesecake baked for the full 50 minutes.
Remove the pan from the oven and let it cool on a wire rack for an hour, then refrigerate the cheesecake until completely chilled.
Apple Cheesecake Bars with Salted Caramel
These apple bars are delicious on their own, but if you really want to jazz them up, drizzle them with your favorite caramel topping and sprinkle them with sea salt.
Just make sure you use a coarse ground sea salt because it really does make a difference. Table salt is fine, so it is easy to over salt desserts.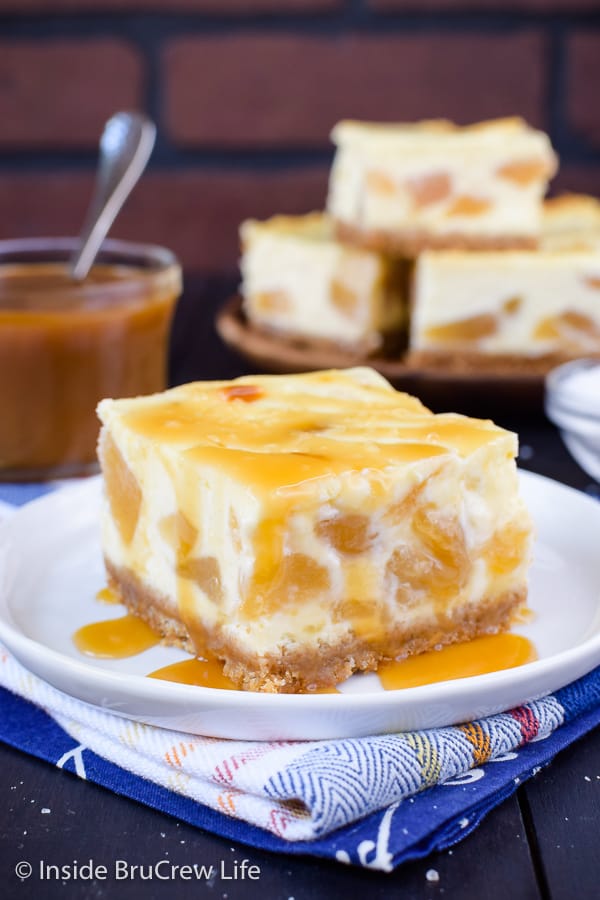 More easy recipes using pie filling:
Lemon Cheesecake Rolls - these easy no yeast rolls have a sweet lemon cheesecake center and lemon glaze on top
Chocolate Cherry Mousse Tart - layers of rich chocolate fudge, creamy cherry mousse, and sweet cherry pie filling make this the perfect dessert to make for your friends and family.
Blueberry Key Lime Cheesecake Bars - a creamy citrus cheesecake with swirls of delicious blueberry pie filling make this dessert disappear in a hurry
Strawberry Mousse Cake - layers of vanilla cake, strawberry cheesecake mousse, and frosting make this a pretty and delicious dessert
Apple Turtle Cheesecake Tart - layers of cheesecake and apples under nuts and caramel will make this tart disappear in a hurry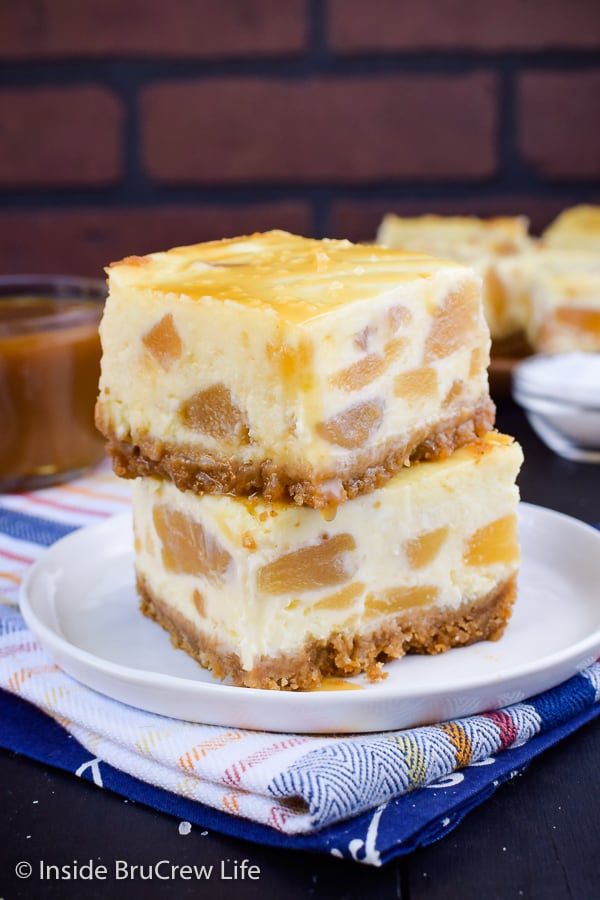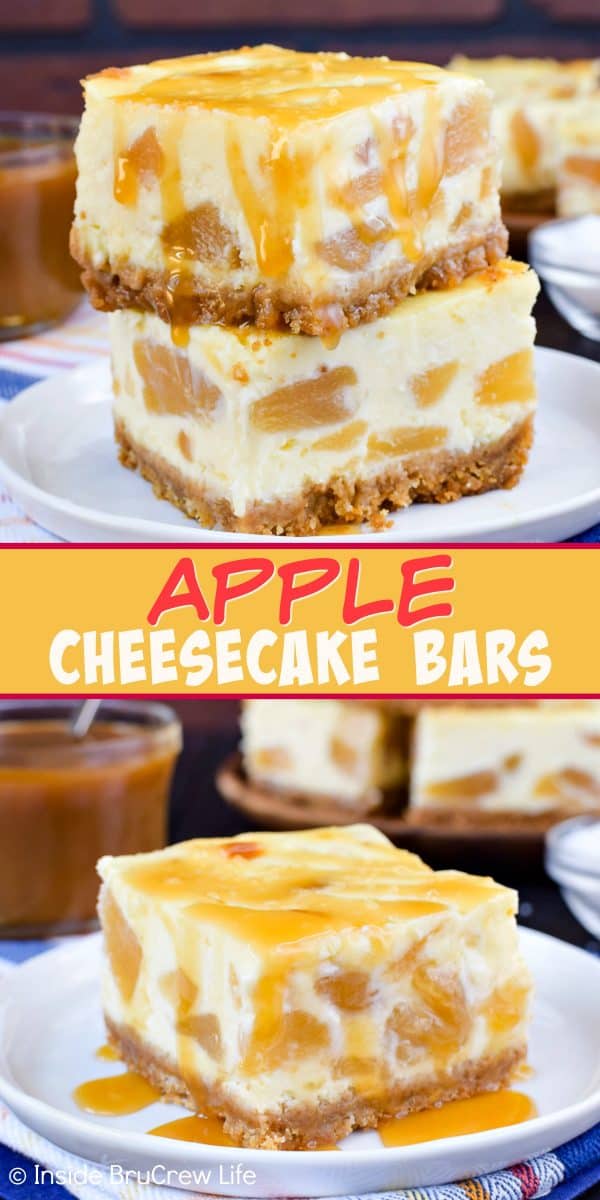 *This recipe was sponsored by Lucky Leaf. All opinions expressed are 100% my own. Thank you for letting me share products and brands I use and love. See my disclosure policy for more information.*