This Cherry Oreo Icebox Cake has dark chocolate Oreos and no bake cherry cheesecake layered in a pan. It is a no fail dessert that is easy, delicious, and sure to disappear in minutes when you share it at summer parties or picnics.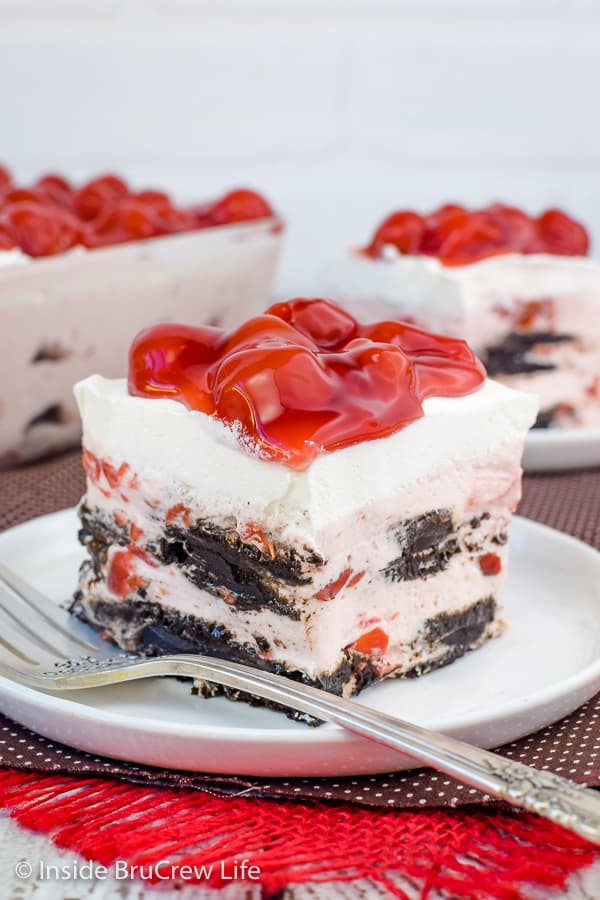 There are certain desserts that just yell "eat me" when you see them. This happens to be one of those crazy good desserts that "talks" to me. Trust me, you will want to enjoy this one all summer long.
There is something about an easy icebox cake that is so perfect and delicious during the summer. During the hot and humid summer months here in Florida I live for easy no bake desserts.
Who wants to heat up the house when it's 95 degrees outside with 100% humidity. Am I right? All I want to do is lie on my pool float with endless cups of Raspberry Orange Slushies.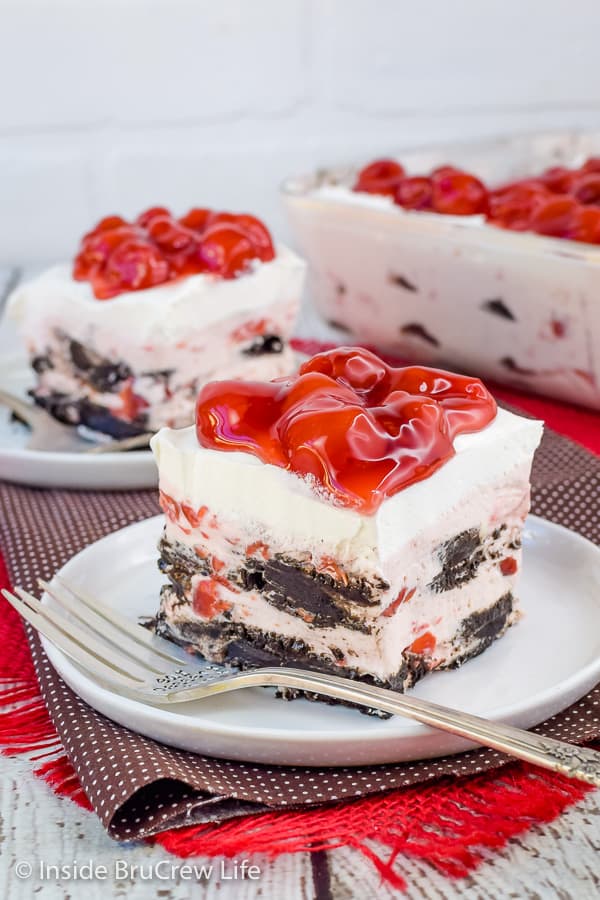 One of my favorite things to make when it is too hot outside to bake is to make an easy icebox cake.
What is an icebox cake?
Years ago icebox cakes were just chocolate wafer cookies and whipped cream layered on a plate and then refrigerated. As the cake sat in the fridge (or icebox), the cookies got soft and the texture became cake like with "frosting".
Of course, now icebox cakes are a little more modern. You can use pudding, pie filling, cheesecake and any cookie or sweet cracker you like for the layers in these easy no bake cakes. One of my favorites is this Funfetti Chocolate Chip Cookie Icebox Cake that is made with Chips Ahoy cookies and sprinkles.
These cakes are also called dessert lasagna, lush dessert, or dream dessert.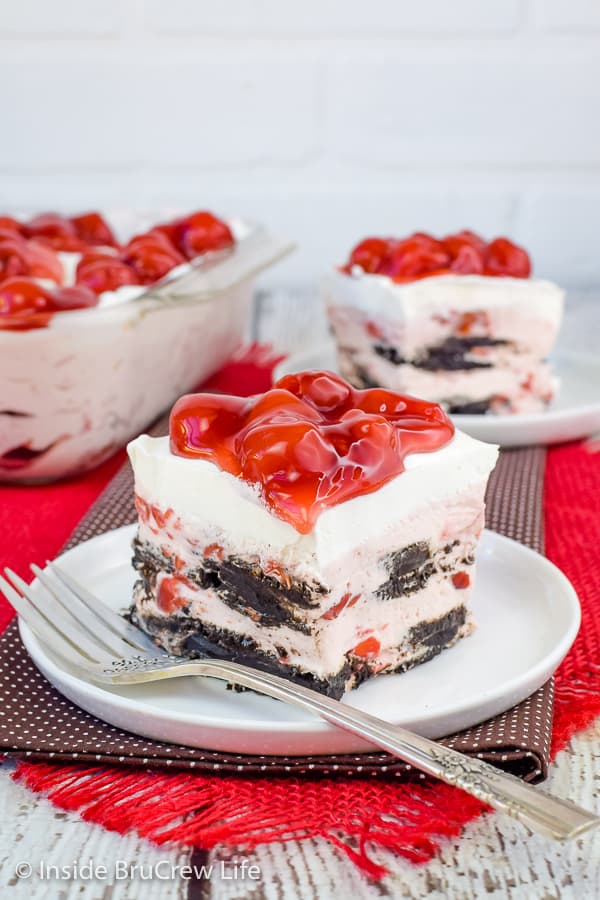 Recently I was digging in the pantry again to see what was hiding in the back and I found an extra can of cherry pie filling and a package of dark chocolate Oreos.
Immediately my brain said "make an icebox cake like this No Bake Cherry Swiss Rolls Cake". Of course, my shorts and jeans said, "stuff them back in the pantry and forget about them". You see who won, right?
Ingredients in a Cherry Oreo Icebox Cake:
Cream Cheese - Make sure to set the cream cheese out ahead of time. It's so much easier to beat cream cheese and sugar when it's soft.
Sugar - There is a little bit of sugar in this dessert. It's just helps soft and smooth out the cream cheese.
Almond Extract - I like the flavor of almond and cherry, but feel free to use vanilla if that's more your style.
Cherry Pie Filling - You can use any flavor if you do not like cherries or if you have another flavor in your pantry.
Cool Whip - This adds a fluffy texture to the filling and covers the top of the dessert.
Dark Chocolate Oreos - The dark chocolate filling goes so well with the cherries. Feel free to use whatever Oreo cookie you like though.
How to make a Cherry Oreo Icebox Cake:
Beat the cream cheese, sugar, and extract until creamy. (full recipe at bottom of post)
Add cherry pie filling and beat again. Fold in Cool Whip until light and fluffy.
Spread a little bit of the extra Cool Whip in the bottom of dish.
Dip Oreos in milk and place in prepared dish.
Spread half the cherry cheesecake mixture over the top.
Repeat the layers and finish with more Cool Whip.
Refrigerate for a few hours or overnight before serving with extra pie filling.
Icebox cakes are seriously so easy to put together. Make your filling, dip the Oreos in milk, and layer it all in a pan. Easy, peasy, and so stinking delicious!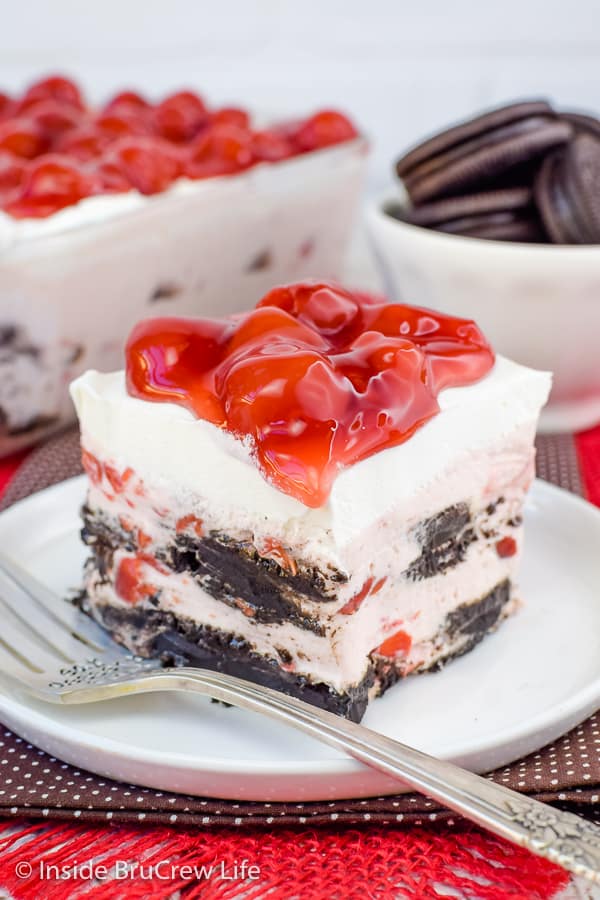 More icebox cake recipes that you are sure to love:
Layers of cookies, chocolate cheesecake, and strawberries make this easy No Bake Nutella Oreo Icebox Cake the perfect summer dessert.
Chocolate cookies and banana cheesecake makes this Oreo Banana Cream Icebox Cake a delicious treat to enjoy on a hot day!
This Cinnamon Apple Icebox Cake has layers of cheesecake, apples, and graham crackers. It's easy to make and tastes delicious.
A bright and creamy No-Bake Lemon Blueberry Icebox Cake is a cool summer sensation made with only a few ingredients!
Make this Coconut Oreo Icebox Cake in the morning, and it will be ready for after dinner. Layers of coconut and Oreo cookies are always a good idea.
This Salted Caramel Oreo Icebox Cake has all the flavors of your favorite coffee house drink in an easy to make no bake cake. Perfect for an any time pick me up.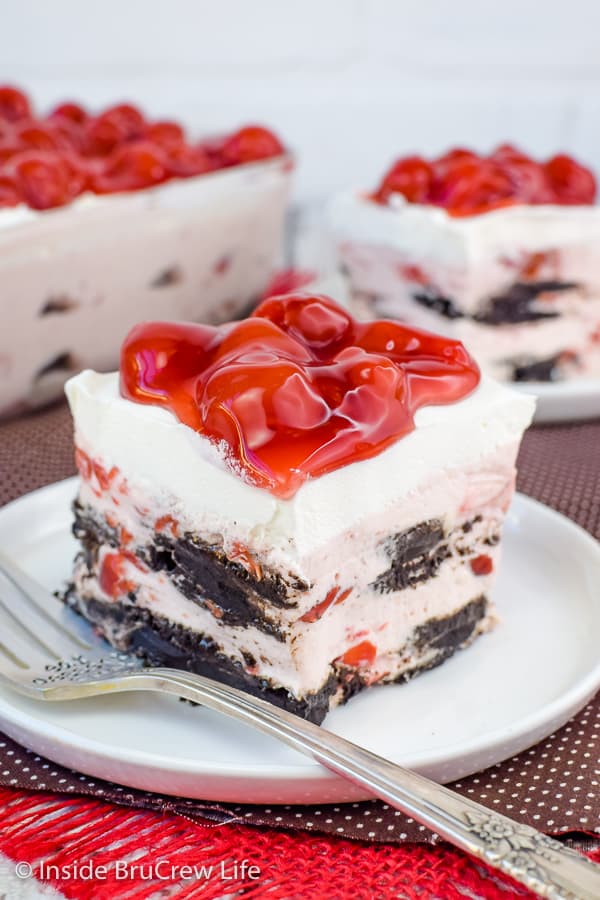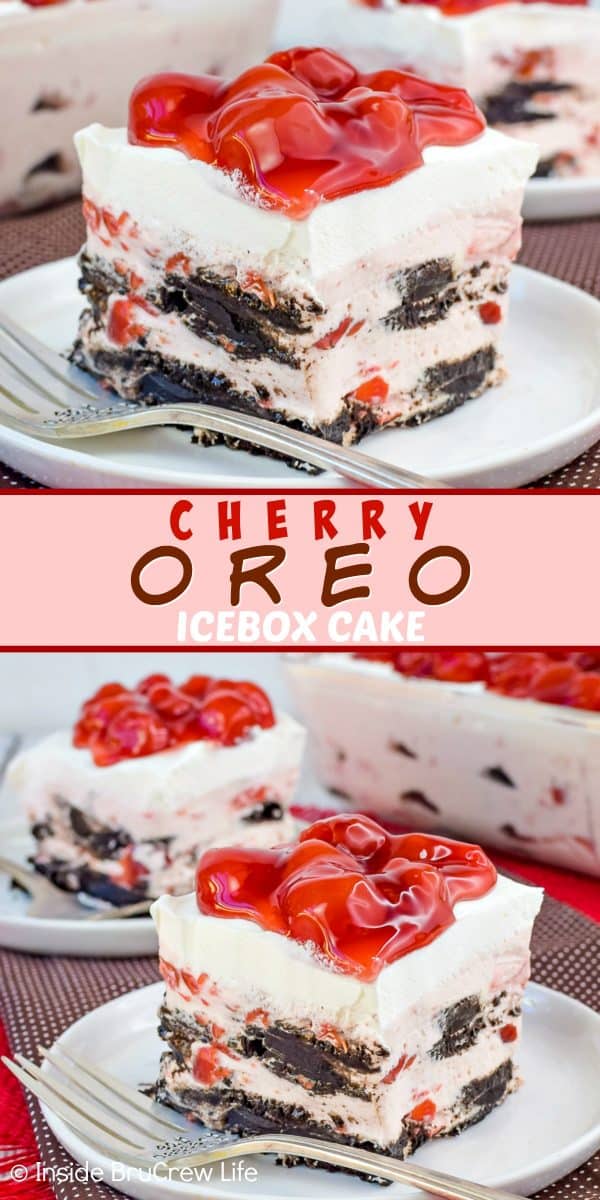 *The post for Cherry Oreo Icebox Cake was first published May 16, 2019. The post was updated and republished May 8, 2020.