It's that time of year when the weather starts to turn chilly.  That means jeans, sweatshirts, and the return of the salted caramel mocha at my favorite coffee shop.  This Salted Caramel Oreo Icebox Cake has all those same flavors in an easy to make no bake cake.  Perfect for an any time pick me up.
*Sign up for the BruCrew email to get these delicious recipes in your inbox*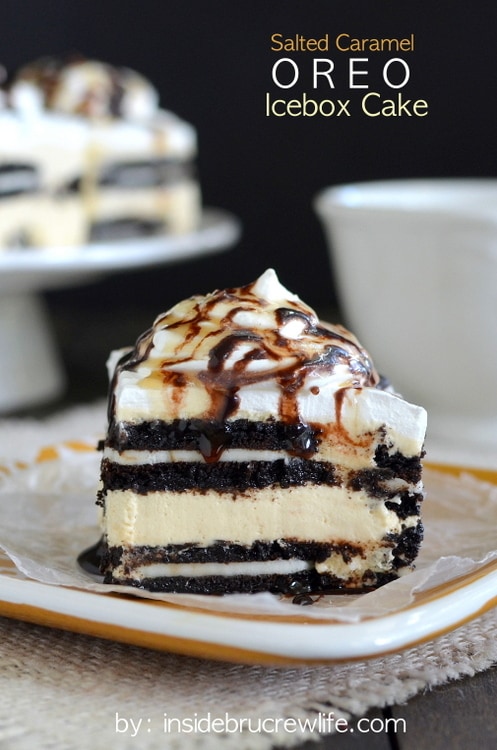 Every fall I look forward to the Salted Caramel Mocha.  It is seriously my all time favorite fall drink.  Although lately it has seemed a little too sweet to me.  Curse you eating healthy!  My taste buds have forgotten how good sugar really is because of all the veggies.  LOL! Just kidding…it's a good thing to take a sip of a drink and realize you can do without some of the sugar.
Of course, I could really do without spending $5 a drink. Good thing I can make this Salted Caramel Mocha Latte at home any time I want…without spending that much money.  I can also adjust the syrups for my lame taste buds.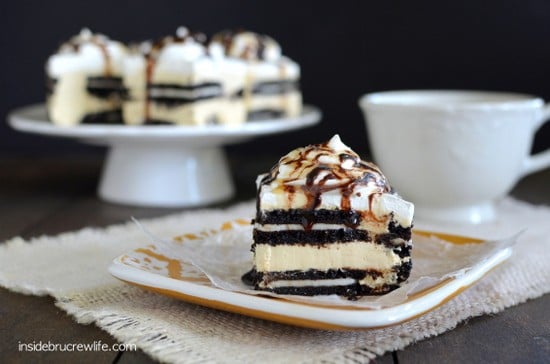 This past weekend I may have consumed a few extra of these drinks though.  Hey, they were giving away extra "stars" if you ordered certain drinks.  The salted caramel was one of these special drinks…so I had to.  I can't resist caramel or free stars.
A few ladies from our church attended the Beth Moore conference over the weekend too.  That was my first time actually seeing her, and I absolutely loved her personality and zeal for God.  She definitely was a much needed inspiration to me that day. Woman up!!!
Before heading home, we stopped yet again for coffee.  Hey, road trips call for coffee.  Am I right?  As we drove, I kind of dozed off. No, I wasn't the driver.  All of a sudden I jerked awake with this cake in my head.  I seriously could not wait to get home and make it.  I apparently do all my best thinking asleep.
This cake is seriously so easy to put together.  Like 15 minutes easy!!!  Beat the cream cheese with some caramel ice cream topping with a little sea salt.
Now I want to talk to you about sea salt for a minute.  Make sure you use a coarse ground sea salt because if your sea salt comes out of your container a little bit finer…it is going to taste extra salty.  This brings me to my second disclaimer with sea salt. Make sure you add the sea salt in small increments.  Some people love salted treats…that would be me.  Others like a mild sea salt flavor.  In order to get what you like, add it slowly and do taste tests often because you do not want to ruin your dessert.  I do not want you to dump in the measurement I give you, and then have you not like it.  Remember sea salt grinders all grind differently!
Give the Oreo cookies a dunk in some cooled coffee and place on the bottom of a pan.  Spread half the no bake cheesecake on top, and repeat the layers.  End with a layer of Cool Whip.  Yes, the white fluffy stuff.  You know how much I love it!  Then let it chill to firm up.  This is where you have to have patience.  Yes, I know, this is seriously not fair.  You could eat it early, but letting it set deepens the flavor.  Plus, it looks better when you cut into it.
Serve this salted caramel Oreo icebox cake with another swirl of that good white stuff and drizzle caramel and chocolate all over it.  If you are a true salted caramel lover, go ahead and sprinkle with a little bit more salt.  That's totally up to you.
More Salted Caramel goodness from friends that you will love:
 Salted Caramel Mocha Truffles from Shugary Sweets
Salted Triple Caramel Cupcakes from Sally's Baking Addiction
Pumpkin Bread with Salted Caramel Pumpkin Butter Cream from A Kitchen Addiction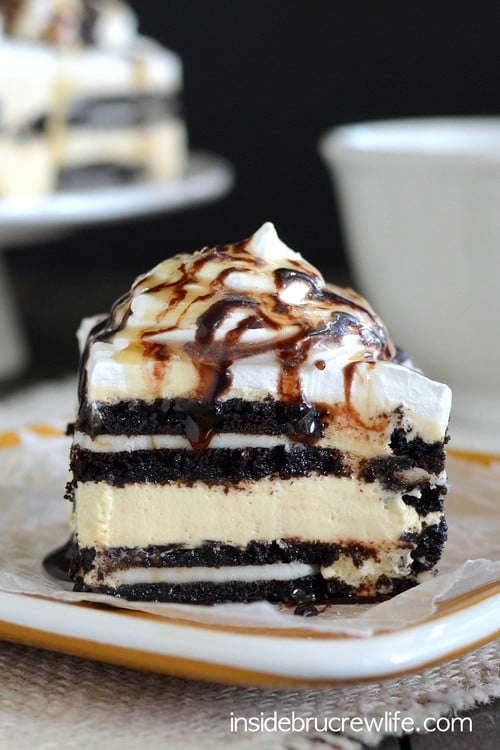 Stay up to date on all the BruCrew baking here:
FACEBOOK | PINTEREST | TWITTER | INSTAGRAM | BLOGLOVIN
Sign up to receive an email in your inbox for each new recipe:
EMAIL SUBSCRIPTION
Yield: 16 squares
Salted Caramel Oreo Icebox Cake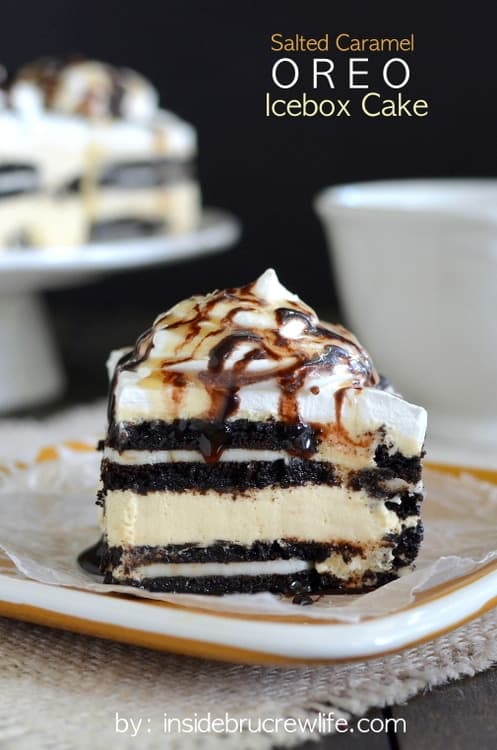 No bake salted caramel cheesecake layered with coffee dipped Oreo cookies is a delicious and easy dessert to make any time of year.
Ingredients
1 - 8 ounce package cream cheese, softened
1/2 cup caramel ice cream topping
1/2 teaspoon coarse ground sea salt
32 Oreo cookies
6 ounces strong brewed coffee, cooled
1 - 16 ounce container Cool Whip, thawed and divided
caramel and chocolate syrups
additional coarse ground sea salt, for garnish
Instructions
Beat the cream cheese, caramel, and sea salt until creamy. Fold in 2 cups of Cool Whip.
Dip 16 Oreo cookies in the cooled coffee and place in the bottom of an 8x8 pan.
Spread half the caramel cheesecake mixture over the Oreo cookies.
Repeat the layers with the remaining cookies and caramel cheesecake.
Spread 1 cup of Cool Whip over the top. Refrigerate until set.
Top with extra Cool Whip, caramel and chocolate syrups, and extra sea salt if desired. Store in a tightly sealed container in the refrigerator.
Nutrition Information:
Yield:
16
Serving Size:
1
Amount Per Serving:
Calories:

281
Total Fat:

17g
Saturated Fat:

10g
Trans Fat:

0g
Unsaturated Fat:

2g
Cholesterol:

14mg
Sodium:

290mg
Carbohydrates:

33g
Fiber:

1g
Sugar:

25g
Protein:

2g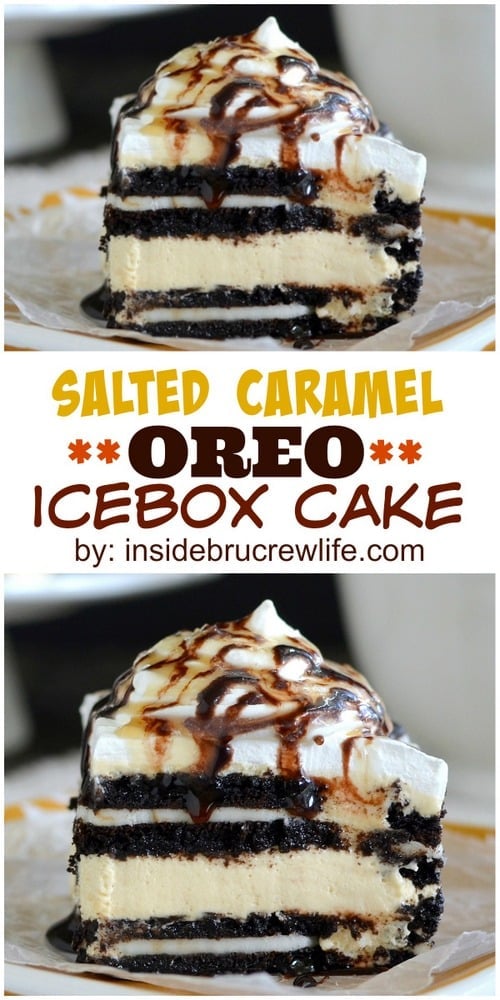 More delicious salted caramel treats that we cannot get enough of: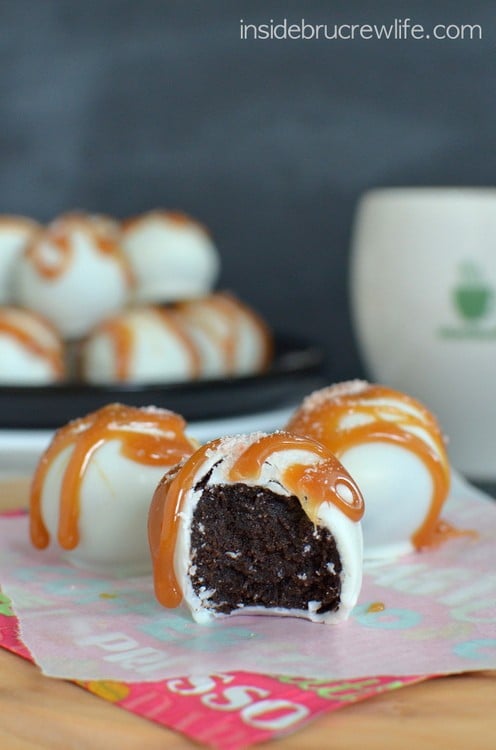 No bake Salted Caramel Mocha Truffles are a fun treat to make…and eat!!!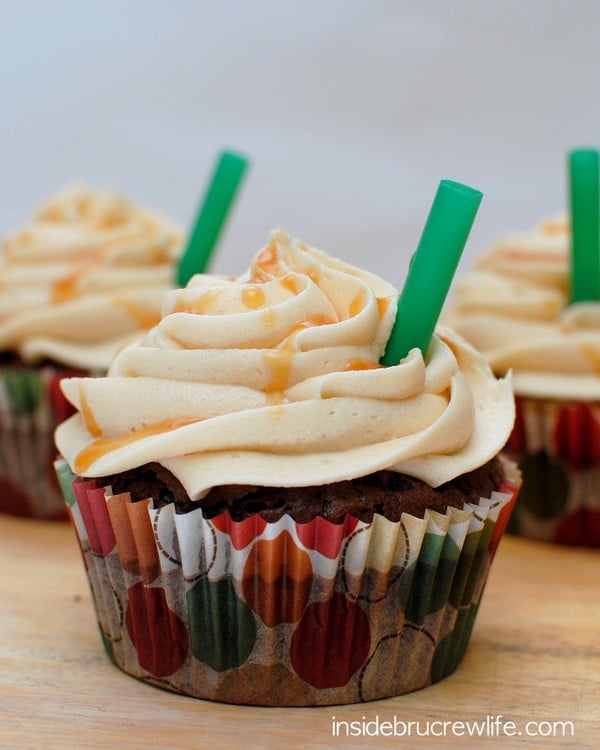 A hidden caramel candy in these Salted Caramel Mocha Brownie Cups is so fun to find!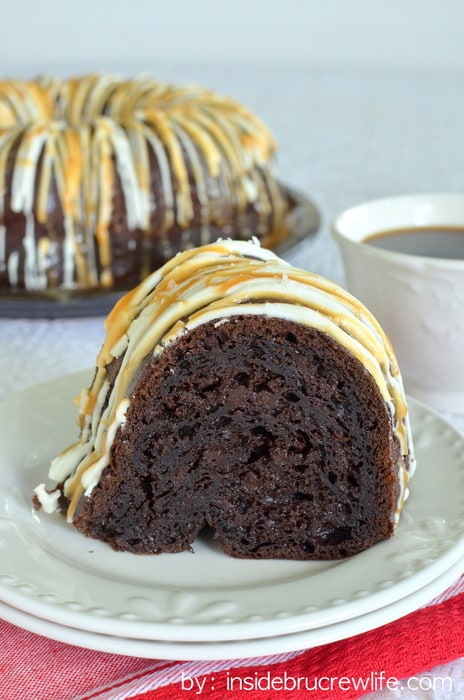 The drizzle of chocolate and caramel on this Salted Caramel Mocha Bundt Cake makes it so irresistible!