Salted Caramel Oreo Icebox Cake has no bake caramel cheesecake and Oreo cookies in every bite. This easy icebox cake recipe is the perfect dessert to make any time of year.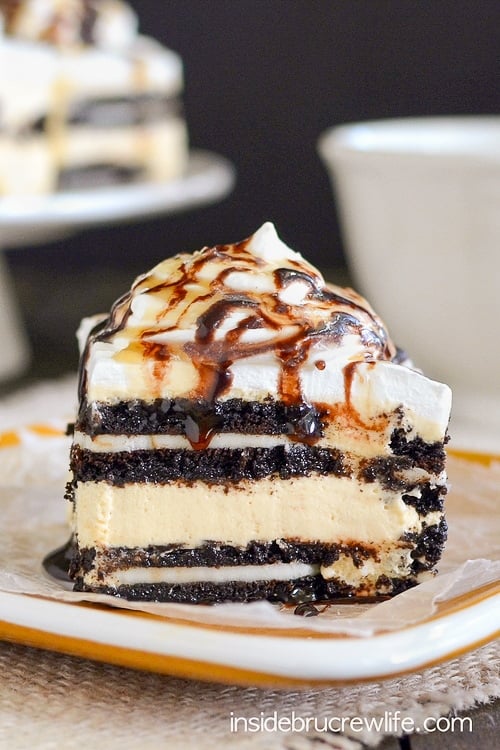 One of my favorite types of dessert is an icebox cake. They are seriously so easy to make and can be customized with so many different flavors.
The other day I was drinking a homemade Salted Caramel Mocha Latte, and I started thinking about what else I could make with the extra salted caramel in the fridge.
Over the years, I have made quite a few different sweet and salty desserts. This Salted Caramel Frosting is amazing on any cake or cupcake. And these Salted Caramel Brownies always get smiles when I bring them to events!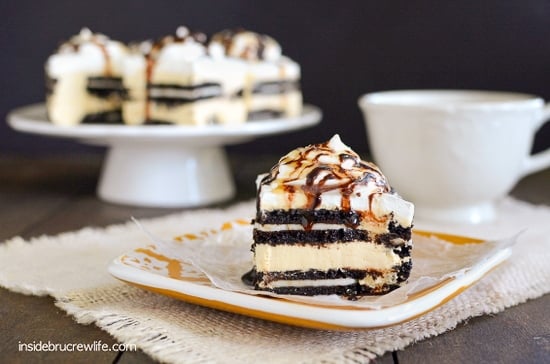 But I wasn't in a baking mood at the moment, so I decided to make a no bake icebox cake.
Icebox cakes:
Years ago a traditional icebox cake was just layers of chocolate wafer cookies and whipped cream on a plate. The cookies would get soft and cake-like the longer it sat in the fridge (or icebox).
Other names for these types of cakes are dessert lasagna, lush dessert, or dream dessert.
Of course, now icebox cakes have become a little more trendy. You can use pudding, pie filling, no bake cheesecake, and any cookie or sweet cracker you like for the layers in these no bake cakes.
One of our favorites is this Cherry Oreo Icebox Cake made with layers of dark chocolate Oreos and cherry mousse.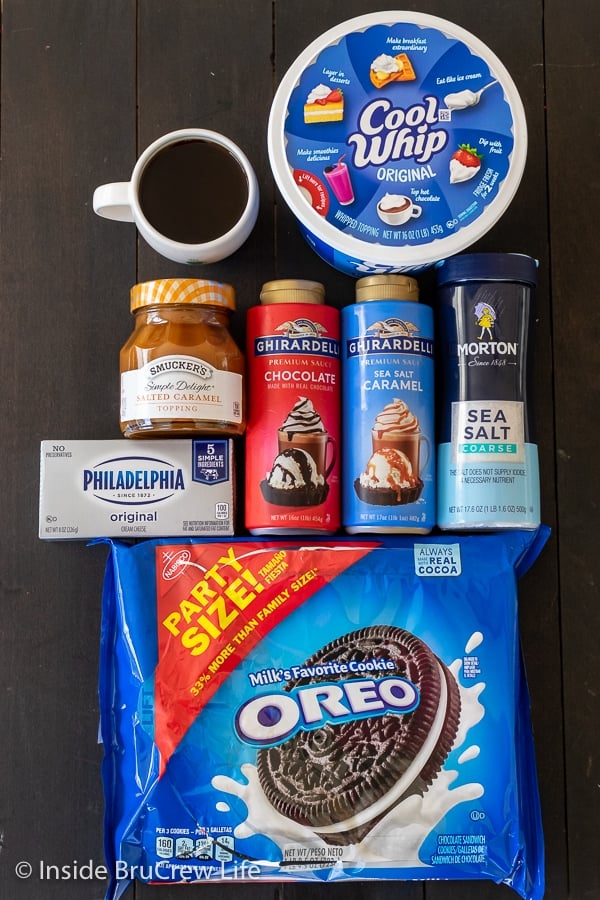 Icebox cakes are seriously the easiest cakes ever to make. All you need are cookies, a light and creamy filling, and Cool Whip. Or Homemade Whipped Cream, if that's the way you roll.
Ingredients for a Caramel Ice Box Cake:
Cream Cheese – make sure to set it out ahead of time
Salted Caramel Ice Cream Topping – sweetens the cream cheese. You can use regular caramel too and adjust the amount of salt.
Sea Salt - make sure to use a coarse ground sea salt to avoid the cake being too salty
Cool Whip – this creates a light and fluffy filling. Feel free to use homemade whipped cream, if you prefer that instead.
Oreos – you can use a regular or double stuffed Oreo for this layer
Coffee – used to soften the cookie slightly before putting them in the pan. You can also use milk if you do not like coffee desserts.
Using Sea Salt in Recipes:
Make sure you use a coarse ground sea salt because if your sea salt is fine, your dessert is going to taste extra salty.
Be sure to add the sea salt in small increments. Some people love salted treats. Others like a very mild sea salt flavor.
In order to get what you like, add it slowly and taste test often because you do not want to ruin your dessert.
FYI: If you are using a salt grinder, remember they all grind differently! Make sure it is set to come out coarse!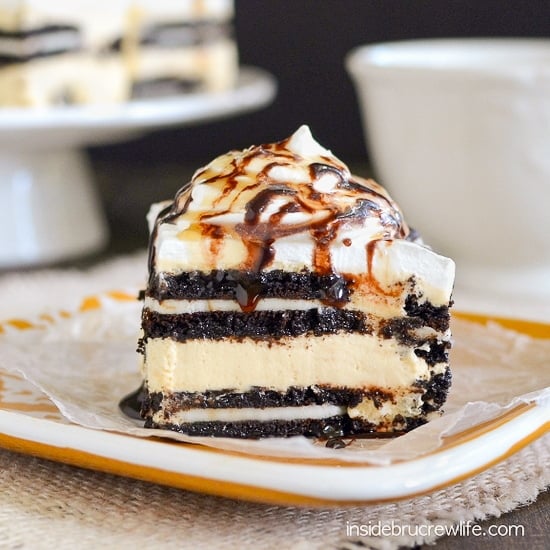 This icebox cake is seriously so easy to put together. Like 15 minutes easy!!!
Of course, you do have to refrigerate it for a few hours before eating it. This is where you have to have patience. Yes, I know, this is not fair.
You could eat it early, but letting it set deepens the flavor and allows the cookies time to soften.
How to make a Salted Caramel Oreo Icebox Cake:
Beat cream cheese, caramel topping, and coarse sea salt until light and creamy.
Fold in the Cool Whip or homemade whipped cream.
Dip Oreo cookies one at a time in cooled coffee and place on the bottom of an 8x8 pan.
Spread half the no bake cheesecake on top, and repeat the layers.
End with a layer of whipped topping. Place the pan in the refrigerator for a few hours to chill until it gets firm.
Serve this salted caramel icebox cake with another swirl of whipped cream and a drizzle of caramel and chocolate syrup. If you are a true salted caramel lover, sprinkle it with a little more sea salt.
If you love icebox cakes try this Cinnamon Apple Icebox Cake, this Coconut Oreo Icebox Cake, or this S'mores Oreo Icebox Cake.
More salted caramel desserts: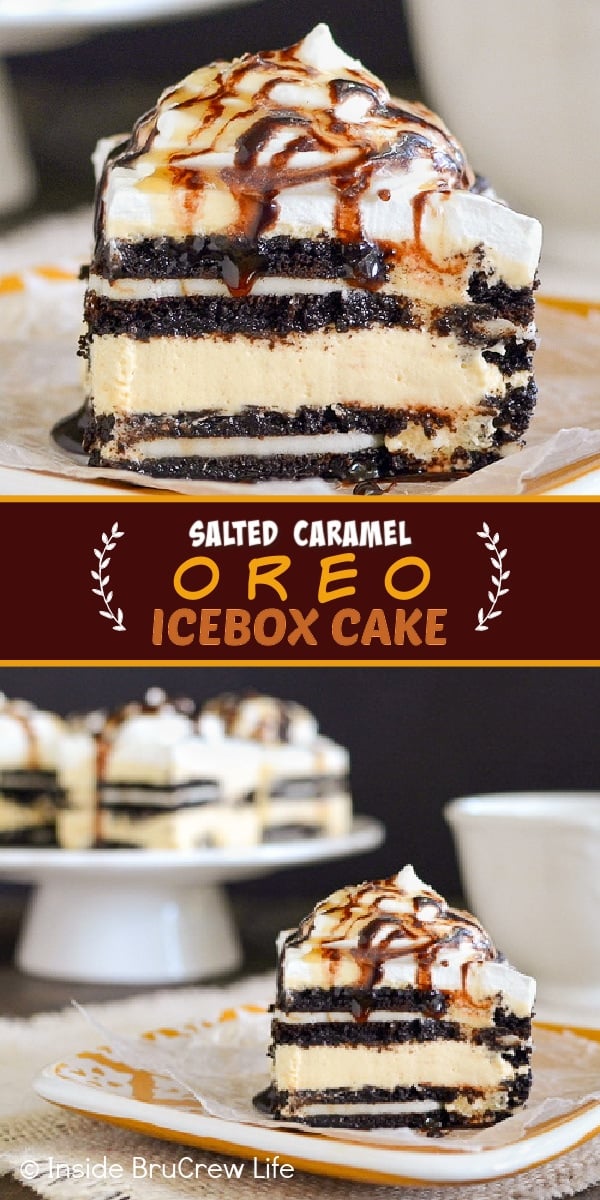 *The post for Salted Caramel Oreo Icebox Cake was first published on September 17, 2014. The pictures and post were updated and republished January 21, 2021.