Grab a fork and dive into the creamy layers of this No Bake Coconut Oreo Icebox Cake. Chocolate and coconut is always a good idea for easy no bake summer desserts.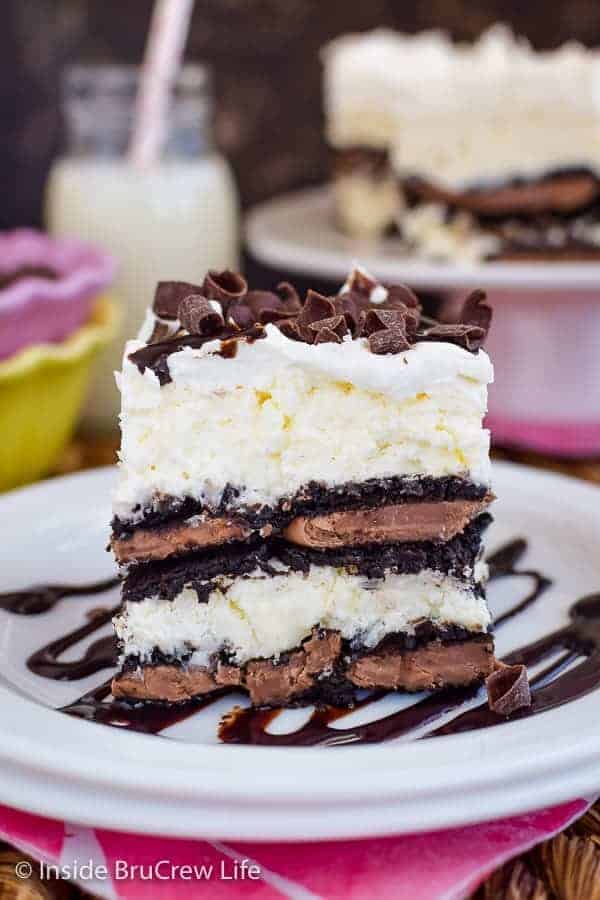 Do you have certain foods that you just have to make in certain seasons?
For me, fall is all about apples and pumpkin, Christmas is obviously peppermint and eggnog, and then summer is coconut for me.
For some reason when summer gets here, all I can think about is putting coconut in just about everything. Of course, I think about coconut pretty much year round because I love the stuff.
I even think about it a lot in January because when it is cold and chilly, coconut reminds me of the warm, sunny days of summer!
I do have to show some restraint because my family is not as crazy for coconut as I am. That just means more Carrot Coconut Bread for me!!!
Although, I have found that the more I add it to sweets, the less complaining has been going on. Mwhahahaha! I feel like I'm weakening their coconut hating tastebuds!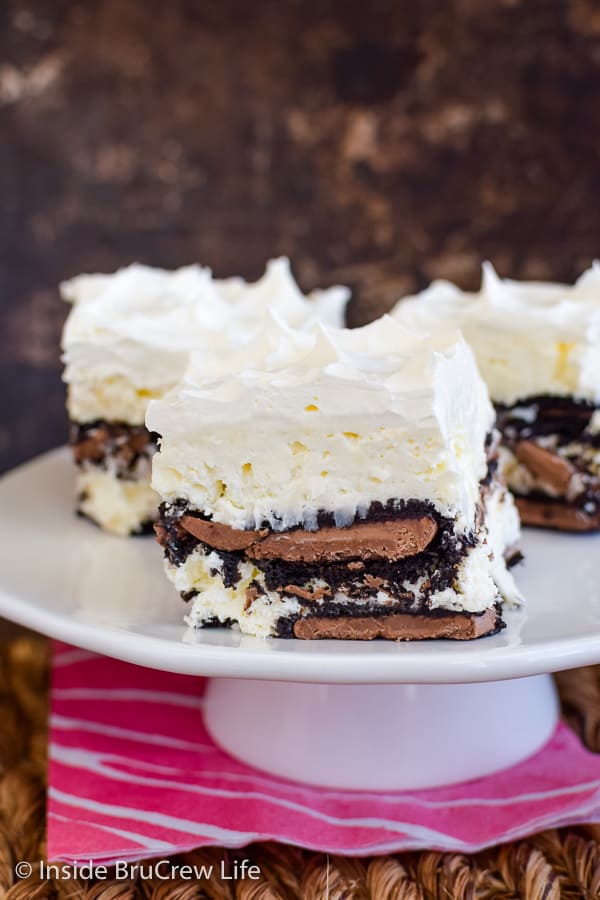 A few years ago I made this Salted Caramel Oreo Icebox Cake. I seriously did not think any other no bake cake would be able to top it.
Until I made this coconut version. This is pretty much tied with the salted caramel for first place in my mind right now.
Ingredients for a Coconut Oreo Icebox Cake:
Icebox cakes are seriously the easiest cakes ever to make. All you need are some cookies, a creamy filling, and Cool Whip. Or homemade whipped cream, if that's the way you roll. (full recipe further down)
Cream Cheese
Sugar
Rum Extract
Shredded Coconut
Cool Whip
Chocolate Creme Oreos
Milk
Other things you can use for the cookie layer in an icebox cake are wafer cookies, graham crackers, Chips Ahoy cookies, any flavor of Oreo cookie, and Nutter Butters. Pretty much any cookie you like.
You can also use pudding or pie filling for the creamy layer.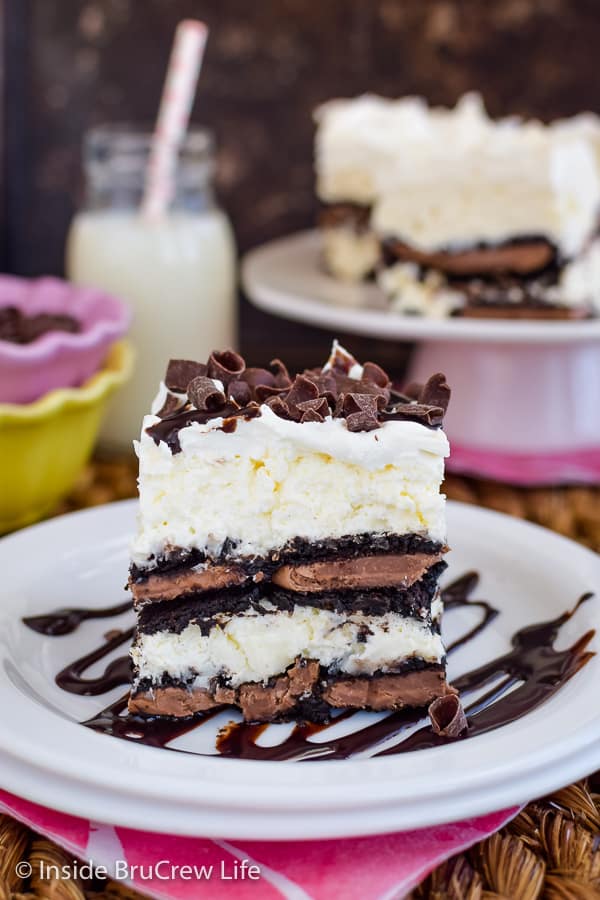 How to make Oreo Coconut Icebox Cake:
Mix together some softened cream cheese and sugar. Add some rum extract and shredded coconut. This is what really gives it that tropical flair.
You can use vanilla or coconut extract if you do not have the rum extract on hand or do not want to buy another ingredient. But seriously, try the rum extract because it really adds such a great taste.
Once this is all mixed together, fold in some Cool Whip gently to make a light and fluffy filling. If you are opposed to the creamy white stuff, go ahead and use a stabilized whipped cream instead.
Spread 2 Tablespoons of the reserved Cool Whip on the bottom of an 8x8 pan. This will keep your cookies from sticking to the bottom of the pan later.
Dip the cookies one at a time in a bowl of milk and place in the bottom of a pan. Spread on half the filling on top, then repeat the layers.
Finish it off with a thin layer of Cool Whip on top and place it in the fridge.
This is the toughest part of this Coconut Oreo Icebox Cake. You have to wait for the cookie layer to soften and the cheesecake to set up. I suggest giving it at least 4-6 hours in the fridge. Over night is even better, but I know that's kind of hard to wait that long to dig in.
Make sure you add a drizzle of chocolate when you eat your piece. It's not necessary, but any time you can add more chocolate...why not? Am I right?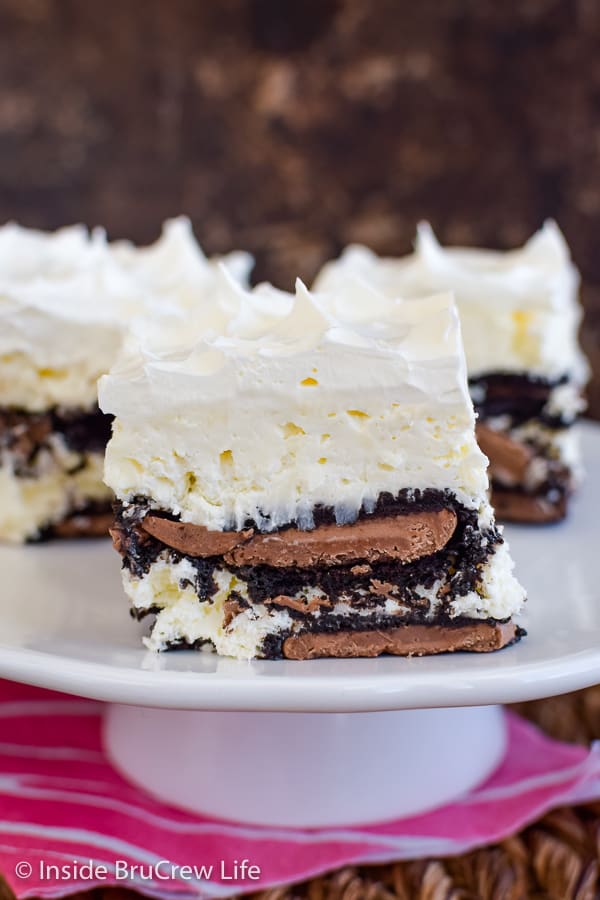 Other icebox cakes that you may enjoy:
This Cherry Oreo Icebox Cake has dark chocolate Oreos and no bake cherry cheesecake layered in a pan.
An easy no bake Funfetti Chocolate Chip Cookie Icebox Cake is just what your summer needs. Layers of cookies and sprinkle cheesecake will disappear in a hurry.
Layers of strawberry pudding, graham crackers, and strawberry jam makes this Strawberry Shortcake Eclair Cake such a delicious no bake treat.
Bananas and graham crackers make this Banana Cream Icebox Cake a fun and delicious way to use up ripe bananas.
Chocolate crackers and coconut pudding come together to make this Coconut Eclair Cake an impressive no bake dessert.
The layers of Oreo cookies and strawberry cheesecake make this easy Berry Oreo Icebox Cake completely irresistible!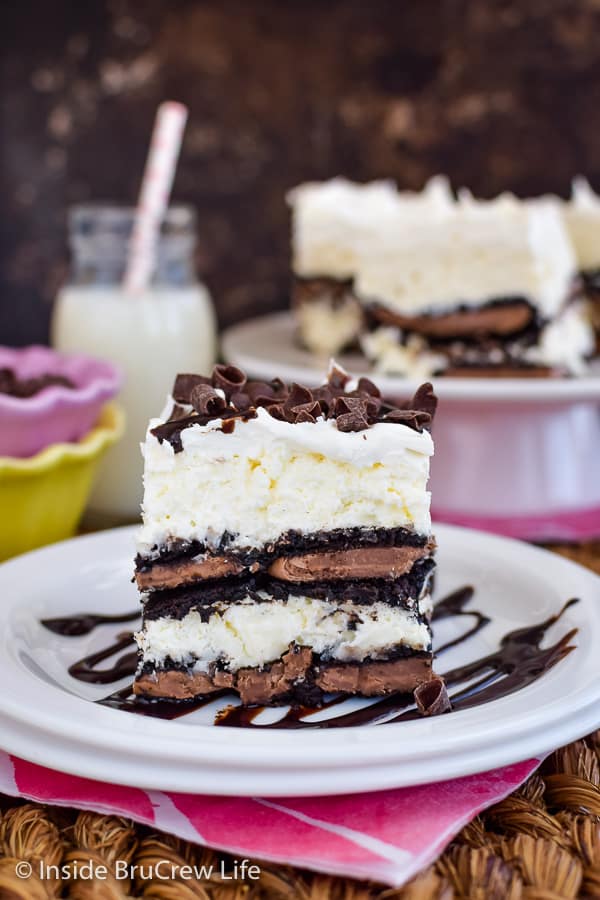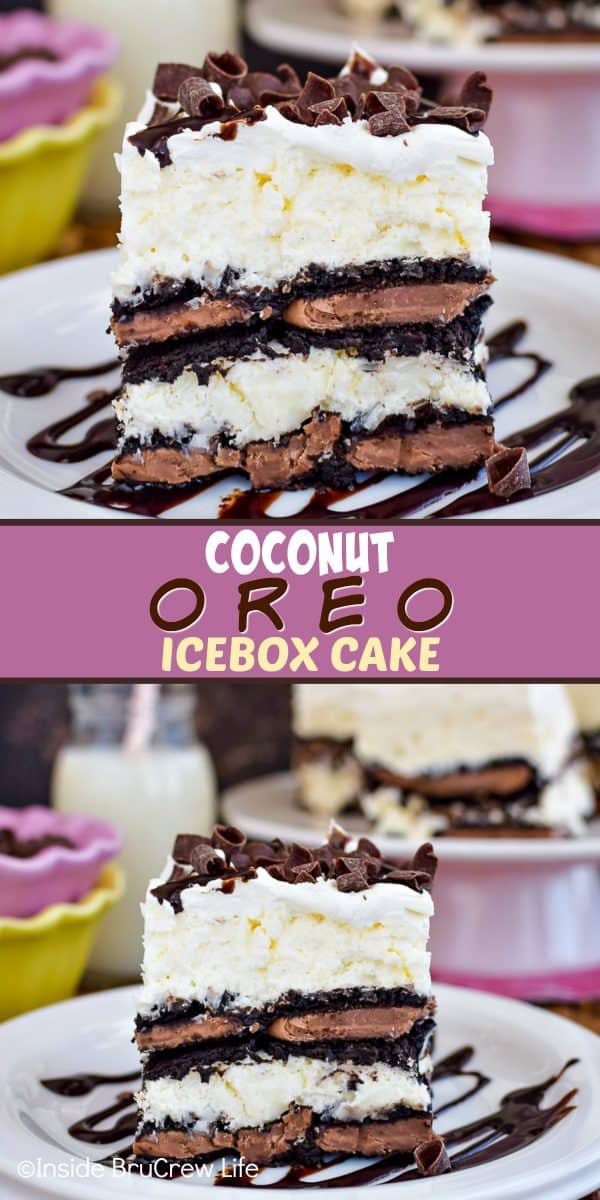 *The post for this Coconut Oreo Icebox Cake was first published on January 23, 2015. It has been updated and republished June 4, 2019.