Looking for a quick no bake dessert for after dinner?  Put together this Coconut Oreo Icebox Cake in the morning, and it will be ready for after dinner.  Layers of coconut and Oreo cookies are always a good idea.
*Love these recipes?  Be sure to sign up for the BruCrew email and have these recipes delivered to your inbox so you never miss a recipe.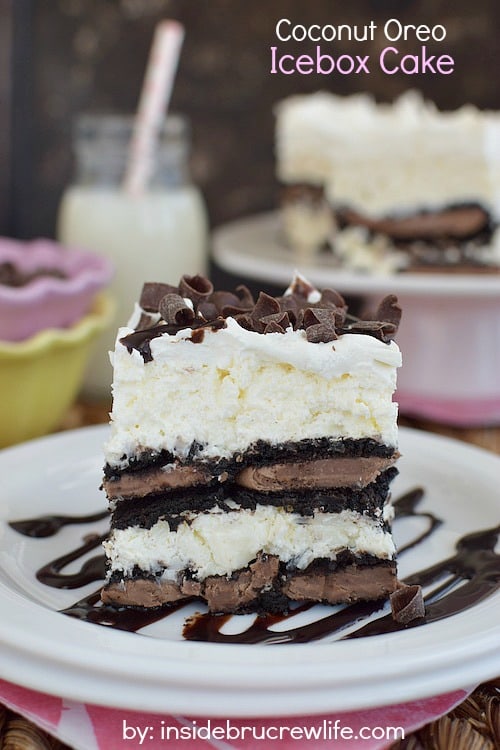 Do you have certain foods that you just have to have in certain months?
Fall is all about apples and pumpkin, Christmas time is obviously peppermint and eggnog, and January is coconut for me.
For some reason when January gets here, all I can think about is putting coconut in just about everything. Of course I think about coconut pretty much year round because I love the stuff.  But I think about it more in January because it is cold and snowy, and coconut reminds me of the warm, sunny days of summer!
I do have to show some restraint because my family is not as crazy for it as I am. Just means more for me!!!  Although, I have found that the more I add it to sweets, the less complaining has been going on.  Mwhahahaha!  I am weakening their coconut hating tastebuds!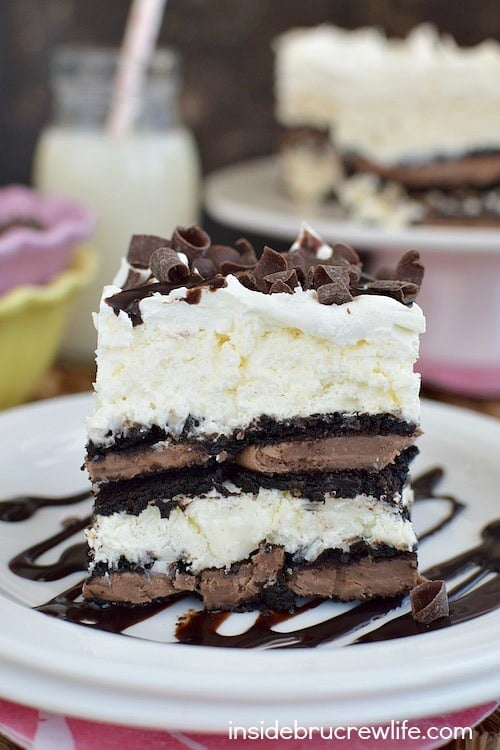 Last fall I made this Salted Caramel Oreo Icebox Cake.  I seriously didn't think any other no bake cake would be able to top it…until I made this coconut Oreo version.  This is pretty much tied with the salted caramel for first place right now.
First you make the no bake coconut cheesecake.  Just a few ingredients whipped together makes this decadent and fluffy filling.  The rum extract really gives it that tropical flair.  You can use vanilla or coconut if you do not have the rum extract or do not want to buy another ingredient.  But seriously try the rum extract because it really adds such a great taste.
This cake is so easy to make.  Dip half the cookies in a glass of milk and place in the bottom of a pan.  Spread on half the filling on top, then repeat the layers.  Finish it off with a layer of Cool Whip on top.  Yes, I said Cool Whip.  I puffy heart love the white stuff!!!  I do realize others do not share my passion, but that's ok.  That's what makes the world go round…we are all unique and have different tastes.
Now for the toughest part of the cake.  Waiting for the cookie layer to soften and the cheesecake to set up.  I suggest giving it at least 4-6 hours in the fridge.  Over night is even better, but I know that's kind of hard to wait to dig in.
Make sure you add a drizzle of chocolate when you eat your piece.  It's not necessary, but any time you can add more chocolate…why not?  Right?  🙂
Stay up to date on all the BruCrew baking here:
FACEBOOK | PINTEREST | GOOGLE+ | TWITTER | INSTAGRAM | BLOGLOVIN
 Sign up to receive an email in your inbox for each new recipe:
EMAIL SUBSCRIPTION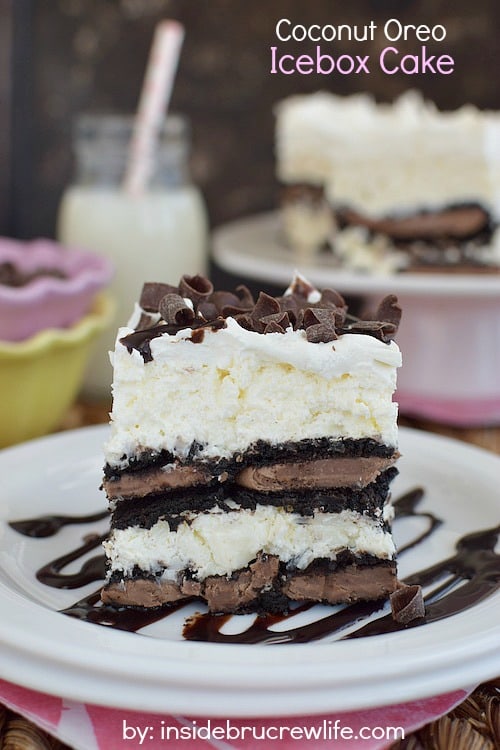 Chocolate cream filled cookies layered with a no bake coconut cheesecake mixture makes a decadent and easy dessert.
Ingredients
1 - 8 ounce package cream cheese, softened
1/4 cup sugar
1 teaspoon rum extract
1/2 cup milk + 2 Tablespoons
1 cup shredded sweetened coconut
8 ounce container Cool Whip (3 cups)
1 package Chocolate Creme Oreo cookies
chocolate syrup
chocolate curls
Instructions
Beat the cream cheese and sugar until creamy. Add the extract, 2 Tablespoons milk, and coconut and beat again. Fold in 2 cups of Cool Whip.
Dip half the cookies in the milk and place on the bottom of an 8x8 pan. Spread half of the coconut mixture on top of the cookies. Repeat the layers.
Cover the top of the cake with the remaining Cool Whip. Refrigerate for 4-6 hours or overnight. Cut into 12 squares. Drizzle with chocolate syrup and sprinkle with chocolate curls before serving. Store in a sealed container in the refrigerator.
https://insidebrucrewlife.com/coconut-oreo-icebox-cake/
Copyright Inside BruCrew Life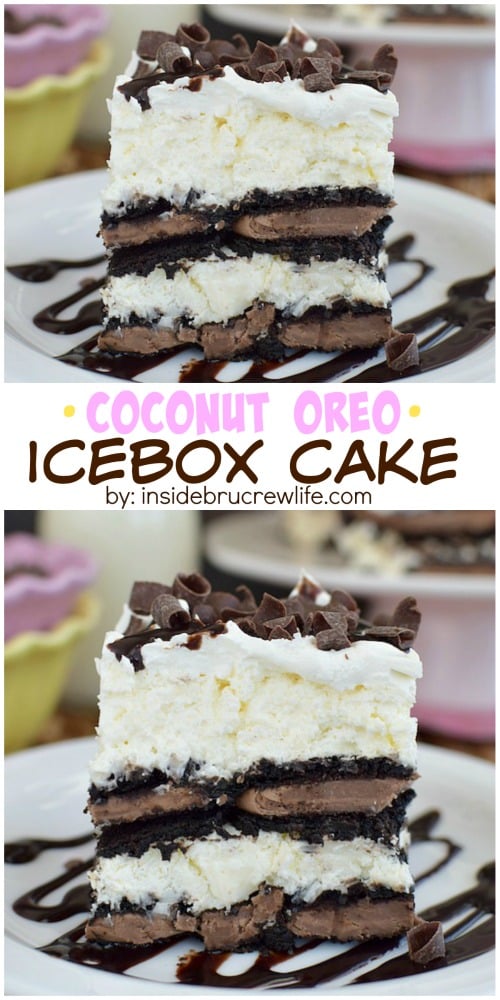 More delicious coconut and chocolate recipes to enjoy: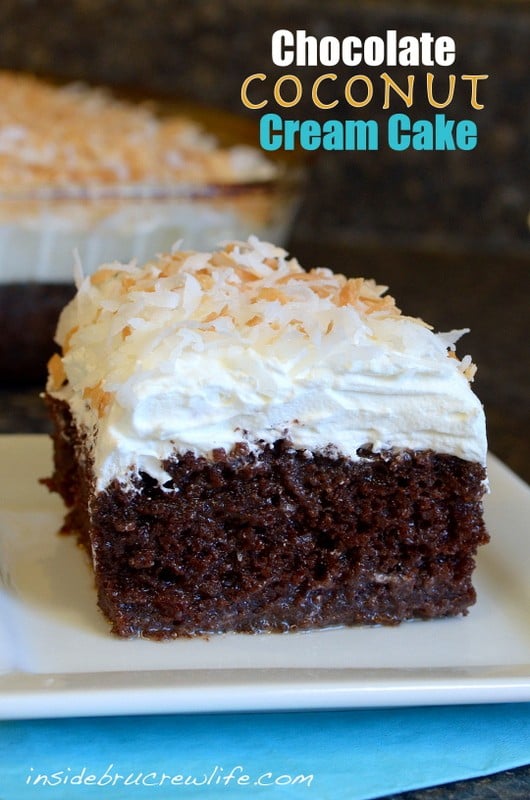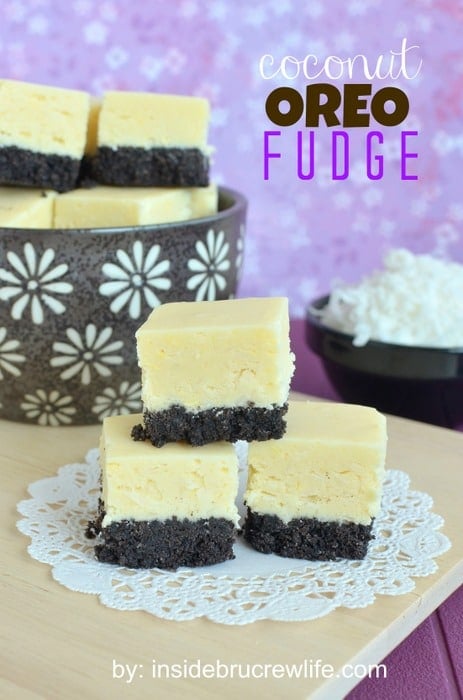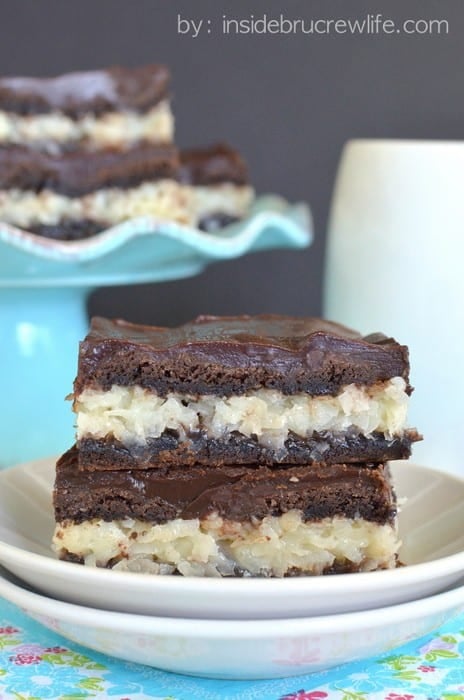 More delicious coconut recipes:
Coconut Sugar Cookie Bars from Crazy for Crust
Frozen Coconut Berry Pie from Kitchen Meets Girl
Snickers Coconut Caramel Cupcakes from Half Baked Harvest