Satisfy your nacho cravings with a pan of these Chicken Caprese Cauliflower Nachos. This low carb appetizer is a delicious and healthy option for big game days.
*I am partnering with Red Gold Tomatoes® as a brand ambassador this year creating recipes using canned tomatoes. As always, all opinions are 100% my own.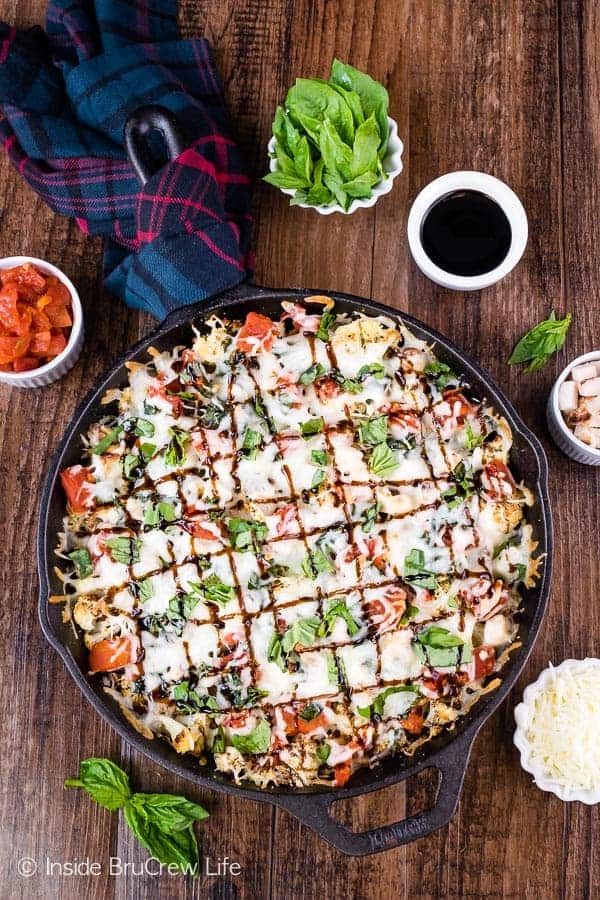 CLICK HERE TO PIN THIS RECIPE FOR LATER!
With the big football game just a few days away, I know everyone is eagerly counting down the minutes to cheer on their favorite team.
Or are you just counting down the minutes until you have a giant table of snacks, appetizers, dips, and desserts to choose from? I always bring a pan of these Football Cookie Bars to share with everyone because they are so fun and delicious.
Quite honestly, I only pretend to be a football fan because I want to be invited to a game day party. For the food, of course.
A big plate of nachos loaded down with toppings is one of my absolute favorite game day snacks. In fact, if said nachos are so loaded that I have to use a fork, that's even better in my opinion.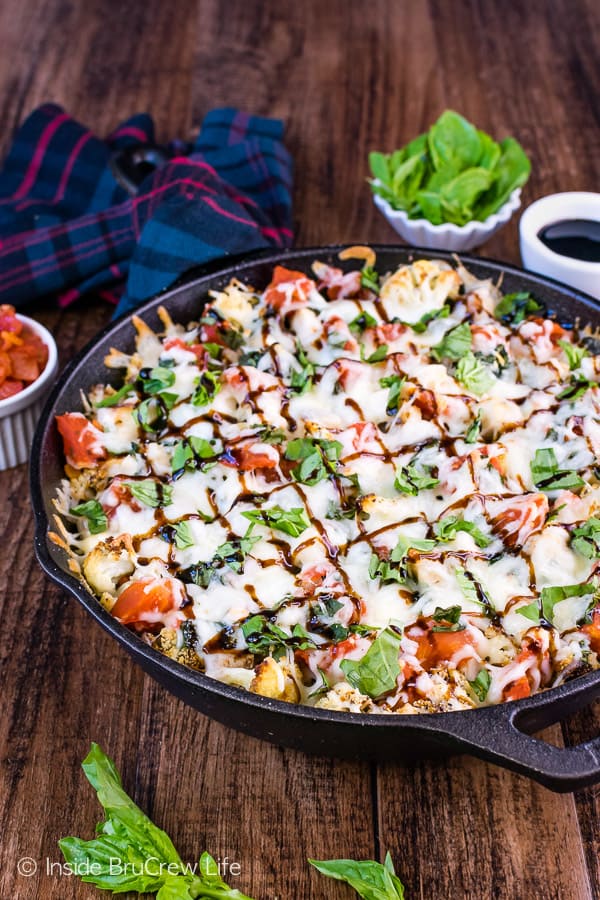 Of course, when you are following a healthier way of eating, a giant plate of loaded nachos is not really on your radar. Well, they may be on the radar, but you may not want all the calories from just one plate when there is so much other food to sample.
Enter in my new favorite appetizer hack. And yes, it does involve cauliflower because that white vegetable is the answer most of the time when you need to make a healthy recipe that tastes amazing. Low Carb Chicken Stroganoff Meatballs served over mashed cauliflower anyone?
So, if you are looking for a healthier nacho recipe, this is it! Who needs crunchy chips when you can have a pan of roasted cauliflower loaded with tomatoes, chicken, and cheese!!
Am I right? The caramelized edges of cauliflower with a little drizzle of balsamic glaze is where it's at!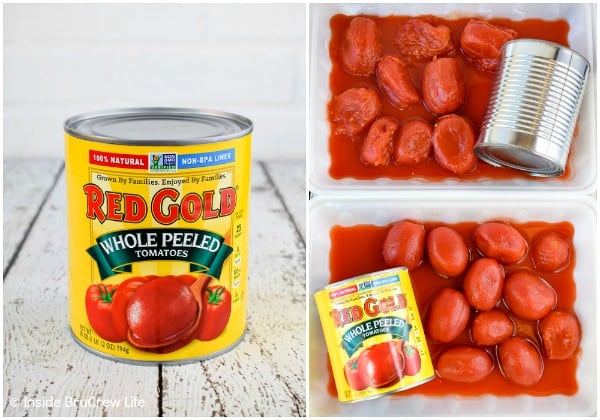 This year I have partnered with Red Gold Tomatoes® to bring you recipes using their canned tomatoes. I love how fresh and delicious these farm-grown tomatoes are.
Local family farms have been growing Red Gold Tomatoes for over four generations. They have incorporated the best farming practices, so they can grow the freshest, best tasting tomato products. I love that they are passionate about providing quality ingredients that help us turn every day meals into family favorites.
This month I was sent cans of whole peeled tomatoes to compare with another leading brand. As you can see by the pictures, Red Gold blows the competition out of the water. The Red Gold tomatoes were smooth, firm and had a great red color, while the other tomatoes did not have a good shape or texture.
It is easy to see why the Red Gold whole peeled tomatoes have been voted "Best Canned Tomatoes". Seeing and tasting the quality of tomatoes definitely keeps me reaching for that yellow label every time.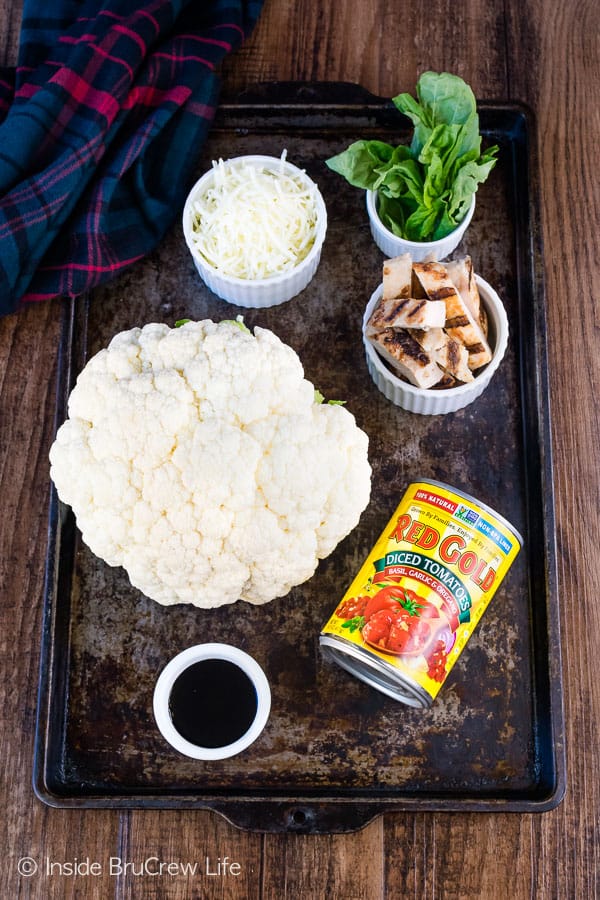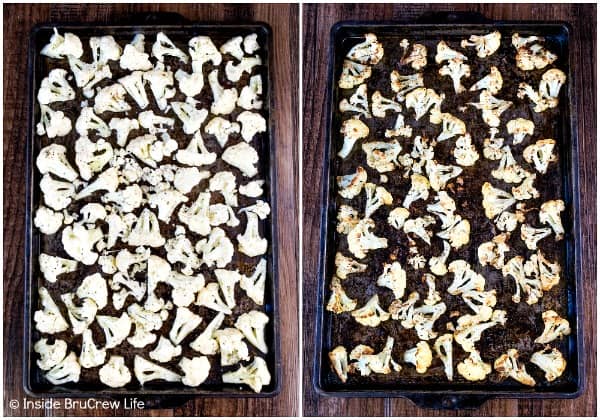 How to make Cauliflower Nachos:
Cut the head of cauliflower into larger florets. Cut each floret in half so the pieces lay flat on the pan. This will give you more roasted "crispy" surfaces.
Drizzle olive oil over the cauliflower pieces, then sprinkle with a seasoning mix. This is where you can change the flavor of your roasted cauliflower. Feel free to use any of the following:
Italian Seasoning
Taco Seasoning
Turmeric Powder
Smoked Paprika
Ranch Powder
Parmesan Cheese
Spread the florets out evenly on a sheet pan making sure to leave room around each one if possible because you want the cauliflower to roast, not steam.
Bake at 425 degrees for 35 minutes. Use a spatula to flip the cauliflower over after 15 minutes, then continue roasting until golden brown and slightly crisp.
Move the roasted cauliflower closer together and add toppings and cheese. Bake again to melt it all together.
Add additional toppings if desired and serve right away!
Please remember this is still cauliflower, so please do not expect the crunch of normal tortilla chips.
Tips for making Chicken Caprese Cauliflower Nachos:
Roast your head of cauliflower using the tips above.
Place half the hot roasted florets in the bottom of a 10-inch cast iron skillet. You can also use a square baking dish or deep-dish pie plate if you do not have an oven safe skillet.
Mix together one can of diced Red Gold Tomatoes with two cups of cooked cubed chicken, and three Tablespoons diced fresh basil. Spread half of this mixture on top of the cauliflower.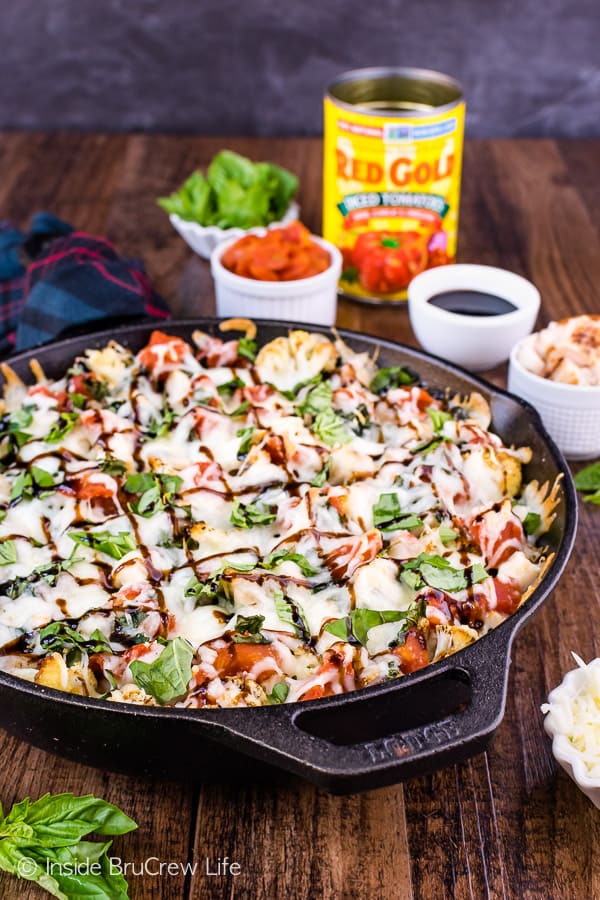 Top the veggie and meat layer with one cup of shredded mozzarella cheese because a layer of melted cheese in the middle is a good idea.
Repeat the layers with the remaining ingredients. Place the pan in the oven and bake at 425 degrees for 12 minutes or until the cheese is melted.
Drizzle with balsamic glaze and top with additional basil before serving.
Dig into the pan of cheesy Chicken Caprese Cauliflower Nachos right away so you can enjoy it while everything is hot and gooey.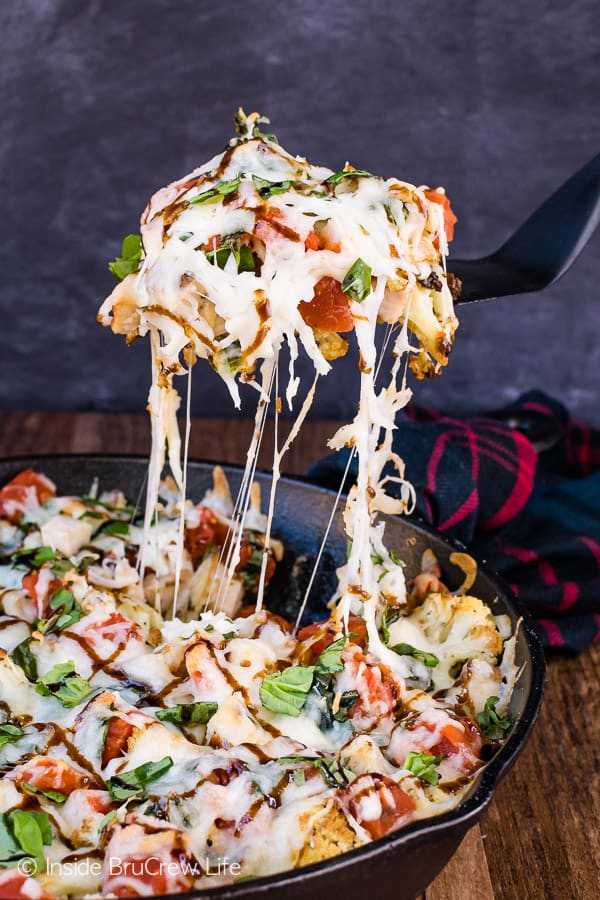 More easy game day recipes using canned tomatoes: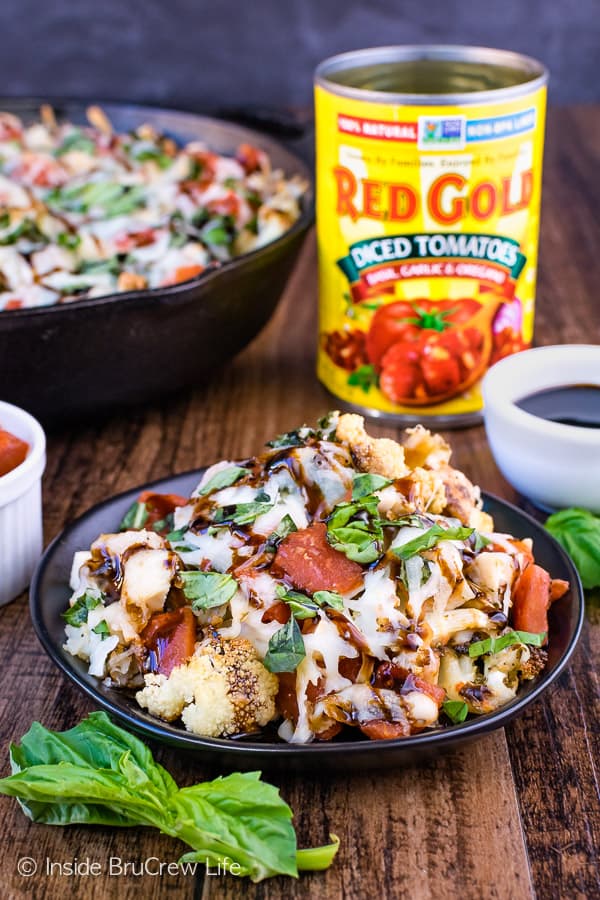 Connect more with Red Gold Tomatoes®:
Facebook | Twitter | Instagram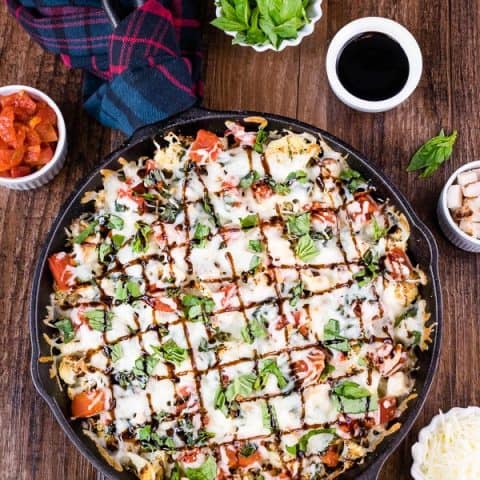 Chicken Caprese Cauliflower Nachos
Total Time:
1 hour
2 minutes
Satisfy your nacho cravings with these Chicken Caprese Cauliflower Nachos. This low carb appetizer is a delicious and healthy option for those big game days.
Ingredients
3/4 teaspoon dried oregano
1/2 teaspoon dried basil
1/4 teaspoon onion powder
1/4 teaspoon garlic powder
1 large head of cauliflower (8-10 cups florets)
3 Tablespoons olive oil
2 cups diced cooked chicken
1 - 14.5 ounce can Red Gold Diced Tomatoes® with garlic, basil, and oregano, drained very well
2 cups shredded mozzarella cheese
1 - .75 ounce box fresh basil, chopped
1-2 Tablespoons balsamic glaze
Instructions
Preheat the oven to 425 degrees. Line a large sheet pan with foil.
Mix together the oregano, basil, onion powder, and garlic powder in a bowl. Set aside
Cut the head of cauliflower into large even florets. Cut each floret in half creating a flat surface.
Place the cauliflower in a bowl and drizzle with the oil. Use a spoon or spatula to lift and turn all the pieces evenly coating them in oil.
Sprinkle half the seasoning mixture over the cauliflower pieces. Stir and repeat with the rest of the seasonings.
Place the cauliflower on the prepared sheet pan making sure the flat pieces are face down on the pan.
Bake for 15 minutes, then use a spatula to flip the cauliflower over. Bake another 20 minutes.
Set aside one Tablespoon fresh basil, then mix together the chicken, tomatoes, and the rest of the basil
Place half of the roasted cauliflower in the bottom of a 10-inch cast iron pan. Spread half the chicken mixture on top of the cauliflower. Sprinkle with half the cheese. Repeat the layers.
Bake for another 12 minutes. Remove from the oven. Drizzle with the balsamic glaze and garnish with the reserved basil. Serve immediately.
Nutrition Information:
Yield:

6
Serving Size:

1
Amount Per Serving:
Calories:

311
Total Fat:

19g
Saturated Fat:

6g
Trans Fat:

0g
Unsaturated Fat:

12g
Cholesterol:

61mg
Sodium:

266mg
Carbohydrates:

15g
Fiber:

5g
Sugar:

8g
Protein:

22g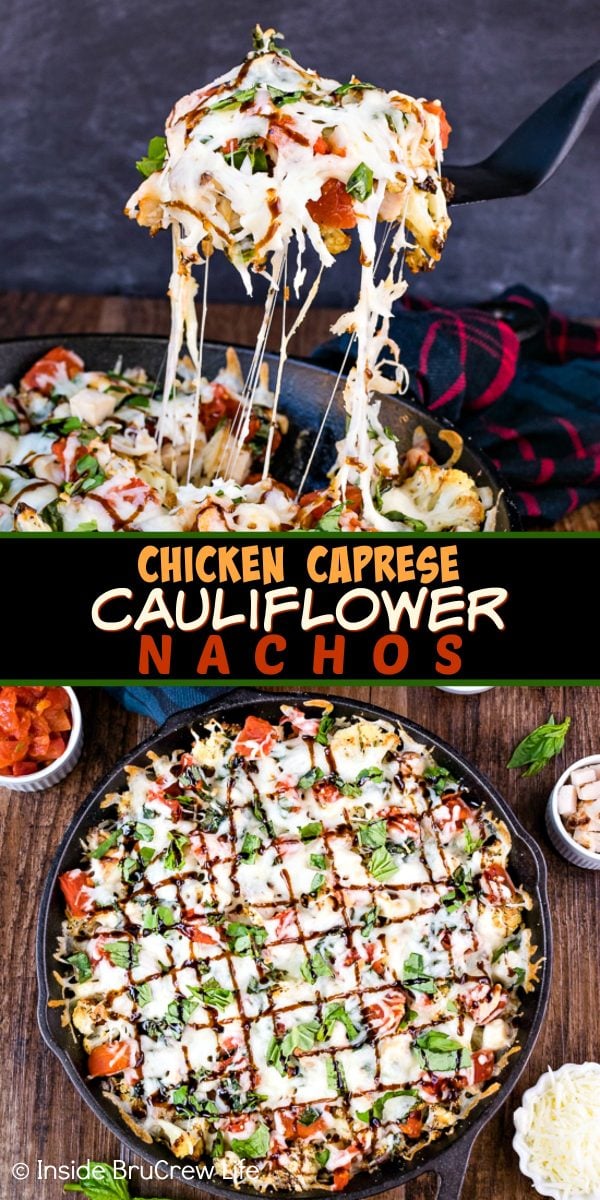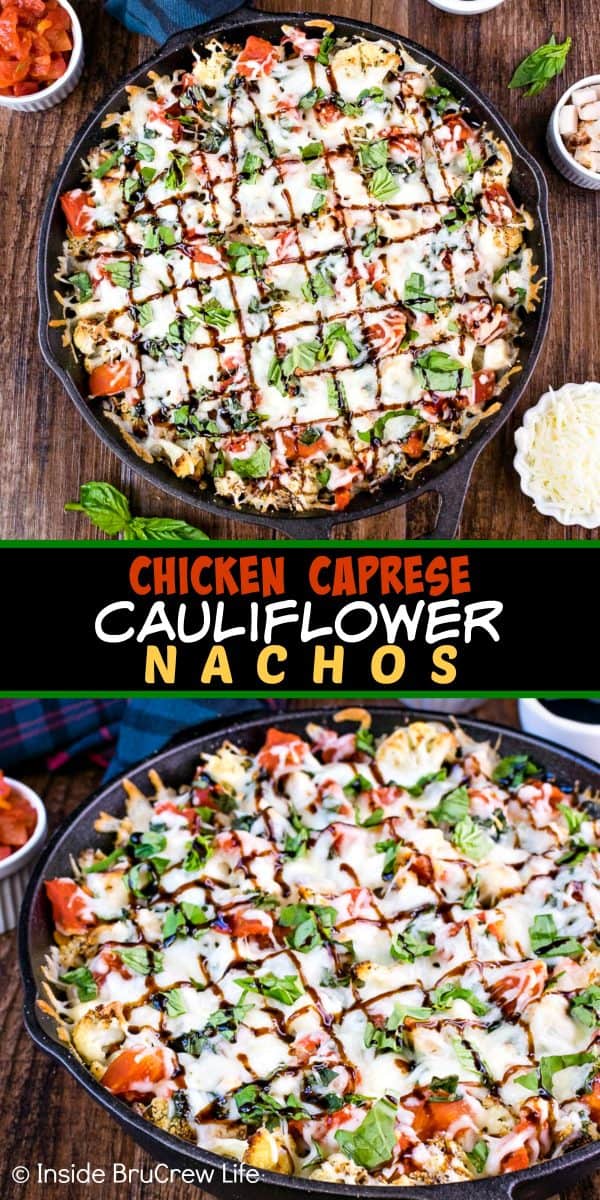 *Red Gold Tomatoes compensated me for my time creating this recipe as a brand ambassador. All opinions expressed in this post are 100% my own. Thank you for letting me share the brands and products we use and love.