Satisfy your nacho cravings with a pan of these healthy chicken caprese Cauliflower Nachos. This low carb appetizer is a delicious and healthy option for big game days.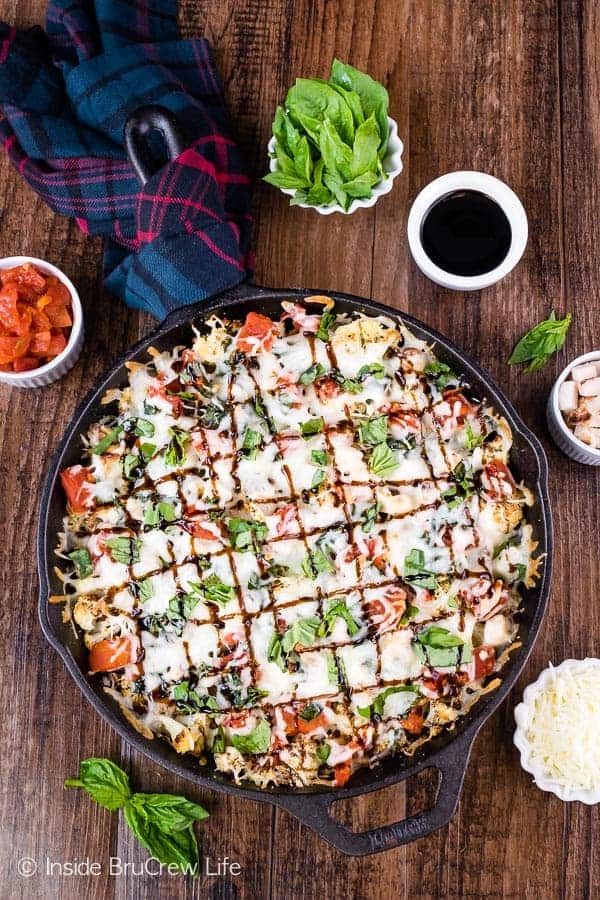 With the big football game just a few days away, I know everyone is eagerly counting down the minutes to cheer on their favorite team.
Or are you just counting down the minutes until you have a giant table of snacks, appetizers, dips, and desserts to choose from? I always bring a pan of these football shaped cookies to share with everyone because they are so fun and delicious.
Quite honestly, I only pretend to be a football fan because I want to be invited to a game day party. For the food, of course.
A big plate of nachos loaded down with toppings is one of my absolute favorite game day snacks. In fact, if said nachos are so loaded that I have to use a fork, that's even better in my opinion.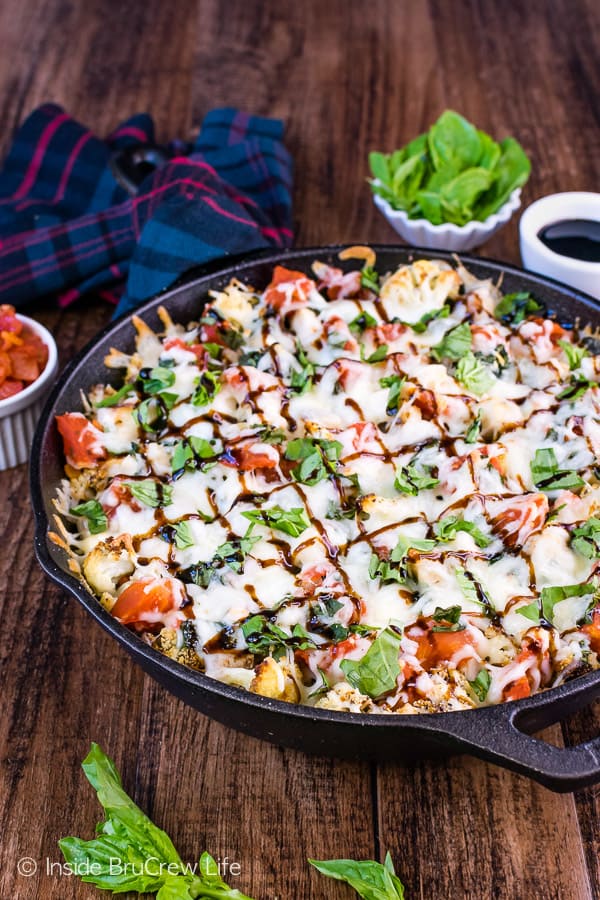 Of course, when you are following a healthier way of eating, a giant plate of loaded nachos is NOT really on your radar. Well, they may be on the radar, but you may not want all the calories from just one plate when there is so much other food to sample.
Enter in my new favorite appetizer hack. And yes, it does involve cauliflower because that white vegetable is the answer most of the time when you need to make a healthy recipe that tastes amazing. Keto meatball stroganoff served over mashed cauliflower anyone?
So, if you are looking for a healthy nacho recipe, this is it! Who needs crunchy chips when you can have a pan of roasted cauliflower loaded with tomatoes, chicken, and cheese!!
Am I right? The caramelized edges of cauliflower with a little drizzle of balsamic glaze is where it's at!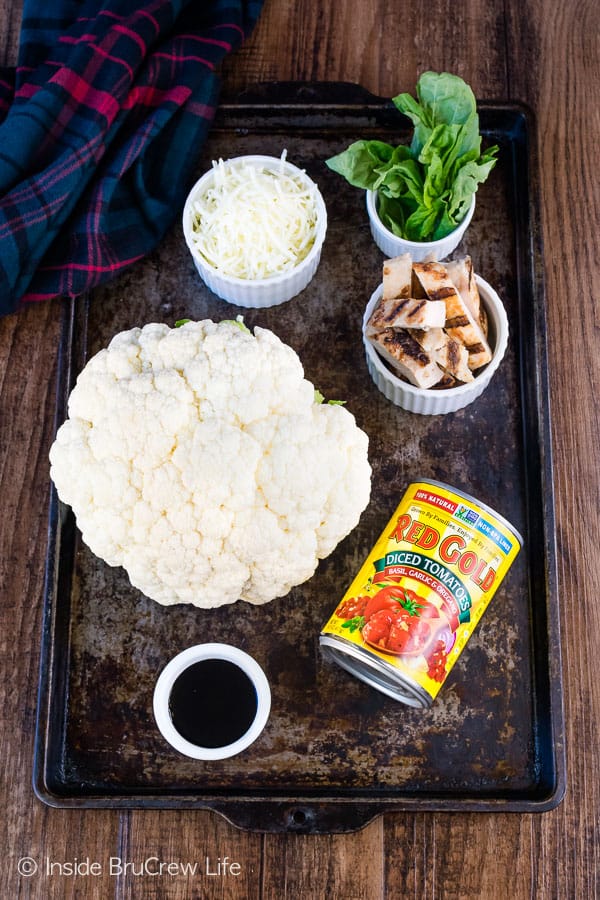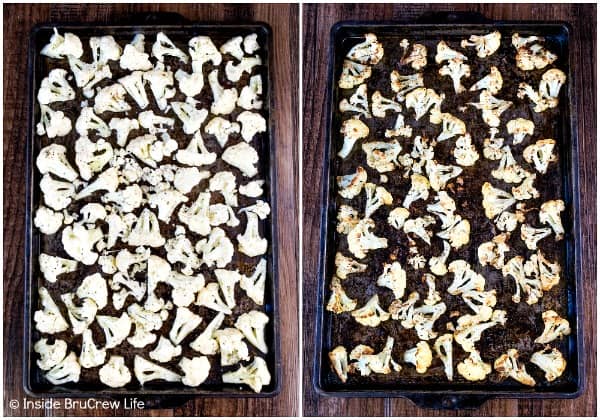 How to make Cauliflower Nachos
This cauliflower nachos recipe comes together quickly once the cauliflower is done. While the cauliflower is cooking, stir together the rest of the ingredients.
Roast Cauliflower
Cut the head of cauliflower into large florets. Cut each floret in half so the pieces lay flat on the pan. This will give you more roasted "crispy" surfaces.
Drizzle olive oil over the cauliflower pieces, then sprinkle with a seasoning mix. This is where you can change the flavor of your roasted cauliflower. Check out this easy roasted cauliflower for more flavor options.
Spread the florets out evenly on a sheet pan making sure to leave room around each one if possible because you want the cauliflower to roast in the oven, not steam.
Bake at 425 degrees for 35 minutes. Use a spatula to flip the cauliflower over after 15 minutes, then continue roasting until golden brown and slightly crisp.

Assembly
Place half of the hot roasted cauliflower florets in the bottom of a 10-inch cast iron skillet. You can also use a square baking dish or deep-dish pie plate, if you do not have an oven safe skillet.
Mix together diced tomatoes, cooked chicken, and fresh basil. Spread half of this mixture on top of the roasted cauliflower.
Top the veggie and meat layer with shredded mozzarella cheese because a layer of melted cheese in the middle is a good idea. Trust me!
Repeat the layers with the remaining ingredients. Place the cast iron skillet in the oven and bake until the cheese is melted and gooey.
Drizzle with balsamic glaze and top with additional basil. Dig into the pan of cheesy cauliflower nachos right away, so you can enjoy it while everything is hot and gooey.
BruCrew Tip: Remember this is still just cauliflower, so please do not expect the crunch of normal tortilla chips!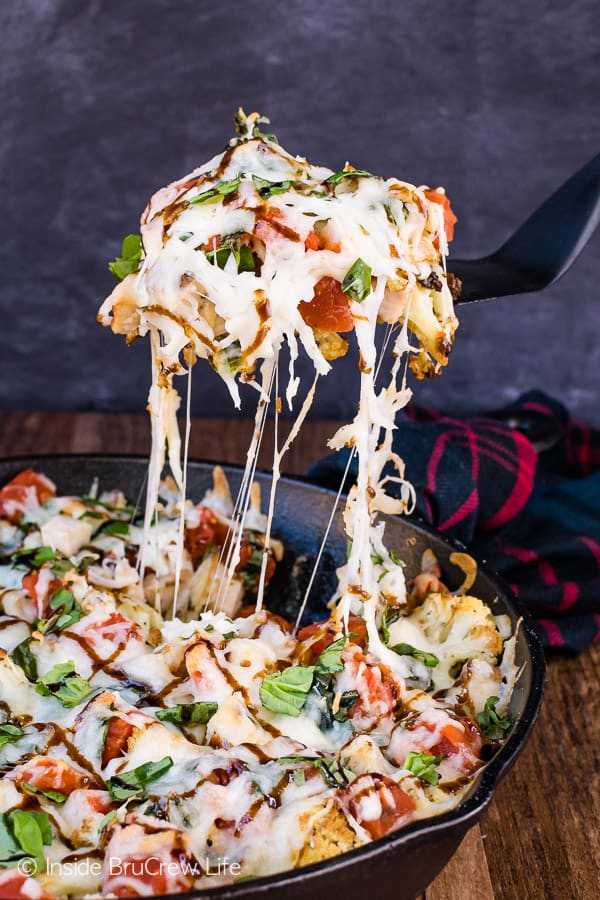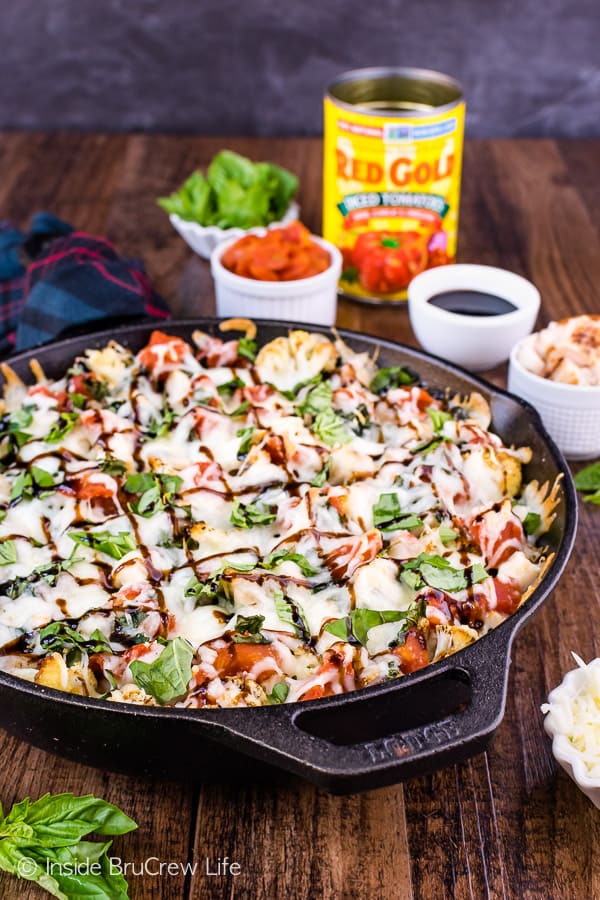 More easy Game Day Recipes