This easy Oven Roasted Cauliflower is delicious and so simple to make. The caramelized crispy edges make it a great side dish to serve with any meal.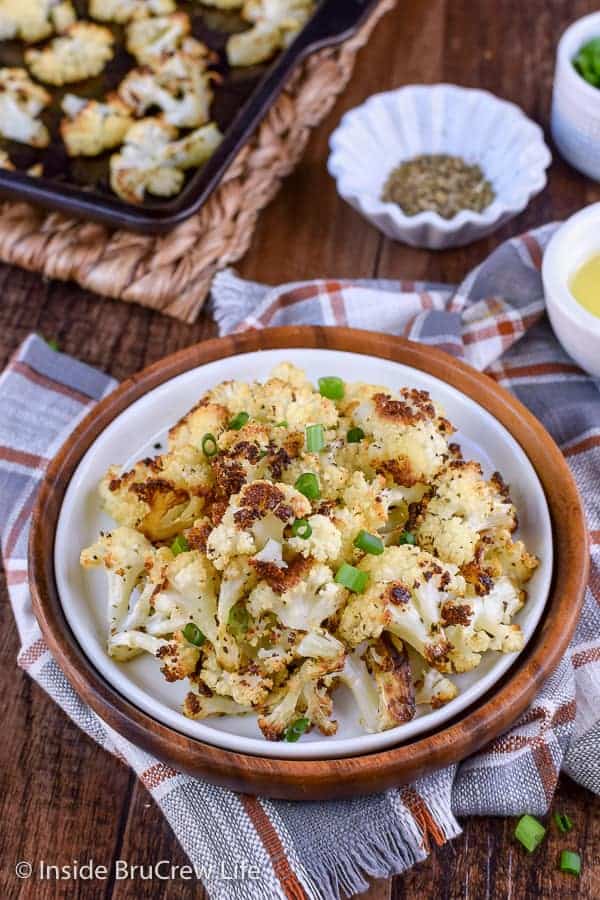 Did you know that cauliflower is the new super food? Ok, so maybe it's not technically a "superfood" but it sure is magical because you can substitute it for most things, and it still tastes great.
It's amazing pureed in this Loaded Cauliflower Soup. A batch of this Easy Cauliflower Rice is delicious in dishes like this Coconut Curry Shrimp. You can also mash it and serve it with these Low Carb Chicken Stroganoff Meatballs.
Now I absolutely love all those healthy dinner ideas using cauliflower, but there is just something about roasted vegetables. It brings out so much flavor and texture.
Plus, it's so easy to toss the veggies with some oil and seasonings and dump them onto a pan when you are in a hurry. I'm all for easy, peasy dinners that do not take very long to make.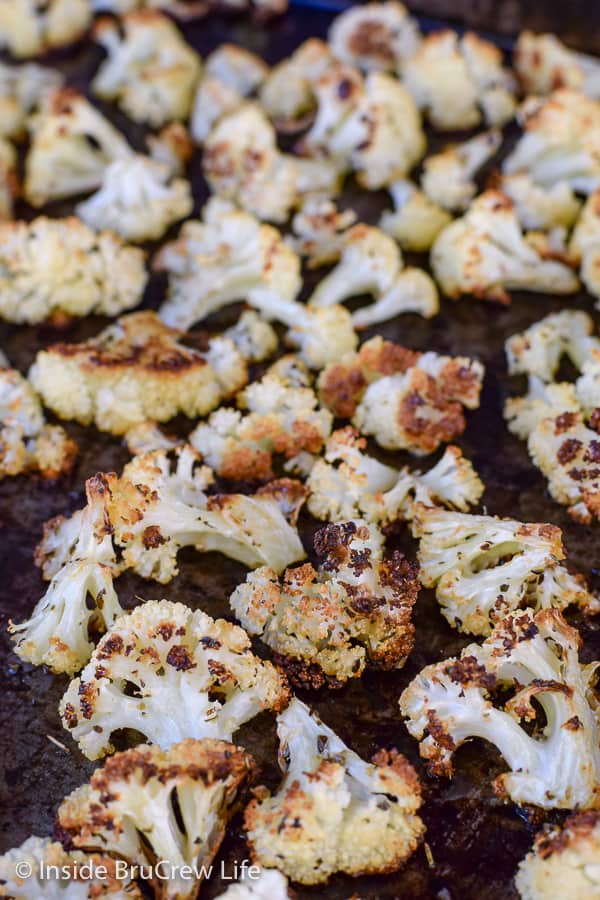 You may be wondering why you would roast cauliflower. My main reason for it is because it tastes so stinking good. And did I mention how easy it was. Wink, wink.
Cauliflower holds up well to high heat, and even if it gets a little charred and crispy it will still taste great. You can add different seasonings to change up the flavor of the roasted cauliflower.
This veggie has quickly become a favorite side to most of our grilled meats. It's so flavorful, and it just happens to be super healthy too. It's a great choice for just about every eating plan.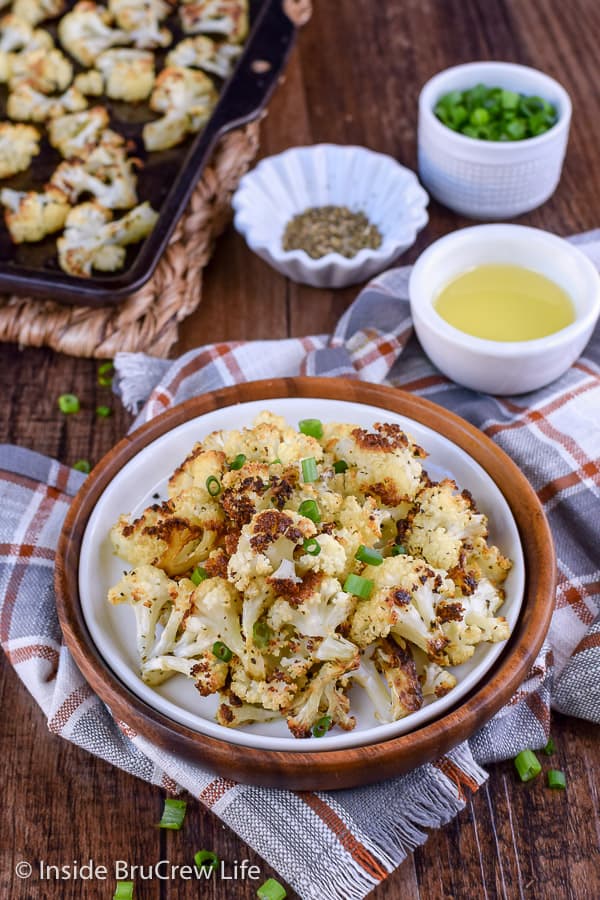 How to make Oven Roasted Cauliflower:
Preheat the oven to 425 degrees.
Cut a large head of cauliflower into florets. Cut each floret in half, so you have a flat side. This allows for more crispy caramelized edges because the flat sides are on the pan.
Drizzle oil over the cauliflower pieces. Sprinkle with your choice of seasonings, and stir to coat everything completely.
Place the cauliflower on a sheet pan making sure the pieces are not crowded together. You want it to roast, not steam.
Put the pan in the oven for 15 minutes, then remove and flip the cauliflower pieces over using a spatula. Return the pan to the oven and continue roasting for another 20 minutes.
Remove and serve immediately with your choice of meat. Or make it early in the day and snack on it all day long because it's so good.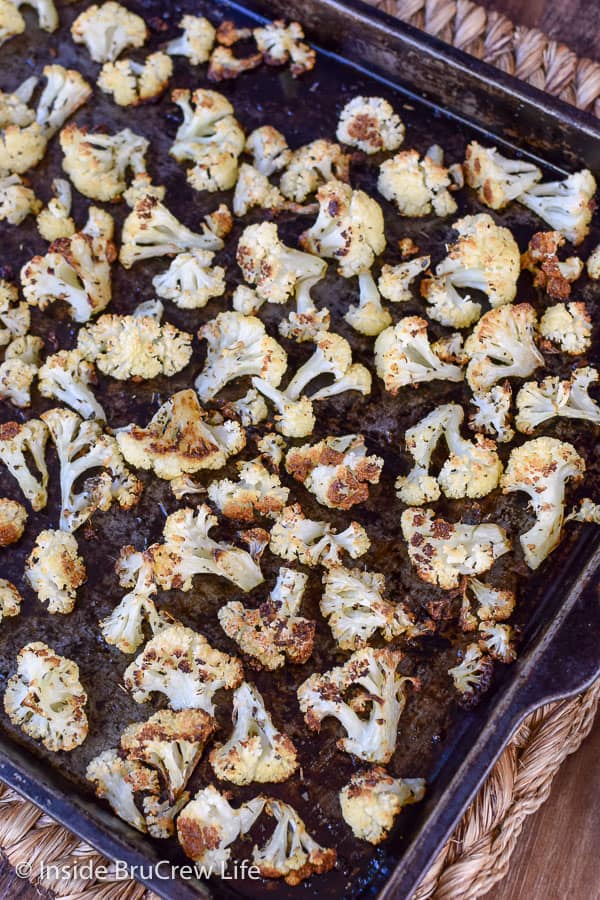 How do you change up the flavor of your Roasted Cauliflower:
Using different spices, seasonings, or cheese is an easy way to make this Oven Roasted Cauliflower taste different. Feel free to use any of these ideas.
Taco Seasoning
Smoked Paprika
Tumeric Powder
Parmesan Cheese
Garlic
Italian Seasoning
Ranch Powder
You can sprinkle any of these on the oil drizzled cauliflower in a bowl and stir it around to coat it. You can also put the cauliflower, oil, and spices in a large ziplock bag and shake until it is coated.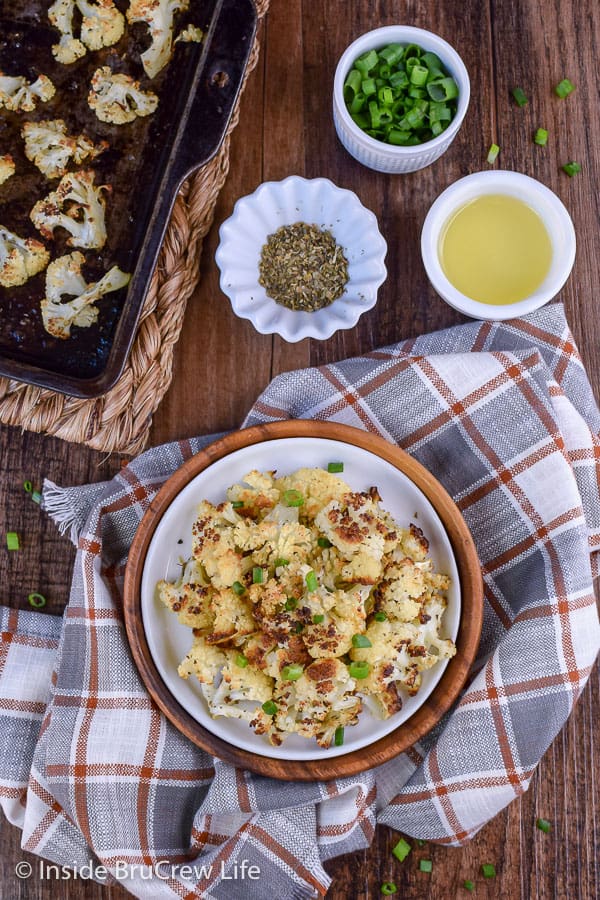 What do you serve Oven Roasted Cauliflower with?
Serve it along side these Homemade Cajun Shrimp Burgers. You won't even miss the fries once you taste the crispy edges.
Make a pan of cauliflower to enjoy with this Sheet Pan Chili Lime Cod. Spicy lean fish and caramelized cauliflower is a delicious pair.
Broccoli Cheese Stuffed Pork Tenderloins and a side of cauliflower would be a delicious dinner choice.
Or use it as a base for healthy nachos. These cheesy Chicken Caprese Cauliflower Nachos are a favorite in our family. Low carb and totally delicious.