This low carb Chicken Meatball Stroganoff is cooked in a creamy mushroom sauce and served over mashed cauliflower. This meatball stroganoff recipe is packed with protein and veggies and is a healthy lean and green meal that the whole family will enjoy.
Can I admit something? I'm actually starting to enjoy creating and photographing healthy recipes. I know, I know. Who am I and what have I done with the crazy dessert lady?
It's ok, I'm still here. You can learn to eat healthy and enjoy it, but you never truly lose your sweet tooth. I still battle the desire to eat sweets each and every day.
Some days I give in and enjoy a few bites of whatever dessert I am currently developing. I'm looking at you Cinnamon Roll Pumpkin Cake! But what has changed is my desire to eat the whole pan of dessert. Healthy moderation keeps that sweet tooth in check.
Well, and the fact that I don't want to buy bigger pants ever again. So bring on more healthy dinners.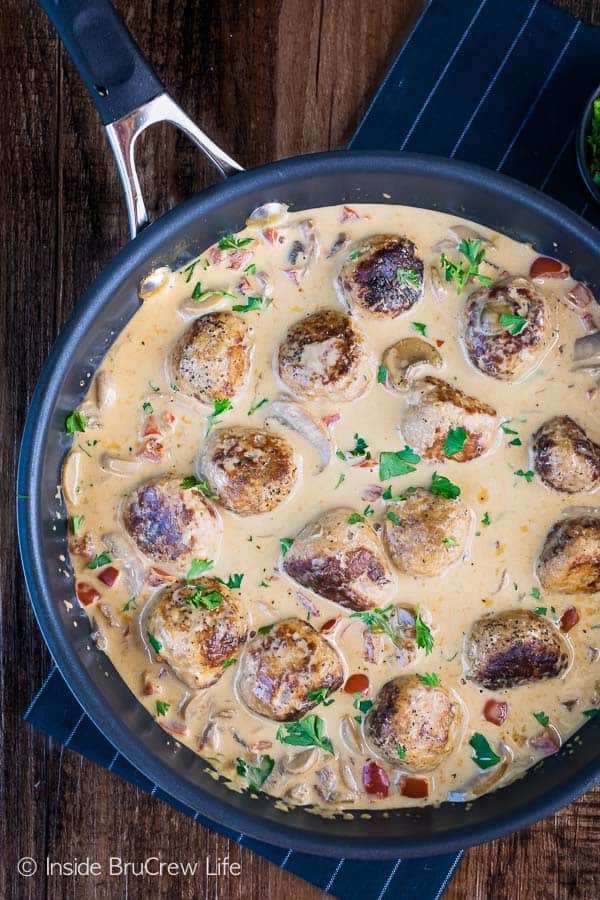 I actually made these healthy chicken meatballs a few months ago, but savory brown food is a whole lot harder to photograph than cute desserts.
The taste was great, but the pictures were just not appetizing, so I have been holding off sharing them.
We have been here in Florida for a little over a year now, and I'm still trying to learn the lighting in this house. You would think that a room with windows on both sides would provide enough light, but I still struggle getting it just right.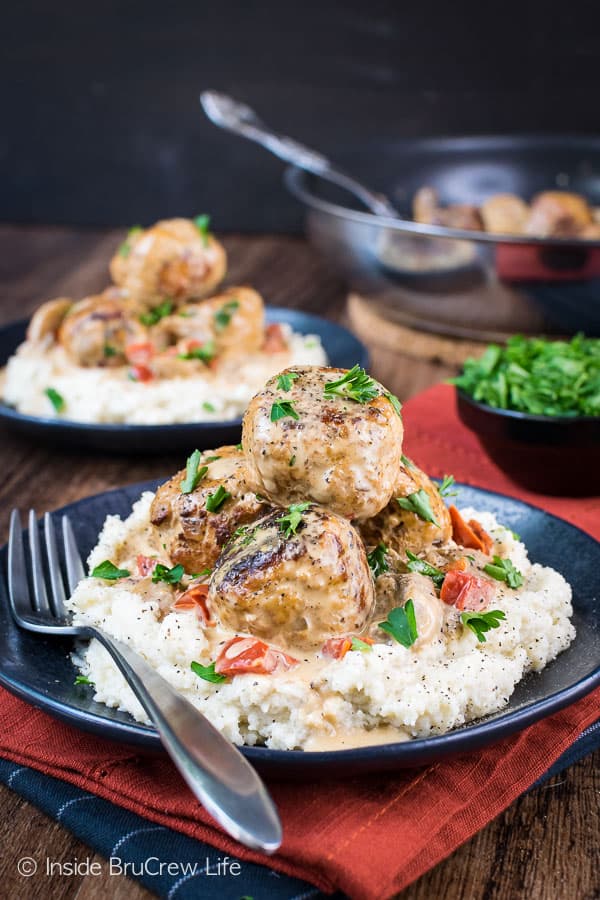 I finally broke down and bought a new light. Ok, ok, actually my husband bought me the new light because he was tired of me complaining and crying while editing photos. True story.
At first I didn't want to try it because I hate learning new things, but I'm so excited that I did because it really does help the food look better.
Seriously! Who knew brown food could look this awesome!!!
You guys, I am so excited to share this easy low carb dinner with you now that the photos show how amazing it is. It's seriously my new favorite meal! This healthy chicken stroganoff is the perfect recipe for anyone on a keto diet. Or a gluten free diet.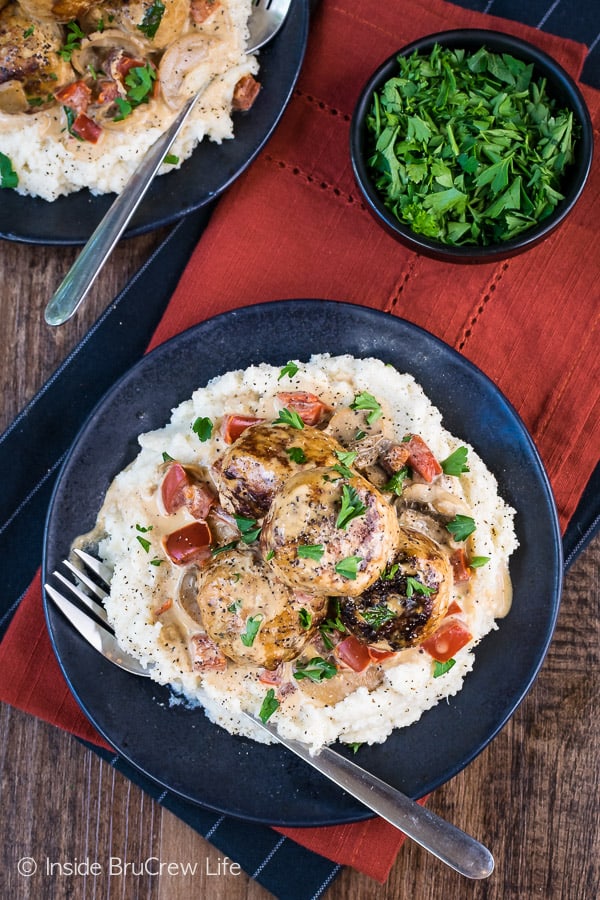 How to make Meatball Stroganoff
Mix together the ground chicken, diced onion, spices, and a little bit of parmesan cheese.
Roll this mixture into 16 even balls. The mixture is a little sticky, so I found that using a cookie scoop was easier.
Heat some olive oil in a large skillet and cook the meatballs for a few minutes on every side. They will be done in 8 minutes if you flip them around every 2 minutes. Remove them from the pan.
Add more oil and sauté the mushrooms and red peppers in the hot pan for four minutes. Remove those from the pan too.
Now to make a keto stroganoff sauce. Pour chicken broth into the skillet and stir it with a wooden spoon to deglaze the pan.
Bring the broth to a slight boil, then lower the temperature slightly and simmer for four minutes.
Add the cream cheese and continue stirring until it is melted and creamy.
Stir in the veggies and chicken meatballs and simmer for yet another four minutes.
Remove the pan from the stove and serve this chicken stroganoff right away.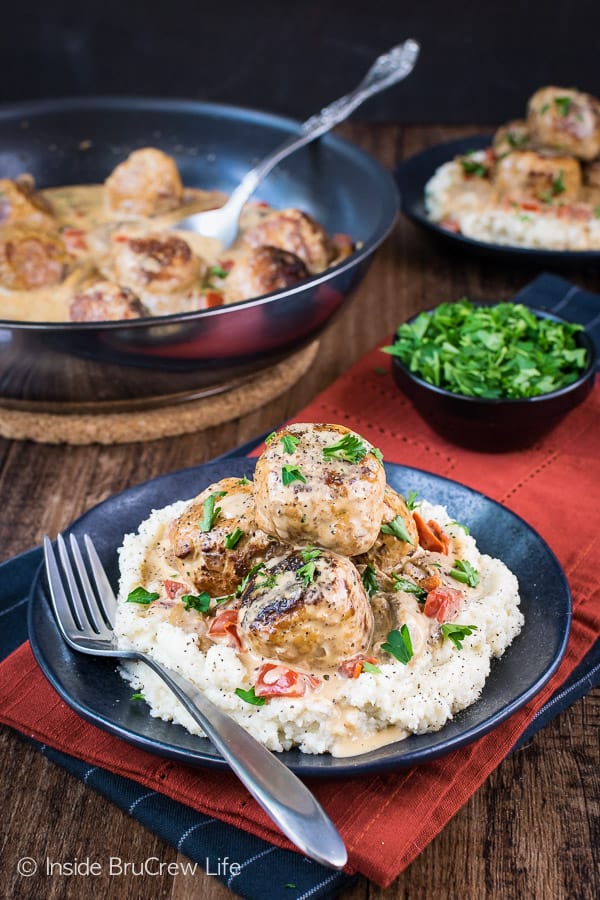 How do you serve this chicken stroganoff recipe?
These chicken meatballs are delicious served over this Easy Cauliflower Rice, but it's even better over mashed cauliflower. The extra veggies from doing it either way make it a great lean and green meal.
Cooked zucchini noodles (zoodles) or spaghetti squash would also be a great healthy option.
This chicken stroganoff meal also refrigerates and reheats really well, so you can divide the meatballs, sauce, and mashed cauliflower into individual servings for the week.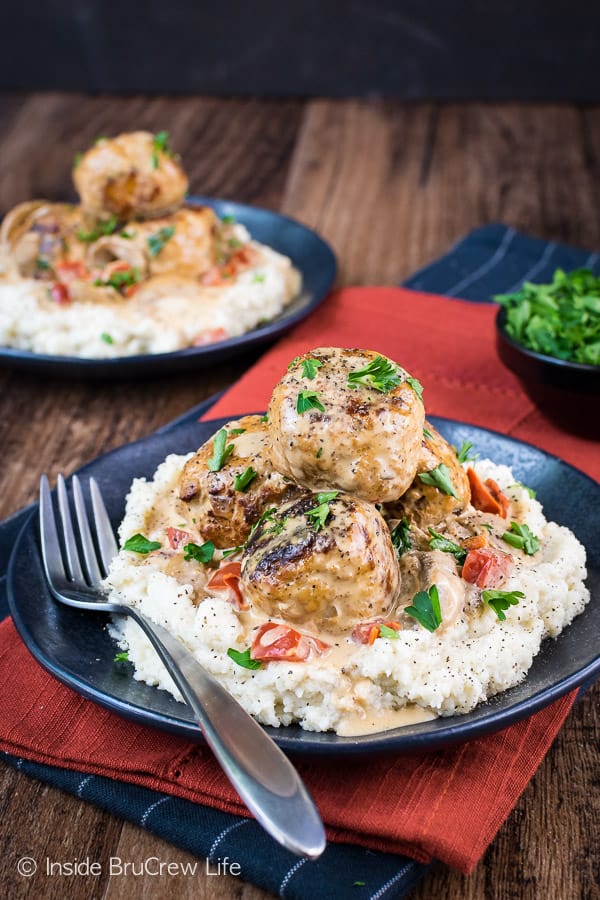 More lean and green recipes