This Bacon Cheeseburger Skillet Tortellini is full of meats, veggies, and gooey cheese. A quick and easy comfort food recipe on a busy night makes everyone smile at the dinner table.
*The National Pork Board sponsored this recipe. I am working with them to provide you this post.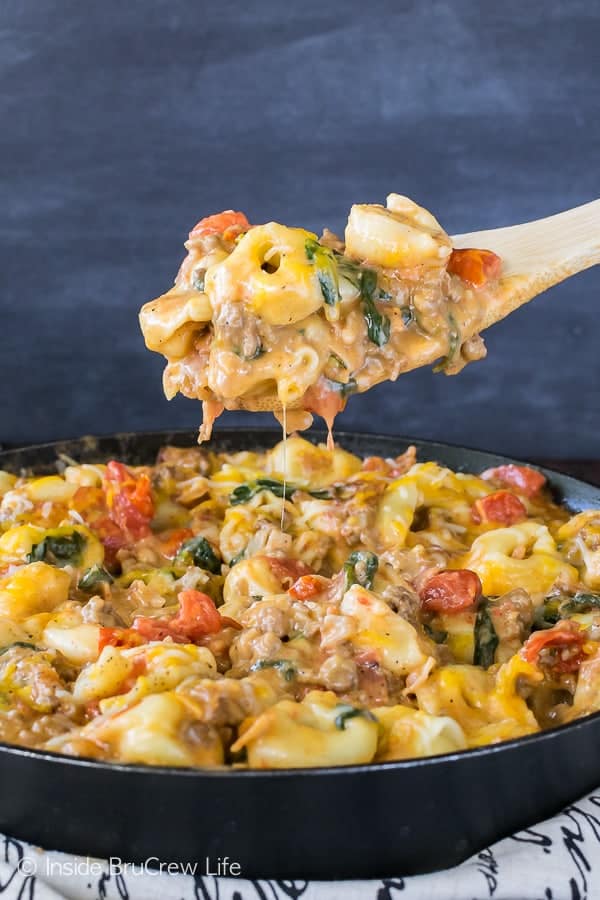 Life usually comes full circle. Growing up I was not a very big meat eater. My mom never had a problem getting me to eat my veggies, but I would always complain about having to finish a few bites of chicken or beef. Now I have that same conversation over and over with our youngest son.
He would much rather eat a big plate of Roasted Veggies or salad instead of eating any kind of meat. I know that he needs to get enough protein in his diet as a growing teenager, so we keep a lot of cheese and milk on hand for him.
There are a few different meats that he will eat without a big fuss, so we make those regularly. He likes pepperoni, so we make Homemade Pizza Dough and let the kids load it up with their favorite toppings. He will usually eat a juicy hamburger with all the fixings, so we grill out often too.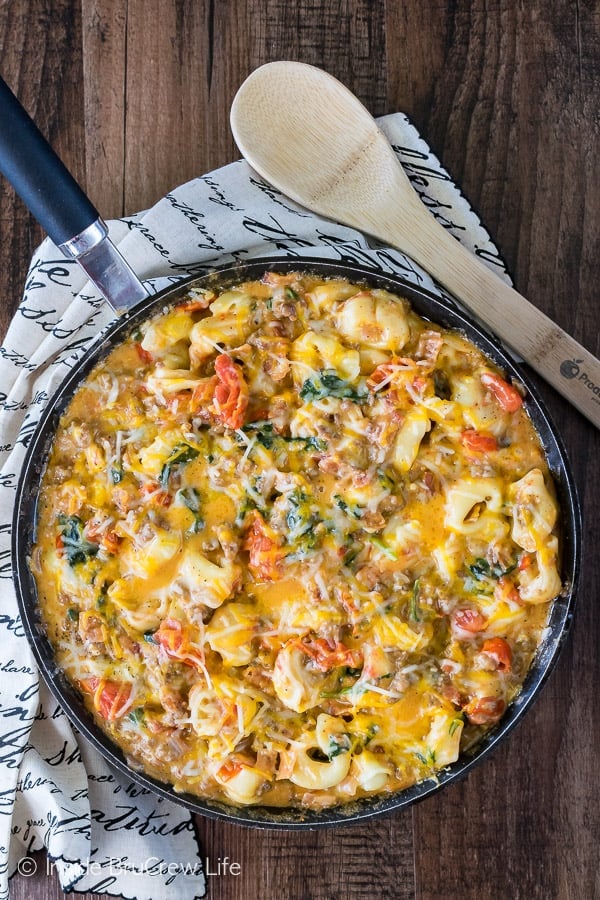 Then there are times when I can "hide" some different meats in a cheesy pasta dinner, and he will eat it without even realizing what I have done. If you put enough cheese in a dish, his mind doesn't even realize he is eating meats. Yup, even with teenagers you have to trick them into eating foods they don't want to eat.
Honestly, I get it because I was there as a kid too. Meats still aren't my favorite thing in the world. In fact, I used to not even like bacon, unless it was on a BLT sandwich.
Yeah, I don't get that either. I have overcome that strange eating phase though, and bacon is now my friend. In small doses, that is.
After I went on the pass the Pork Tour in Sioux Falls, South Dakota, I couldn't wait to come home and incorporate some more pork into our meals. We make this Easy Slow Cooker Pulled Pork often because it is perfect for so many other recipes. Honestly though, bacon is probably the way we eat pork the most often.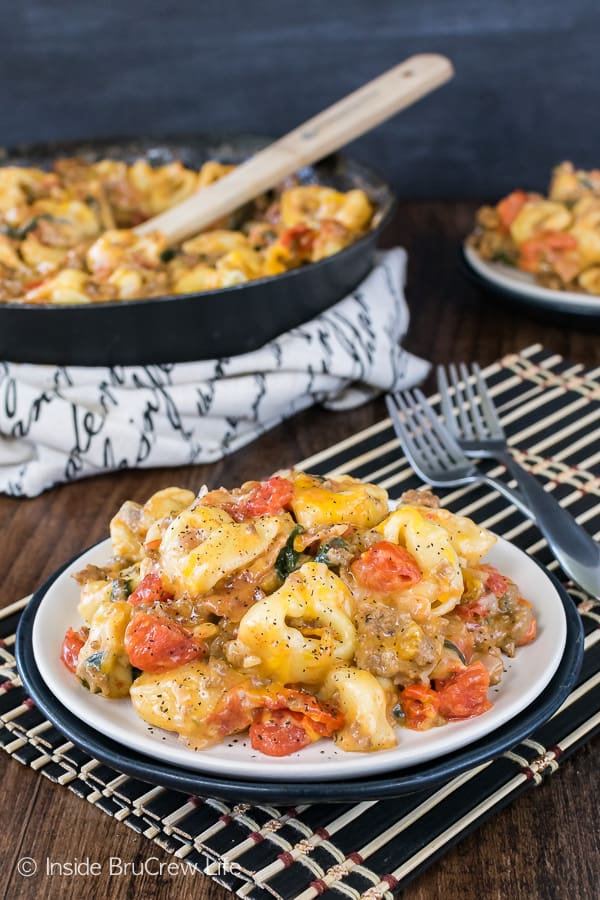 Gooey cheese with lots of meats and veggies make this bacon cheeseburger skillet tortellini a favorite comfort food dinner. We don't eat loaded pasta dinners that often any more, but when I get the craving for pasta, I just have to enjoy one plateful.
How to make a Bacon Cheeseburger Skillet Tortellini:
Boil your tortellini first. Drain it and add a little bit of olive oil, so it doesn't stick together.
Cook the hamburger, onions, and garlic until done. Then add the spinach and tomatoes. Continue to cook and stir until the veggies wilt and pop. This will take about 5 minutes.
Sprinkle the mixture with flour and stir it in. This is what will help your mixture thicken when you add the milk.
Stir in the milk and cheese and let it get all thick and gooey before adding the pasta and bacon.
Sprinkle the top with more cheese and cover it with the lid until it melts.
Season the dish to taste with salt and pepper.
Serve it immediately and watch everyone gobble their dinner down in a hurry!
Cold winter nights are the best kind of nights for a comfort food dinner too. The past few days it has been super chilly every morning and evening, so I'm feeling the urge for comfort food again.
More delicious pork recipes to add to your meal plans:
CLICK HERE TO PIN THIS RECIPE FOR LATER!

*I have partnered with the National Pork Board to bring you this information. As always, all opinions are 100% my own.