This fluffy Chocolate Chip Cake is both delicious and easy to make. Topped with creamy vanilla frosting and sprinkled with mini chocolate chips, this homemade cake will make everyone happy!
*I am partnering with Dixie Crystals to bring you this chocolate chip cake recipe.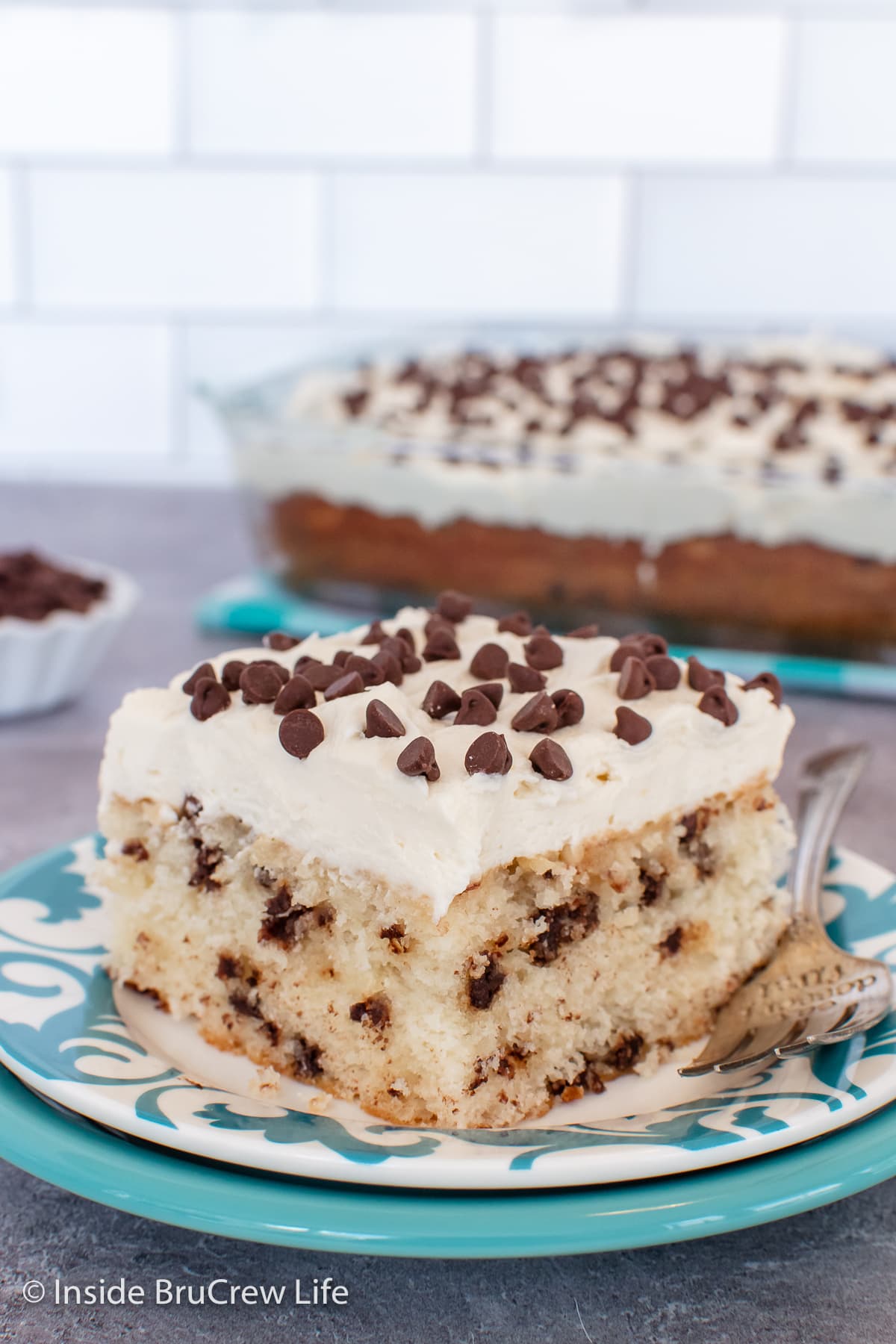 A chocolate chip sheet cake is one of the easiest cakes to make. Unleash your creativity with the 9x13 pan. It is a simple pan that can transform ordinary ingredients into extraordinary creations.
The best part is that our chocolate chip cake is easy to slice and perfect for sharing. This makes it ideal for family gatherings, potlucks, or when you want to treat yourself to a good day.
Jump to:
Why You Will Love This Cake Recipe
Easy to make in a 9x13 pan, this chocolate chip cake with vanilla buttercream frosting is perfect for any event. And if that's not enough, every slice is generously sprinkled with mini chocolate chips.
One-pan convenience! Bake and frost a sheet cake all in one pan—no more hassle with layering or stacking.
Loaded with chocolate chips. The best chocolate chip cake has many chocolate chips generously baked into the batter.
Perfect for any occasion. Whether you are celebrating a birthday or anniversary or want something sweet and tasty, this fluffy cake will hit the spot.
So, what are you waiting for? Grab your ingredients and pan, and let's bake up some happiness.
​Main Ingredients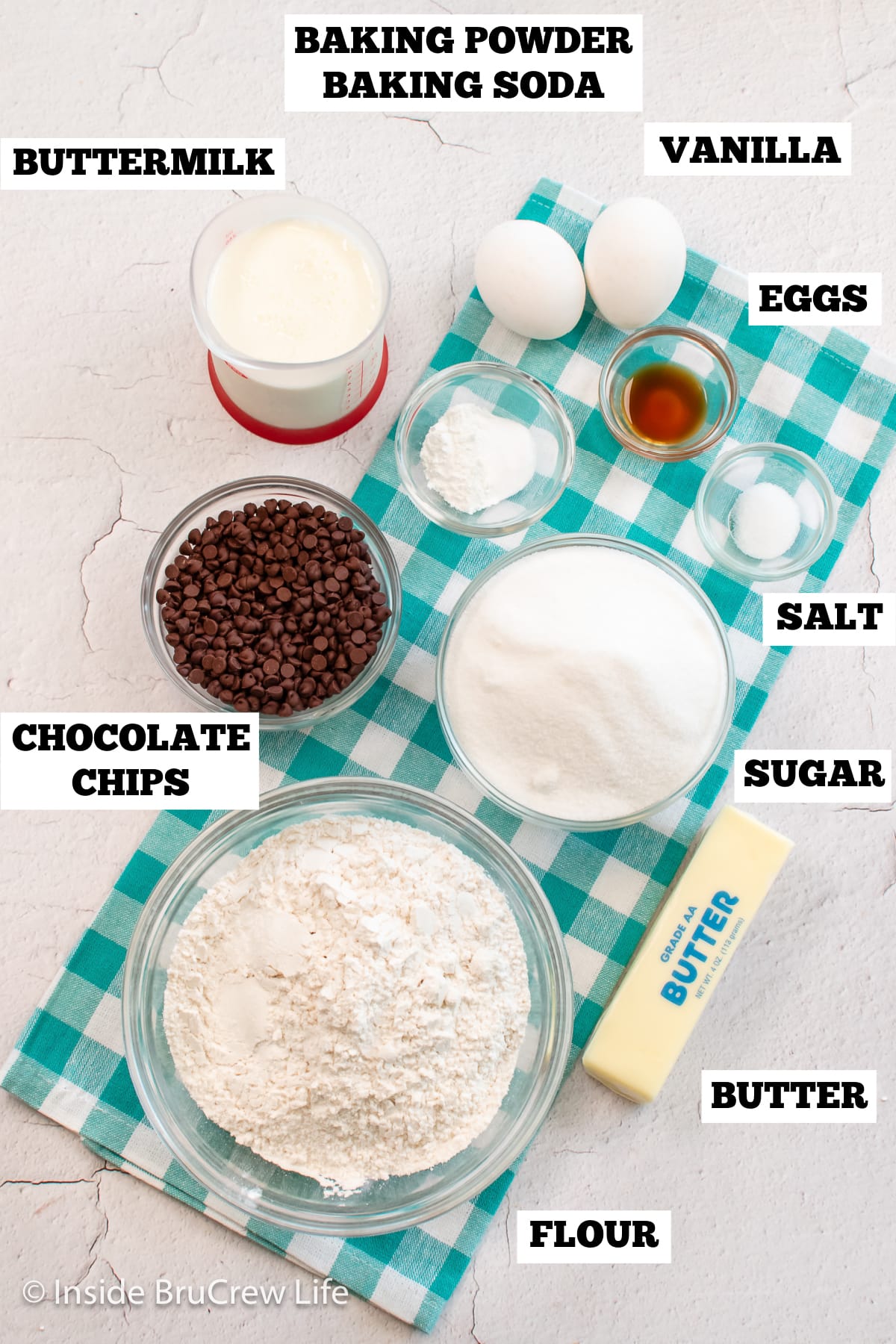 Bake a delicious homemade chocolate chip cake with ingredients in your kitchen. Scroll down to the recipe card to see the exact amounts.
Unsalted Butter - You will want this to be at room temperature so it is easier to cream.
Granulated Sugar - Helps to soften the butter and sweetens the batter.
Eggs - Holds the ingredients together and adds a rich flavor to the cake.
Vanilla Extract - Provides a delicious flavor.
Flour - For this recipe, we usually use all-purpose flour, measuring it with the spoon and sweep method.
Baking Powder & Baking Soda - The combination of leavening agents causes the cake batter to rise as it bakes.
Buttermilk - Provides a tangy flavor and keeps the cake moist. If you do not have any, add one tablespoon of vinegar or lemon juice to one cup of milk. Let it sit for 10 minutes.
Mini Chocolate Chips - One bag of chocolate chips will give you plenty for the cake and the extra topping.
Frosting - You can use any flavor of creamy frosting you prefer.
How to Make Chocolate Chip Cake
Our easy-to-follow recipe notes will help you make a delicious chocolate chip cake in no time. Enjoy a fluffy and indulgent treat with minimal effort.
Cream the butter and sugar. Beat the softened butter and granulated sugar in a large bowl until light and creamy. Add eggs and vanilla and mix again at medium speed.
Add flour and buttermilk. Stir together dry ingredients and flour, then add it alternately with the buttermilk.
Fold in chocolate chips. Add some flour to the chocolate to keep it from sinking to the bottom of the pan. Gently fold the chocolate chips into the batter.
Bake and cool. Spread the thicker batter evenly in a greased 9x13 baking dish and sprinkle with more chocolate. Bake for 34 minutes or until a toothpick inserted in the cake comes out with moist crumbs. For best results, let it cool completely before frosting.
BruCrew Tip: This recipe was made in a glass baking dish. If you use a metal cake pan, check for doneness a few minutes earlier because they usually bake faster.
See the Recipe
I am sharing the complete ingredient list and directions for this chocolate chip cake recipe on Dixie Crystals site.
Storage Recommendations
On the Counter - The frosted cake can be kept at room temperature for 1-2 days. Make sure to cover it so it doesn't dry out.
In the Refrigerator - If you have cake for longer than a few days, cover it tightly and refrigerate for 4-5 days.
In the Freezer - Double wrap individual slices in layers of plastic wrap and aluminum foil. Place them in a freezer-safe bag or container. Store in the freezer for 1-2 months.
When you are ready to eat the cake, thaw it in the fridge overnight. Let it come to room temperature before serving it with a cup of coffee or milk.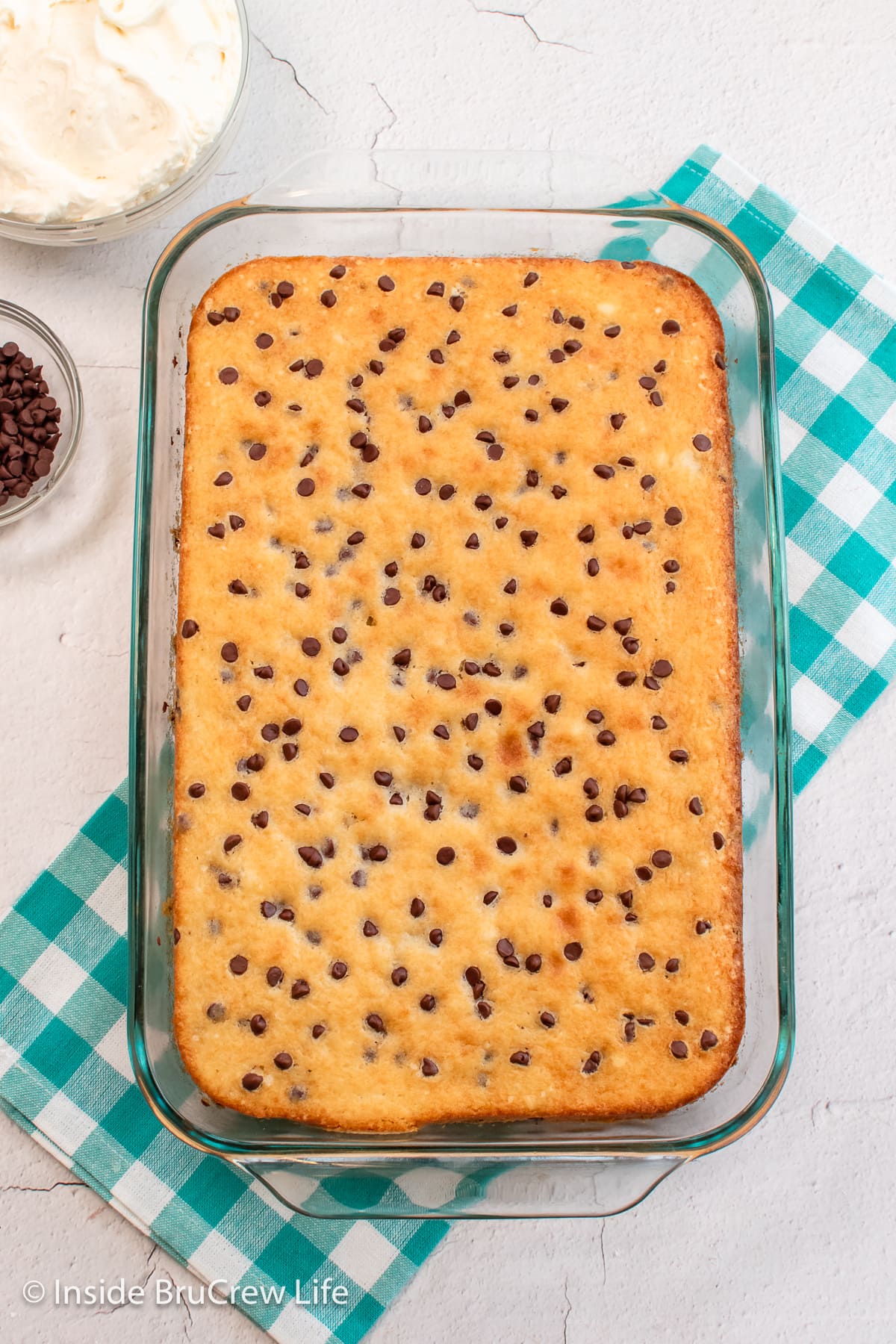 Tips and Tricks
Prep your cake pans. Use a flour-based baking spray or nonstick cooking spray to coat the bottom and sides of the cake pan. Baker's Joy is one of my favorites.
Make sure you cream the butter and sugar thoroughly. This allows air to be added to the mixture, making the cake rise better as it bakes.
Dust the chocolate chips with flour. This will help absorb any moisture. Plus, it provides a grip for the batter to hold on to so it stays suspended in the batter.
Let the cake cool completely before frosting. The frosting will melt and soak into the cake when it is warm.
Try a different frosting. Try a delicious combination of cream cheese frosting, marshmallow buttercream, or dark chocolate frosting.
Serving Suggestions
This chocolate chip sheet cake is the perfect cake for any special occasion. However, there are a few ways to take it to the next level.
Frost it with chocolate chip buttercream. Stir chocolate chips into the frosting before spreading it on the light and fluffy cake. Finish with more on top.
Add colorful sprinkles. Adding sprinkles inside and on top of the cake will transform it into the most incredible birthday cake.
Serve it with ice cream. Add a scoop of vanilla ice cream, chocolate ice cream, or strawberry ice cream.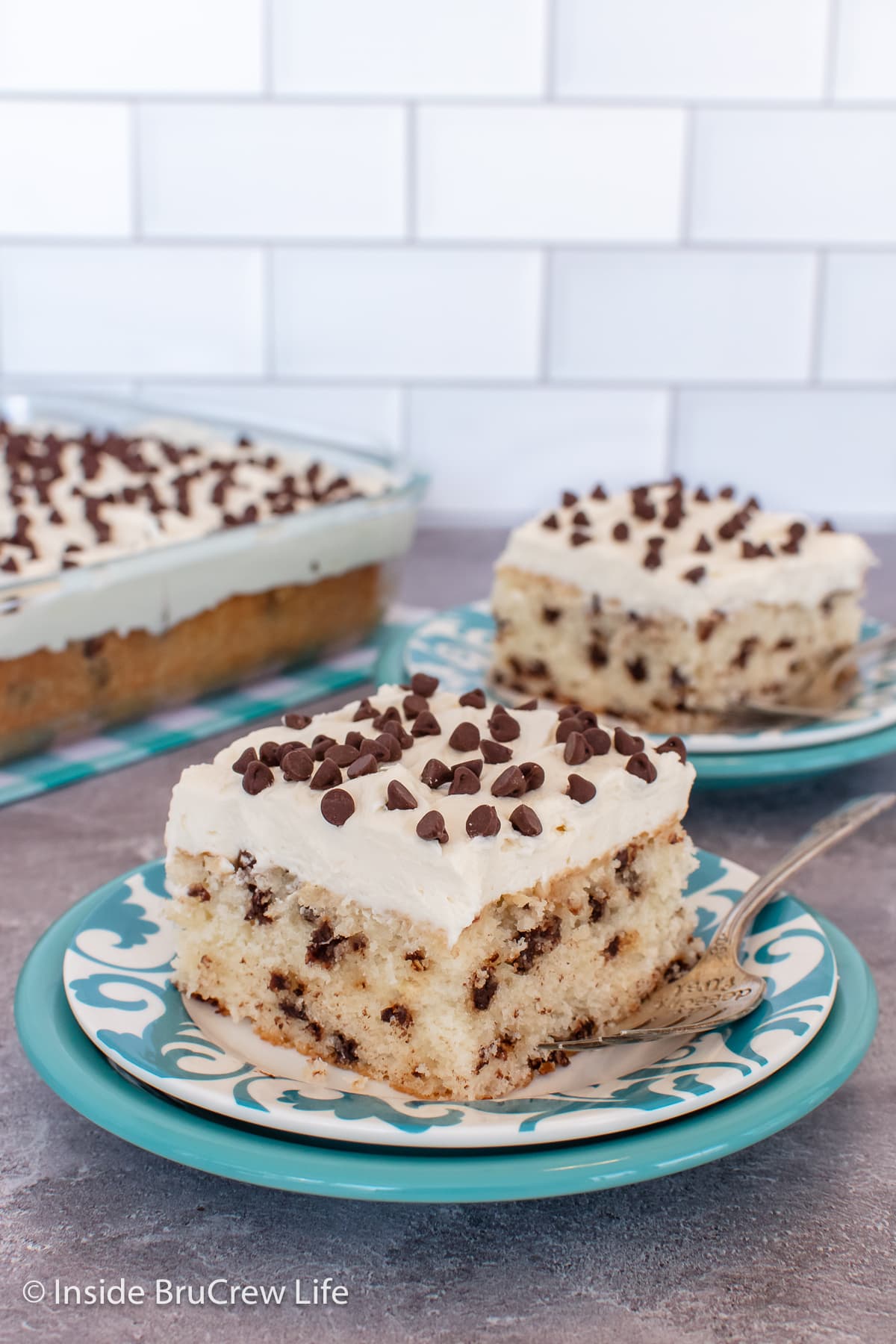 FAQs
Why did my chocolate chips sink to the bottom of the cake?
Chocolate chips will usually sink because they are too heavy. Make sure you use the small mini chips. Plus, add a light dusting of flour to them before adding to the batter.
How do I know when the cake is finished baking?
Insert a toothpick into the center of the cake to see if it is done. If there is raw batter attached to the toothpick, then it must continue baking. If there are a few moist crumbs, then the cake is finished.
Can I freeze this cake for later?
Yes, this is a great cake to freeze. Once the cake is completely cool, wrap it in two layers of plastic wrap. Then, place it in a freezer-safe bag or container.
Other Recipes with Chocolate Chips
Do you love a recipe you tried from Inside BruCrew Life?
Please leave a 5-star ⭐️ rating and a review in the comments section below.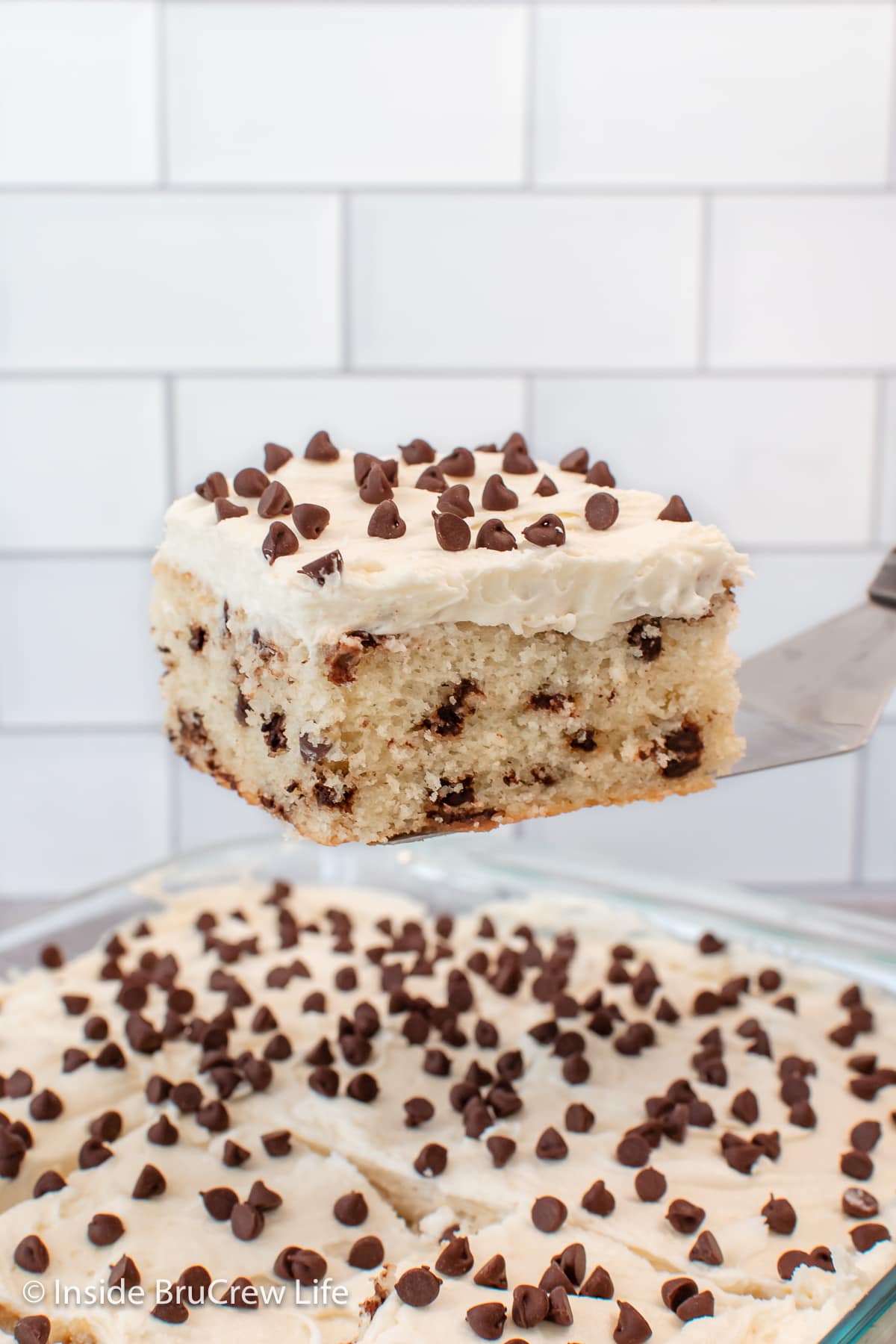 *Dixie Crystals sponsored this recipe and post. All opinions expressed are 100% my own. Thank you for letting me share products and brands that we use and love. See my disclosure policy for more information.*