This easy Chocolate Chip Cheesecake will quickly become your new favorite dessert. The creamy vanilla cheesecake recipe is loaded with mini chocolate chips and baked on an Oreo cookie crust. What a dreamy dessert!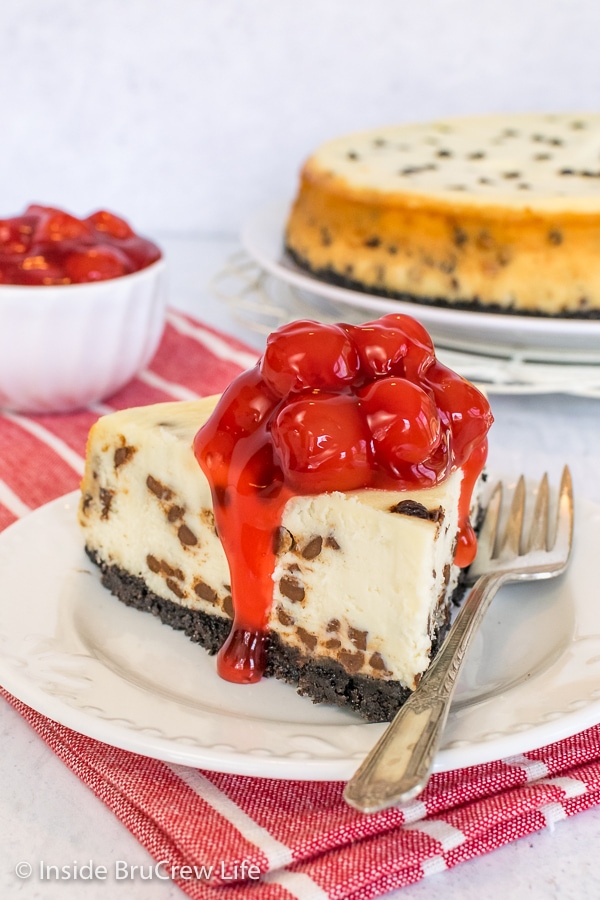 Cheesecake is the number one thing we love to bake. My husband and I have been coming up with different cheesecake recipes for years. Fun fact, he actually used to do all the cheesecake baking.
Then we started baking them together, until I started making more of them and he got busy with work and life stuff. We still like to brainstorm fun cheesecake recipe ideas and bake them together. He also was a huge help in writing our cookbook Cheesecake Love a few years ago.
I was looking through some of the recipes I made a while ago, and I realized that I have been holding this cheesecake ransom. Apparently, I made and photographed it last year and then totally forgot about it.
Since it has chocolate and cherries I decide now was the perfect time to share the easy chocolate chip cheesecake with you.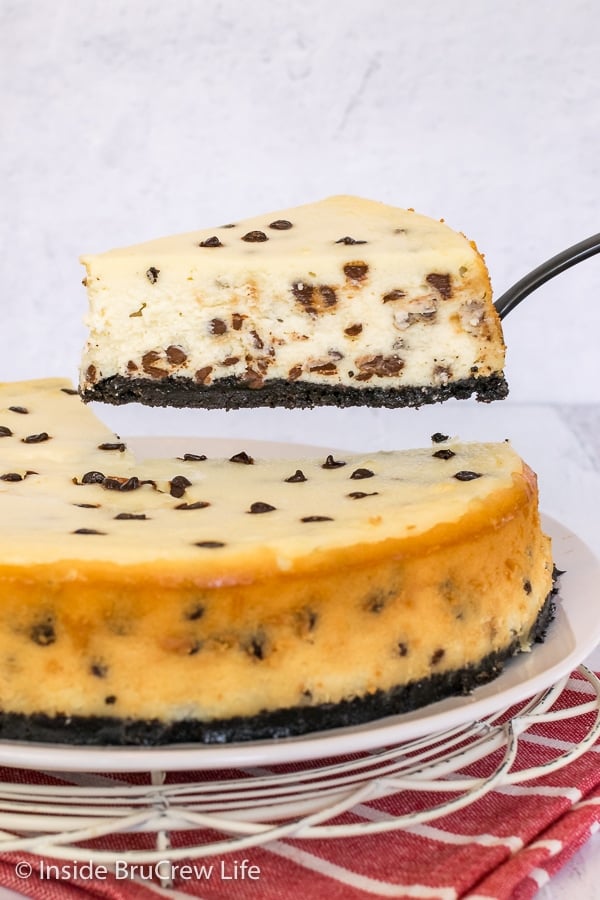 This chocolate chip cheesecake is so easy to make and only uses a few ingredients. Let's get started.
Oreo Cookie Crust:
You only need Oreo cookies and melted butter to make an Oreo crust for this cheesecake. Do not remove the cream filling from the cookies. You will crush that along with the cookie to make the crust. Using the filling allows you to use less butter.
Cheesecake Ingredients:
Cream Cheese - Be sure to set the blocks out ahead of time so they can come to room temperature. It is much easier to beat them into a creamy batter when they are softened.
Sugar - Helps to break the cream cheese lumps down.
Vanilla Extract - Gives flavor.
Heavy Cream and Sour Cream - Adds creaminess and tang to the finished cheesecake making it taste more like a New York style cheesecake.
Flour - A little bit of flour helps the cheesecake from cracking.
Eggs - Adds a smooth rich texture to cheesecakes
Chocolate Chips - It wouldn't be a chocolate chip cheesecake without lots of chocolate. I like to use the miniature chocolate chips, so there are lots and lots of chocolate bits in every bite.
How to make Chocolate Chip Cheesecake:
Crush the Oreo cookies and the cream filling in a food processor. Pulse just until they become crumbs. Stir in the melted butter and press in the bottom of a 9-inch springform pan.
Beat the softened cream cheese and sugar until creamy.
Add the vanilla, sour cream, and flour and beat again.
Whisk the eggs lightly with a fork. Add the eggs and heavy cream to the batter and beat until just mixed in.
Coat the mini chocolate chips in a little bit of flour to keep them from sinking too much. Stir the chocolate chips into the batter.
Pour onto the crust and bake until the sides are set and the center is slightly jiggly like Jello.
Cheesecake Toppings:
Chocolate Ganache
Lemon Curd
Nuts, Sprinkles, Chocolate Chips, Cherries with stems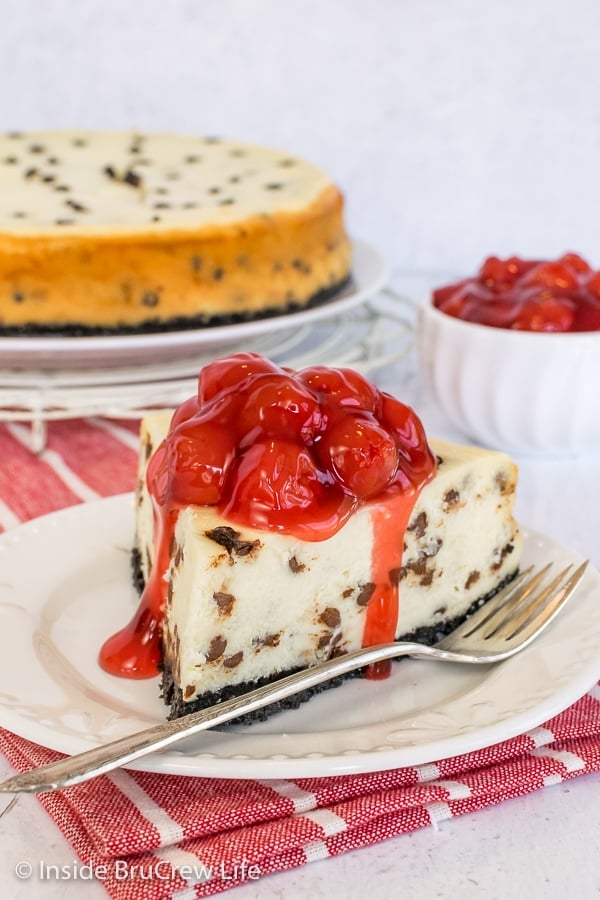 Tips for making Cheesecake:
Line the bottom of a springform pan with parchment paper, so you can remove the cheesecake easier later.
Set the packages of cream cheese out ahead of time. It's easier to beat the cream cheese if it is soft, and you will not end up with lumps in your cheesecake batter.
Do not over beat the cheesecake batter once you add the extra liquids. This will add air bubbles to the mixture that will create cracks as the cheesecake bakes.
Use a steam bath when baking a cheesecake. It creates the same effect as a water bath with less work and no chance of water leaking in your pan.
Run a knife around the edge of the cheesecake about 5 minutes after it comes out of the oven. This will loosen the cheesecake from the pan, so it can cool properly. Cheesecake shrinks as it cools, so if it is attached to the pan it will pull and create cracks in the center.
Recipe FAQ's
How do you bake cheesecake without cracks?
Use room temperature cream cheese.
Whisk the eggs slightly before adding them to the batter.
Do not over mix the batter once the eggs and other liquids are added. Over mixing the batter can add air bubbles to the mixture, which will bake and cause the top to crack.
Use a pan of water under the cheesecake as it bakes to create a steam bath.
Do not open the oven door while the cheesecake is baking. A change in temperature or an air draft can cause cracks.
Do not over bake the cheesecake. The center should be wobbly like Jello when you take it out.
Run a knife around the edge of the pan to loosen the cheesecake about 5 minutes after it comes out of the oven.
Can you fix a cracked cheesecake?
You can try to use your hands to press the chilled cheesecake together. Or run a knife under hot water, dry it off, and smooth the top of the cheesecake.
The easiest way is to cover a cracked cheesecake is with your favorite topping, so no one will even know the crack is there.
How do you cut cheesecake smoothly?
Run the blade of the knife under hot water before and after every cut. Make sure to dry the knife off after rinsing it. Or wipe it clean with a hot damp cloth after every cut.
Can you bake cheesecake ahead of time?
Yes, in fact I recommend it because cheesecake needs to chill for at least 6 hours before serving. You can make it up to three days ahead of time, then wrap it and keep in the refrigerator until time to serve.
Can you freeze cheesecake?
Yes, cheesecake freezes very well. Make sure the cheesecake is completely cooled, then wrap the entire cheesecake tightly in plastic wrap, then again in foil. Freeze for up to 3 months. To thaw, place in the refrigerator overnight.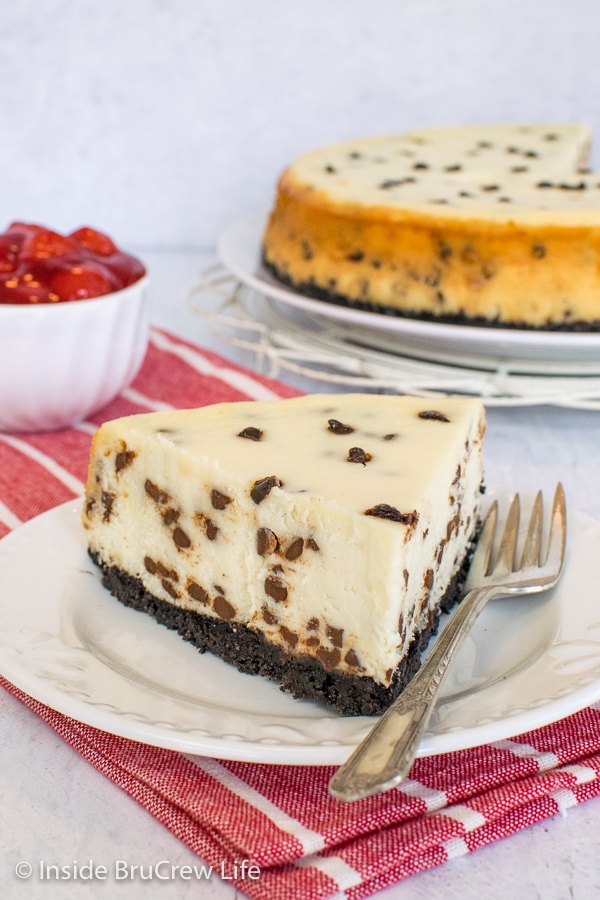 More cheesecake recipes: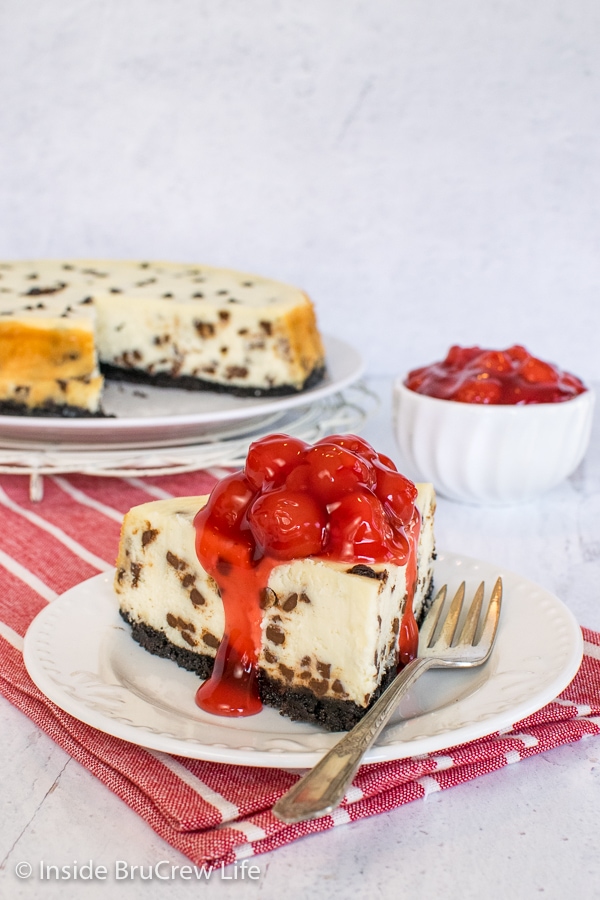 Love a recipe you tried from Inside BruCrew Life?
Please consider leaving a 5 star ⭐️ rating and/or a review in the comments section further below.