Soft fluffy muffins are great to eat with your morning coffee.  These Chocolate Chip Oatmeal Muffins have a coffee glaze making them perfect for starting out the day caffeinated!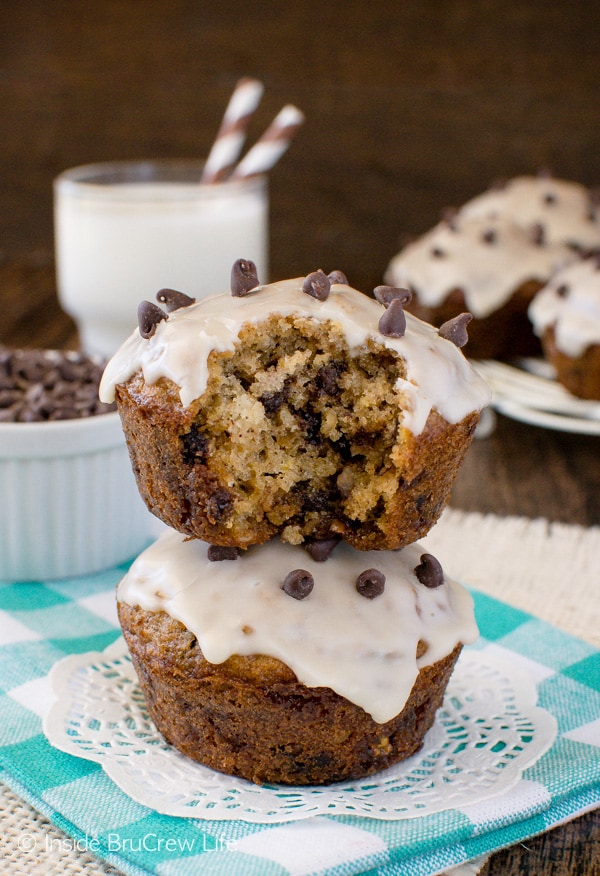 (photos updated October 2016)
CLICK HERE TO PIN THE RECIPE FOR LATER!
Our kids absolutely love having a box of muffins on the counter that they can grab when they are rushing out the door for school or coming home after school.  Muffins are so easy to make and have on hand for those morning munchies or snack attacks.
This fun muffin was one that I had the opportunity to try out when I was participating in a blog program where we made and adapted recipes from other bloggers.  This particular blogger that I found this muffin from no longer blogs, so I can't share where it came from.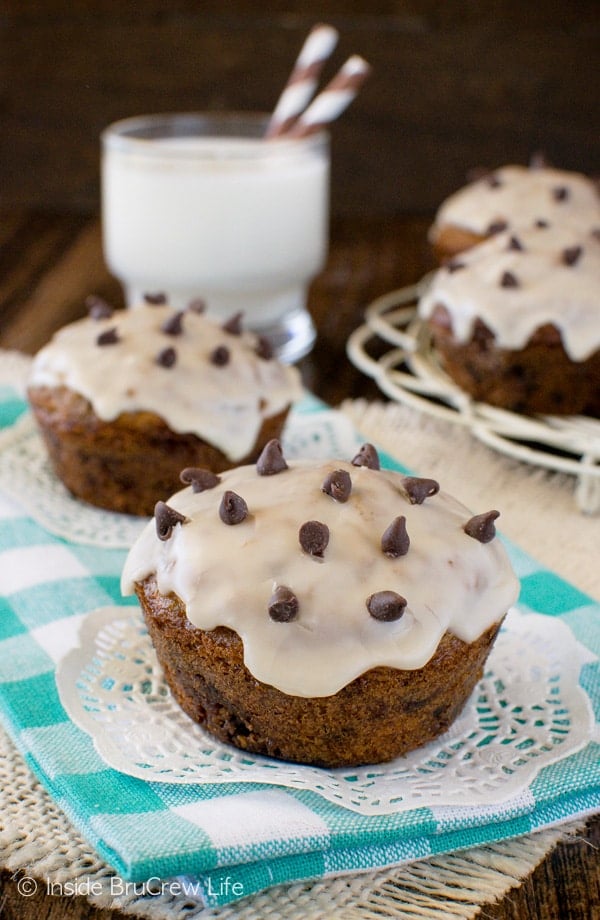 Recently I had a reader who made the recipe and had a few questions on the size of the muffins, so I went ahead and remade the recipes with a few changes.  Plus, they taste like cookies in muffin form, and who wouldn't want to eat cookies for breakfast??? I know our kids were enjoying my recipe testing.
One thing that I noticed in the recipe from the previous years is that it only called for baking powder.  Now normally this causes baked goods to rise.
Over the years I have done much baking research and practicing in my kitchen and, I have found that if you actually use a mixture of baking powder and baking soda it can have better results in certain baked goods.  Baking soda also aids in browning.  Case in point…this muffin!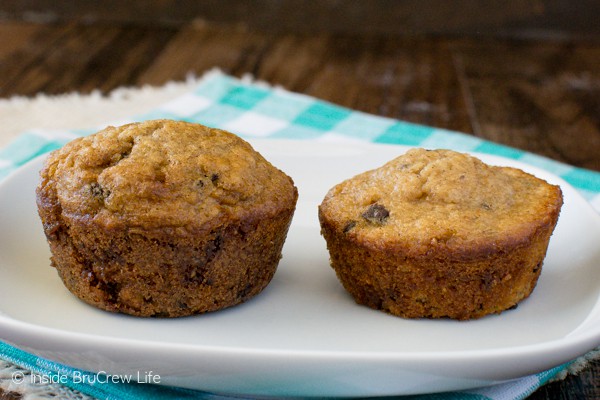 See this picture above.  My first batch (on the right) I only used baking powder for 18 muffins, but in the second batch (on the left) I did the mix of powder and soda for 15 muffins.
The baking time stayed the same, but I am loving how much more the second batch rose.  Fluffy golden muffins always make me happy!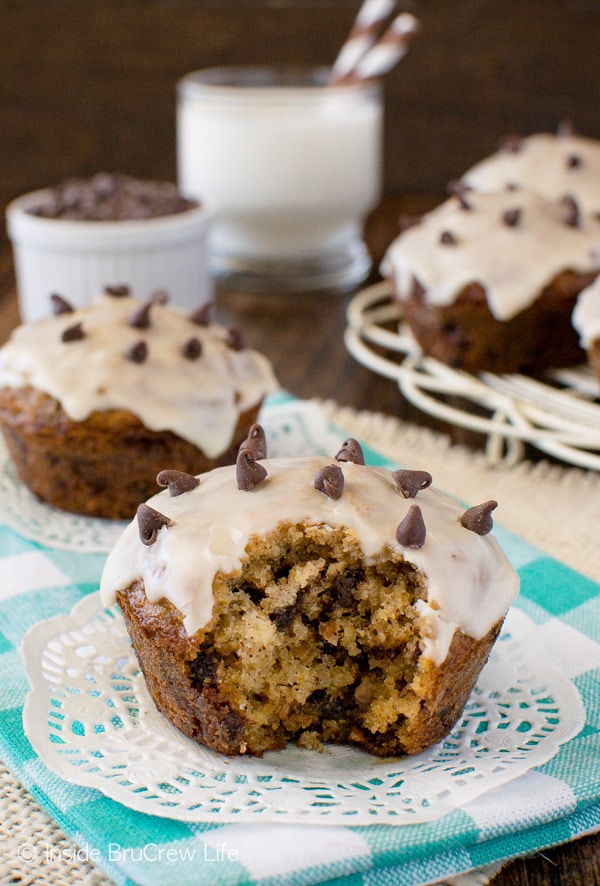 Now the muffins are delicious on their own, but I love adding a glaze to my baked goods.  That might just be my sweet tooth talking, but I listened and kept the glaze action on the muffins.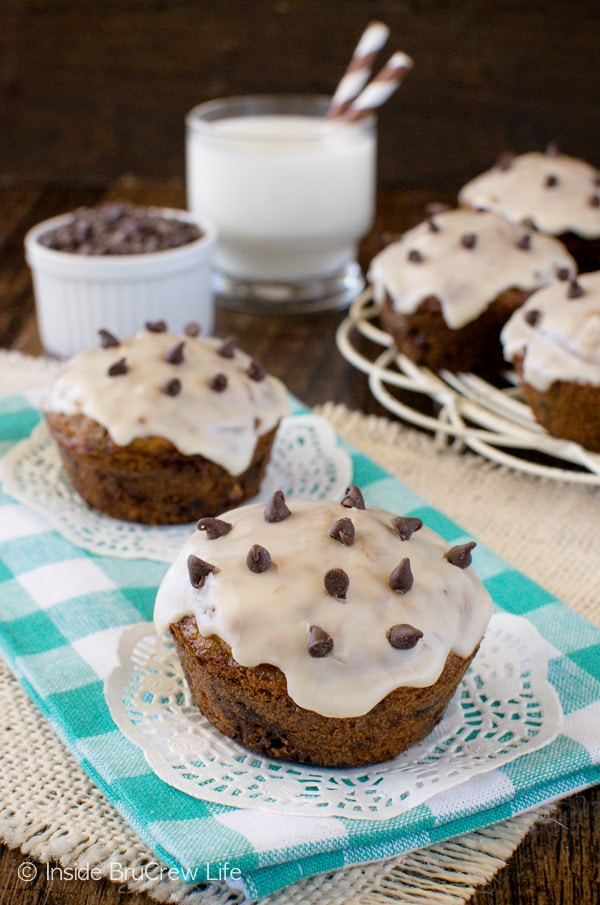 And for good measure, I also plopped a few more chocolate chips on top.  More chocolate is never a bad idea, right?  Ok, so maybe my jeans would argue with that one!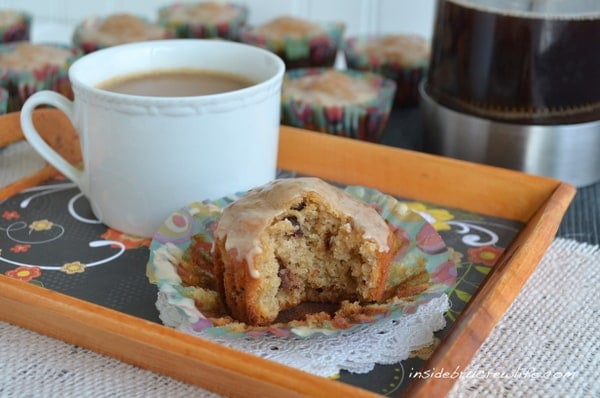 (original photo from October 2012)
Yield: 15 muffins
Chocolate Chip Oatmeal Muffins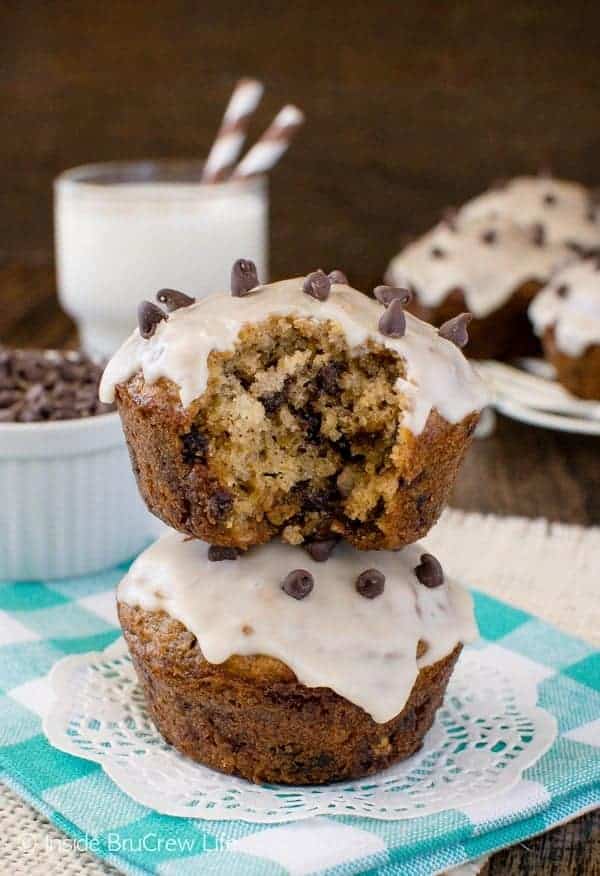 These easy Chocolate Chip Oatmeal Muffins taste like you are eating cookies for breakfast. A coffee glaze adds a fun caffeinated touch!

Prep Time 20 minutes

Cook Time 18 minutes

Total Time 38 minutes
Ingredients
1/2 cup oil
1/2 cup brown sugar
2 eggs
1 1/4 cups quick oats
1 1/4 cups flour
2 teaspoons baking powder
1 teaspoon baking soda
1/2 teaspoon salt
1 teaspoon cinnamon
1 1/4 cups milk
1 cup miniature chocolate chips + 2 Tablespoons for garnish
1/2 cup toffee baking bits
1 cup powdered sugar
2 teaspoons cooled coffee
Instructions
Preheat the oven to 400 degrees. Spray a muffin tin with non-stick baking spray.
In a mixing bowl, combine the oil and brown sugar. Add in the eggs and beat well.
Sift together the oats, flour, baking powder, baking soda, salt, and cinnamon.
Alternately add the milk and flour mixture to the bowl. Stir lightly until combined. Do not over mix.
Add the chocolate chips and toffee bits and stir slightly.
Spoon the mixture into the 15 prepared muffin tin cavities and bake for 18 minutes.
Remove and let cool in the pan for 2 minutes, and then gently remove and place on a wire rack to cool completely.
In a small bowl combine the powdered sugar and coffee. Spread on the tops of the cooled muffins. Sprinkle with extra mini chocolate chips, if desired. Let set. Store in a loosely covered container.