Soft fluffy muffins are great to eat with your morning coffee. These Chocolate Chip Oatmeal Muffins have a coffee glaze making them perfect for starting out the day caffeinated!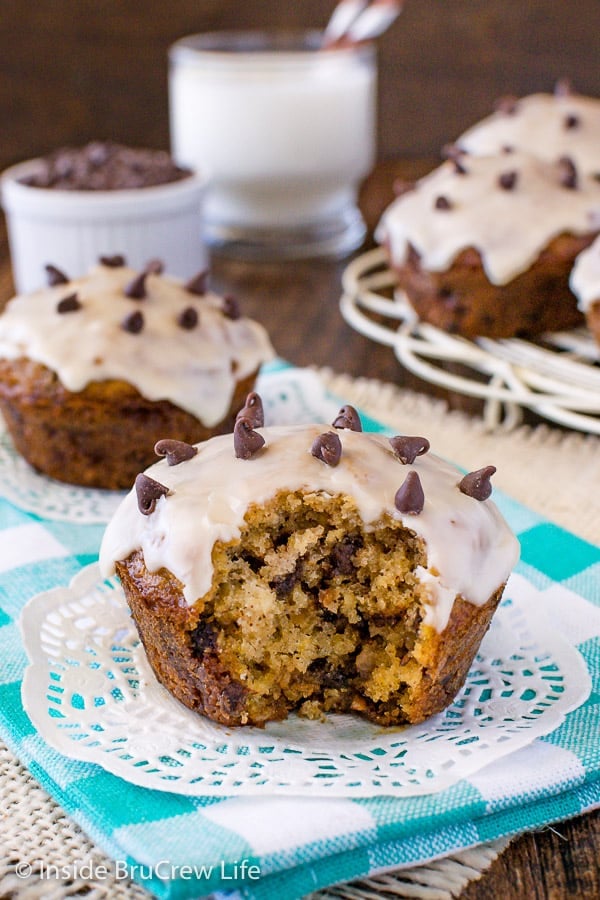 Our kids absolutely love having a box of muffins on the counter that they can grab when they are rushing out the door for school and do not have time to make a Skinny Cherry Banana Smoothie or these Bacon Egg Breakfast Tacos.
They are also a delicious treat to enjoy as an after school snack.
Muffins are so easy to make and have on hand for those morning munchies or snack attacks that regularly happen.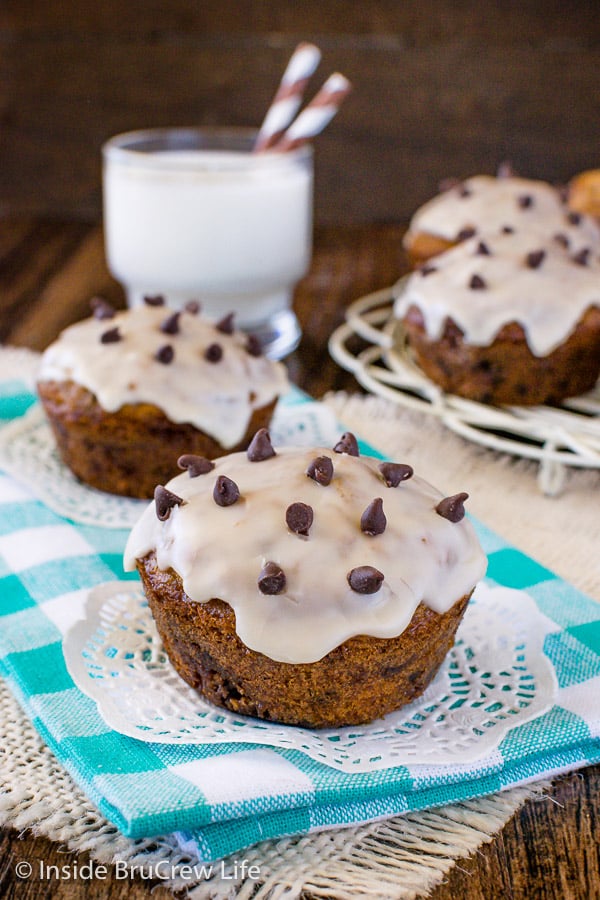 Recently I had a reader who made the recipe and had a few questions on the size of the muffins, so I went ahead and remade the recipes with a few changes.
I know our kids were enjoying my recipe testing. Who am I kidding? I enjoyed it too because they taste like cookies in muffin form, and who wouldn't want to eat cookies for breakfast???
One thing that I noticed in the old recipe from years ago is that it only called for baking powder. Now normally baking powder causes baked goods to rise.
Over the years I have done much baking research and practicing in my kitchen, and I have found that using a mixture of baking powder and baking soda can give a better lift and rise to baked goods. Baking soda also helps baked goods bake golden brown.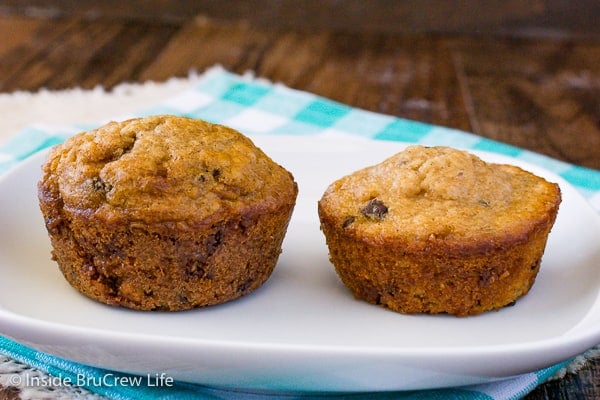 See this picture above. In the first batch (on the right) I just used baking powder and made 18 muffins, and then in the second batch (on the left) I did a mix of baking powder and baking soda and only made 15 muffins.
I kept the baking time the same, but look at how much more the second batch rose. Fluffy, golden muffins always make me happy!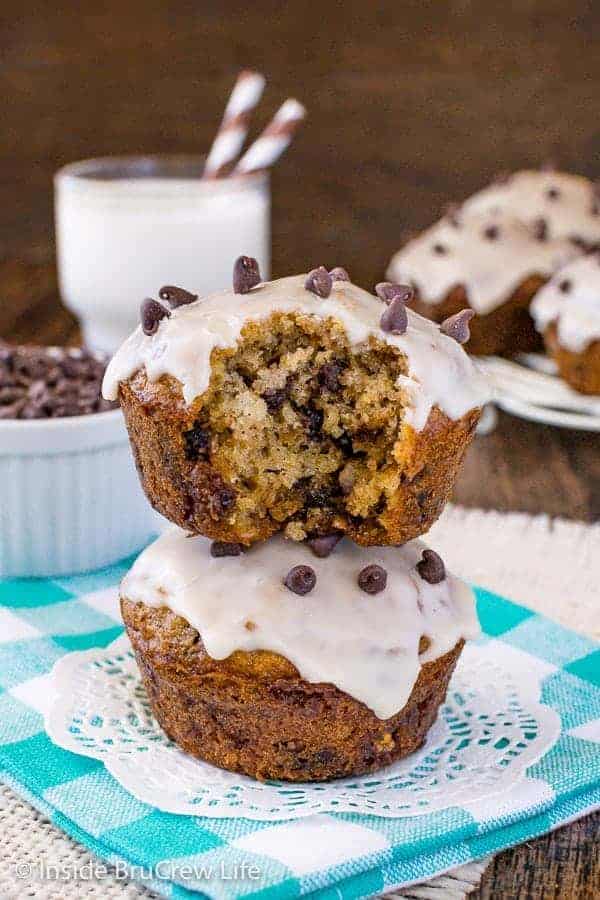 Now the muffins are delicious on their own, but I love adding a glaze to my baked goods. It's totally optional, but seriously add the coffee glaze. You can thank me later.
And for good measure, I also plopped a more mini chocolate chips on top. Again, totally optional, but more chocolate is always a good idea in my book.
How to make Chocolate Chip Oatmeal Muffins:
Mix together the oil and brown sugar. Add the eggs and mix again. (full recipe at bottom of post)
Stir together the dry ingredients in a bowl.
Alternately add the dry and milk to the sugar mixture until everything is combined.
Add the mini chocolate chips and toffee bits and gently stir.
Spoon the batter into 15 greased muffin cavities and bake.
Once the muffins are cooled, top them with a coffee glaze and more mini chocolate chips.
Recipe Tips and Tricks:
Do not over mix the muffin batter. Too much mixing can cause air bubbles that will ruin the fluffy texture, and the muffins will bake with holes and be tough and dense.
When you are spraying your muffin tin with baking spray, do not use too much. Excess baking spray on the sides of the pan will cause the muffins to slide down instead of rising tall and fluffy. If you spray too much, use a paper towel to wipe the extra out. You can also use baking liners.
Spoon the batter into only 15 cavities. Yes, they will be full, but trust me, and they will bake up nice and tall.
Store the glazed muffins in a loosely sealed container. If you put them in a tightly sealed container the glaze will get sticky and soak into the muffin tops.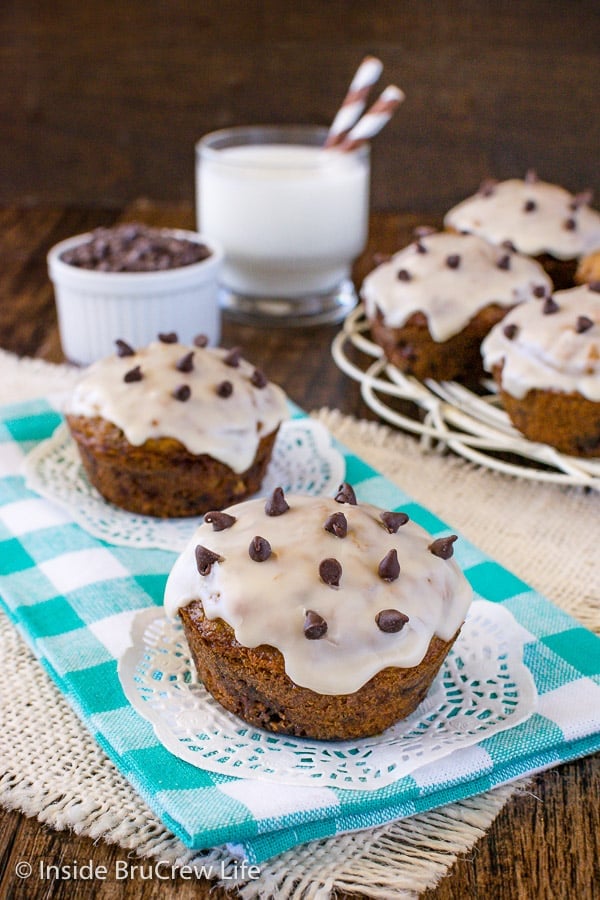 More easy muffins recipes you may like: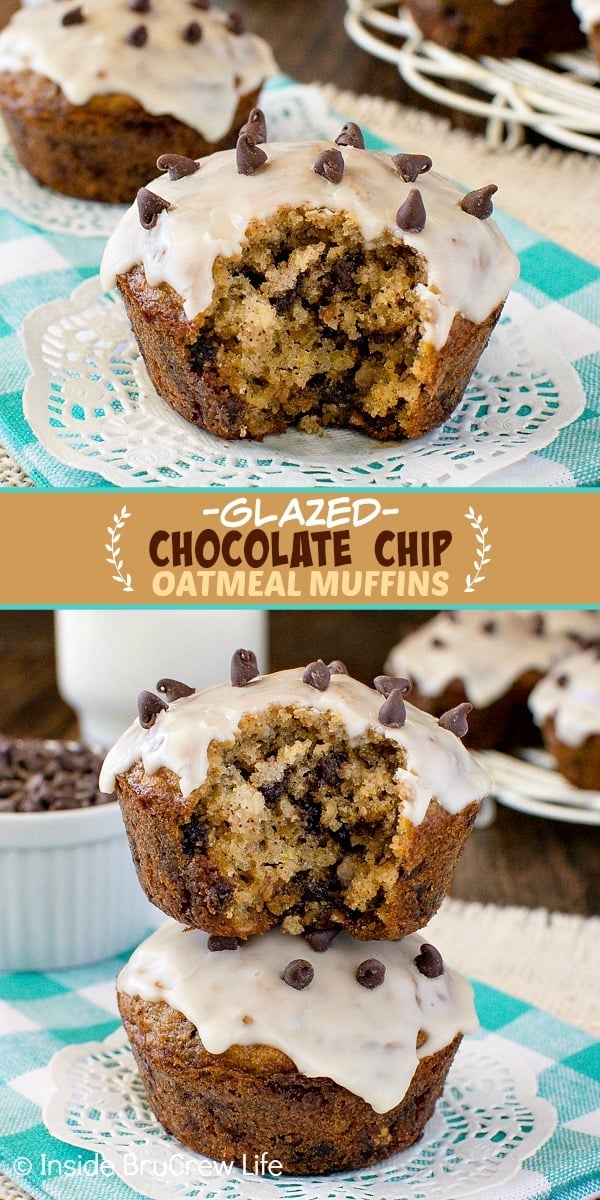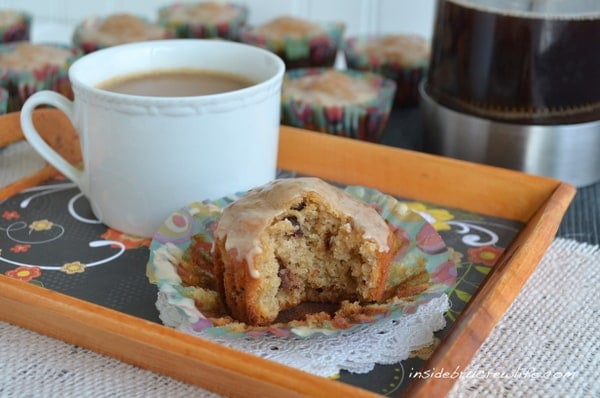 (original photo from October 2012)
*The post for Chocolate Chip Oatmeal Muffins was first published on October 29, 2012. The photos were updated in October 2016, and the post was republished on January 15, 2020.