These sweet Carrot Cheesecake Muffins are soft and delicious and will make you think you are eating carrot cake for breakfast.
*Love these recipes?  Be sure to sign up for the BruCrew email to have these recipes delivered to your inbox each time a new recipe is shared.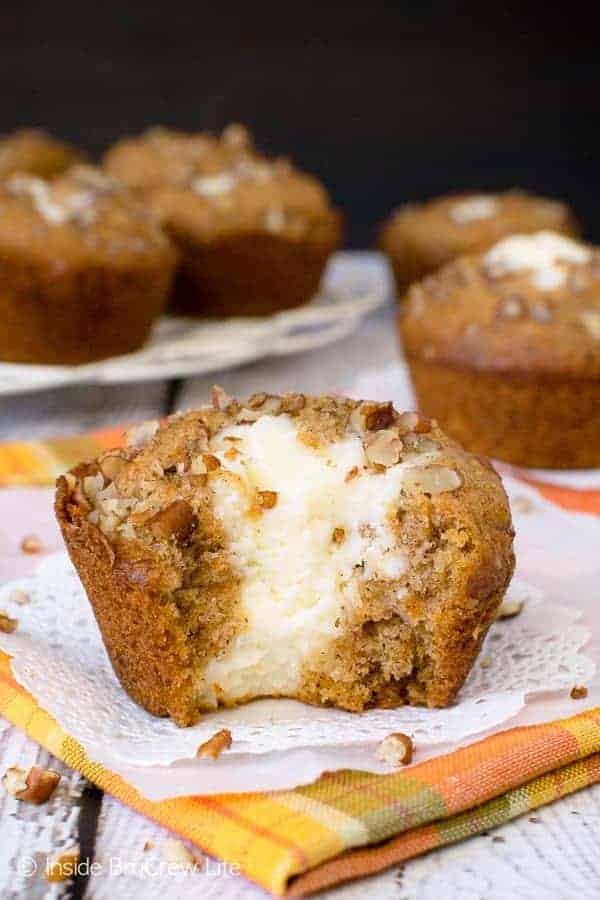 (pictures and post updated March 2018)
CLICK HERE TO PIN THIS RECIPE FOR LATER!
Say hello to my new favorite breakfast muffin recipe. I adore these Carrot Cake Donuts, and these muffins reminded me of those yummy treats.
Today is the Secret Recipe Club reveal day!  This time I was given Karen's blog Lavender and Lovage to choose a recipe from. We come from completely different backgrounds and cultures, but I felt connected to her when I read her about me page and learned that she has been interested in food since she was a little girl.
My kids love to see all the pictures I have from when I was little and learning how to bake. It was fun to read through her posts, and to feel her food excitement through her words.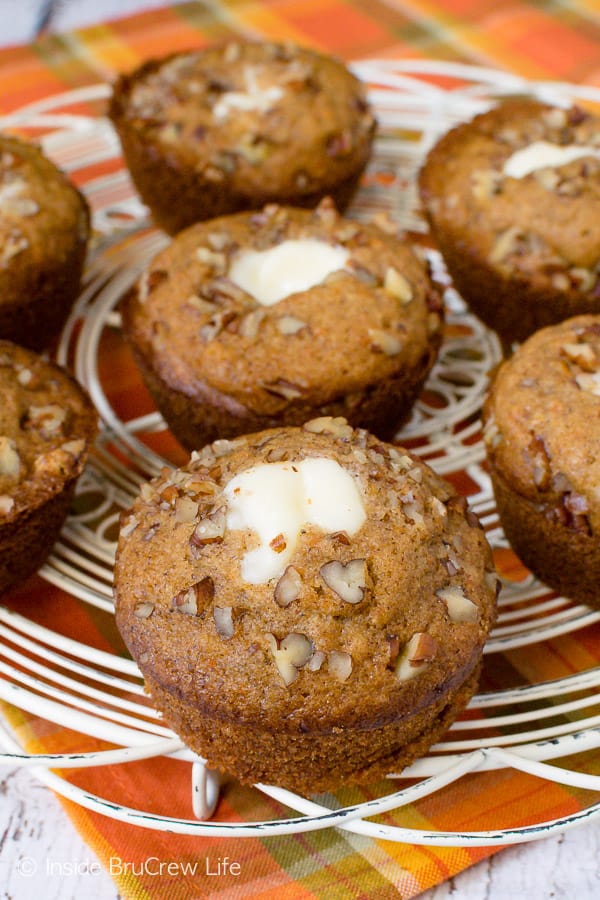 She has so many interesting recipes on her site, and that made it very difficult to choose which one to make and share. I had so many different ones I wanted to try.
But in the end, I chose the Raspberry Cheesecake Muffins because cheesecake trumps all things, and our kids love having muffins for breakfast.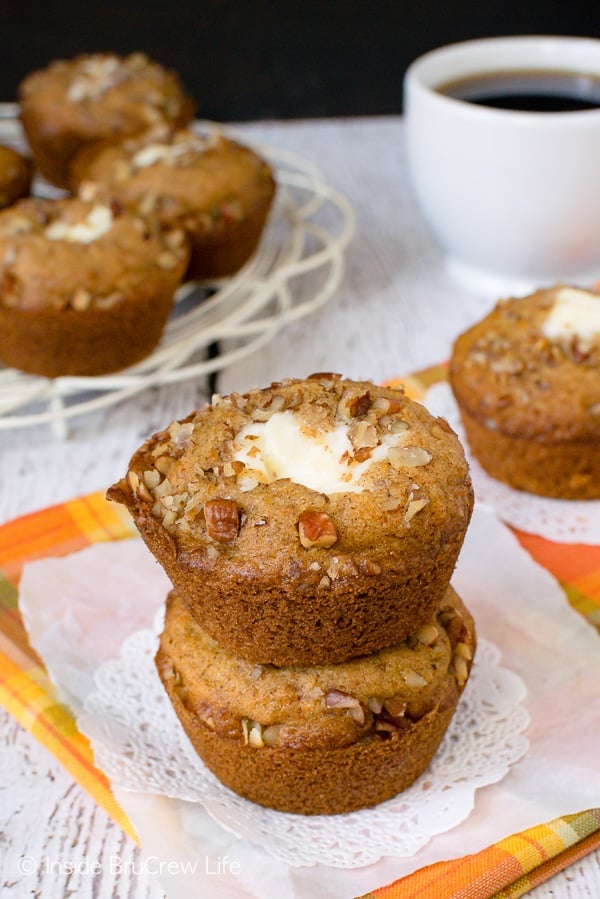 I was really nervous because I had to change all the measurements into cups. Thank goodness that Google held my hand as I did this. It did take me a few tries to get it just right, but the end result was worth it.
We usually have a big bag of blueberries in our freezer, so I was going to do that. Then I realized the last Triple Berry Orange Smoothie I made wiped out the last of the blueberries, so I had to get creative with what we had. I looked through the cupboards and the refrigerator and came up with a big bag of carrots.
Since carrot cake is one of my all time favorites, it just made sense to try to adapt the recipe that way. I did double the cheesecake center because more cheesecake is never a bad idea. Am I right?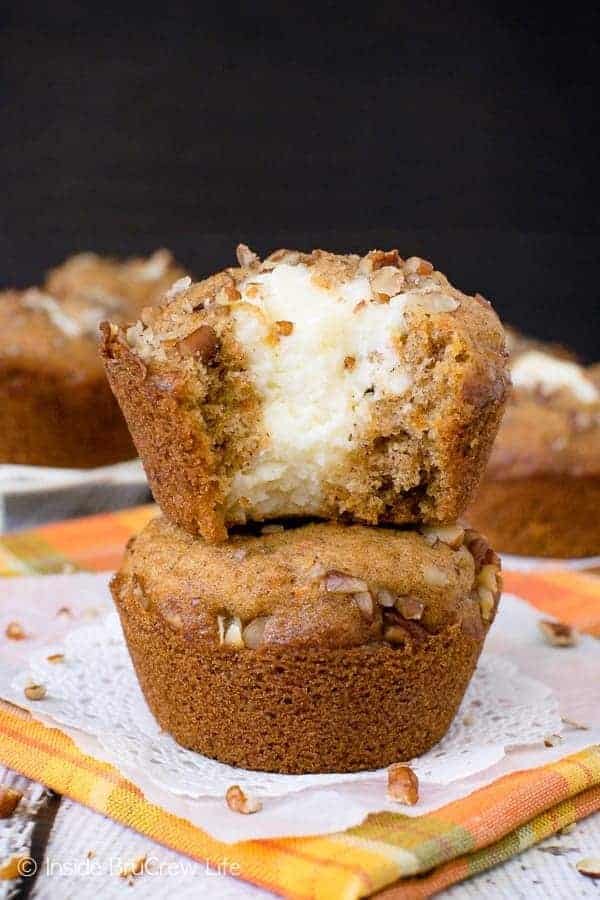 How to make these Carrot Cheesecake Muffins:
Shred your carrots using a food processor or by hand. Do not buy the all ready shredded carrots that are available in the stores.  These do not provide enough moisture for baked goods.
Mix your oil, sugars, extract, and eggs in a large bowl.
Stir together all the dry ingredients and slowly mix them in alternately with the buttermilk. Add the carrots last.
Divide the batter evenly into 18 greased muffin cavities.  You will need a 12 count pan and a 6 count pan.
Beat together the cheesecake filling and spoon it into a large plastic baggie. Cut one tip off and squeeze half of it into the muffin batter.
Go back over each muffin and add another swirl of the cheesecake batter on top of the muffins.
Sprinkle the outside edges with diced pecans. This is totally optional, but it really makes the muffins look a little prettier and taste so good.
Tools used to make these Carrot Cheesecake Muffins: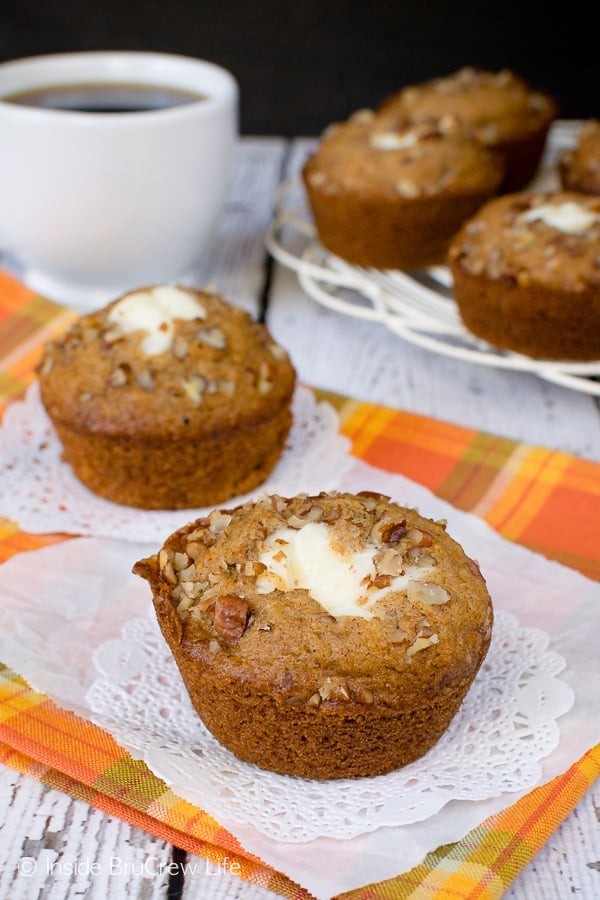 More breakfast muffin recipes that you may enjoy:
Connect with Inside BruCrew Life! Be sure to follow us on our social media, so you never miss a post.
FACEBOOK | PINTEREST | GOOGLE+ | TWITTER | INSTAGRAM | BLOGLOVIN | EMAIL SUBSCRIPTION
I also created a fun new Facebook group, and I would love for you to join. It's a group where you can share your favorite recipes, ask questions, share photos, and see what's new with the BruCrew.  If you would like to check it out, you can request to join HERE.
Carrot Cheesecake Muffins recipe:
Yield: 18 muffins

Carrot Cheesecake Muffins

These sweet Carrot Cheesecake Muffins are soft and delicious and will make you think you are eating carrot cake for breakfast.

IngredientsFor the Muffins

2/3 cup oil
1/2 cup brown sugar
1/4 cup sugar
1 teaspoon orange extract
2 eggs
2 1/4 cups flour
1 teaspoon baking powder
1 teaspoon baking soda
2 teaspoons cinnamon
1 teaspoon nutmeg
1/2 teaspoon anise powder
1/2 teaspoon salt
1/2 cup buttermilk
1 cup finely shredded carrots

For the Cheesecake Filling

8 ounces cream cheese, softened
4 Tablespoons sugar
1 teaspoon orange extract
1 Tablespoon flour
1/2 cup diced pecans

Instructions

Preheat the oven to 400 degrees. Spray a 12 count muffin pan and a 6 count muffin pan with nonstick baking spray.
Beat the oil, sugars, and extract until combined. Add the eggs and beat again.
Stir together the flour, baking powder, baking soda, cinnamon, nutmeg, anise, and salt. Slowly add to the dry ingredients alternately with the buttermilk until completely combined.
Stir in the shredded carrots gently. Divide the batter evenly in the prepared pans.
In a small bowl, mix together the cream cheese, sugar, orange extract, and flour. Spoon it into a large plastic baggie and cut one tip off.
Squeeze half the cheesecake mixture evenly into the muffin batter. Go back and add a swirl of cheesecake to the top of the batter.
Sprinkle the pecans around the outside of the muffin batter. Bake for 16 minutes.
Remove and let cool in the pan for 2-3 minutes before gently removing them from the pan and placing on a wire rack.

Recommended Products

As an Amazon Associate and member of other affiliate programs, I earn from qualifying purchases.

*This post contains affiliate links. Inside BruCrew Life may receive a small percentage from sales made through these free links. As always, these links do not cost you any extra. Thank you for letting us share products we use and love this way.