Chocolate Covered Strawberry Granola and a cup of milk is a great way to start the morning. Satisfy your chocolate cravings with this healthy breakfast.
Add some of this granola to the top of these Healthy Strawberry Yogurt Parfaits for an awesome snack.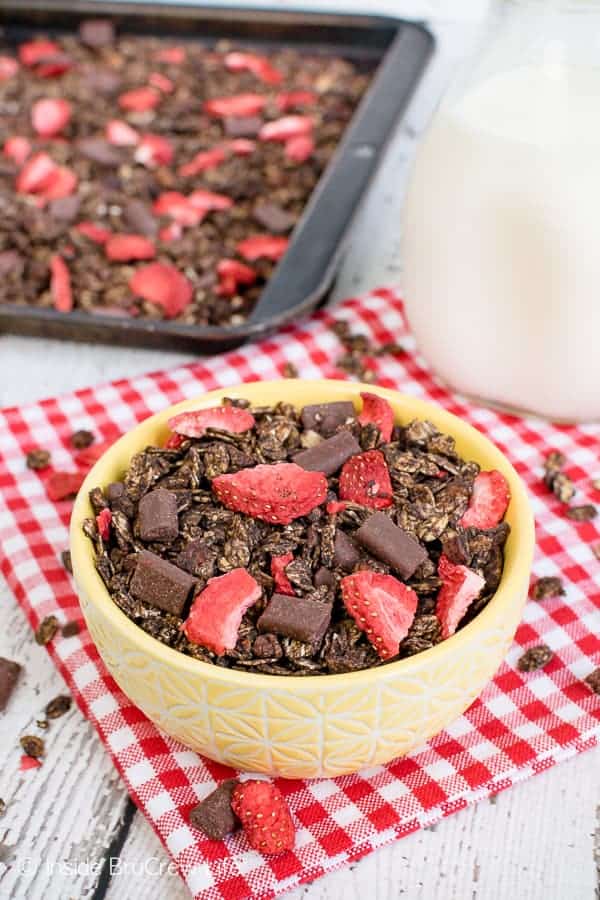 Sometimes you just need a bowl of granola and milk while sitting on the couch wrapped in a blanket. Ok, maybe that's just me. I get these strange food cravings from time to time.
Lucky for me, my daughter craves crunchy granola too. She is the one that got me started on making homemade granola after all. Well, my forgetful brain was the real reason I made the first batch of Raspberry Chocolate Chip Granola.
You see my daughter reminded me to pick up a bag of granola for her afternoon snack a few months ago, but I forgot to write it on my list. Which meant I totally forgot about it while I was at the store. This actually turned out to be a very good thing because I learned just how easy it is to make your own homemade granola.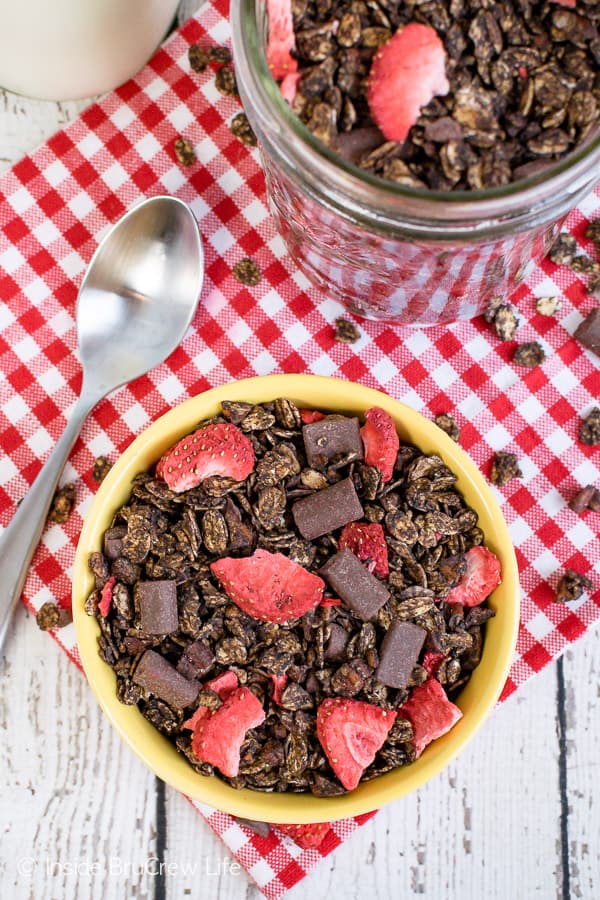 The other day she was craving a bowl of chocolate granola cereal for a late night snack. So we dug through the pantry to see what we could come up with this time. The last time we got a granola craving, we created this Peanut Butter Banana Chocolate Chunk Granola.
But this is me, and I have a hard time making the same thing twice. It's a good and bad problem to have. Good because we always have new and fun things to eat. Bad because my family never gets the same thing twice.
Ok, that's not totally true because we have our absolutely favorites that make all the time.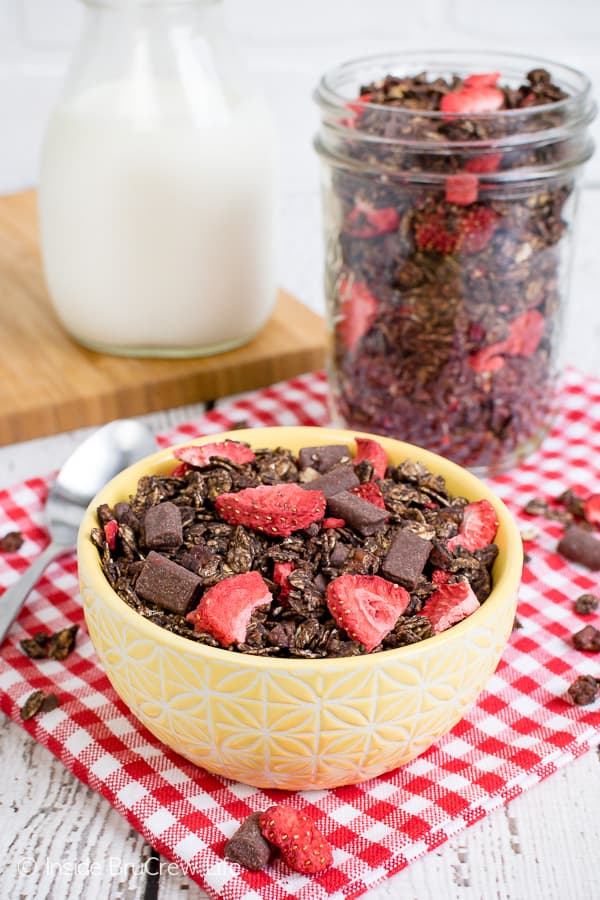 Anyway, there was still half a bag of chocolate chunks and a bag of freeze dried strawberries just sitting in the pantry, so we decided to add those to our homemade chocolate granola. Any time we can make a chocolate snack and call it healthy, I'm all in.
There is something about granola that is just so darn addicting. So many textures, crunches, and flavors make munching on it so fun. Plus, the flavor combos are endless, and it's so much cheaper to make your own homemade versions. I'll never understand how a small bag of granola can cost so much in the stores when it seriously costs so little to make a big batch.
Granola is the perfect snack. You can eat it for breakfast, snacks, pre-workout, post workout, or a late night munchie session. As long as we make a new kind every time I never tire of it.
I'm already plotting new ways to jazz up this easy chocolate granola the next time we make it. Would it be wrong to add mini peanut butter cups and still call it breakfast? Asking for a friend, of course. Wink, wink.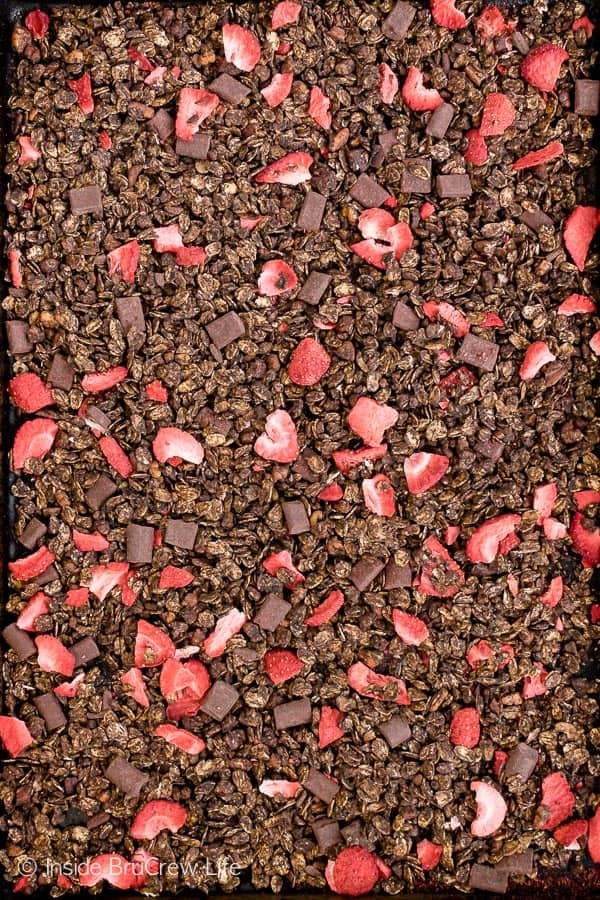 How to make Chocolate Covered Strawberry Granola:
Start with your base. We use rolled or old fashioned oats as our main ingredient.
Add some crunch and protein with some nuts. It really doesn't matter what kind, so go with your favorite.
A mixture of honey and coconut oil is the glue that holds it all together and gives it a crispy crunch after it bakes. No, you will not taste the coconut in this granola. If you still are worried about the flavor, feel free to use canola oil or melted butter.
Extracts and spices give the granola an extra flavor. It's easy and fun to try new combos.
Bake the mixture on a sheet pan that has been lined with parchment or a Silpat. Make sure you remember to stir it occasionally. My rule of thumb is to give a stir and flip every 10 minutes. This just helps the mixture bake evenly.
After it is done, let it cool completely before you stir in any chocolate or dried fruits.
Store this Chocolate Covered Strawberry Granola in a tightly sealed container to keep it from going soft. If it is humid in your area, you can store the bag or container in the fridge or freezer to keep it crunchy.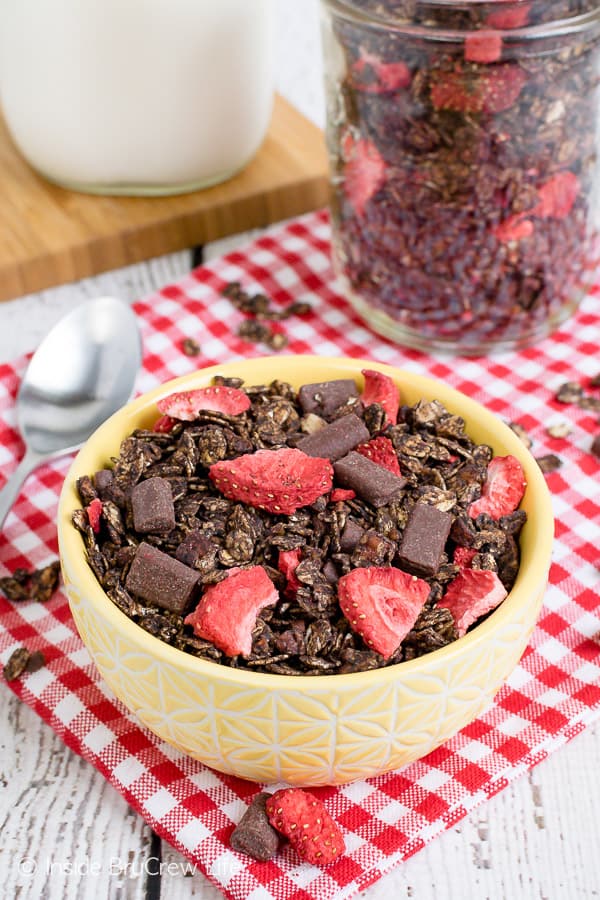 More easy breakfast recipes that you might like: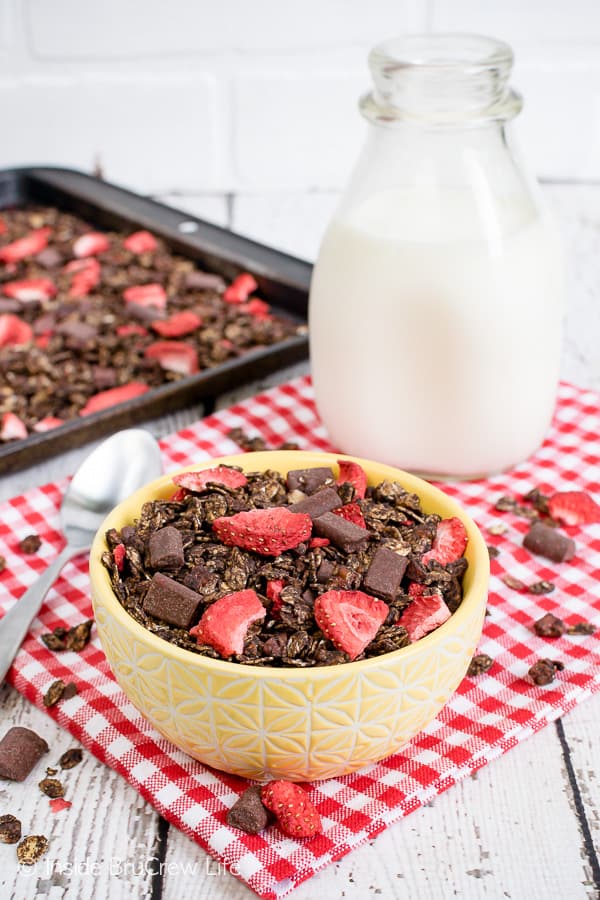 Chocolate Covered Strawberry Granola recipe: