This Peanut Butter Banana Chocolate Chunk Granola is perfect for breakfast or snacking on in the afternoon. Pour it over Greek yogurt for a totally delicious start to the day.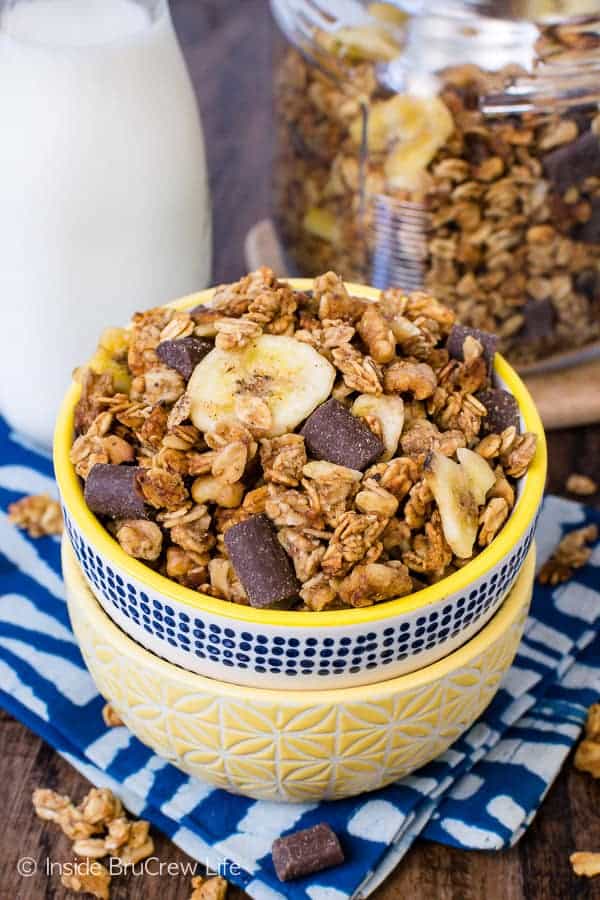 Homemade granola is so easy to do with ingredients you have in your pantry. We love making a big pan of granola to snack on all week long.
The problem is that it doesn't last that long.
Until recently I would just buy bags of granola for us to snack on. But then I realized just how easy homemade granola is to make. Plus, I can control the amount of oil and extra sugars that go into it.
Our daughter loves having granola in the house. She usually has a big bowl of it with milk for her afternoon snack.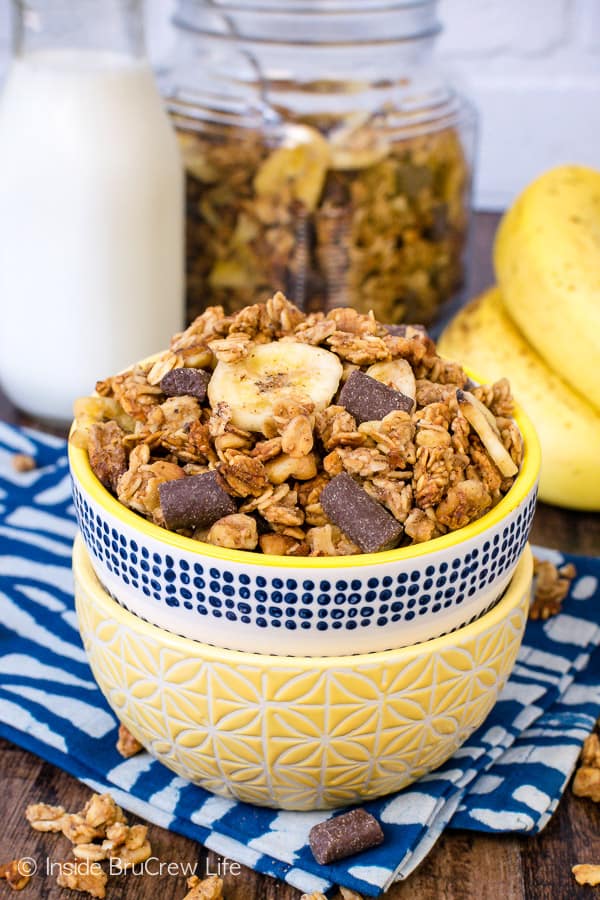 Although, if we have yogurt in the fridge, she loves making these Healthy Strawberry Yogurt Parfaits with granola added to the top.
This month I decided to use the ripe bananas on the counter with some peanut butter to create a new homemade granola for her to eat.
Peanut butter and banana is an awesome combo! I love eating spoonfuls of peanut butter with my fresh bananas. Add a drizzle of honey, and it's such a good snack.
Of course, you all know that I'm a little crazy and eat my bananas kind of green. What can I say? Once they turn yellow, I won't touch them.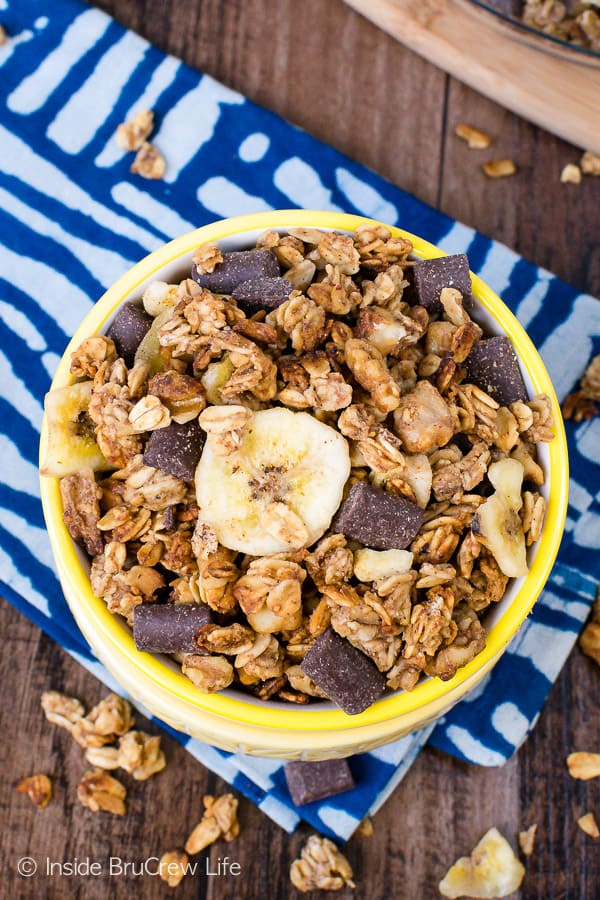 Well, until it's time to bake something delicious like this Banana Split Coffee Cake.
To jazz up this easy Peanut Butter Banana Chocolate Chunk Granola, I added some dried banana chips and chocolate chunks I found in a basket in the pantry. Who knows what I actually bought those ingredients for or how long they have been hiding in there.
At first I was going to just add mini chocolate chips, but the bag of chunks looked better. Eating big chunks of chocolate for breakfast sounds like a great idea to me.
Chocolate for breakfast? Yes, please!!!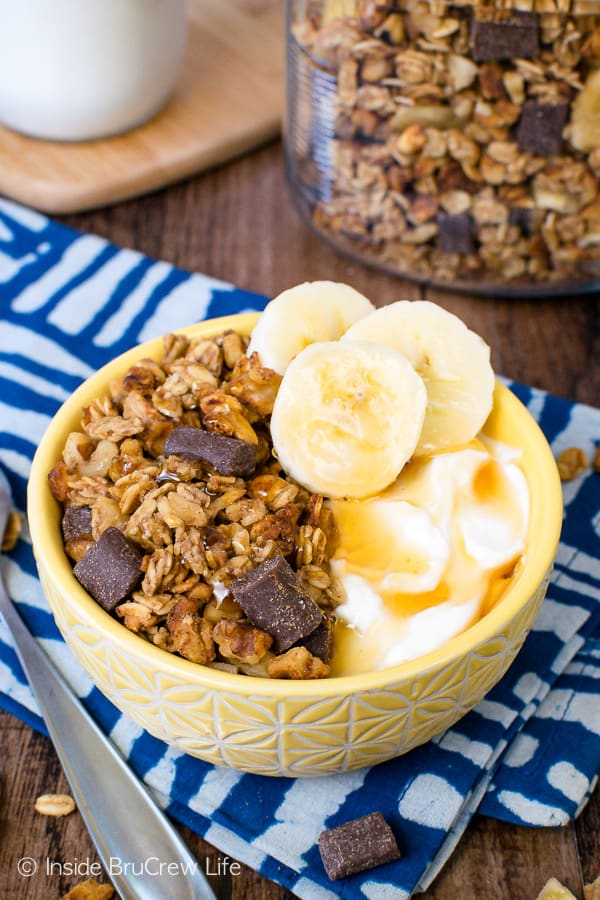 Tips for making Peanut Butter Banana Chocolate Chunk Granola:
Mash one ripe banana and mix it together with honey and peanut butter. If you have a sensitivity to peanuts, feel free to use a nut butter that you can eat.
In another bowl, stir together your dry ingredients and nuts. For this particular recipe, I used walnuts because that's what we had and what I like with bananas. You can use any kind of nut though. I really think peanuts would be great in this too.
Stir together the dry ingredients and the banana mixture. Spread it out evenly on a rimmed baking sheet lined with a Silpat or parchment paper.
Bake the peanut butter granola for 25 minutes, stirring it halfway through. This just keeps the edges of your granola from getting extra dark or burning.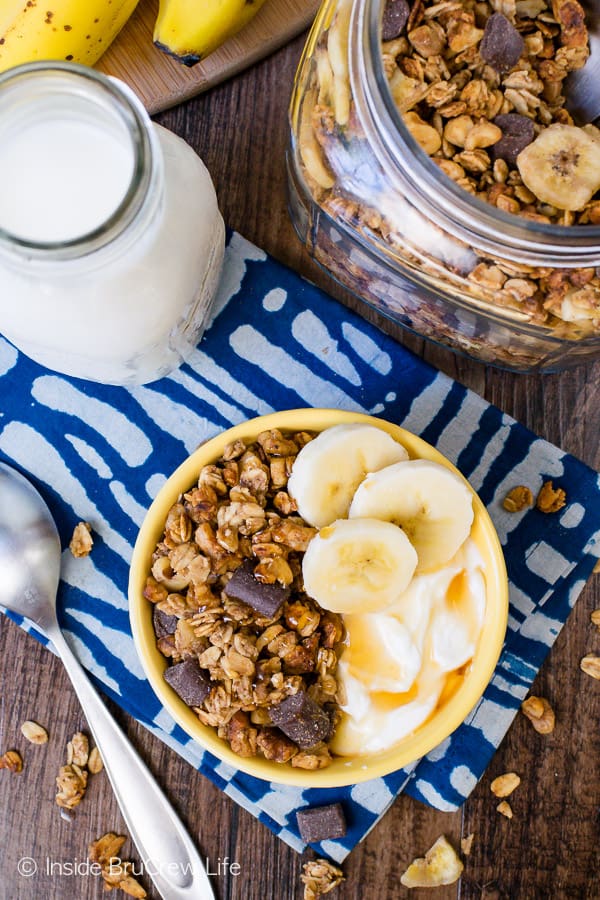 Once the granola is done baking, take it out of the oven and let it cool on the pan. As it cools it will get crunchier.
Add the dried banana chips and chocolate chunks to the granola once it is completely cooled. Store it in a tightly sealed container.
Enjoy eating this Peanut Butter Banana Chocolate Chunk Granola by the handfuls, with milk, or on a yogurt parfait.
Head over to Food Fanatic where I'm a breakfast contributor to print this Peanut Butter Banana Chocolate Chunk Granola recipe: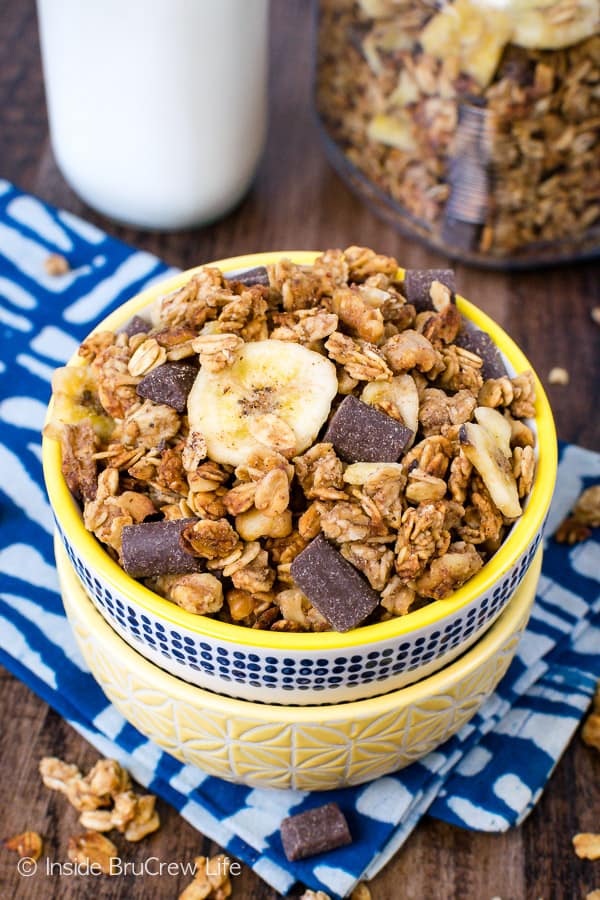 More easy banana breakfast recipes to try:
Peanut Butter Banana Chocolate Chunk Granola recipe: