This easy cookie is perfect for filling your cookie jar this week. Strawberry Truffle Kiss Cookies are pink, sparkly, and taste amazing.
*Love these recipes? Be sure to sign up for the BruCrew email to have these recipes delivered to your inbox each day.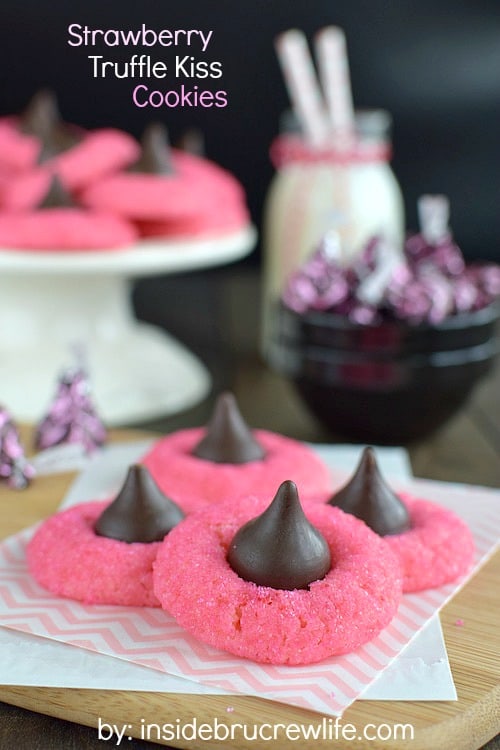 I have a confession to make.
I used to be a tomboy that hated pink. This girl grew up climbing trees and riding horses. I'm pretty sure my husband doesn't believe that at all because now I'm a girly girl. But somewhere there are pictures to prove it.
When we were expecting our girl, I didn't want anyone to buy pink baby clothes. And no ruffles or bows were allowed either. Don't even get me started on bows that are bigger than babies heads. I'm still not a fan at all! But that's just my preference…if you love it, go for it.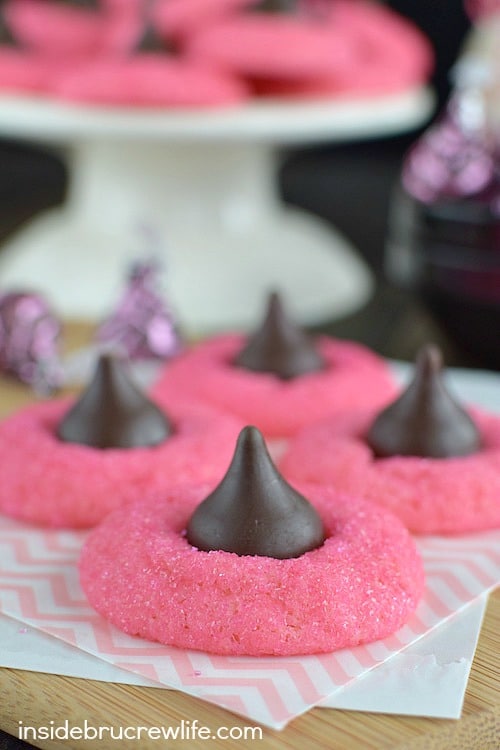 Fast forward a few years, and now I'm all about pink. Pink shoes, pink sweatshirts, pink phone case…you name it, I probably want it pink.
I'm not sure what ever happened to the tomboy in me or why I ever hated pink. The funny thing is that pink is really one of the best colors for my daughter and I to wear. Maybe that's why I am embracing it now.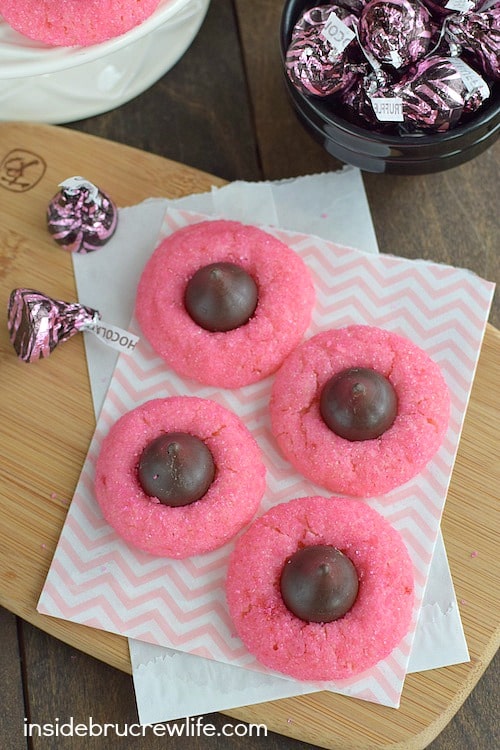 Cake Mix Cookies
Another thing that I am totally 100% embracing are cake mix cookies.
4 years ago I made these Vanilla Fudge Whoopie Pies, and over the years I have made so many variations using a simple cake mix. Triple Chip Red Velvet, Chocolate Mint, Cinnamon Caramel… have you made cookies from cake mix yet? It is so much fun to come up with different mix ins for each one.
You just use the dry mix along with some butter, egg, and cream cheese. The end result is a puffy, chewy cookie that is amazing!
Tips for making Strawberry Truffle Kiss Cookies:
With Valentine's Day just around the corner, I couldn't wait to make another easy cookie in my favorite color. Use a strawberry cake mix and a little bit of strawberry extract to make an easy strawberry cookie dough.
Make sure you chill the dough at least 30 minutes. I usually end up leaving it in my fridge for over an hour because I get distracted very easy. Squirrel!!!
Then roll the dough into 48 even dough balls. This sounds hard, but I have an easy tip for you. Roll it into one large ball.Cut it in half. Then cut those in half. Take those 4 dough balls and roll each one into 12 balls.
Roll each dough ball in some pink sanding sugar! You can find the pink sanding sugar in most baking aisles in craft stores or the cake decorating aisle at Walmart.
One more fun touch for these cookies. Hershey kisses!! Have you seen the Truffle Kisses or the new Lava Kisses? Oh, my word! They are seriously two of my new favorites!!!
Make sure you freeze the kisses first. You want the kisses to stay looking like kisses once you place them on the warm cookies!
Strawberry, chocolate, and pink sparkles…what are you waiting for?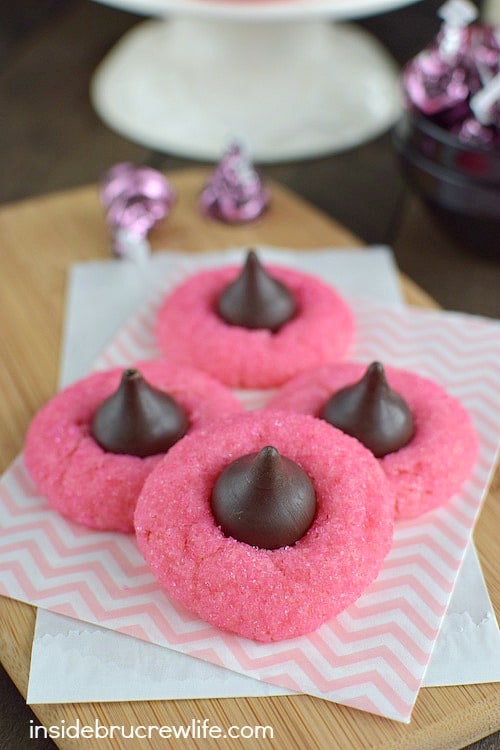 Stay up to date on all the BruCrew baking here:
FACEBOOK | PINTEREST | GOOGLE+ | TWITTER | INSTAGRAM | BLOGLOVIN
Sign up to receive an email in your inbox for each new recipe:
EMAIL SUBSCRIPTION
Yield: 48 cookies
Strawberry Truffle Kiss Cookies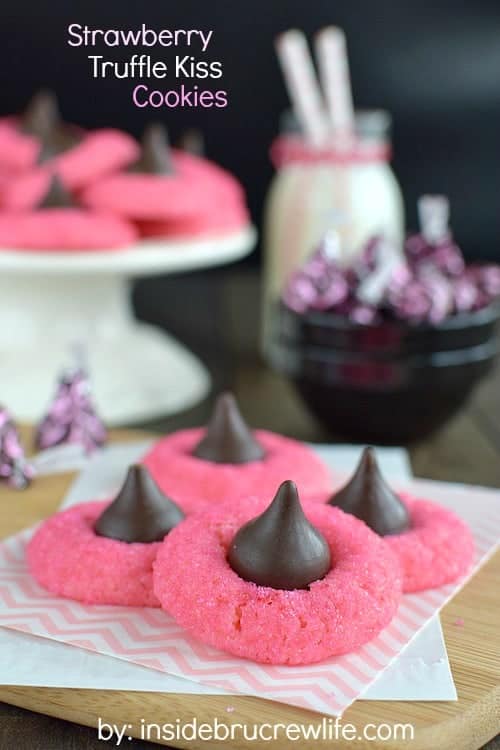 These easy strawberry cookies start with a cake mix. Adding pink sanding sugar and chocolate kiss candies turn them into a cookie that everyone will want to snack on.

Prep Time 45 minutes

Cook Time 8 minutes

Total Time 53 minutes
Ingredients
1 strawberry cake mix
8 Tablespoons butter, melted
1 egg
1 teaspoon strawberry extract
4 ounces cream cheese, softened
pink sanding sugar
48 chocolate truffle kisses
Instructions
Preheat the oven to 350 degrees.
Take the wrappers off the Hershey kisses and place them in a bowl and into the freezer.
Combine the dry cake mix, butter, egg, and extract and mix until a soft dough forms.
Add the cream cheese and mix in completely. Refrigerate the dough for at least 30 minutes.
Roll into 48 dough balls and roll in the sanding sugar.
Bake for 8 minutes. Let set on the hot cookie tray for 2 minutes before removing and placing on parchment paper.
Top each cookie with a frozen kiss. Let cool completely before placing in a sealed container on the counter.
Nutrition Information:
Yield:
48
Serving Size:
1
Amount Per Serving:Calories: 104 Total Fat: 8g Saturated Fat: 4g Trans Fat: 0g Unsaturated Fat: 3g Cholesterol: 20mg Sodium: 40mg Carbohydrates: 8g Fiber: 0g Sugar: 7g Protein: 1g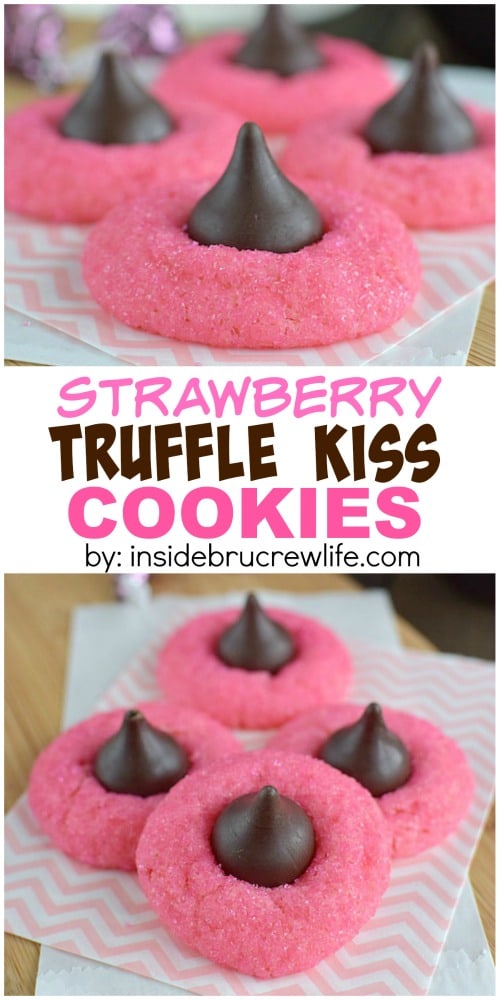 Here are few more fun ways to use cake mixes to make cookies: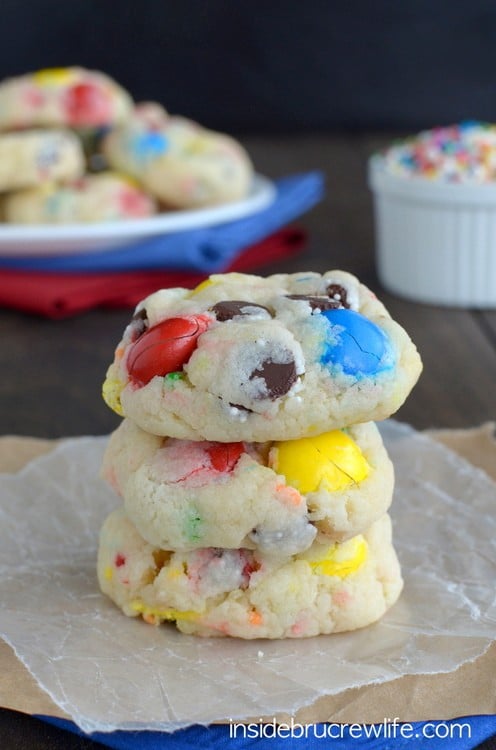 Funfetti Birthday Cake M&M Cookies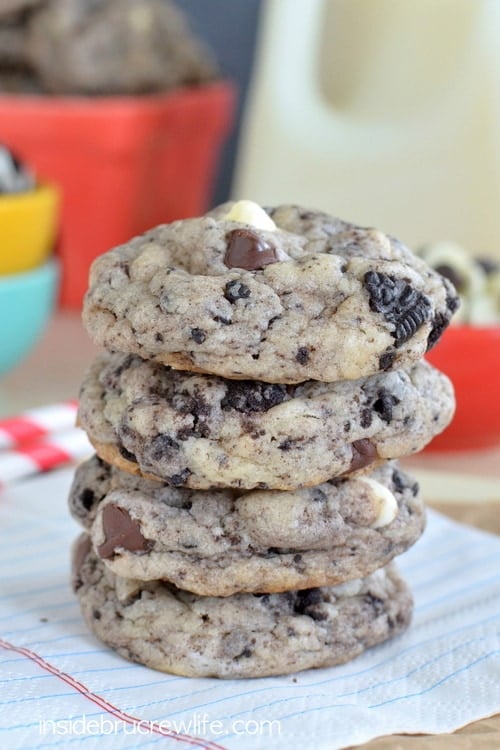 Chocolate Chip Cookies & Cream Cookies