Thank you to Chocoley for providing me the opportunity to create a fun chocolate treat.  These Amaretto Pecan Cookie Dough Truffles are a delicious, but dangerous treat to have around.  They taste amazing.  Good luck only eating one at a time!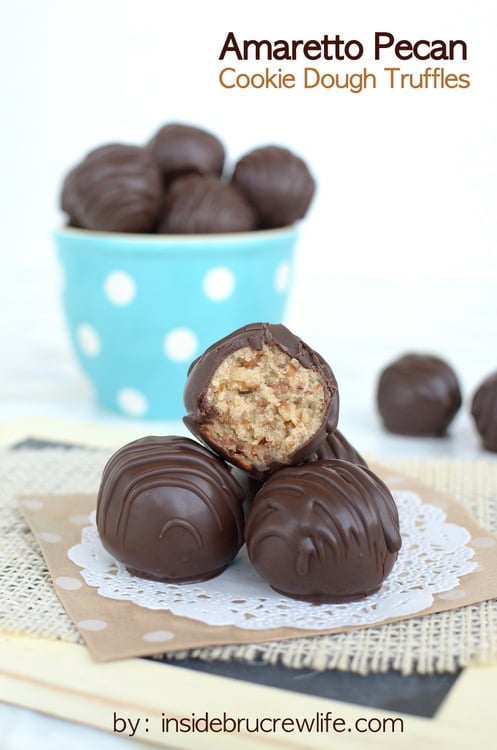 My in laws live near an outlet candy store, so any time they come visit us or we visit them, they have bags and bags of candy and nuts.  One of my absolute favorites that they buy are some dark chocolate amaretto pecans.  I seriously could eat an entire bag of them and not feel guilty at all.  So delicious!
It's true your tastes change as you get older.  Growing up I did not like to eat nuts of any kind.  My way of eating nuts was a peanut butter and fluff sandwich.  Slowly as I got older, I started to like peanuts with M&M's.  Gradually I started to branch out and try new nuts.  Now I actually eat a few kinds of nuts all by themselves.
Of course, I still prefer the nuts with lots of chocolate.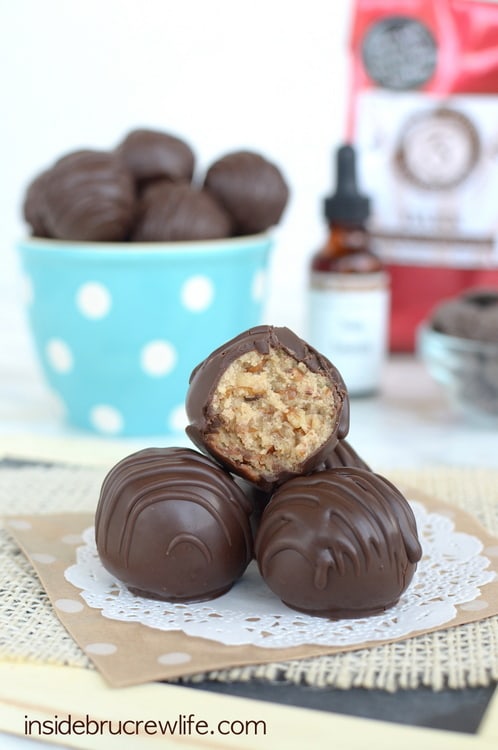 A few weeks ago I was contacted by Chocoley about creating a fun recipe using some of their chocolates.  Of course any email that involves chocolate has my full attention.  I checked out their website and was immediately hooked.  They carry melting chocolates, different flavored oils, flavored candy creams, candy molds, and all the tools you need to dip anything and everything in chocolate.
As I went through their list of supplies, I saw a Nutty Amaretto oil.  Instantly my mind went to those candies that I loved.  I knew that I wanted to create a fun treat that had the amaretto, dark chocolate, and pecans in it.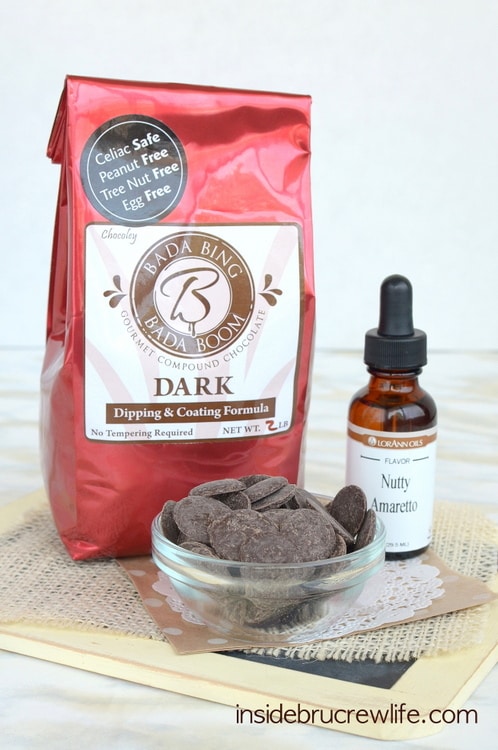 As soon as my package of chocolate fun came in the mail, I opened the dark chocolate bag.  I had to taste test you know.  Oh, my goodness.  It is so delicious!  I love how creamy and rich the chocolate tastes.  A few handfuls later and I had to force myself to close up the bag.
I made up a batch of no bake cookie dough with lots of extra pecans in it.  This cookie dough is great because there are no eggs in it making it safe to eat without cooking.   One great thing about this dough is that it only uses one bowl.  Mix it up and roll into 36 even balls.  Make sure you refrigerate the dough balls for at least 30 minutes.  It will help keep the dough together better when you are dipping.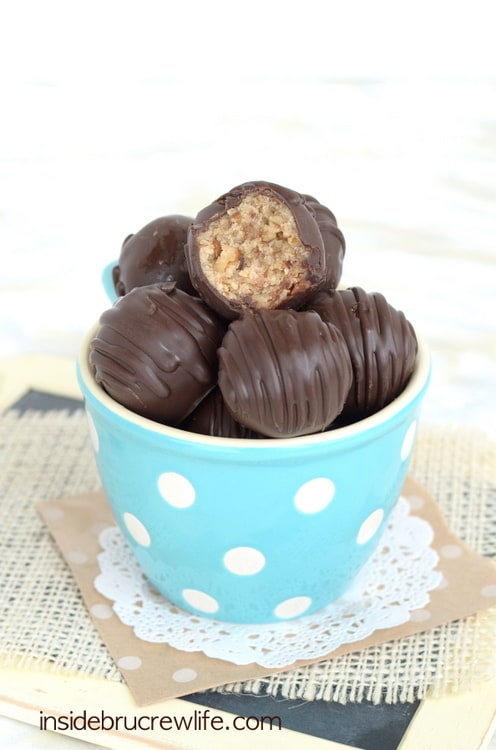 One of the great things about this Bada Bing Bada Boom Dipping Chocolate is that it doesn't need any tempering.  It is as easy as just melting it.  There is no need to add any extra oils or shortening to thin it out.  Chocoley has perfected their chocolate to melt to the right consistency for dipping.
 You can use a double boiler or a glass bowl in the microwave for melting.  I always go the microwave route just because it is so easy.  One thing to remember is that every microwave is different, so heat it up slowly.  Your bowl will absorb the heat and then transfer it to the chocolates.
I usually heat mine for 1 minute to start with, then stir for about 10 seconds.  Repeat in the microwave for 20 seconds at a time.  You definitely want to watch it and stir thoroughly in between heating.  Add your flavored oils now.  The oils are very strong, so make sure you use the bottle dropper to only add one drop at a time.  Stir it in and taste.  Repeat this until you achieve the flavor that you like.  Go ahead and let the chocolate cool slightly.  If the chocolate is too hot, you will have streaks that will appear as your chocolate sets.
Use a toothpick to grab the chilled cookie dough truffle.  Set it into the melted chocolate and spoon more chocolate over the top.   Lift it out gently and tap the toothpick lightly on the edge of the bowl.  Then set the truffle on a wax paper lined tray.  Give it a minute of setting before twisting out the toothpick.  I usually use a few toothpicks at a time, so I am never waiting.  After all the truffles are dipped, heat the chocolate up again and then spoon it into a plastic baggie or a plastic squeeze bottle.   Drizzle the top of the truffles with the extra chocolate to hide the toothpick holes.
Now it is time to sit back and enjoy your hard work.  I mean it's chocolate and cookie dough.  It would only be right to enjoy at least 5 or 6 right away.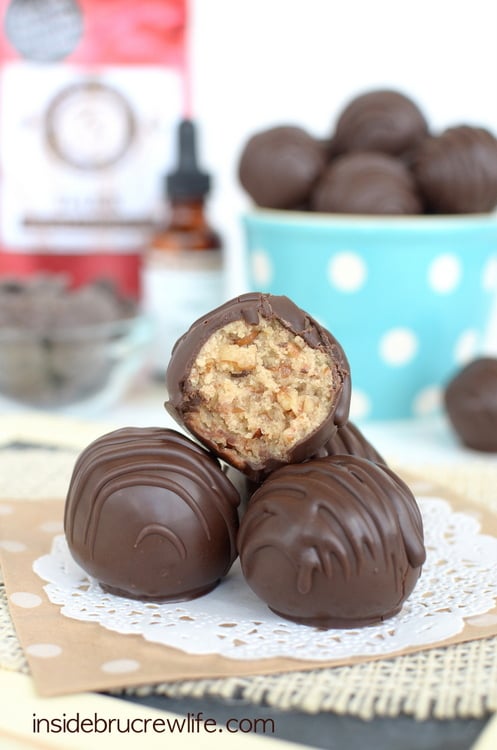 Stay up to date on all the BruCrew baking here:
FACEBOOK | PINTEREST | GOOGLE+ | TWITTER | INSTAGRAM | BLOGLOVIN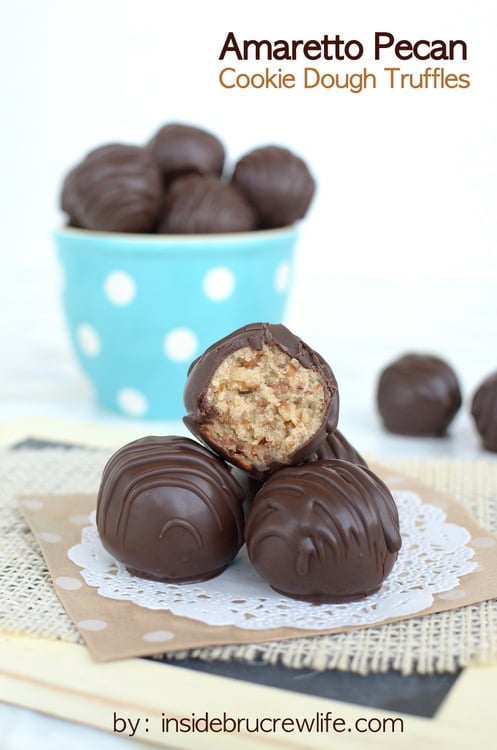 Pecans and amaretto makes these cookie dough truffles a delicious treat to enjoy any time of day. The no bake, no egg cookie dough is safe to eat.
Ingredients
1/2 cup butter, softened
3/4 cup brown sugar
1 teaspoon vanilla extract
1/4 teaspoon salt
2 1/2 Tablespoons milk
1 1/4 cups flour
2 cups finely chopped pecans
1 3/4 cup dark chocolate melting chocolate (Chocoley)
11 drops of Nutty Amaretto oil
Instructions
Beat the butter and sugar until creamy. Add the vanilla, salt, and milk and cream again. Slowly add the flour and pecan chips until completely mixed in.
Roll the dough into 36 even dough balls. Place on a wax paper lined baking sheet and refrigerate 30 minutes.
Melt the melting chocolate according to the package directions. Stir until creamy. Add the Amaretto drops a little bit at a time. Everyone has a different preference on taste, so sample the chocolate as you add the drops.
Use a toothpick to drip the chilled truffles in the chocolate. Use a spoon to cover the truffles. Remove from the chocolate and tap the toothpick gently on the side of the bowl. Place on the wax paper lined tray. Let set for a few seconds before twisting out the toothpick. Repeat with the remaining truffles.
Heat the remaining chocolate up again. Spoon into a plastic bag or squeeze bottle. Drizzle the tops of the truffles to hide the toothpick mark. Let set. Store in a sealed container on the counter or refrigerator. Makes 36 truffles.
https://insidebrucrewlife.com/amaretto-pecan-cookie-dough-truffles/
Copyright Inside BruCrew Life
*Inside BruCrew Life was provided with products and compensated to create a recipe and blog post.  All opinions are 100% my own.