Add these easy no bake Amaretto Pecan Cookie Dough Truffles to your holiday cookie trays this year. They are the perfect bite-sized treat to satisfy that sweet tooth.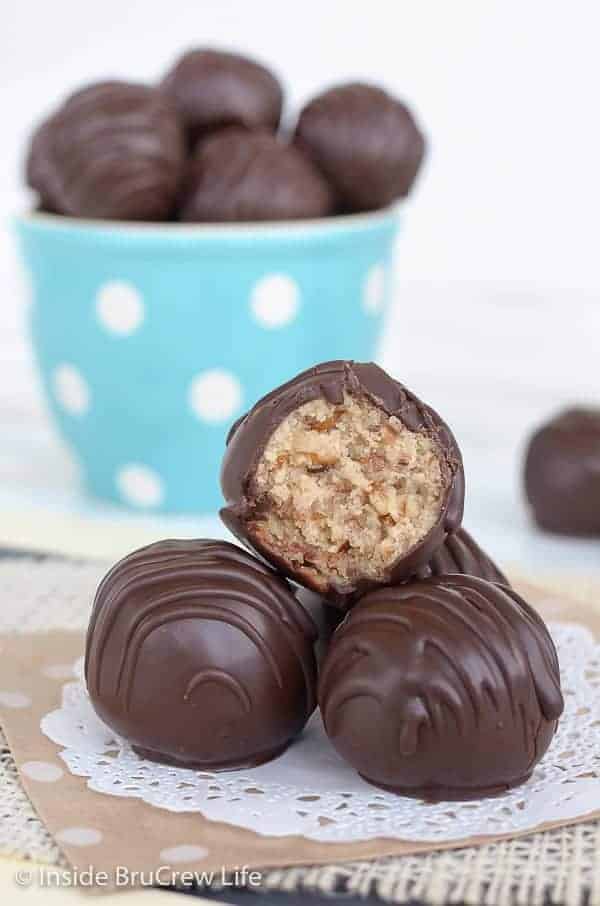 CLICK HERE TO PIN THIS RECIPE FOR LATER!
My in-laws used to live near an outlet candy store. So any time they would come visit us or we would visit them, they would have bags and bags of candy and nuts for us to munch on.
One of my absolute favorite candies from that store are the dark chocolate covered amaretto pecans. I seriously could eat an entire bag of them and not feel guilty at all. They are seriously so good!
It's true your tastes change as you get older because growing up I did not like to eat nuts of any kind. The only way I would eat nuts was in a fluffernutter sandwich. Peanut butter counts as eating nuts, right?
Slowly as I got older, I started to like peanut M&M's. Gradually, I started to branch out and try new nuts. Now I will actually eat a few kinds of nuts all by themselves.
Of course, I still prefer the nuts with lots of chocolate.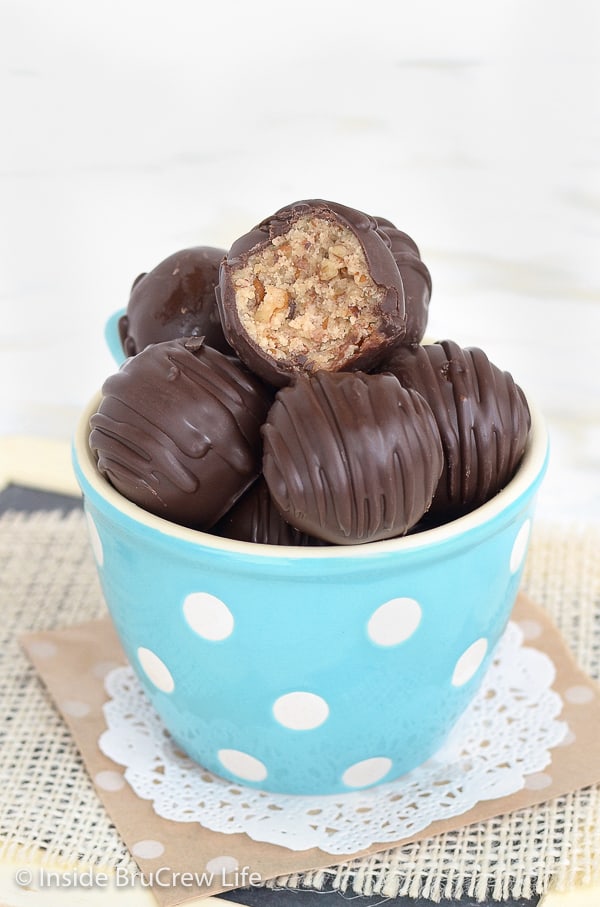 I was inspired by those amaretto candies to made a batch of Butterfinger Cookie Dough Truffles with lots of pecans instead of candy bars. This cookie dough is great because there are no eggs in, so it is safe to eat raw.
Now I grew up eating raw cookie dough, and yes, I know all the danger involved in eating raw eggs. The good thing about these cookie dough truffles is that there is no egg in it. But now the word on the street is that you can get sick from eating raw flour.
So go ahead and heat treat the flour in order to kill any bacteria that may be present in the raw flour before you add it to your edible cookie dough.
How to Heat Treat Flour:
Spread the flour in a thin layer on a cookie sheet and bake at 350 degrees for 5 minutes.
Place it in a microwave safe bowl and heat for 1 minute.
One great thing about these eggless cookie dough bites is that it only uses one bowl. Mix up the cookie dough and roll into 36 even balls. Make sure you refrigerate the dough balls for at least 30 minutes. That will really help when you are dipping them in warm melted chocolate.
How to melt chocolate for dipping:
Double Boiler: Place a little bit of water in the bottom of the pan, then place another pan on top of that making sure the water does not touch the bottom of the top pan. Add the chocolate and stir until melted.
Microwave: Place the chocolate in a microwave safe bowl and heat for 30 seconds. Stir, then heat for 15-20 more seconds. Continue stirring until it is melted and creamy.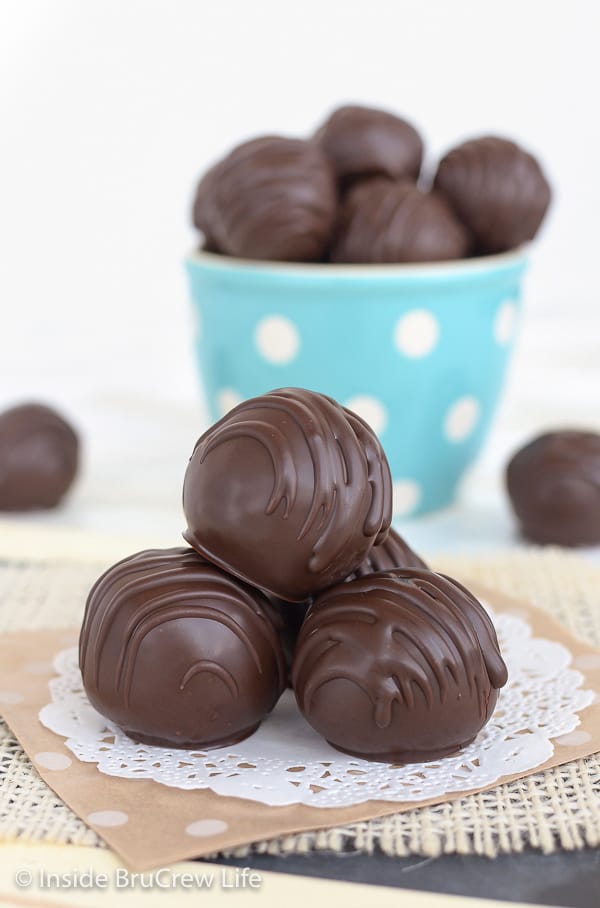 How to make Amaretto Cookie Dough Truffles:
Beat the butter and sugar until creamy. Add the vanilla, salt, and milk and beat again.
Stir in the heat treated flour and finely chopped pecans.
Roll the cookie dough into 36 even balls. Place in the refrigerator for 30 minutes.
Melt the chocolate according to the package directions. Stir in a few drops of the amaretto oil at a time, until you get your desired taste. The oil is strong, so make sure you do a few drops at a time.
Use a toothpick to dip one cookie dough truffle at a time. Place each one on a piece of wax or parchment paper and let set for a few seconds before pulling the toothpick out.
Heat the remaining chocolate and spoon it into a small Ziplock bag. Cut one corner off and drizzle over the tops of the cookie dough truffles.
Store these cookie dough bites on the counter in a sealed container for 1-2 days or refrigerate them in a sealed container for 4-5 days.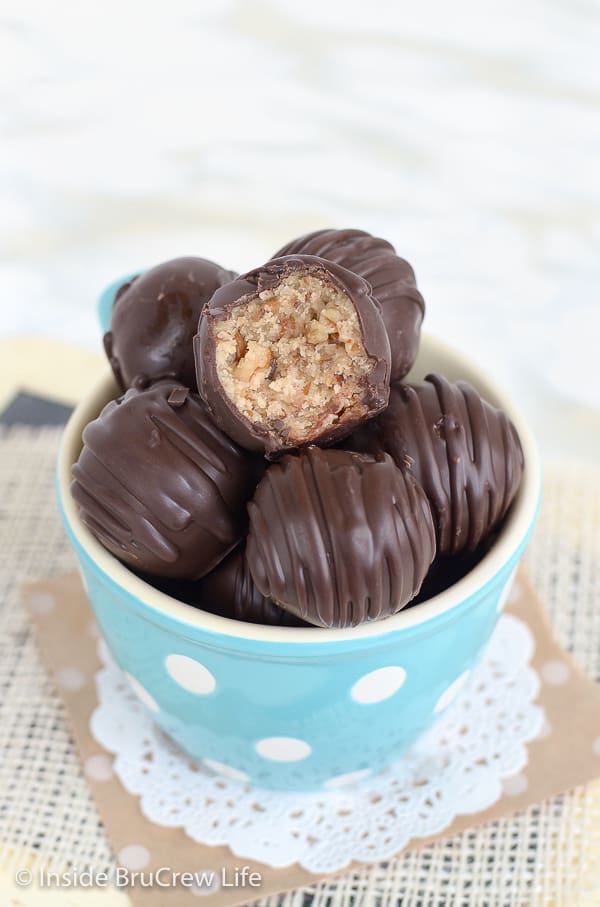 More cookie dough recipes that you may like:
Candy Cane Cookie Dough Truffles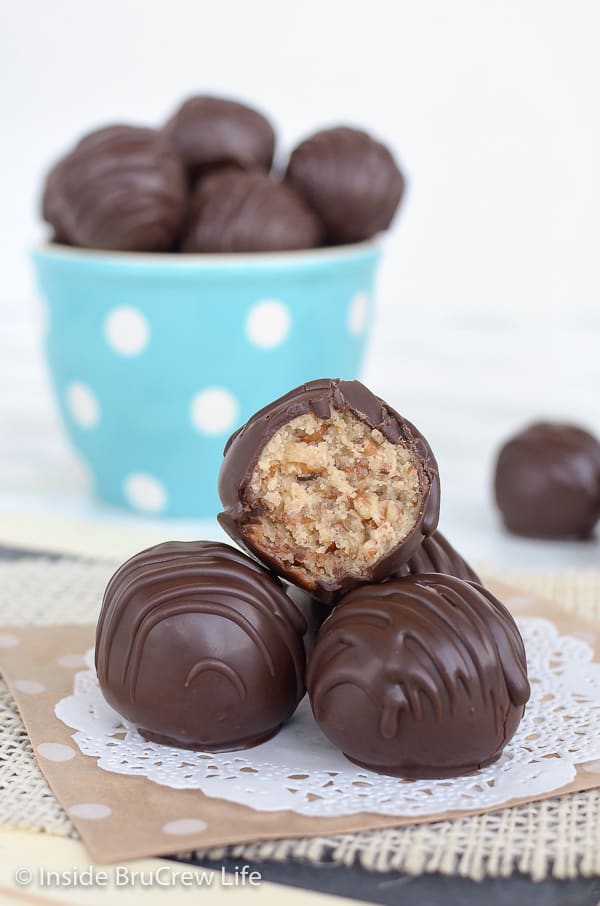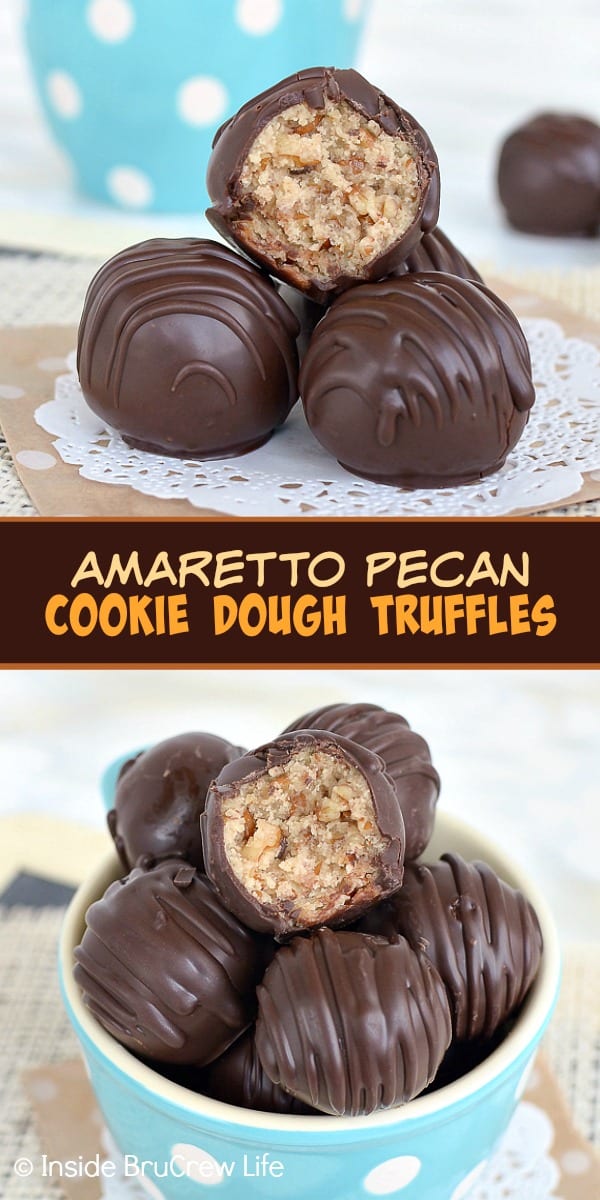 *The post for Amaretto Pecan Cookie Dough Truffles was first published on April 18, 2014. The photos and post have been updated and republished on December 10, 2019.