Fluffy pink filling and a fun peppermint pretzel makes these pretty Chocolate Peppermint Fluff Cookie Cups the star of any holiday party!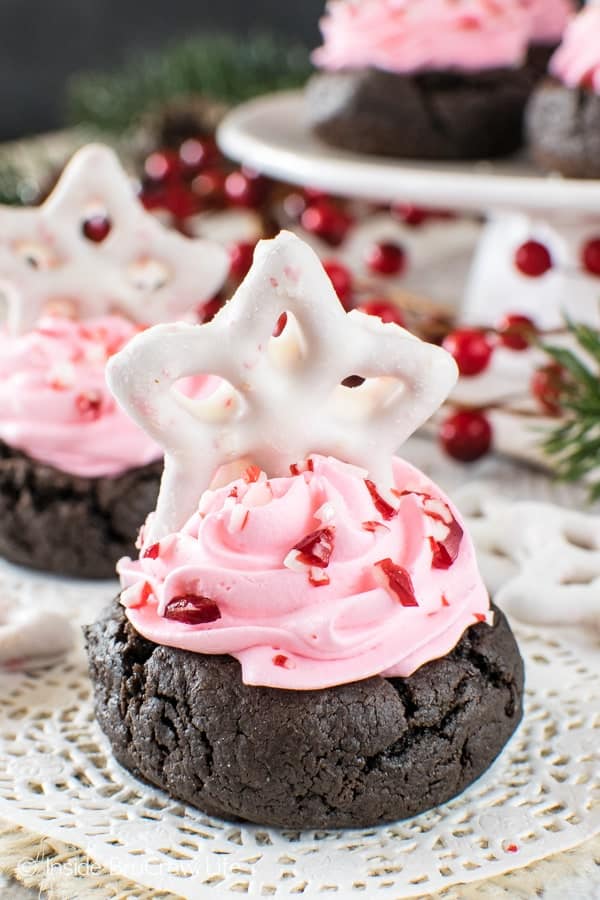 This past week I had the opportunity to make desserts for our church youth group Christmas party. Of course, any time I have to make desserts for real people I tend to freak out a little because what if they hate them all. The struggle is real.
I wrote down a list of treats that I thought would be good teen food. M&M blonde brownies and rice krispie treats were two easy and kid approved treats that I knew would be good to serve. Cheesecake brownies and peppermint cookies and cream fudge were two more desserts that I thought would go over well because every time I make them they disappear.
The dilemma I was facing was would I have enough. I was told to plan for maybe 40 kids and parents total, but there could be more. So, after making all that I started to question if I had enough dessert. Yes, I know they were having appetizers and dinner, but you have to have lots of desserts, right? The more options the better in my opinion.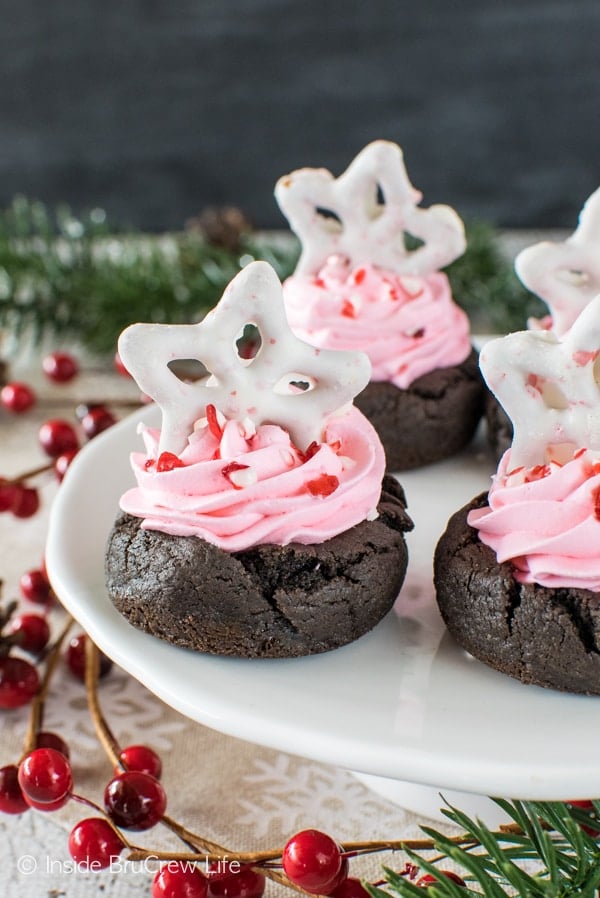 The idea for these chocolate peppermint fluff cookie cups has been rolling around in my head ever since I bought the star pretzels.
Since more dessert seemed like a good idea, I made these cookies too. And I have to say, these fun little cookies were my favorite treat of the night. The kids on the other hand devoured all the brownies and treats. I should have known more easy bar cookies was the way to go.
Oh, well. At least I had a blast creating this fun cookie cup. These turned out to be my absolute favorite Christmas recipe that I have made all month long!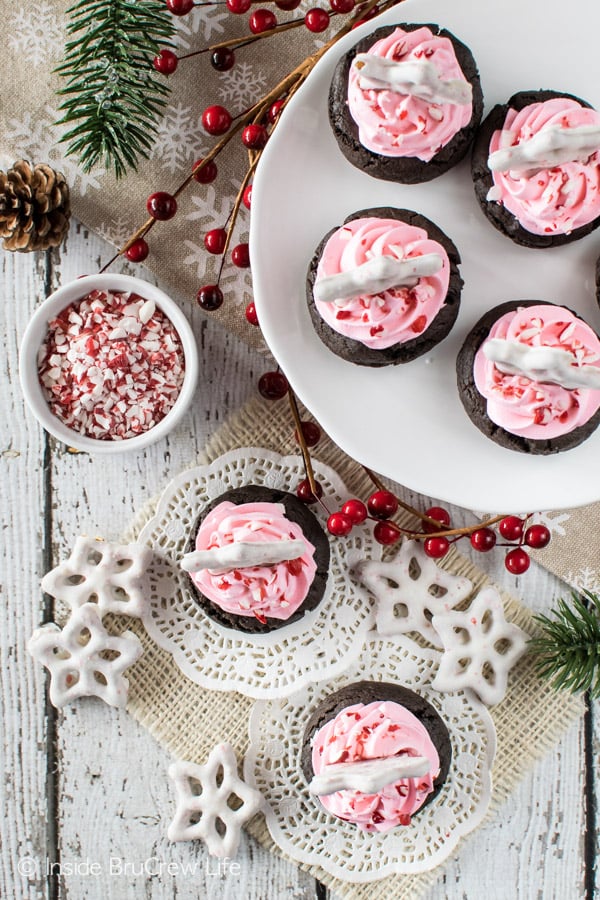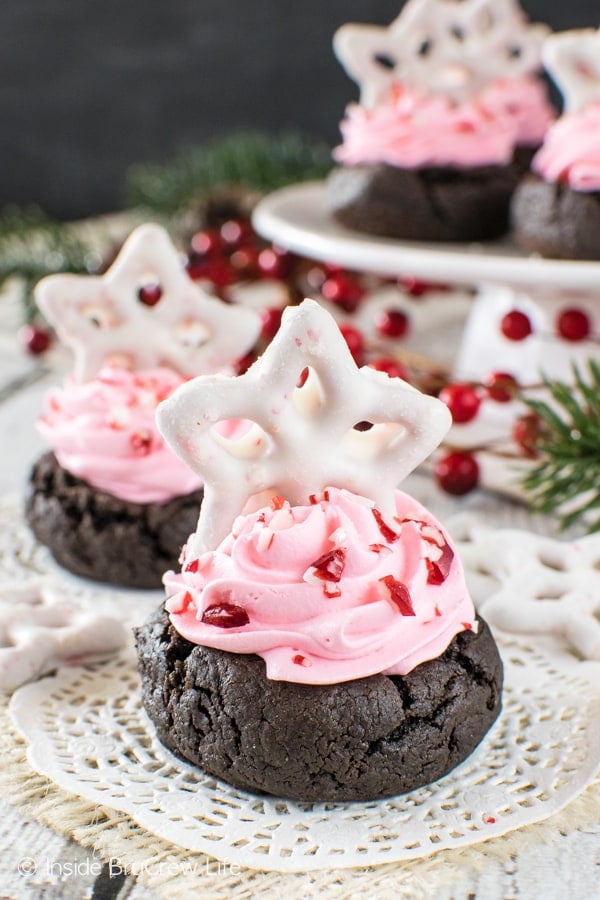 Here are some easy tips for making these cookie cups:
Set out the butter and cream cheese early because it is easier to cream them when they are soft.
Sift together all the dry ingredients and then slowly add it to the butter mixture until soft dough forms
The dough is a little sticky, so I found that using a cookie scoop was the perfect way to make dough balls.
Bake the cookie balls in a muffin tin, and then press them down with a tart shaper after they have cooled for 2 minutes.
Use a piping bag and decorating tip #1M to swirl the sweet peppermint fluff into each cookie.
Add the peppermint bits and pretzel star right before serving because the peppermint bits will get gooey in the fridge if you add them early.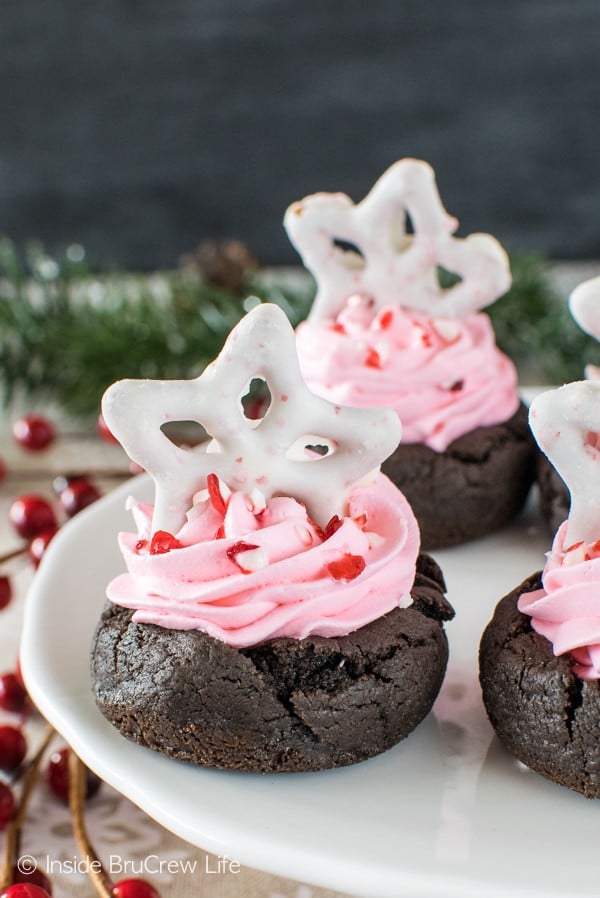 *This post contains affiliate links. Inside BruCrew Life may receive a small percentage from sales made through these free links. Thank you for letting us share products we use and love.