Chocolate covered pretzels, peanut butter candies, sprinkles, and candy eyes give these Peanut Butter Cup Spider Cookies a fun look. This peanut butter cookie recipe is such a fun treat for Halloween parties.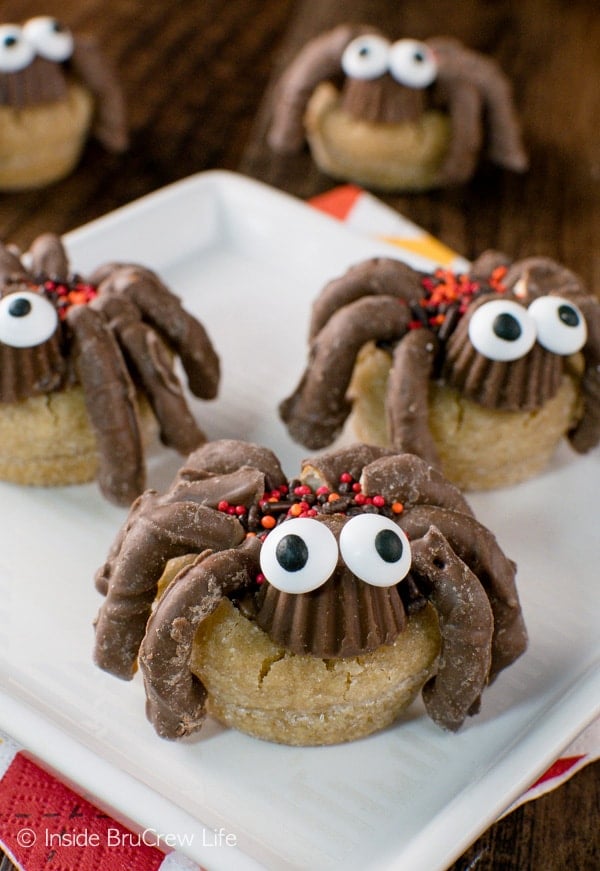 The month of October I boycott dusting. My reasoning is that it is part of my "decorations". Skeletons and gravestones just look better with a layer of dust around them.
I mean have you ever seen a clean and shiny haunted house? No way! They are always musty and dirty because it just adds to the spookiness.
Of course, all this dust means that the spiders think it is ok to come live inside with us. Yesterday I was vacuuming and found a giant spider web behind one of the doors.
I didn't see any spiders on it, but instinct kicked in and I sucked that web up in a hurry.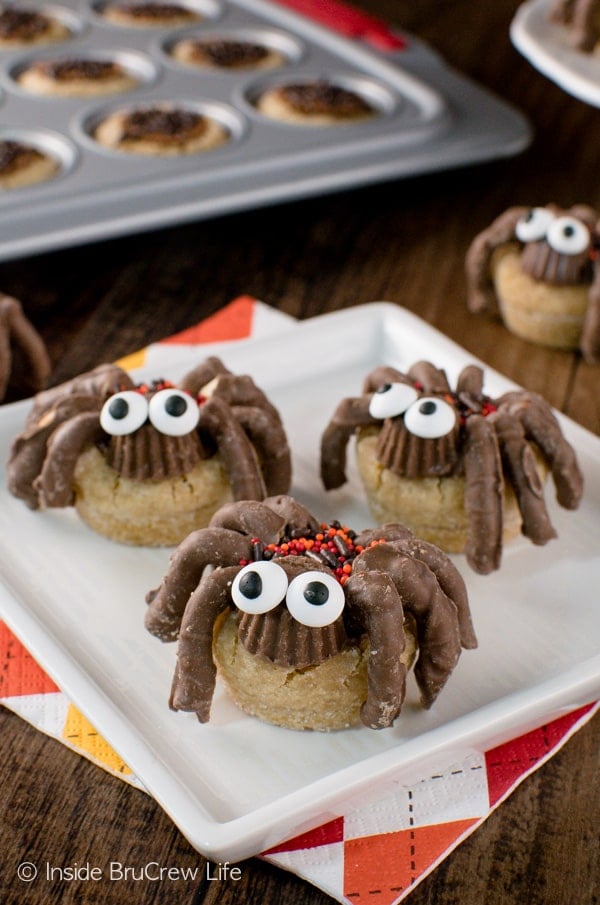 Normally I am not a fan of spiders at all. When we lived in Texas we used to see black widows in the garage that freaked me out.
Thank goodness for bug exterminators who respond quickly and and sprayed around our house. Bye, bye spiders!
Now spiders with candy eyes and chocolate legs can stick around as long as they like. Well, stick around is a relative term because any cookie stuffed with peanut butter cups isn't going to last long around here. My kids love those candies just as much as I do.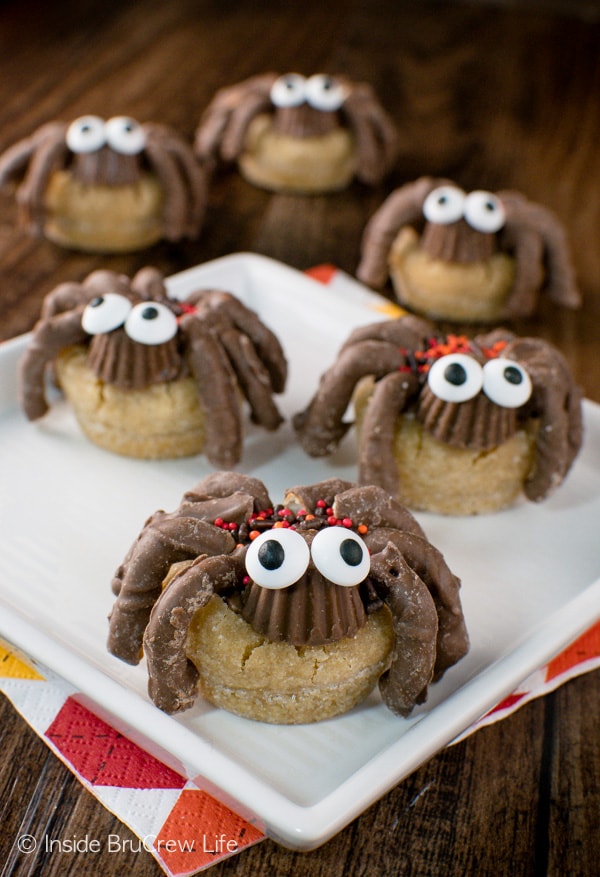 Look how cute that little guy is. Did I seriously just call a spider cute? Maybe I inhaled too much dust recently?
A few years ago I made Chocolate Pumpkin Spider Donuts for a fun breakfast. The kids loved those fun chocolate critters so much, that I wanted to create another creepy crawly treat this year.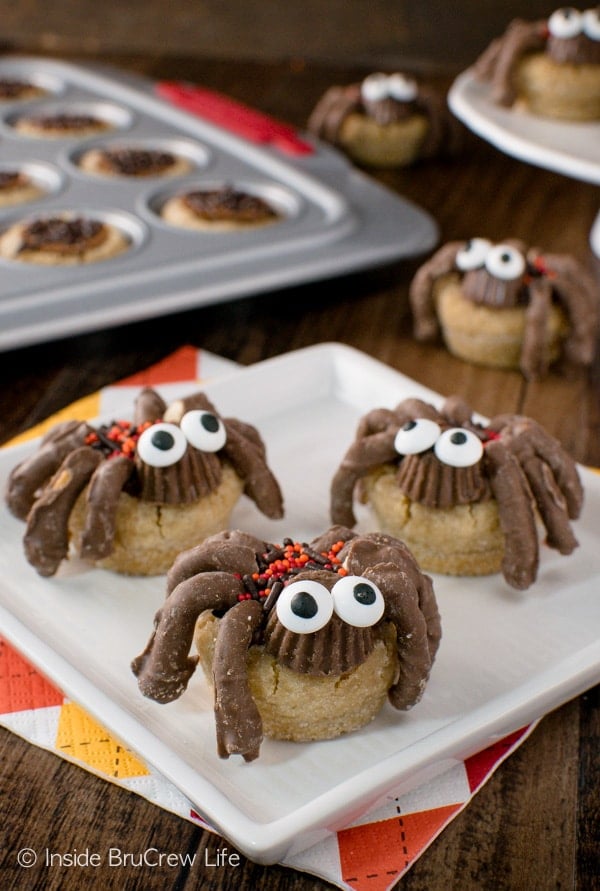 I started with the dough from these Peanut Butter Oreo Truffle Cookie Cups. It's my go to cookie recipe any time I want to make a peanut butter stuffed cookie.
Tips for making Peanut Butter Cup Spider Cookies:
Make sure the dough is mixed together, so you can roll it into balls.
Roll the dough balls in sugar. Extra sugar is never a bad idea.
After the cookies bake, let them cool in the pan for a few minutes. Then press the candy into the top.
Use a butter knife to loosen the edges of the cookies. Be careful that you do not mess up the chocolate.
Place the cookies on wax paper. As soon as the candies on top are melted and shiny, start attaching the candy head and chocolate legs.
Add sprinkles to the back of the spiders while the chocolate is still wet.
Use a toothpick and some extra chocolate to attach the eyeballs.
Stand back and look at your little spider buddies with pride...then grab one and devour him!!!
Spiders made of chocolate and peanut butter are the only ones that will ever be allowed to crawl on my hands!!!!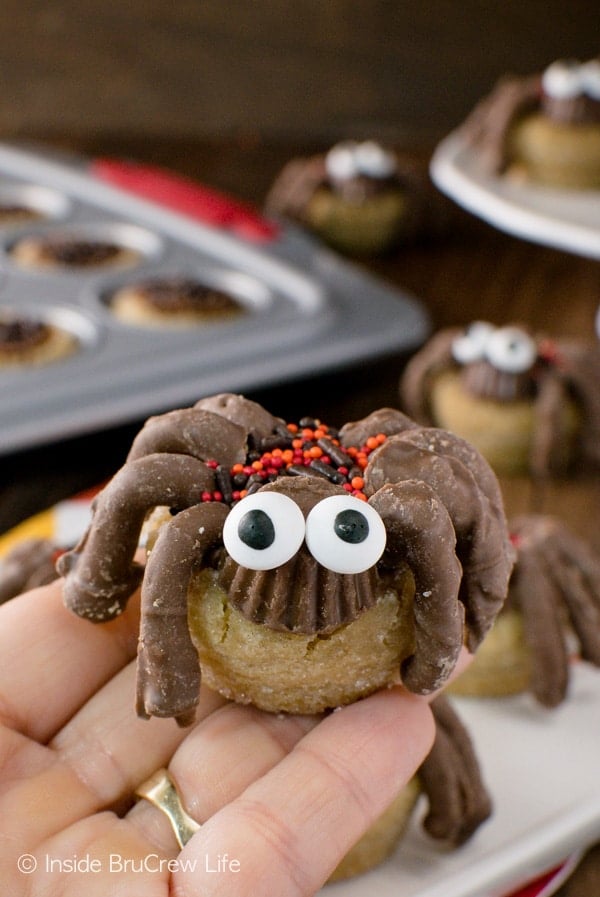 More fun treats for Halloween:

*The post for Peanut Butter Cup Spider Cookies was first published October 27, 2016. The post was updated and republished October 21, 2020.