Add these fun Pudding Filled Dirt Cupcakes to your dessert plans. Kids of all ages love the fun pudding center and the gummy worms on top!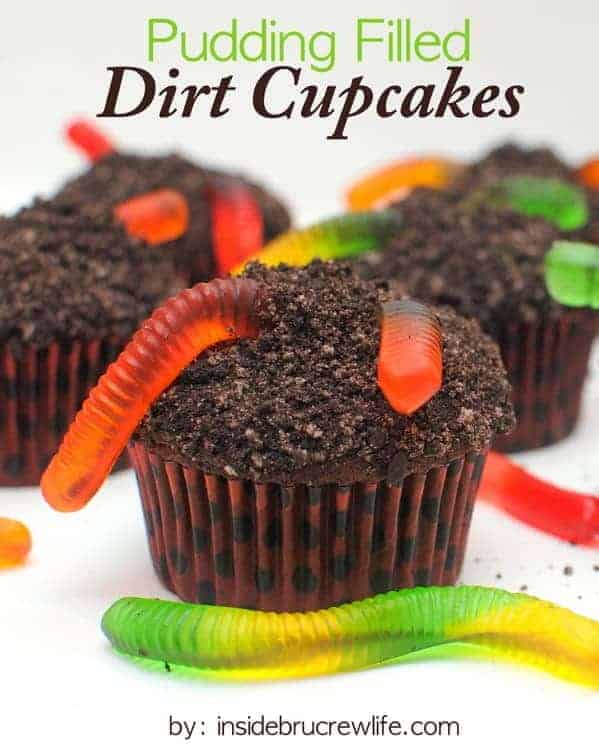 This past month I discovered that I have a super power. I have the Jedi mom mind powers. I figured it out when my youngest son was talking about
his upcoming birthday and the party he wanted.
I casually mentioned that he liked playing Angry Birds on my phone. What a fun party that might be.
And all of a sudden he wanted to have an Angry Birds party!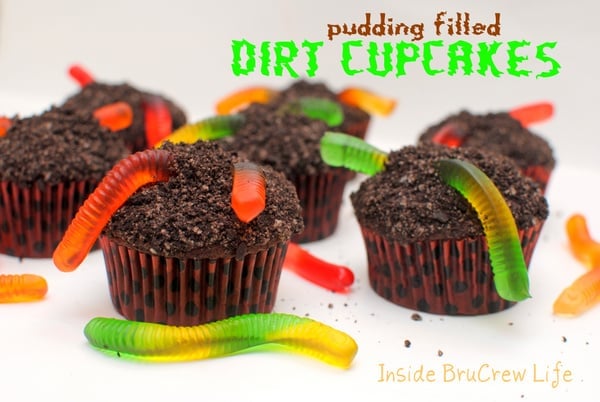 A few weeks later, I realized this type of a party was going to be rather difficult as there really are no store decorations to be found for this because it was so new.
Meaning I would probably have to hand make any and all party decor. Hhhhmmmm! This could be very time consuming and stressful!
Then one day while out shopping, I came across a skeleton candy mold. Again I casually mention to my son what fun a pirate party could be. You know with a treasure hunt and all! And dirt graves with candy bones!
I'm sure you can imagine my surprise when he decided that pirates would be more fun!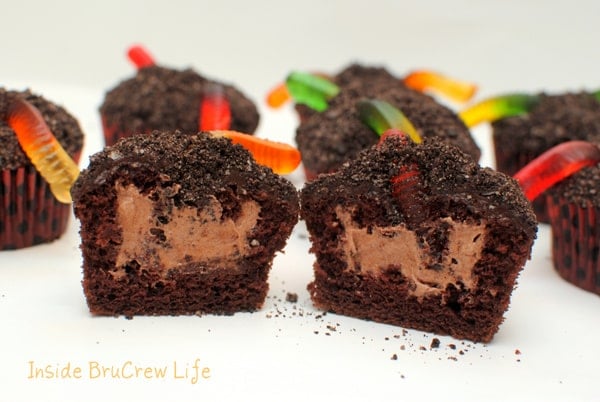 Next up was the cupcakes for his class. He said just chocolate.
So who do you think casually mentioned chocolate dirt cupcakes? That's right! This Jedi Mom!!! All he could talk about were the worms!
So far I am three for three using my powers, and I have decided that this mind trick thing is a pretty fun power to have.
Now if only I could get it work on the rest of my family…
"what's that dear daughter? You washed all the dishes?"
"seriously best oldest son? You mowed the yard just because?""eeeeiiikkkk!!!
Really, Honey? You are buying me the new camera I want?!?!?"
Oh yeah! I better start stretching my mind powers because in my head those things sound really really good!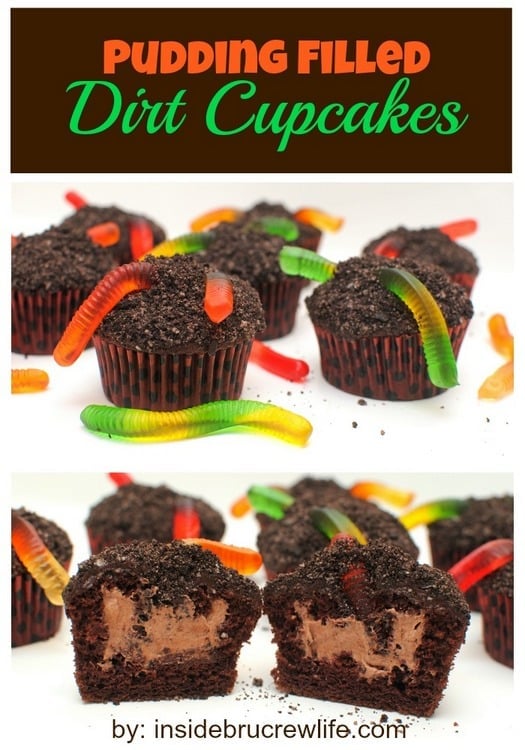 Wouldn't these make awesome Halloween party cupcakes???
See? Now I am trying to use my Jedi powers on you too. LOL!
Pudding Filled Dirt Cupcakes recipe: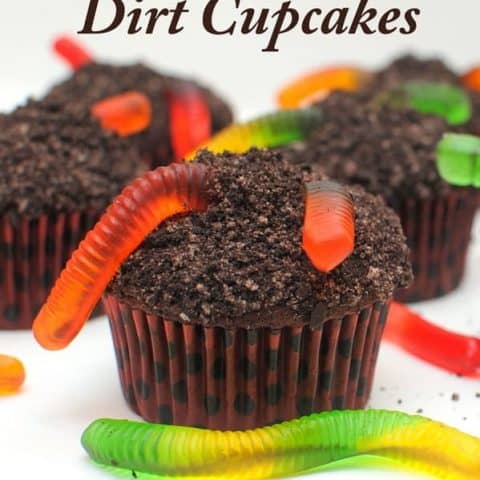 Pudding Filled Dirt Cupcakes
Oreos and gummy worms make these Pudding Filled Dirt Cupcakes a fun treat that kids of all ages love.
Ingredients
1 dark chocolate cake mix
1 cup Oreo cookie crumbs (about 10 cookies crushed)
1 - 16 ounce can chocolate frosting
24 gummy worms, each one cut into 2 pieces
1 - 3.4 ounce box instant chocolate fudge pudding
1 1/2 cups milk (whole or 2%)
1 - 8 ounce container Cool Whip, thawed
Instructions
Preheat oven to 350 degrees. Place 24 cupcake liners in muffin tins.
Prepare the cake mix according to box directions. Spoon evenly into the liners and bake 18-20 minutes or until a toothpick inserted in the center comes out with a few crumbs on it.
Place cupcakes on wire rack and let cool completely.
Once the cupcakes are cool, whisk the pudding mix and milk together for 2 minutes. Refrigerate until set.
Fold in 1 cup Cool Whip gently.
Cut a small part out of the top/center of each cupcake. Fill the holes with a scoop of pudding.
Cover with the piece of the cupcake top. Use a flat spatula to frost the top of the cupcakes with the canned frosting. Roll the top of the cupcakes in the Oreo crumbs.
Store cupcakes in a tightly sealed container in the refrigerator.
Right before serving, use a sharp knife to cut two slits in the top of the cupcakes. Push two gummy worm halves into the cut.
Recommended Products
As an Amazon Associate and member of other affiliate programs, I earn from qualifying purchases.
Nutrition Information:
Yield:

24
Serving Size:

1
Amount Per Serving:
Calories:

199
Total Fat:

8g
Saturated Fat:

4g
Trans Fat:

0g
Unsaturated Fat:

4g
Cholesterol:

3mg
Sodium:

85mg
Carbohydrates:

31g
Fiber:

0g
Sugar:

25g
Protein:

1g
Nutrition facts are an estimate and are not guaranteed to be accurate. If you need special diet advice, please see a registered dietician.