Who says you shouldn't play with your food? Have some fun and "dig" into these Dirt Cupcakes. Oreo crumbs and gummy worms make these pudding filled cupcakes a fun treat for kids of all ages.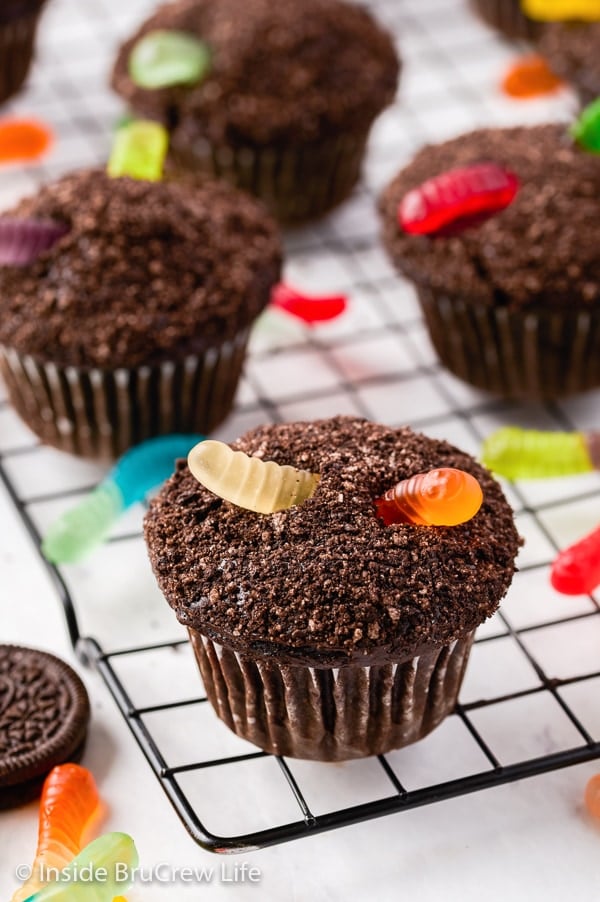 Jump to:
One of my favorite desserts growing up was dirt pudding. This easy pudding dessert was always a staple at church potlucks. You never wanted to be the last one in line because the worms in dirt always disappeared first.
Years ago I needed to make cupcakes for our youngest son to take to school for his birthday, so I decided to recreate that layered pudding dessert inside a chocolate cupcake. The Dirt Cupcakes are topped with Oreo cookie crumbs and gummy worms...making them look like real dirt.
The best part about these cupcakes is the hidden pudding center. It makes them so moist and tasty!
⭐
Why Make These Cupcakes
These pudding filled cupcakes are the perfect treat to make with your kids. They are easy, fun, and so delicious.
Kids of all ages will love helping out in the kitchen when you make these cupcakes. Get them involved by having them add the Oreo dirt and gummy worms.
These cupcakes will be the talk of every party you bring them too. Get ready to share the recipe with all your friends!
📋
Ingredients Needed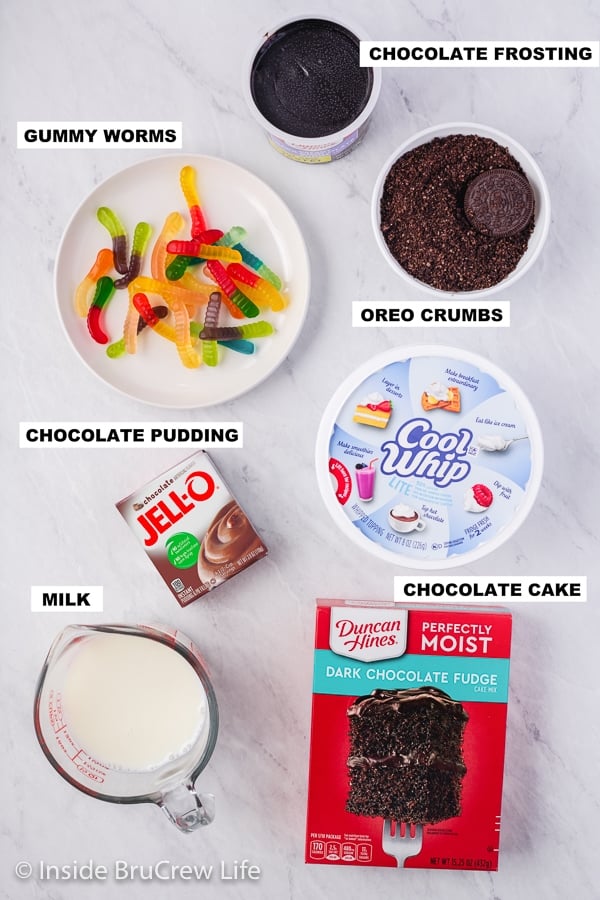 Dirt cupcakes are quite simple to make with just a few ingredients. Plus, they take less than 20 minutes to decorate.
Chocolate Cake Mix - You are making the cupcakes according to the package directions, so you can use your favorite brand.
Chocolate Pudding Mix - Make sure you buy an INSTANT pudding mix.
Milk - You can use any variety of milk to make the pudding. The flavor and creaminess does come from the milk fat though, so 2% or whole is recommended.
Cool Whip - Gives the pudding a fluffy texture. Regular or lite is fine. You can also use 3 cups of this easy homemade whipped cream, if you prefer.
Chocolate Frosting - Using store bought frosting makes this recipe quick and easy. This dark chocolate frosting would also be great on these gummy worm cupcakes.
Gummy Worms - Adds the fun worms and dirt look to this treat.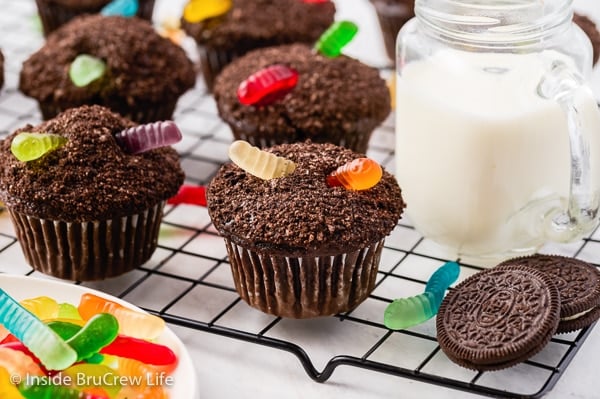 ⏲️
How to make Dirt Cupcakes
You won't believe how easy it is to make these pudding filled dirt cupcakes. They really do come together in just minutes, so they are the perfect treat for any time.
Step 1. Bake the Cupcakes.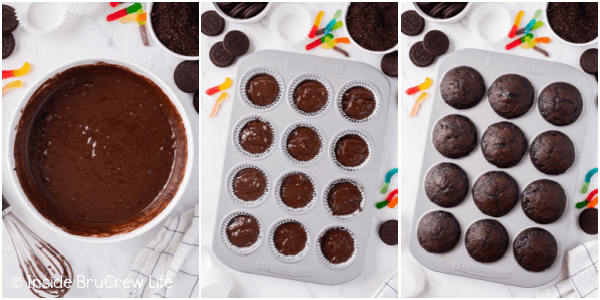 Mix together the chocolate cake mix and fill 24 cupcake liners.
Bake and cool completely.
Step 2. Make the Pudding.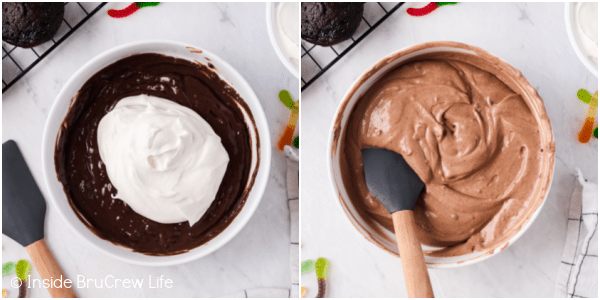 Mix together milk and pudding mix in a large bowl. Let set.
Add Cool Whip and stir gently with a spatula.
Step 3. Fill and Decorate the Cupcakes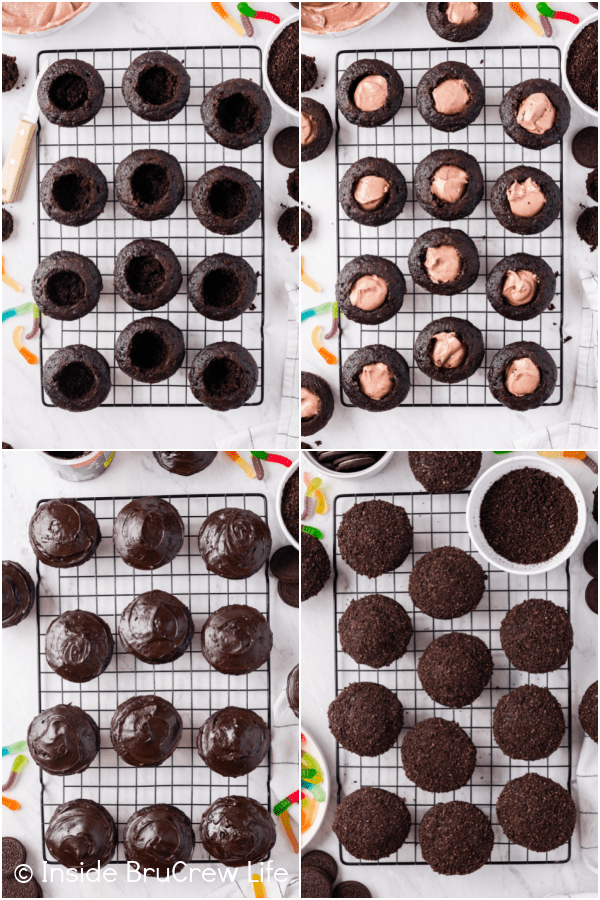 Remove the center of the cupcakes and fill with pudding mixture. Place cupcake piece back on top.
Frost cupcakes with chocolate frosting and roll in crushed Oreo crumbs.
Cut gummy worms in half. Make two holes in the top of the cupcakes and insert worm pieces.
BruCrew Tip: Looking for a fun Halloween version? These cauldron cupcakes are spooky and delicious!
📖 Storage Recommendations
Because of the dairy in these pudding cupcakes they need to be kept in the refrigerator in a sealed container. Cupcakes are best within 48 hours of making and filling them. After that the pudding centers tend to get a little gooier than desired.
The unfrosted and unfilled cupcakes can be kept in a sealed container on the counter for 1-2 days, if you want to make them ahead of time.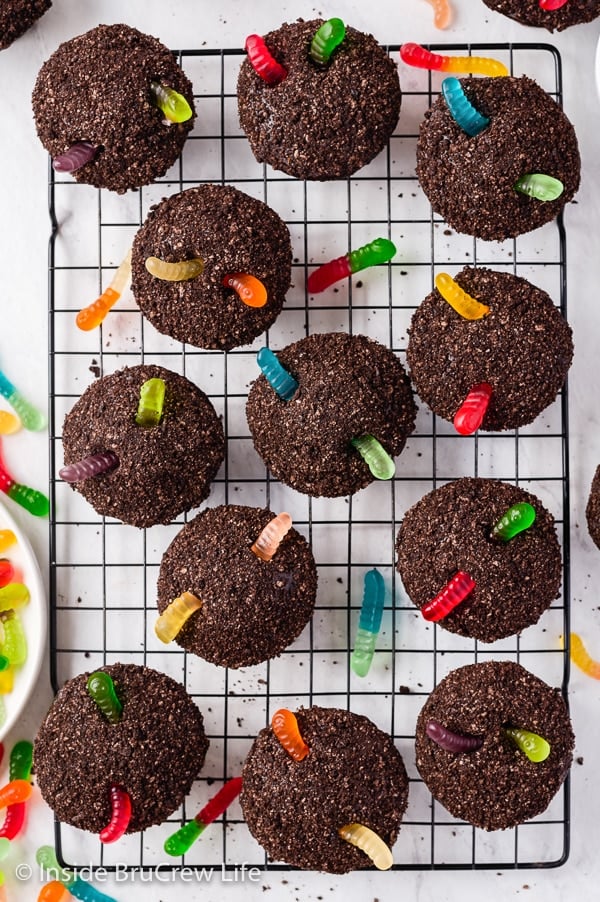 👩🏻‍🍳 Tips and Tricks
Allow the cupcakes to cool completely before filling and frosting them. If they are still warm, the frosting will melt right off the top.
Variations - Don't like chocolate? Use a vanilla or yellow cake mix, vanilla pudding, vanilla frosting, and Golden Oreo crumbs
These cupcakes are the perfect treat for birthday parties or Halloween. Add a spooky spider ring to the top of each cupcake for a fun party favor.
Recipe Yield - The recipe makes 24 pudding filled cupcakes.
💭 Recipe FAQ'S
How do you core a cupcake?
There are few kitchen tools that make removing the center of a cupcake easy. A cupcake corer removes the centers of each cupcake. Insert a sharp paring knife
at 45° and remove the centers. Use a melon baller to scoop out the middle of each cupcake.A small round cookie cutter can be pressed into the center and twisted to remove part of the cupcake.
Do I have to add the pudding center?
Not at all. The pudding center is just a fun and delicious addition to the cupcake. If you want to simplify the cupcake, skip the pudding.
How long do pudding filled cupcakes last?
The filled and assembled cupcakes will keep for 2-3 days, if kept in a sealed container in the refrigerator.
Can pudding cupcakes be made sugar free?
You can definitely turn these into sugar free cupcakes. Substitute the ingredients with a sugar free cake mix, pudding mix, canned frosting, and sugar free Oreos.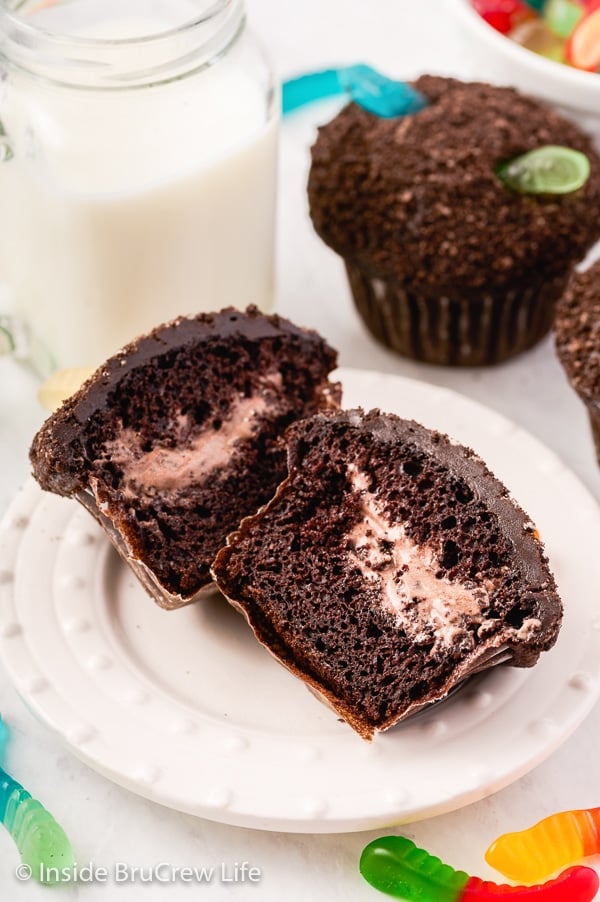 📋
Other Easy Cupcake Recipes
Do you love a recipe you tried from Inside BruCrew Life?
Please leave a 5-star ⭐️ rating and a review in the comments section below.
*The post for Pudding Filled Dirt Cupcakes was first published October 2011. The post and photos were updated and republished October 2021.