A batch of these easy homemade Cinnamon Crumble Donuts and a cup of coffee is a delicious and relaxing way to start off any morning. You'll crave these baked donuts everyday.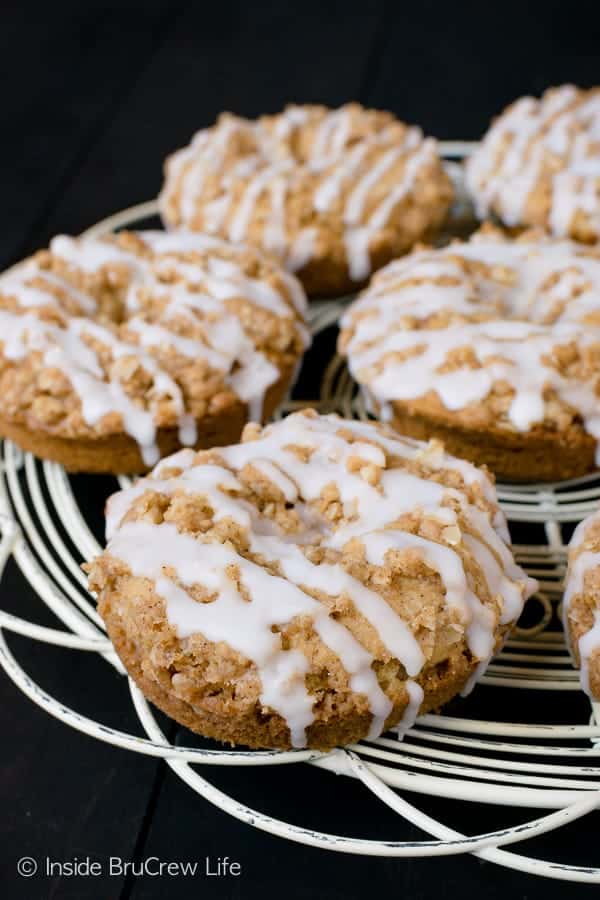 Homemade donuts are an amazing way to start the day. Don't believe me? Try it. These traditional donuts sticks and these chocolate chip pumpkin donuts are great with a cup of your morning coffee.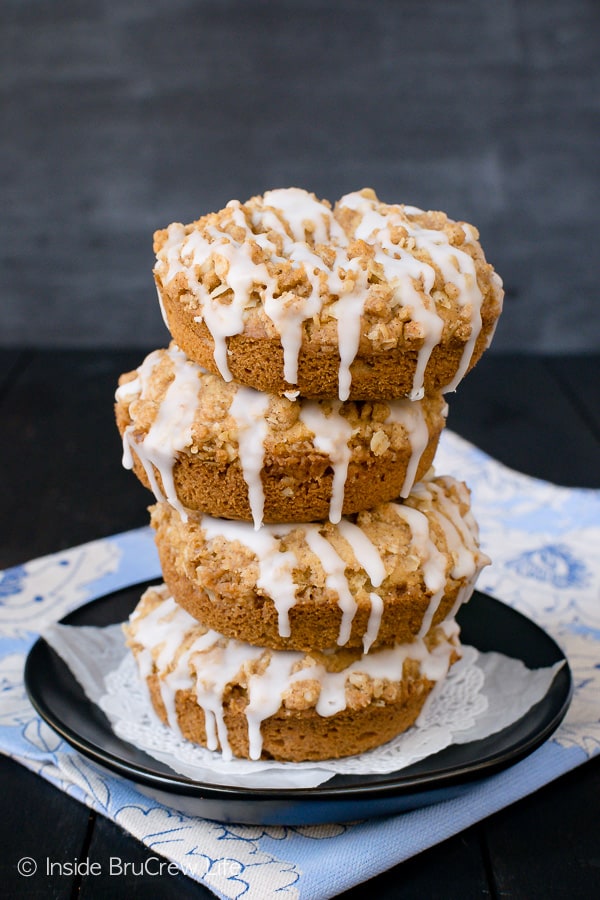 There is something so delicious about a crunchy crumble topping on baked goods. Ever since I added it to the top of this banana split coffee cake, I can't stop putting it on all the things.
This week I wondered how it would work if I added it to the top of a donut. As you can by the pile of cinnamon crumble donuts staring back at you, I'd say it was a success.
I used my basic donut recipe that I use for just about every donut baking adventure. The addition of sour cream helps keep the baked donuts soft and fluffy with a tight crumb texture.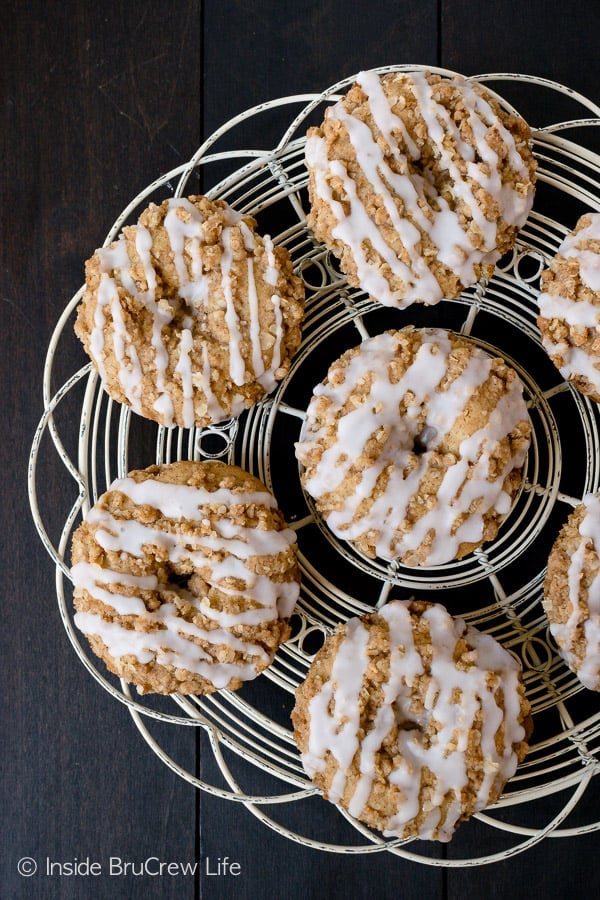 To change up the donuts this time, I added some cinnamon and nutmeg. The addition of nutmeg gives it more of a bakery style taste. And the smell in your kitchen will have you smiling ear to ear as you wait for the donuts to finish baking!
Do not over fill the pan when you make these cinnamon crumble donuts.
Avoid filling your pans too full. You need to fill them halfway with batter and then top them with spoonfuls of the crumble goodness. If you fill them too full, they will push the crumble topping off as they bake. Trust me, you want that crumble to stay on the donuts.
To fill the pans easier, spoon the batter into a large ziplock bag and cut the tip off. It will pipe into the pan pretty easily this way. Of course, using a spoon to fill the pan works just as well.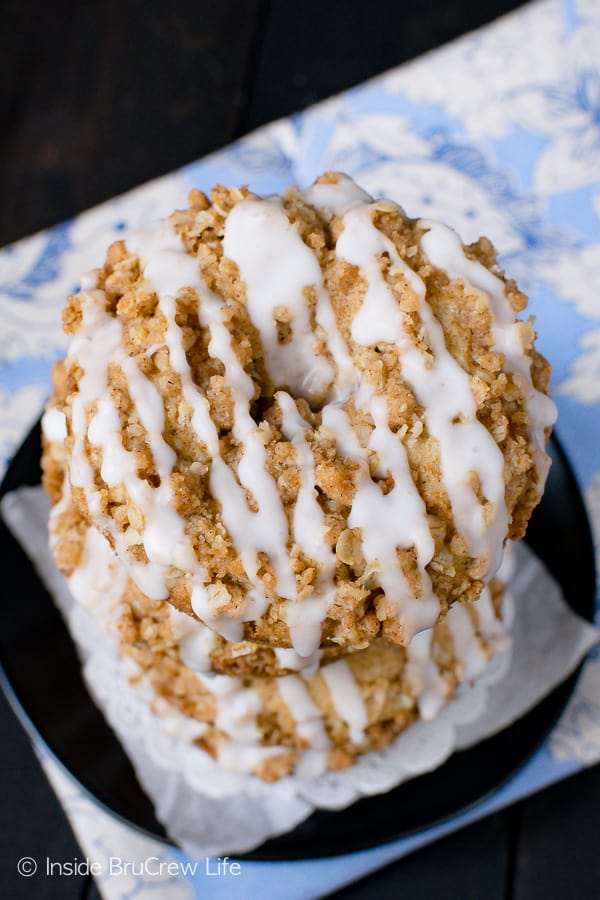 A crunchy topping and glaze makes these Cinnamon Crumble Donuts a delicious breakfast choice.
Make sure to press the crumble topping down into the batter before you place the pan in the oven. Each donut will bake up slightly different because of the crumbs melting and crisping on the donuts.
Adding a drizzle of glaze not only makes the donuts look appealing, it also holds the crumbs on top. Every bite of these spice filled warm homemade donuts has an explosion of flavor and texture making you reach for more.
Make sure you head over to Food Fanatic where I'm a breakfast contributor, so you can print the cinnamon crumble donuts recipe.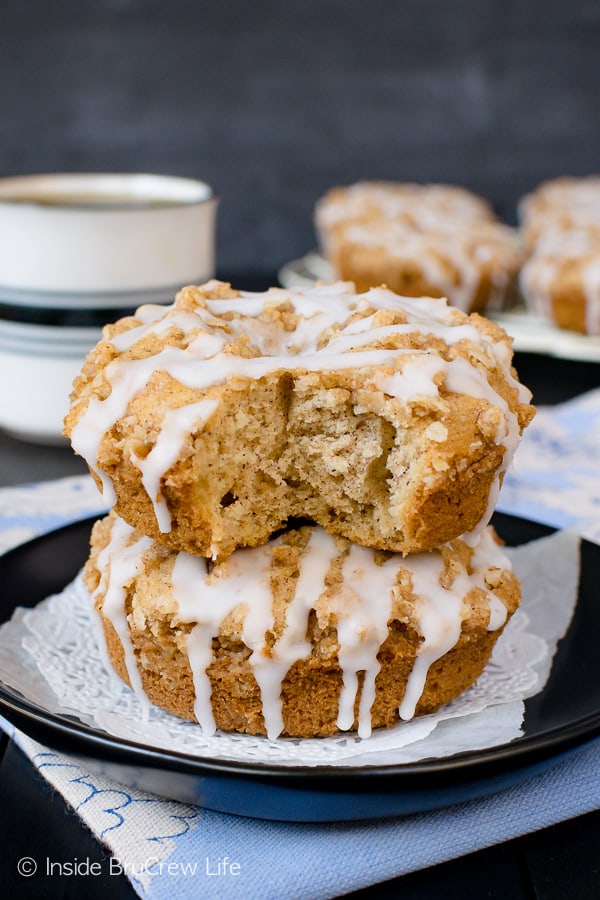 More homemade breakfast recipes you may enjoy: