These glazed Donut Sticks are a delicious treat that combines a soft, cakey texture with a sweet and irresistible vanilla glaze. Making homemade fried donuts that melt in your mouth is actually easier than you think.
*I am partnering with Dixie Crystals to bring you this copycat donut stick recipe.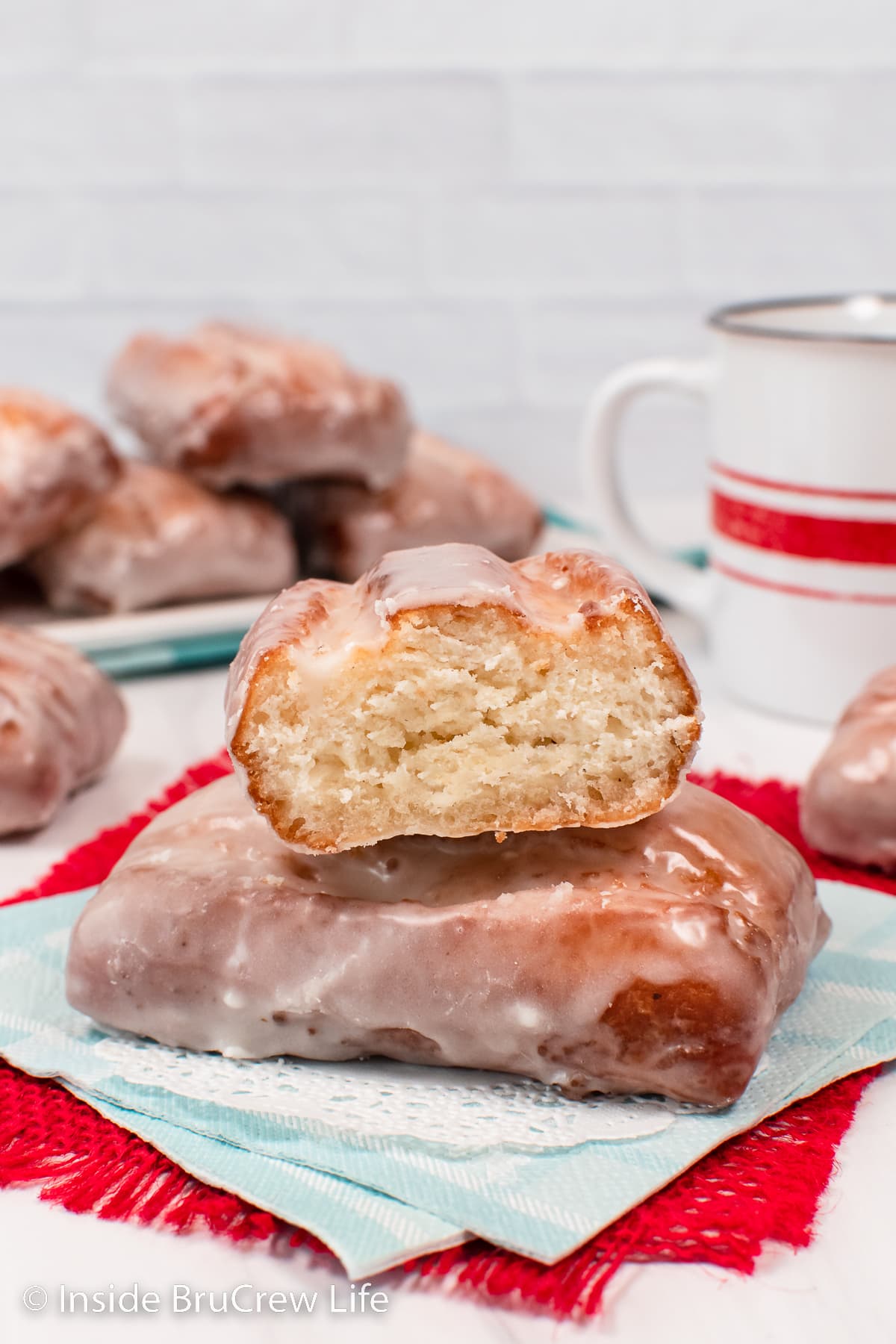 Jump to:
When our kids were little we lived near a small mom & pop donut shop that had the best donuts. To this day I dream about how their cake donuts would melt in your mouth.
Have you had Little Debbie donut sticks? The texture in those glazed stick donuts remind me of those cake donuts. Over the years I have made copycat recipes for their oatmeal cream pies, banana twins, and cherry cordials, so we had to recreate their donut sticks.
If you have never fried donuts, it's time to learn. I'm here to show you that it is a lot easier than you think.
Why Make Homemade Donut Sticks
Easy to make! The soft and fluffy dough comes together in 10 minutes.
Great recipe for beginners. These donuts do not use yeast, so there is no rise time required.
Tastes like an old fashioned donut! They have a crunch and a crackle on the outside and have a soft cake inside.
A sugary glaze that melts in your mouth. Making donut sticks means there is more surface area for the shiny glaze to stick to.
Looking for baked donuts? Try these baked chocolate zucchini donuts, traditional chocolate donuts, or these glazed apple cinnamon donuts.
Main Ingredients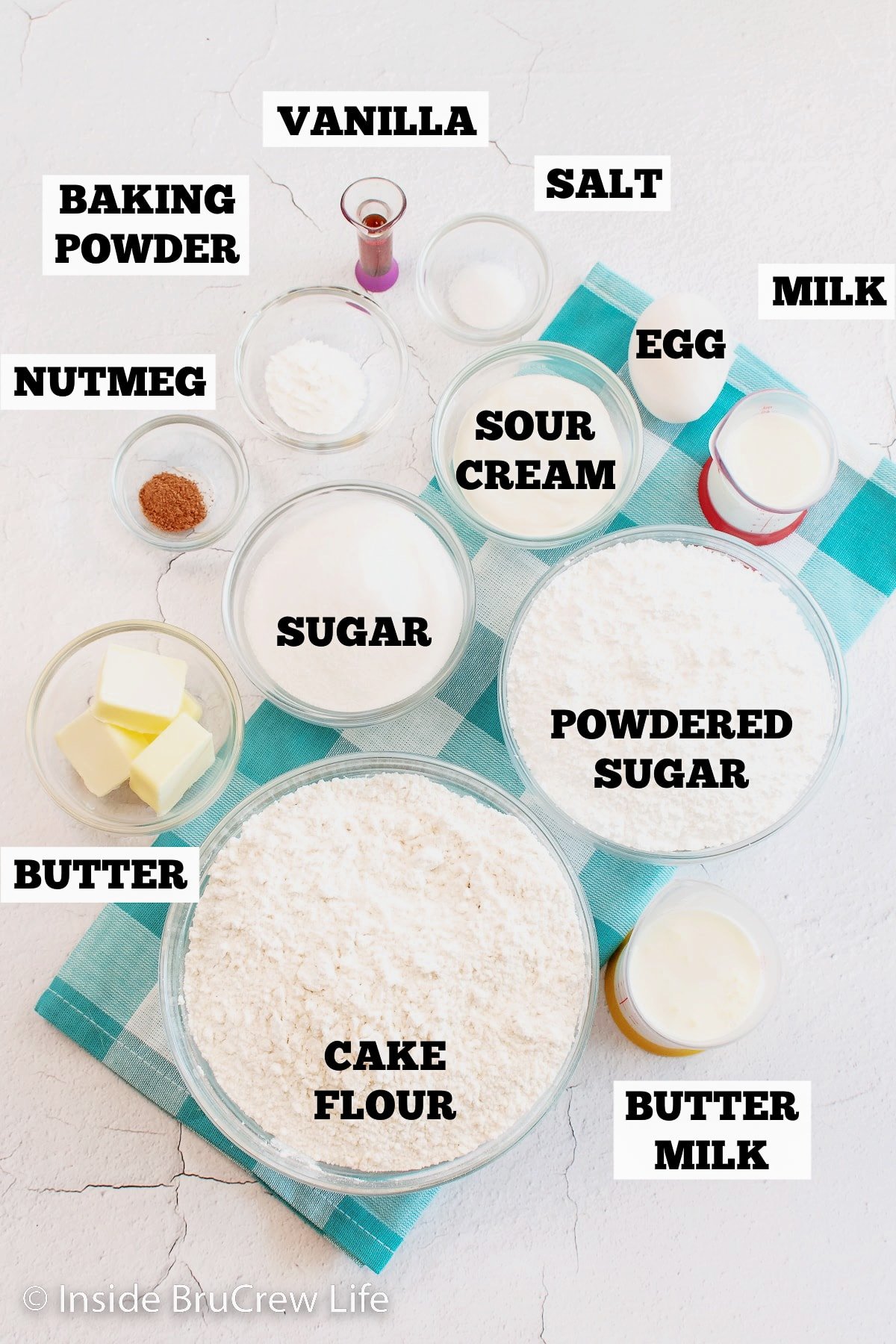 This donut stick recipe is easy to make with simple ingredients that you probably already have in your pantry. They are the perfect treat for breakfast or snack.
Cake Flour - The extra fine powder of this flour gives the donuts a soft, cakey texture.
Baking Powder - Makes the dough rise in the hot oil.
Sugar - You will need granulated sugar to sweeten the dough and powdered sugar to make the glaze.
Butter - Adds flavor and richness.
Egg - Makes the donuts soft and rich.
Sour Cream - Adds moisture to the dough. Use full fat or 2%.
Buttermilk - Gives it a good flavor and tender texture.
How to Make Donut Sticks
Making glazed stick donuts does not have to be intimidating. With our easy recipe and helpful tips, you will be a master donut maker in no time at all.
Make the Dough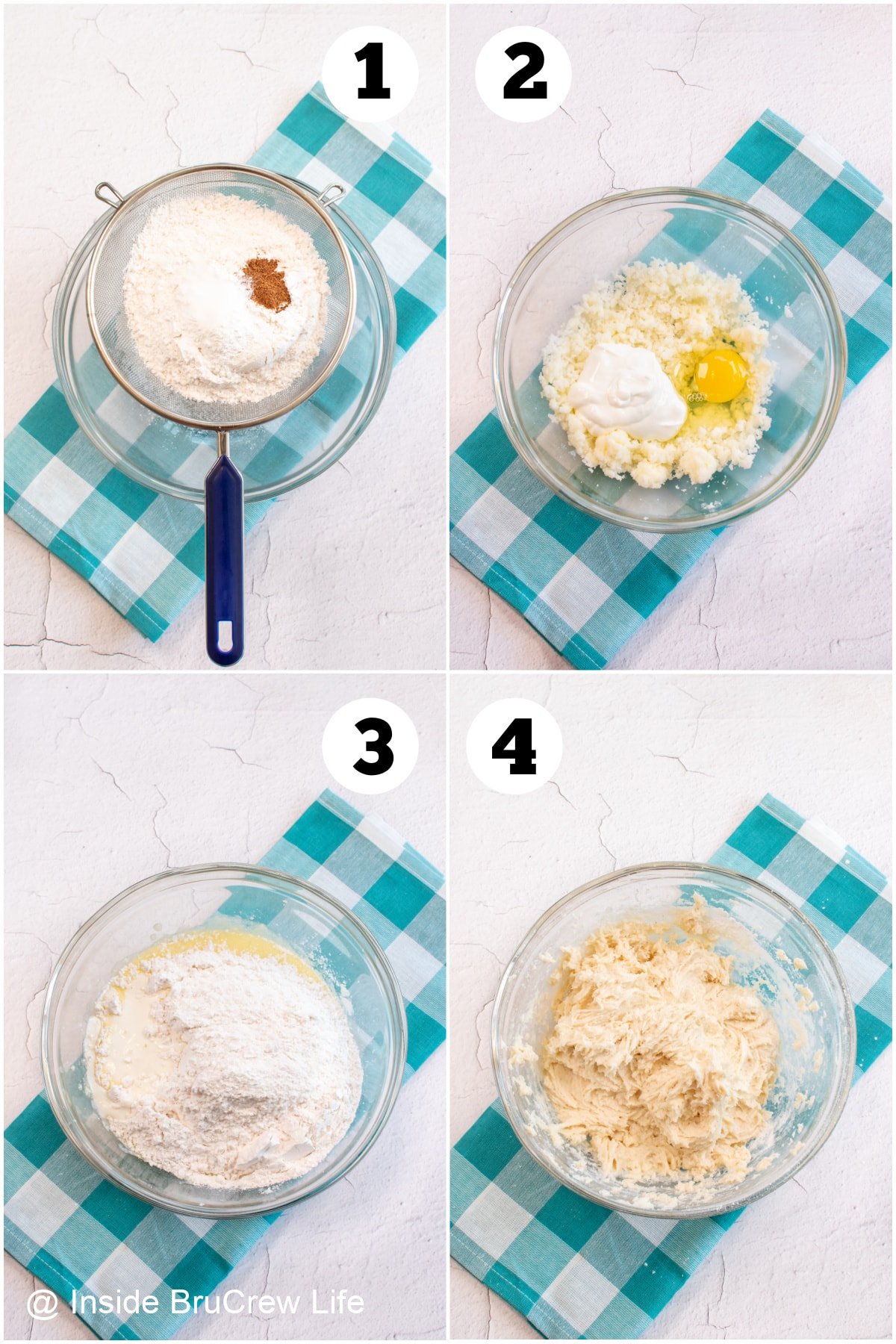 Sift together all the dry ingredients in a bowl. This helps to remove any lumps in the cake flour.
Add the softened butter and sugar to a large bowl and beat until it looks like wet sand. Add the egg and sour cream and mix again.
Slowly mix in the dry ingredients until you have a sticky dough.
Roll & Cut Dough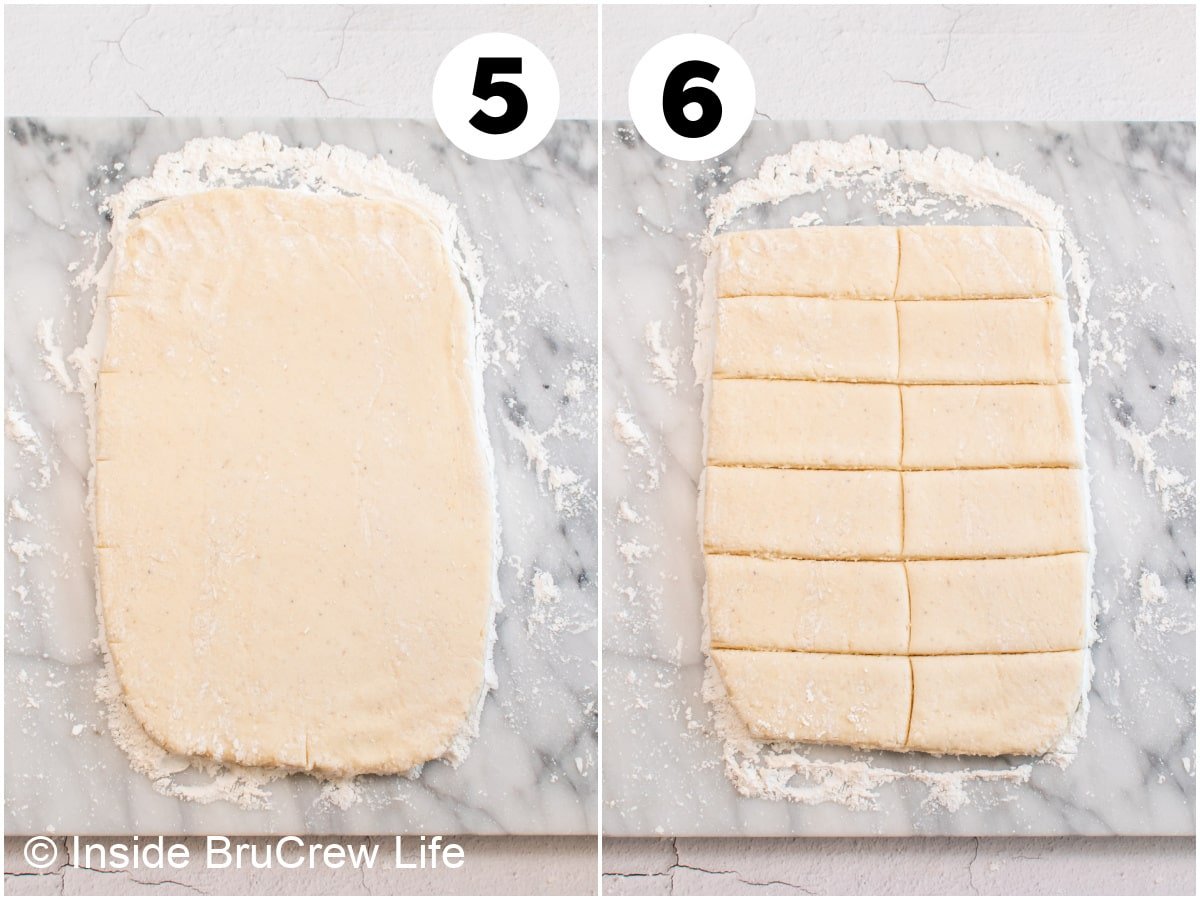 Place the dough on a floured surface (use cake flour) and knead a few times to cover it with flour.
Use a rolling pin to roll the dough to an 8"x12" rectangle. Use a knife or pizza cutter to cut the dough into smaller 2"x4" rectangles.
Separate all of the sticks slightly and gently score the tops of each one.
How to Fry Donuts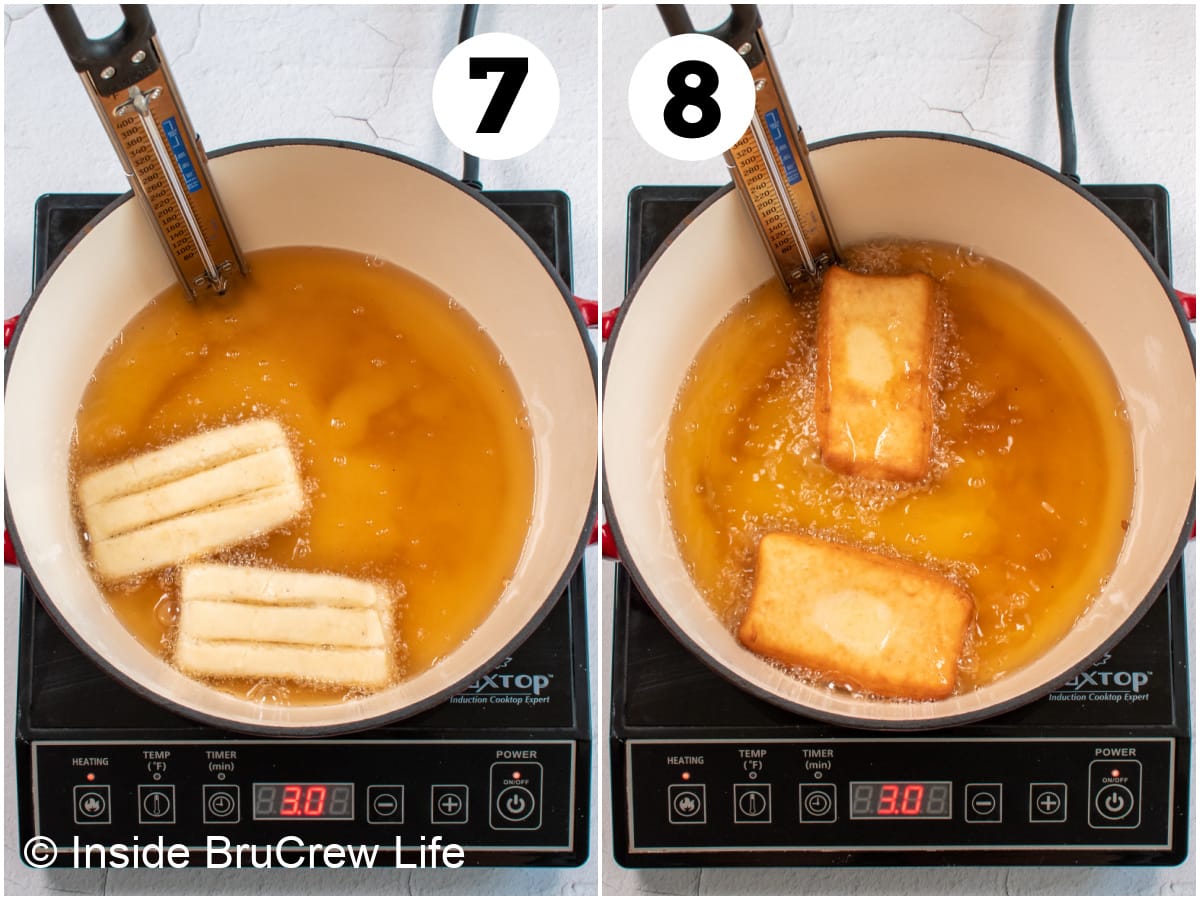 To fry the doughnut sticks, pour 3-4 cups of oil into a deep wide pot. You want it to be a few inches deep. Slowly heat it up until the temperature of the oil is 365°. Use a candy or deep-fry thermometer to watch the temperature closely.
While the oil is heating, whisk together the glaze ingredients. Place paper towels on a sheet pan.
Once the oil reaches 370°, carefully place a few donuts in the hot oil. Be careful not to drop them and splash oil all over. They will sink at first, but should float to the top after a few seconds.
Do not add too many donuts to the pan because the oil temperature does drop as you add the room temperature dough.
Let the doughnuts fry 1 minute, then use a slotted spoon or spider strainer to turn the dough. Let them fry another minute, then remove and place the fried donuts on the paper towels to absorb the excess oil. The donuts are done when they are golden brown on each side.
Heat oil slowly back up to 370° before dropping more donut sticks in.
BruCrew Tip: Watch your oil closely! If it is too hot, it will burn the outside of the donuts. If it is too cool, the dough will absorb too much oil and be greasy.
Glaze the Donuts
Once the cake donuts are cool enough to touch, dip them in the glaze. Use a fork or your fingers to flip them over and coat both sides.
Then gently remove and let the excess drip off into the bowl before placing it on a wire rack to set. Make sure you place a pan or piece of parchment paper under the rack to catch any drips.
BruCrew Tip: Skip the glaze and roll a warm homemade donut in cinnamon sugar or powdered sugar.
How to Serve Donut Sticks
These delicious donut sticks are absolutely perfect on their own. But if you want to take them up a notch, try them with a few of these options.
Syrup - Dunk them in chocolate syrup, caramel sauce, or strawberry sauce.
Coffee - Enjoy one or two with a hot cup of coffee, salted caramel latte, pumpkin cream cold brew, hot chocolate, or your favorite breakfast drink.
Meat - Serve a side of crispy bacon or sausage links with the donuts.
Ice Cream - For a fun ice cream sundae, add a scoop of vanilla ice cream or strawberry ice cream with a drizzle of your favorite sauce.
See the Full Recipe
I am sharing the ingredients and full instructions for these copycat donut sticks on Dixie Crystals site.
Storage Recommendations
To Serve - Glazed donut sticks are best eaten immediately. There is something about a fresh donut that can't be beat. They are still good the next day because the glaze helps seal in the moisture.
To Store - Keep any extra glazed donuts in a loosely sealed container for 1-2 days. I would not recommend freezing them.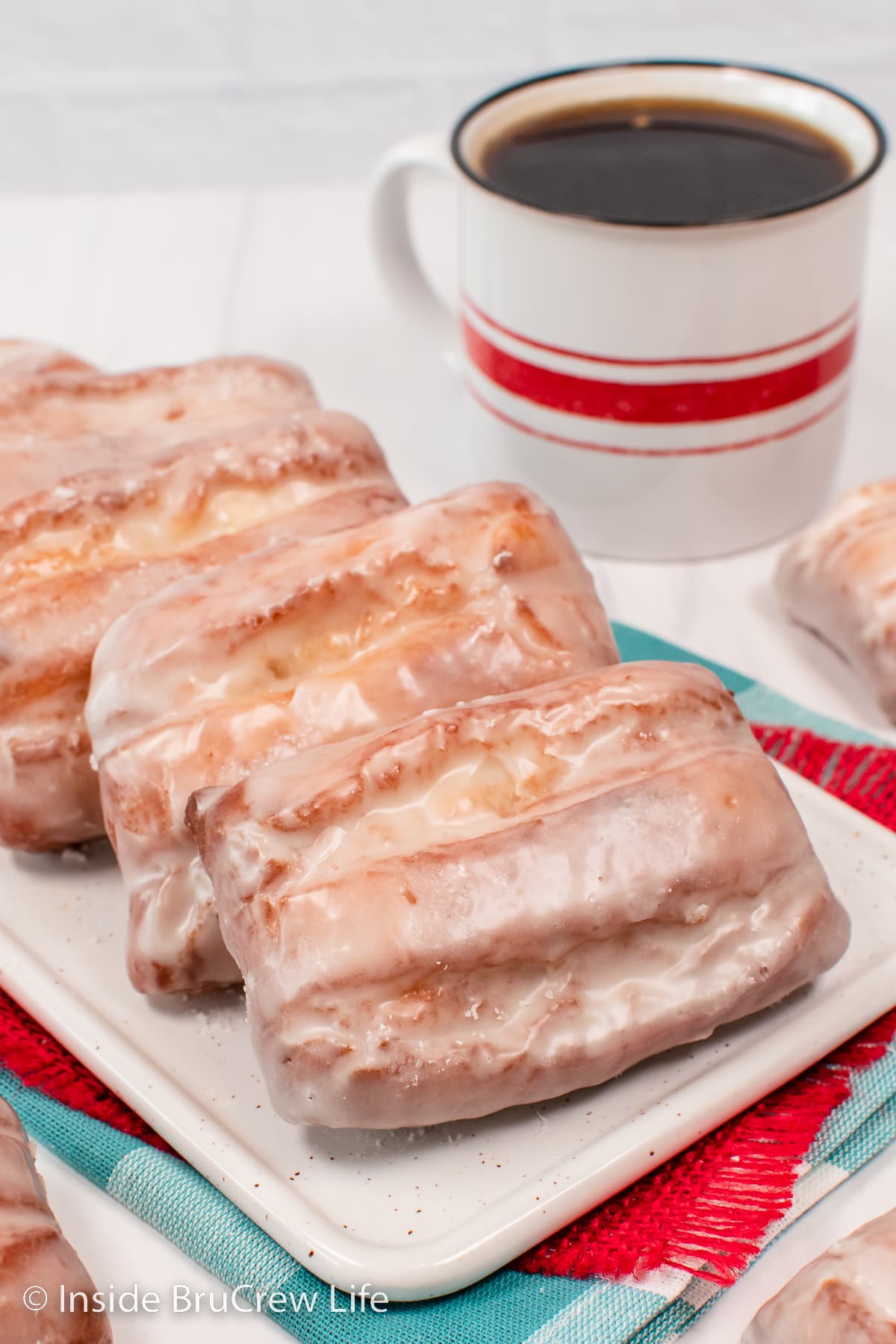 Tips and Tricks
We tested, tasted, and retested over and over again to come up with a fried donut recipe that had a melt-in-your-mouth texture. This tried and true recipe will work for you.
Use cake flour for the best texture. It really does make the inside texture softer.
Use a pizza cutter to easily cut the dough into sticks. You can also cut the dough into circles and holes if you prefer.
Make sure you use a large pot to fry the donuts in. They will puff as they cook and you want to keep any oil splatters inside the pan.
Keep a thermometer in the oil to monitor the oil temperature at all times.
Do NOT pour the used oil down the kitchen drain! Let it cool, then pour into an empty bottle and throw it in the trash.
Add a splash of maple extract (instead of vanilla) in the glaze for an extra special flavor.
If you love Little Debbie snack cakes, try these homemade cosmic brownies or these star crunch.
FAQ
Can I bake these donuts?
This particular donut works best when frying. Baking this dough will give you more of a bagel texture.
Can you make donut sticks in an air fryer?
Yes, they can be made in an air fryer. However, they will not rise as much nor will they get as golden brown. If you do use an air fryer, set it at 375° for 5-6 minutes.
What is the best oil for frying donuts?
The best oil for frying donuts is one with a mild taste, light color, and high smoke point. Vegetable oil and canola oil are both great choices. I do not recommend using olive oil or coconut oil.
What's the difference in cake donuts and yeast doughnuts?
Cake donuts are made with baking powder. This causes the dough to rise when baked or fried. Yeast donuts use yeast to react in the dough and rise.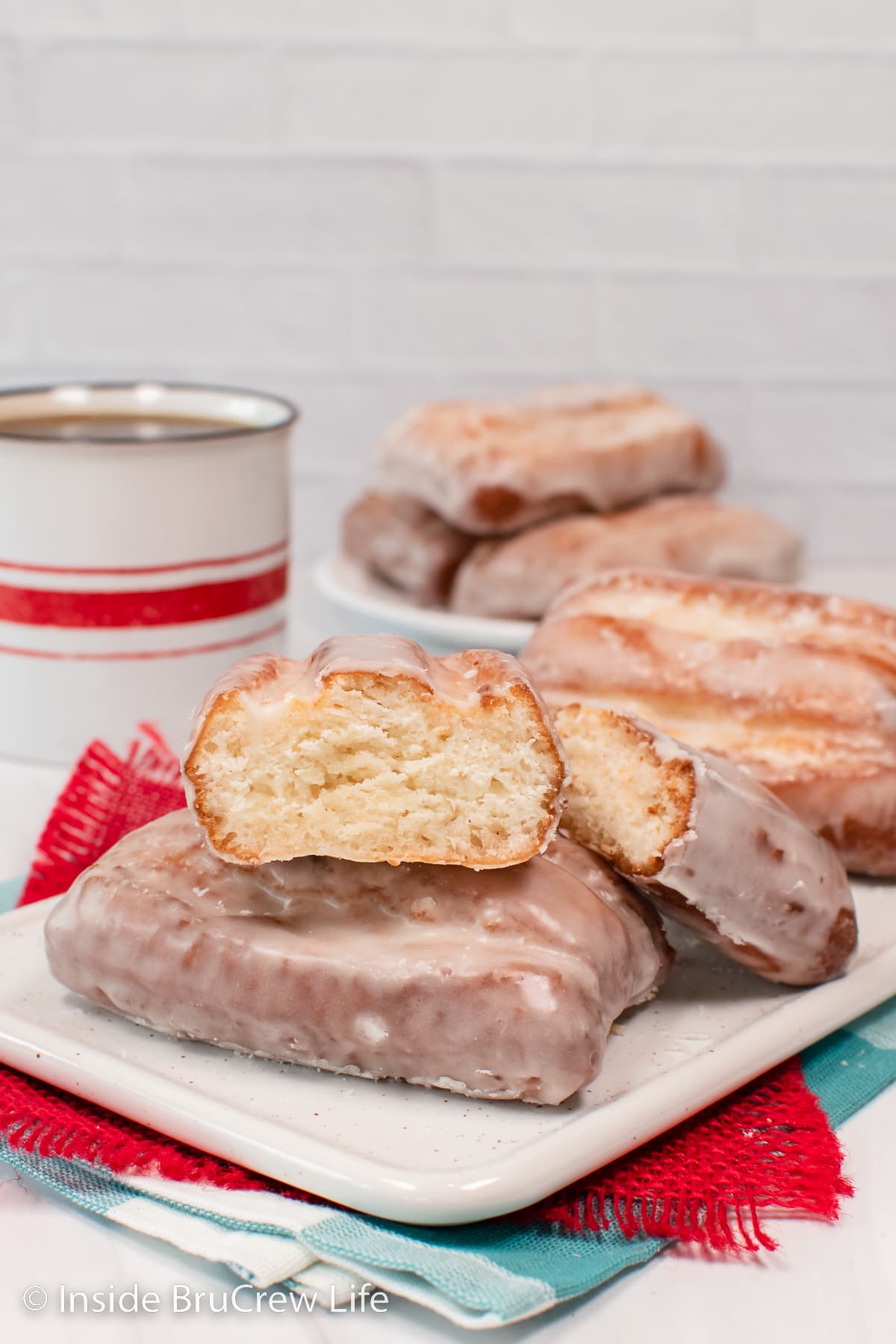 Other Breakfast Recipes
Love a recipe you tried from Inside BruCrew Life?
Please leave a 5 star ⭐️ rating and/or a review in the comments section further below.
*Dixie Crystals sponsored this recipe and post. All opinions expressed are 100% my own. Thank you for letting me share products and brands that we use and love. See my disclosure policy for more information.*