The Best Sour Cream Coffee Cake has a delicious cinnamon sugar swirl, chocolate chips, and a sweet glaze on top. Great breakfast cake to go with your morning coffee.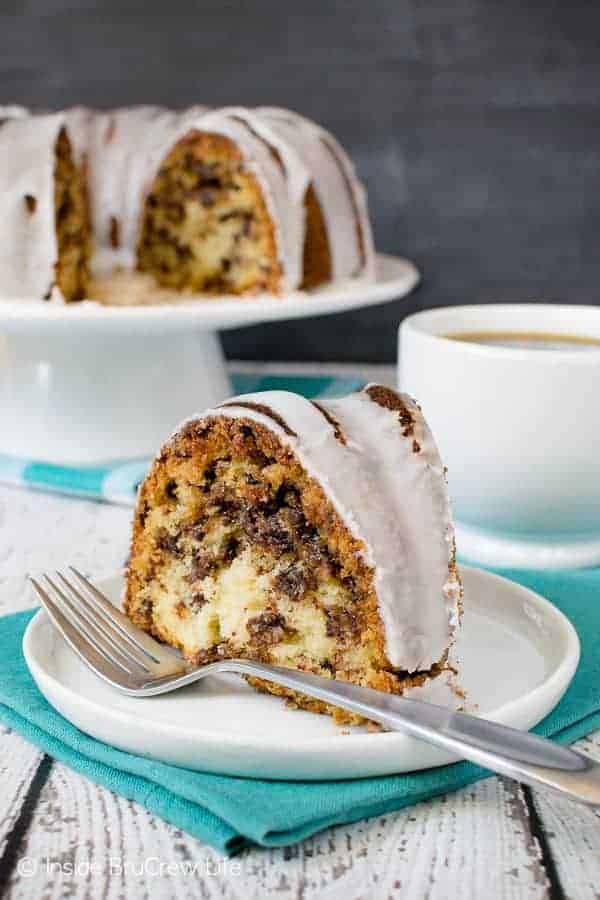 My oldest son chose Home Economics for one of his electives in school when he was in middle school. Talk about making this foodie mom proud.
Although, he did say he chose it because he thought it would be easy. He also wished they would cook more than bake. Say what? I won't be much help to him if they start cooking. But if he can learn to make dinner, that could be a good thing around here.
One day he brought home a recipe that he had to bake as "homework". Man, I wish all homework was this fun to do. I can handle math when it involves measuring cups and sugar. He and I had so much fun working together.
And by working together, I really mean I sat and supervised with a Dark Chocolate Latte while he baked cake.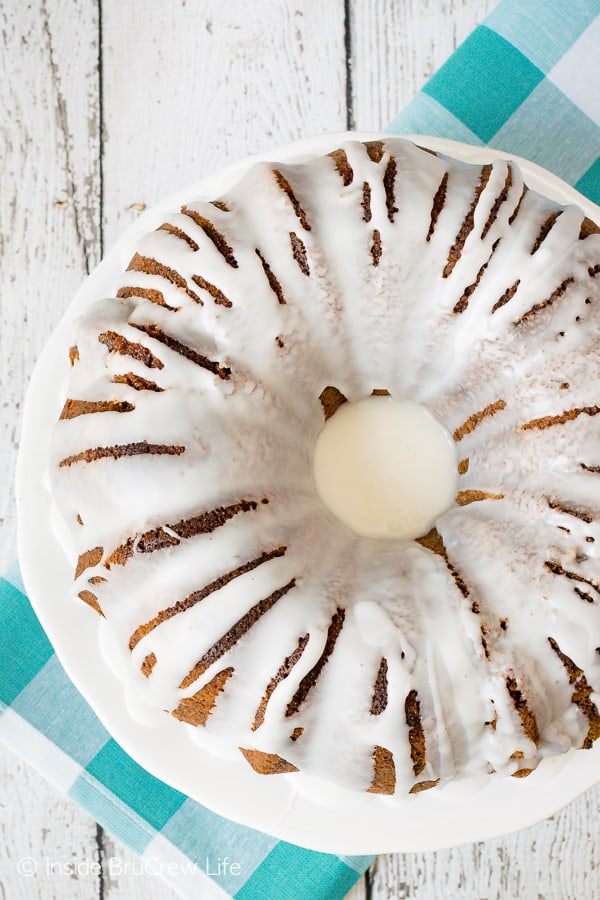 Making the Best Sour Cream Coffee Cake
Measure your ingredients properly to ensure that your easy coffee cake bakes properly.
We talked about the correct way to measure flour because I stopped him from scooping just in time. Did you know that you should never scoop flour out of the container?
How to measure flour correctly:
You need to fluff it first and then gently spoon it into a measuring cup.
Use the flat edge of a knife to level off the cup before adding it to your batter.
When you pack flour into a cup it adds extra flour.
That extra flour can dry out your recipe or make your end product heavy and dense.
I promise, he did all the mixing and all the pouring for this sweet breakfast cake. Well, for the first one that is. I had to make it again and take some new delicious looking pictures.
At first I was trying to be good and only have one bite. But I must have blacked out because all of a sudden my entire piece disappeared.
Hmmm, I'm sensing a pattern because the same thing happened when I made this Banana Caramel Coffee Cake and this Banana Split Coffee Cake.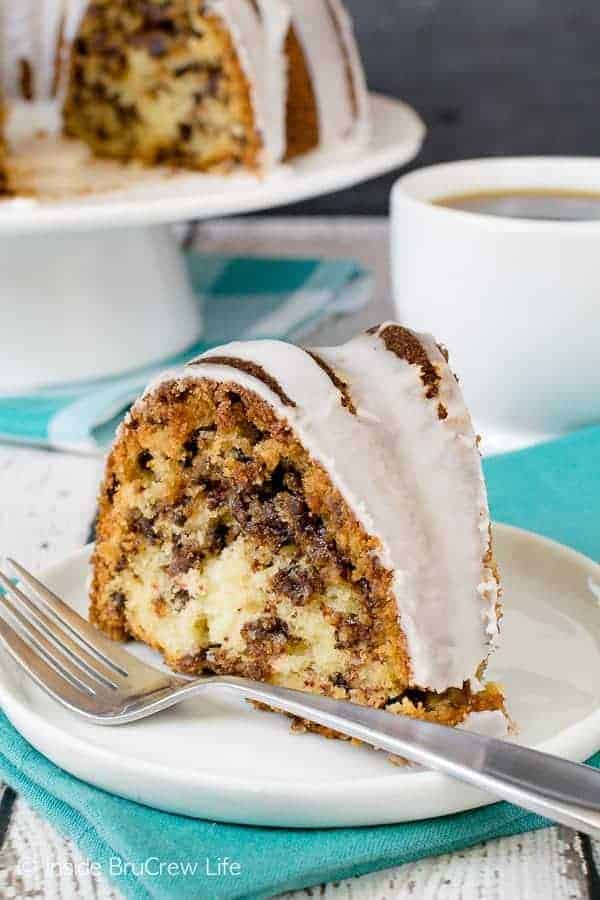 What makes this the Best Coffee Cake?
Sour cream and chocolate makes this glazed coffee cake taste amazing.
Adding sour cream to the batter makes the cake so rich and moist. What I love about this cake is that it is tender and dense without being heavy at all.
In fact, this breakfast cake is pretty light and has a great texture.
Do I have to use sour cream in this cake?
You can substitute Greek yogurt in place of the sour cream, if that's what you have on hand.
A whole milk yogurt will give this coffee cake the closest texture and taste.
If you only have low-fat in your fridge, be sure to strain the extra liquid off first.
Can I add blueberries to the coffee cake?
Yes, you can. Make sure to toss them with some flour so they don't sink to the bottom of the pan as the cake bakes.
Leave the chocolate chips out of the recipe.
Add a little bit of lemon zest and juice to the glaze.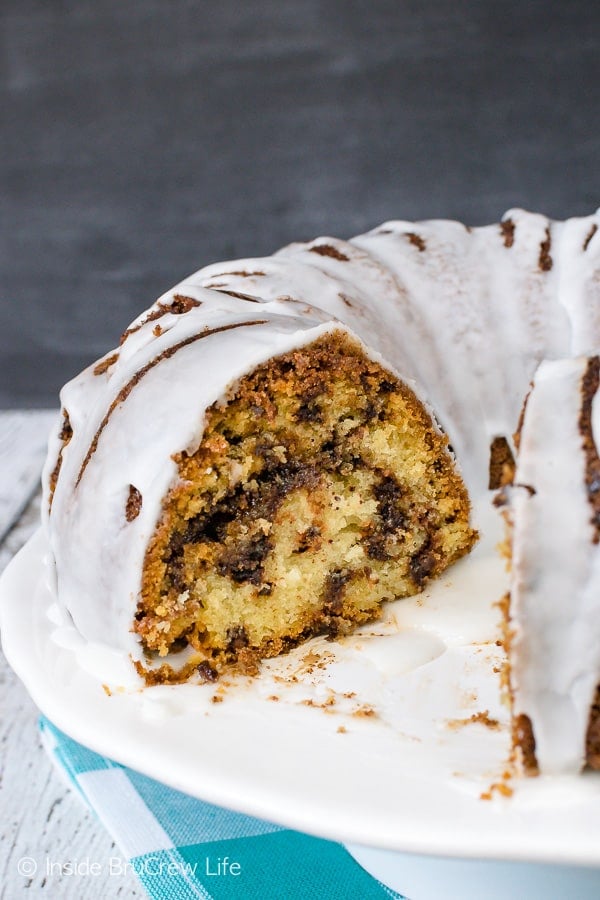 Making the Best Sour Cream Coffee Cake:
Another reason this cake is the best is the three layers of cinnamon sugar that adds pockets of goodness to every bite of this Sour Cream Coffee Cake.
Chocolate also makes anything better. You could stir the chocolate chips into the crumble mixture if you want too, but I added them to the cake batter instead. Either way works and this sour cream coffee cake with chocolate chips will taste delicious with your morning cup of coffee.
Add some of the sugar mixture to the bottom of the pan, in the middle of the batter, and on top of the batter.
Pro Tip: Make sure to flip the cake out of the pan within 10 minutes of it coming out of the oven, so the sugar doesn't caramelize on the bottom of the pan. I had a small chunk stick to the pan.
If a little bit does stick, just use a knife to loosen it and press it back into the cake. The glaze on top will hide any mishaps.

More easy breakfast recipes you may enjoy: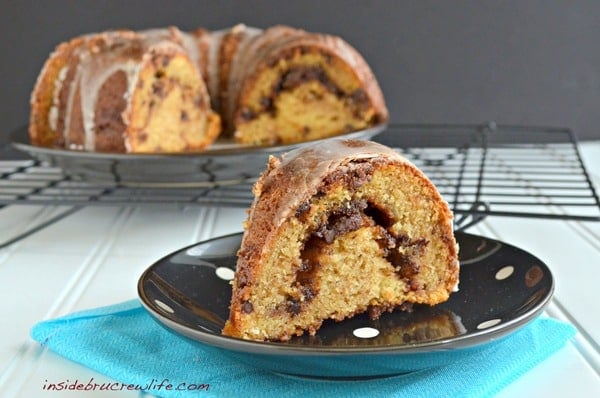 (original photos from November 2012) (photos updated March 2018)
*The post and recipe for the Best Sour Cream Coffee Cake was first published on November 6, 2012. It has been updated and republished on May 23, 2019.