Swirls of strawberry pie filling, creamy cheesecake, and fudgy brownies makes these Strawberry Cheesecake Brownies the best kind of dessert.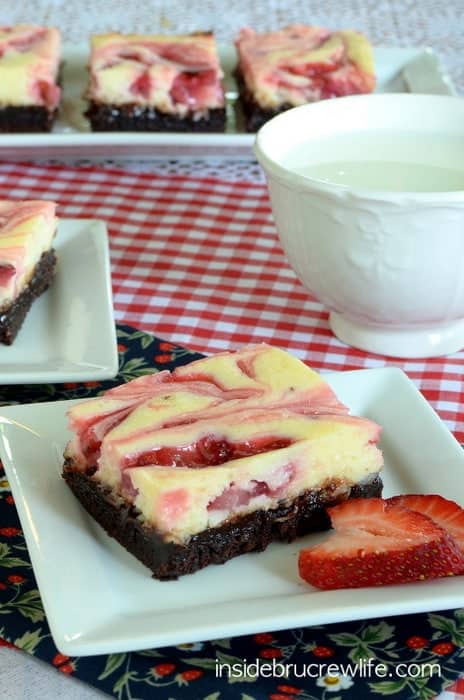 Do you have a go-to dessert? You know the one that you make when time is short.
The one you make when you are craving something sweet. Or the one you make when life is rough.
The one that you think of first. The dessert that makes you the absolute happiest.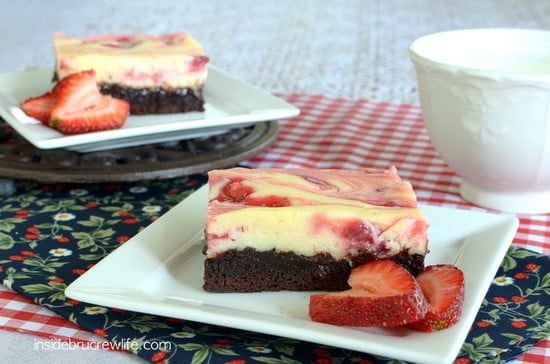 I have a serious weakness for Homemade Brownies.
Chocolate brownies, mint brownies, blonde brownies, fudge brownies, cheesecake brownies, candy brownies...you get the point, right?
I love me some brownies!!! A pan of fudgy brownies doesn't stand a chance around me.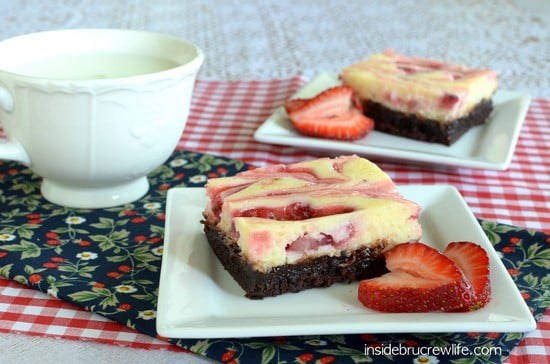 So, of course when I was asked to make dessert for a lunch yesterday, my mind went right to cheesecake brownies.
I make them all the time, but usually with a different twist each time. It's true...I rarely make the same dessert twice.
Well, except for these Ultimate Reese's Cheesecake Brownies. Those do happen a little more often because they are stinking amazing!
With summer right around the corner, (I still can't believe the kids only have 2 weeks left of school) I wanted a summery blend that said beach.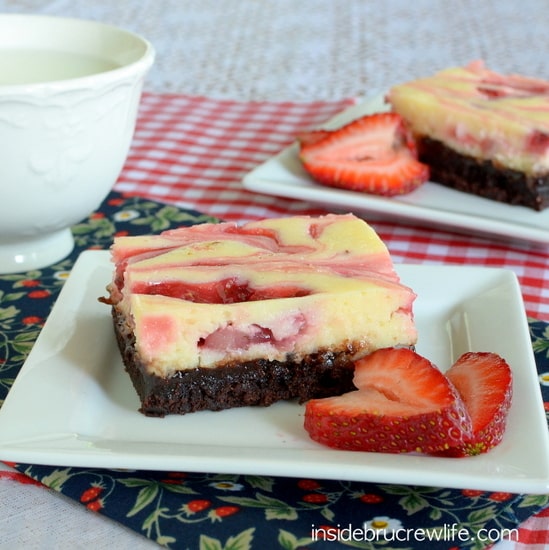 Strawberry says summer. Coconut says beach.
Adding coconut to any dessert is my quick fix for "summer like" desserts. For some reason that ingredient just screams "tropics" to me.
Just try closing your eyes when eating a coconut dessert, and you can almost imagine yourself on the beach with the wind blowing through your hair.
I ate so many coconut desserts last summer in St. Maarten...it's definitely a tropical favorite.
Chocolate, rum, strawberry, and coconut make these Strawberry Cheesecake Brownies definitely a beach worthy dessert.
Or Monday worthy... or anytime of the week worthy!
Go ahead and make a pan of these strawberry cheesecake brownies, and sit outside with a huge slice and some coffee. You will hear waves crashing in no time!
If you like this cheesecake brownies recipe, you will love these versions:
CLICK HERE TO SAVE THIS RECIPE FOR LATER!