Swirls of strawberry pie filling, creamy cheesecake, and fudgy brownies makes these Strawberry Cheesecake Brownies the best kind of dessert.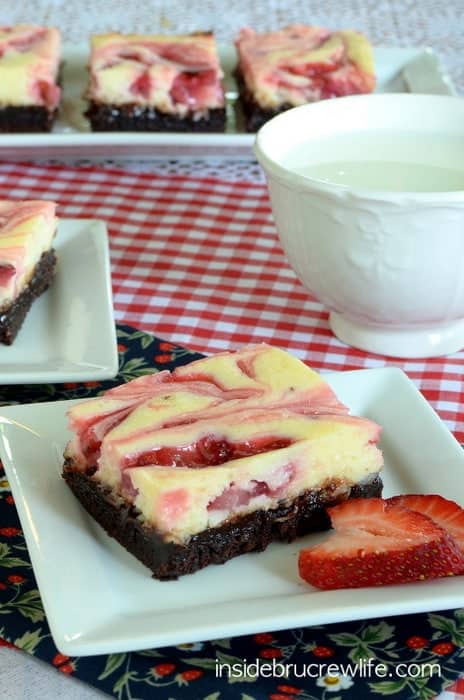 Do you have a go-to dessert? You know the one that you make when time is short.
The one you make when you are craving something sweet. Or the one you make when life is rough.
The one that you think of first. The dessert that makes you the absolute happiest.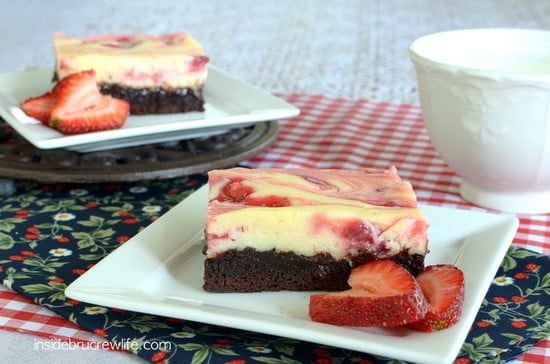 I have a serious weakness for Homemade Brownies.
Chocolate brownies, mint brownies, blonde brownies, fudge brownies, cheesecake brownies, candy brownies…you get the point, right?
I love me some brownies!!! A pan of fudgy brownies doesn't stand a chance around me.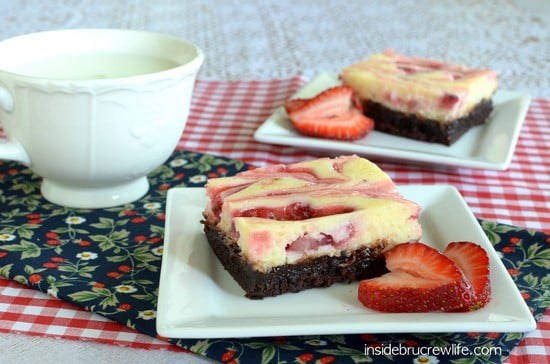 So, of course when I was asked to make dessert for a lunch yesterday, my mind went right to cheesecake brownies.
I make them all the time, but usually with a different twist each time. It's true…I rarely make the same dessert twice.
Well, except for these Ultimate Reese's Cheesecake Brownies. Those do happen a little more often because they are stinking amazing!
With summer right around the corner, (I still can't believe the kids only have 2 weeks left of school) I wanted a summery blend that said beach.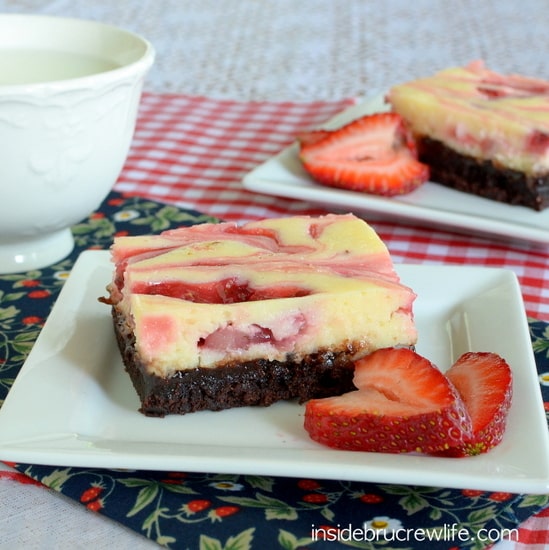 Strawberry says summer. Coconut says beach.
Adding coconut to any dessert is my quick fix for "summer like" desserts. For some reason that ingredient just screams "tropics" to me.
Just try closing your eyes when eating a coconut dessert, and you can almost imagine yourself on the beach with the wind blowing through your hair.
I ate so many coconut desserts last summer in St. Maarten…it's definitely a tropical favorite.
Chocolate, rum, strawberry, and coconut make these Strawberry Cheesecake Brownies definitely a beach worthy dessert.
Or Monday worthy… or anytime of the week worthy!
Go ahead and make a pan of these strawberry cheesecake brownies, and sit outside with a huge slice and some coffee. You will hear waves crashing in no time!
If you like this cheesecake brownies recipe, you will love these versions:
CLICK HERE TO SAVE THIS RECIPE FOR LATER!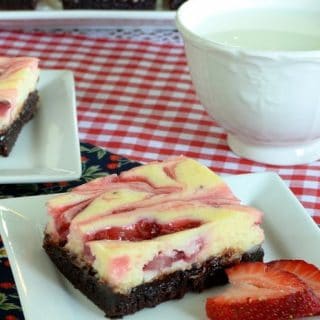 Strawberry Cheesecake Brownies
Total Time:
1 hour
15 minutes
Swirls of strawberry pie filling, creamy cheesecake, and fudgy brownies makes these Strawberry Cheesecake Brownies the best kind of dessert.
Ingredients
For the Strawberry Pie Filling
2 cups strawberries, coarsely diced
3 3/4 cups water, divided
1/2 cup granulated sugar
2 Tablespoons cornstarch
2 teaspoons corn syrup
1 Tablespoon lemon juice
3 Tablespoons dry strawberry Jell-O mix
For the Brownies and Cheesecake
1 (9x13) brownie mix and ingredients from back of box
1 (8 ounce) package cream cheese, softened
2 Tablespoons butter, softened
1 (14 ounce) can sweetened condensed milk
1 Tablespoon cornstarch
1 large egg
1 teaspoon rum extract
1 cup shredded coconut (optional)
Instructions
Preheat the oven to 350 degrees. Spray a 9x13 pan with nonstick baking spray.
Bring 3 cups water to boil in a saucepan. Add diced strawberries and bring back to a boil. Boil for 1 minute. Drain and set aside.
In another saucepan mix sugar and cornstarch. Stir in syrup, lemon juice, and 3/4 cup water. Bring to a boil on high. Reduce heat to medium and simmer for 6 minutes stirring constantly. Remove from heat and stir in Jello until combined, then add cooked strawberries. Set aside.
Prepare brownie mix according to the back of the package. Pour into a greased 9×13 pan. Set aside.
In a mixing bowl, cream the butter, cream cheese, and cornstarch. Stir in the milk, egg and extract and beat until creamy. Stir in coconut by hand if you like. Gently spoon on top of the brownie layer and spread out.
Drop spoonfuls of the pie filling on top of the cheesecake and swirl with a knife. Bake for 45-50 minutes. Cool on a wire rack. Refrigerate at least 4 hours before serving.
Notes
If you don't like coconut, feel free to leave out the shredded coconut.
Nutrition Information:
Yield:

24
Serving Size:

1
Amount Per Serving:
Calories:

68
Total Fat:

3g
Saturated Fat:

2g
Trans Fat:

0g
Unsaturated Fat:

1g
Cholesterol:

12mg
Sodium:

33mg
Carbohydrates:

10g
Fiber:

1g
Sugar:

8g
Protein:

1g
Nutrition facts are an estimate and are not guaranteed to be accurate. If you need special diet advice, please see a registered dietician.