These Fish Taco Bowls are an easy way to give taco Tuesday a healthy twist that everyone will love. Cauliflower rice, coleslaw, and baked fish makes these easy fish tacos a healthy and delicious meal that everyone will enjoy.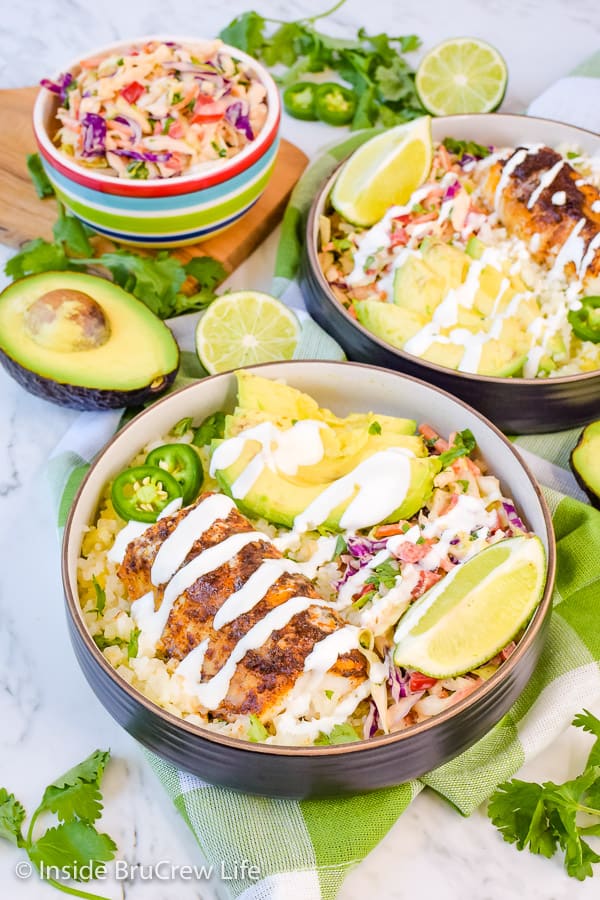 Fish Taco Bowls
Say hello to my current healthy dinner obsession. I seriously could eat one of these fish taco bowls every night of the week and not be mad about it.
Hands down every single time we go out for tacos I order fish tacos or shrimp tacos. When we lived in Texas, our favorite place to go on date night was Torchy's Tacos.
I would always order two shrimp tacos and one green chili pork taco. Every. Single. Time. Oh, and chips and queso because that's a given if you are eating tacos.
A few weeks ago I had this giant itch to make fish tacos but without the taco shell. Summer is headed at us at an alarming pace, so I've been really trying to make more easy low carb meals.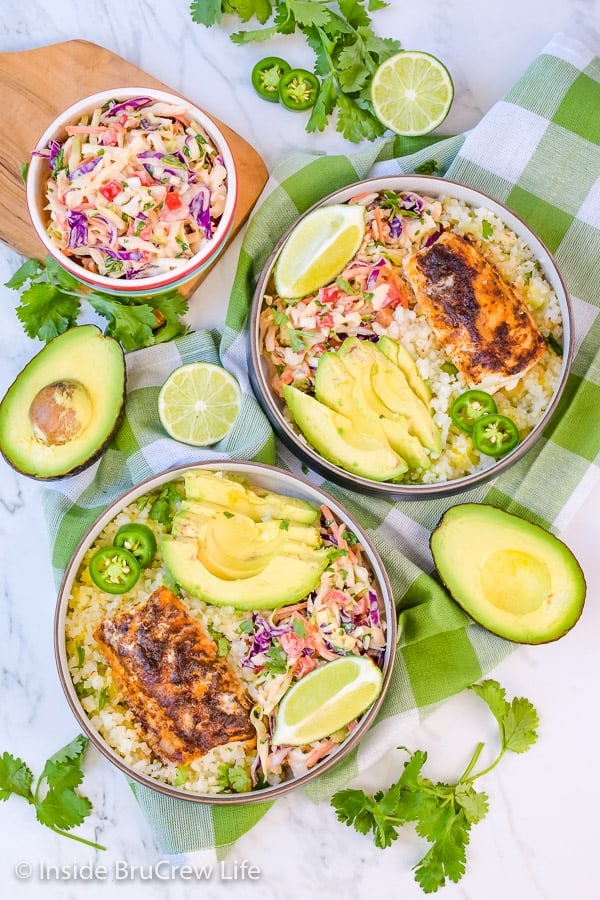 Now I could have wrapped everything up in a low carb tortilla and called it a night, but I decided taco bowls sounded more appetizing. We still had leftovers from dinner the night before, and I knew that would be delicious in these taco bowls.
You guys! This bowl is so stinking incredible!!! Like forget the fork and just start shoveling it in good!!! We didn't even miss the taco shells!
In fact, our daughter keeps asking when I'm going to make these fish taco bowls again because she really enjoyed them. I call it a dinner win when the teenager gives it two thumbs up and wants more.
Ingredients Needed
Making fish taco bowls with cauliflower rice makes this a delicious low carb meal. Eating low carb looks different for everyone though. Adjust the recipe based on the amount of carbs you need for your eating plan.
Fish - Frozen cod fillets are easy to bake.
Taco Seasoning - homemade or store bought
Lime Cauliflower Rice - The pineapple can be left out to make it a little more low carb friendly.
Spicy Coleslaw recipe - this homemade coleslaw has a great sweet and spicy flavor from honey and sriracha
Avocados - sliced or diced
Fish Taco Sauce - a creamy sour cream based sauce that gets drizzled on top for flavor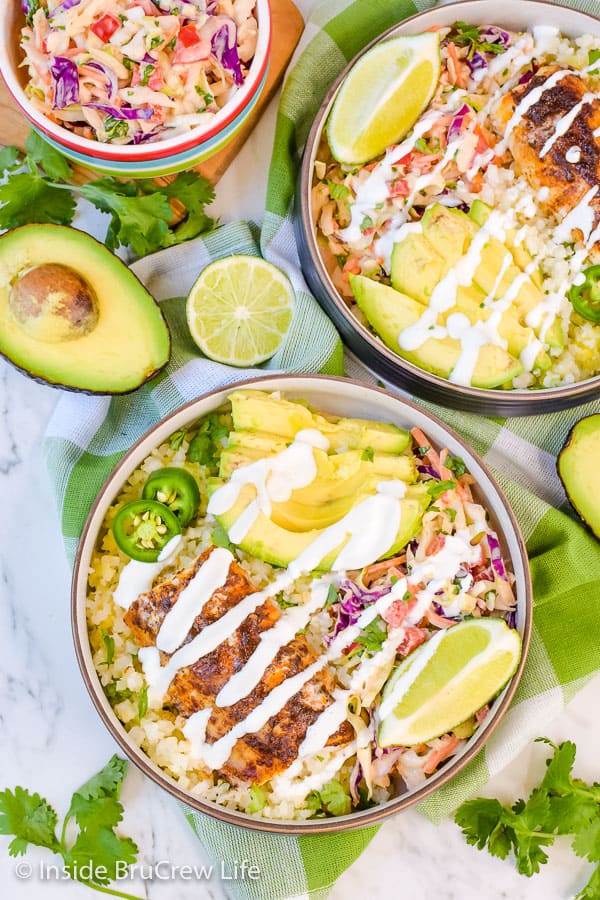 How to make Low Carb Fish Taco Bowls
These taco bowls are healthy, easy to assemble, and packed full of flavor. Such a quick and easy dinner idea!
Make coleslaw and cauliflower rice. If you make these ahead of time, warm the cauliflower rice in the microwave before filling the bowls.
Season & Bake Fish. Mix together melted butter and taco seasoning and brush it on 4 frozen cod fillets. Bake for 25 minutes.
Make Fish Taco Sauce. While the frozen fish fillets are baking, whisk together the fish taco sauce in a small bowl. Refrigerate when finished.
Assemble the Bowl. Fill your bowls with a ½ cup spicy slaw and ½ cup cauliflower rice. Top with baked fish fillets and avocado slices, and drizzle with sauce. Sprinkle with a little bit of cilantro before serving.
Recipe Tips
Don't like fish? Use a different protein such as chicken, pork, or shrimp.
Watch the fish as it is baking. Over baked fish can be very dry.
Use chopped romaine lettuce in place of the coleslaw to minimize carbs and calories.
Add more spice by sprinkling the fish with a spicier seasoning such as cayenne pepper. You can also sprinkle the fish taco bowls with crushed red pepper flakes before eating.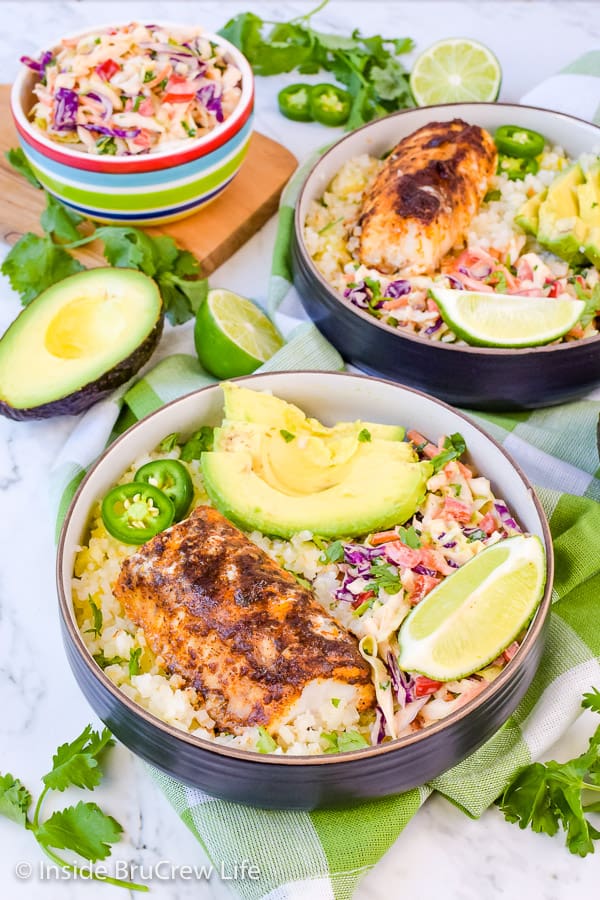 Frequently Asked Questions
What kind of sauce do you put on fish tacos?
This easy fish taco sauce can be made in less than 5 minutes and tastes great on fish tacos or fish taco bowls. You will need the following ingredients to make the lime crema.
Sour Cream - gives it a creamy texture. Greek yogurt can also be used.
Lime Juice - adds a good flavor
Honey - adds just a touch of sweetness
Milk - thins it out, so you can drizzle it easier
Salt - balances all the flavors.
Whisk everything together and refrigerate until needed.
What is the best fish for tacos?
A white mild saltwater fish is a great choice for tacos. Some of the best ones are cod, snapper, mahi mahi, flounder, or halibut.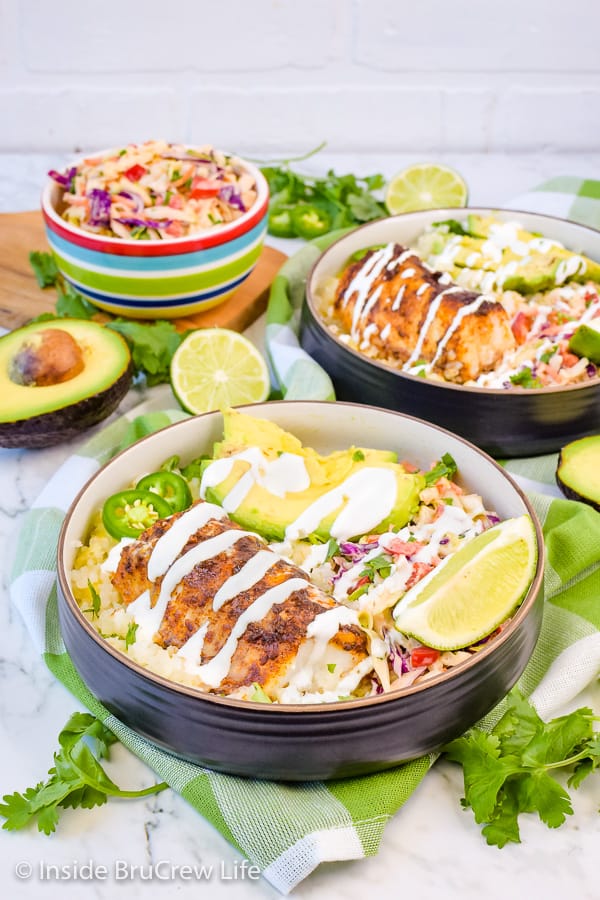 More Taco Recipes