Are high summer like temperatures keeping you from baking dessert lately? This Coconut Eclair Cake is just what you need to keep cool during this heat wave.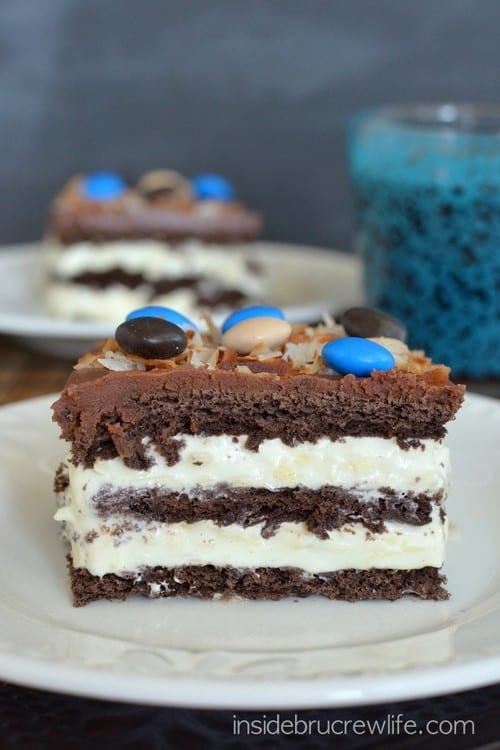 Last week we had some beautiful fall days here. It was slightly cool and just perfect for wearing jeans and sweatshirts with flip flops. Do you do that too? It is my favorite.
But that was just a teaser because this week has been crazy hot. Like hotter than the entire summer vacation! They even cancelled my son's soccer game because the heat index was supposed to reach 112*. That's crazy hot!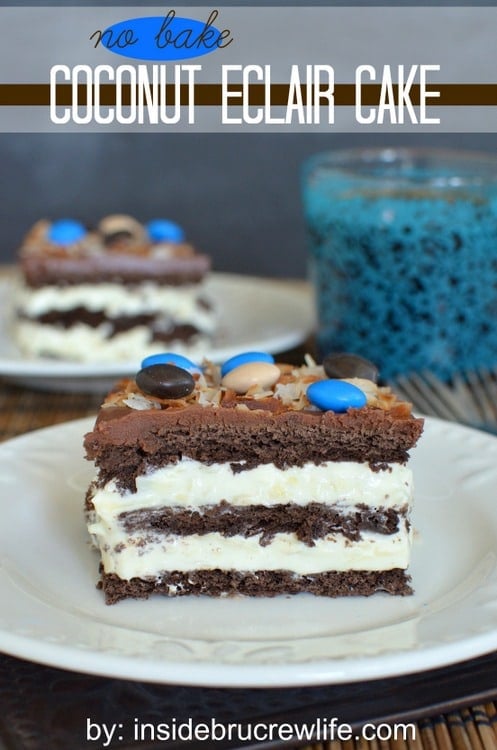 Now usually that kind of heat doesn't bother me because I stay inside with my air conditioner cranked down low. But our air conditioner was even having a hard time keeping the house cooler in these temperatures.

The other day I was at Meijer when I saw some new fun frostings from Betty Crocker. Of course the Almond Joy one caught my eye right away. I do love me some coconut. Have you seen these Coconut Muffin Tops or this Coconut Oreo Fudge? Putting coconut into everything is kind of my life long dream. Unfortunately not everyone in my house agrees with this mission, so I limit my coconut baking to here and there.
But the minute I laid eyes on this Almond Joy frosting, I knew it had to come home and live with me. Into the cart it went, and we went happily home to bake in the heat.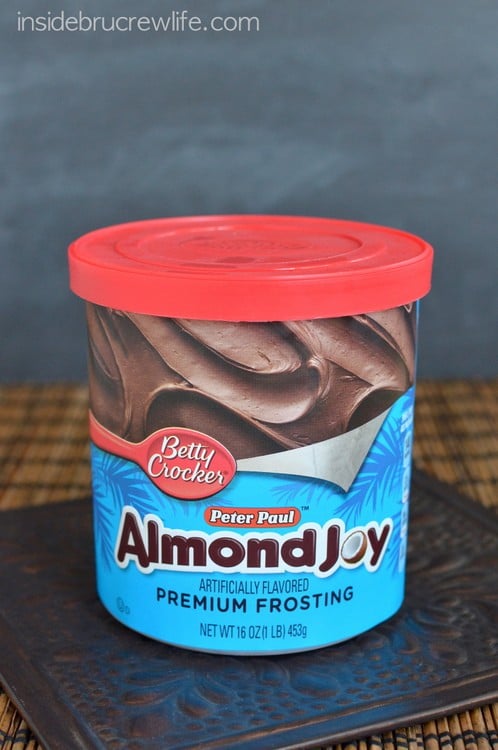 Now obviously since the air conditioner was struggling to keep up with the heat outside, I didn't want to add heat inside too.
Eclair cakes are one of my favorite desserts at a church potluck. We were just at our church picnic a few weeks ago, and sure enough there was a big pan of eclair cake on the dessert table. It never lasts very long either. Starting with dessert is always a priority at meals like that...I like to call that research in action 🙂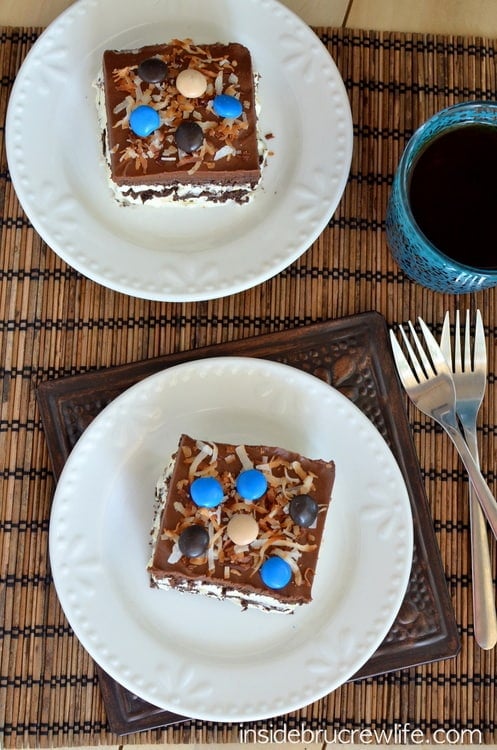 This Coconut Eclair Cake is just like the original version, but with a few fun tropical twists that I happen to love. Actually I am loving on it a little too much lately. There is still a few pieces in my fridge...someone please come take them away before I dig in again.
Let's talk about the differences in this cake for just a minute. The most obvious one is that I used chocolate graham crackers instead of the original. I love love love chocolate graham crackers. You will need to keep an eye out for them. Here in my town our Kroger carries them. There will be some leftovers, but I hear they are delicious dipped in peanut butter 😉
I used Jello instant coconut cream pudding with more shredded coconut stirred in. Like I said I love all things coconut! Then the entire thing got covered in the Almond Joy frosting...which is heaven. It is good with those leftover crackers too...or so I hear.
The finishing touch to this cake is serving it with toasted coconut and Almond Joy pieces...just adds a little bit more color and fun to an easy cake.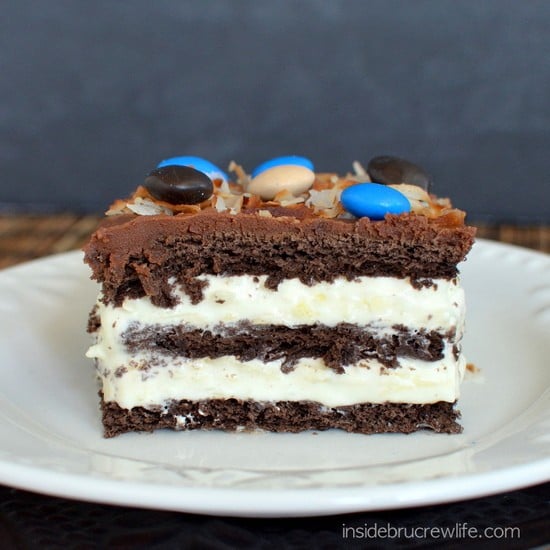 If you can't find me later today, it's because I'm hiding from the heat with a huge piece of cold Coconut Eclair Cake to keep me company. I guess I am ok with summer holding on, as long as I can keep enjoying no bake desserts!

Other coconut treats that I can never get enough of:
Coconut Cream Cheesecake Brownies