A bowl of this easy Vanilla Bean Blackberry Fudge Swirl Ice Cream is just what your summer needs. Creamy vanilla bean ice cream with swirls of homemade blackberry preserves and hot fudge will have you going back for another scoop.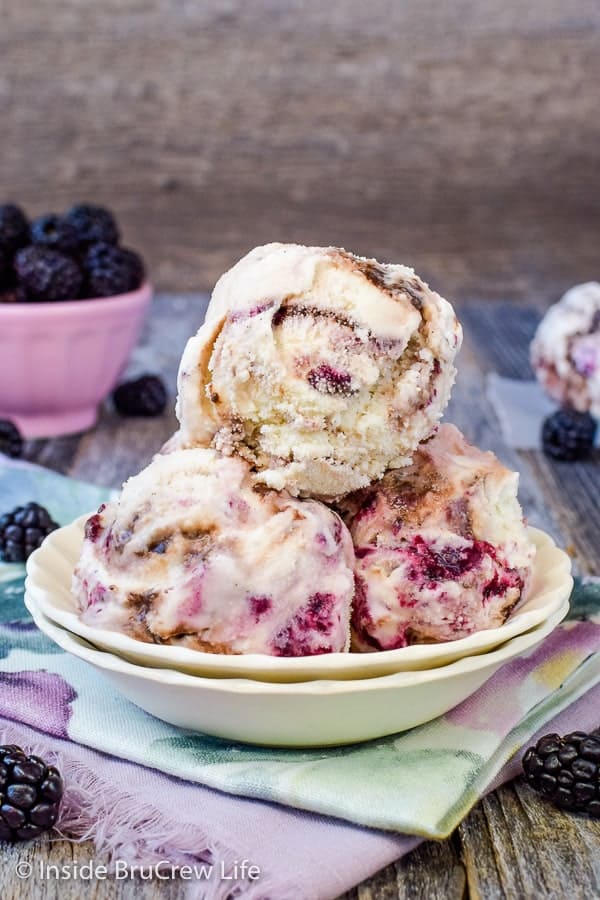 So here's the thing. Growing up I actually did not like ice cream. Yes, I know. What kid doesn't like ice cream? Hand raised because I was that kid. It's not that I didn't like the sweet goodness of ice cream. What I couldn't get past was the chill it always gave me when I would bite into it.
Of course, that didn't really stop me from eating ice cream. Most of the time I waited for it to melt slightly, then I would stir it until I had a milkshake in a bowl or what I liked to call ice cream soup.
One of the things we always did in the summer was to pull out an old fashioned ice cream maker and rock salt and make homemade ice cream to enjoy on hot nights after swimming.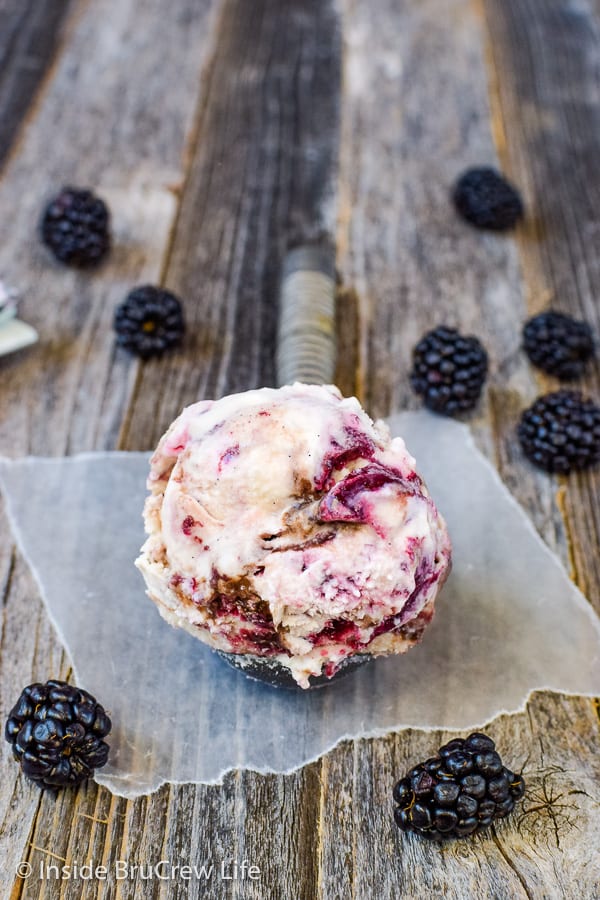 Homemade Ice Cream
There is just something so delicious about a bowl of freshly churned ice cream. I think one of the reasons I love homemade ice cream right out of the ice cream maker is because it isn't as cold as ice cream in the freezer. At least that's what I'm telling myself.
Fast forward years and years and now we are making our own homemade ice cream for our kids. Now don't get me wrong, we still buy plenty of quarts of ice cream from the store because...well because it's just the easy way out.
Now most of the time when I make ice cream, I usually whip up a batch of no churn ice cream.
Because I usually forget to freeze the ice cream container ahead of time.
Because you only need two ingredients and a few minutes to have a batch ready to freeze.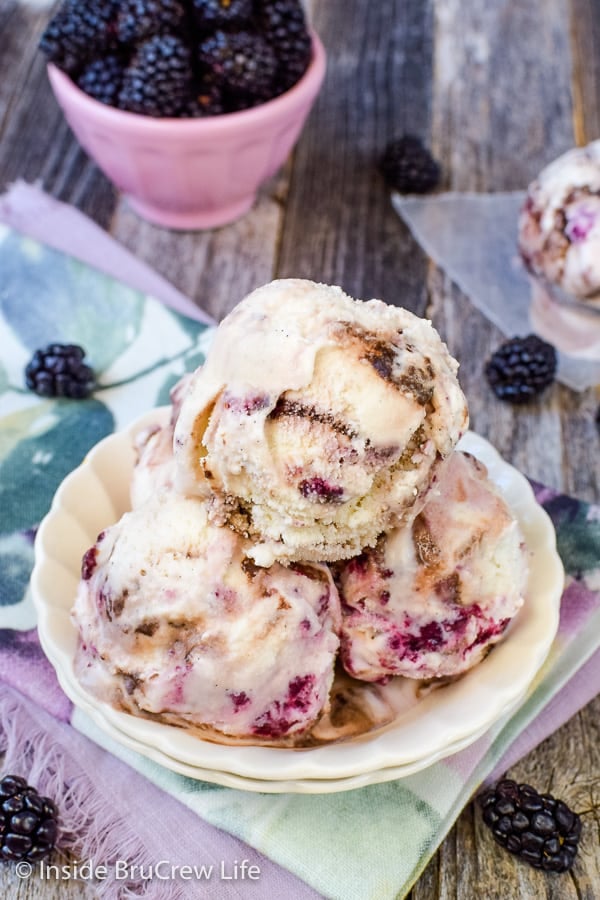 But a few weeks ago...ok, ok, so it was really a few months ago. I had some whole milk leftover from a project and a container of heavy whipping cream that needed used up before it expired, so I pulled out our ice cream maker.
Most homemade ice cream recipes start with a custard base that you have to cook or a mixture that you heat up to dissolve the sugar, but I really wanted to simplify it.
For this easy homemade ice cream recipe all I did was whisk together the ingredients, pour it into the frozen container, and pressed the button to start churning. Easy, peasy, lemon squeezy!
Once it was done, I swirled some Homemade Seedless Blackberry Preserves and some hot fudge into it before freezing it.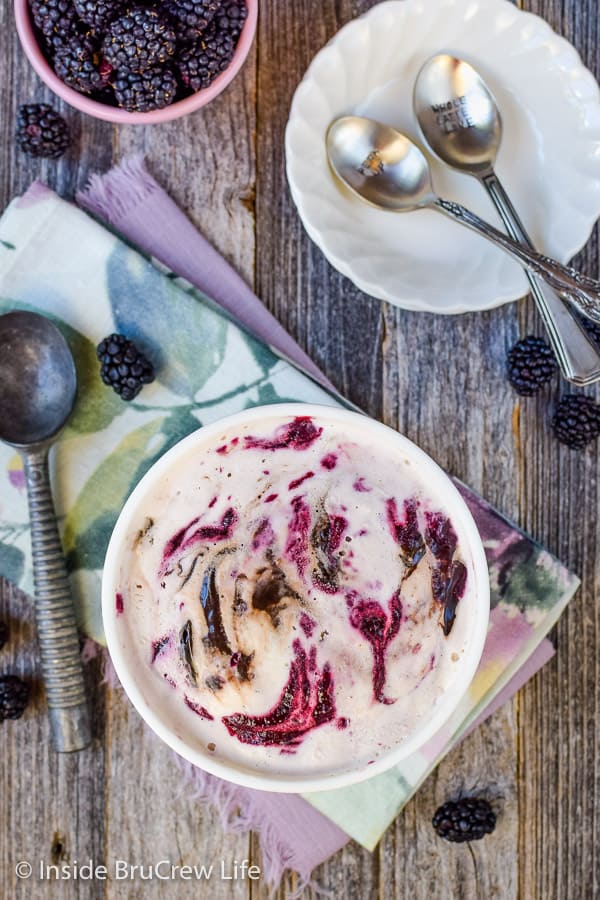 Ingredients for Homemade Vanilla Ice Cream
Heavy Cream and Whole Milk - the higher fat content in both makes ice cream smoother and firmer. I like using a ratio of 2:1 for a smooth creamy texture, but you can experiment with the ratios to find a texture you like.
Sugar - granulated sugar sweetens the milk mixture. You can also use brown sugar or a sugar substitute if you like.
Vanilla Bean Paste - this adds a rich vanilla taste along with the prettiness of the vanilla specks
Sea Salt - just a pinch will help balance out the sweetness
Mix Ins - for this recipe I used blackberry preserves and hot fudge. A batch of this Honey Blueberry Sauce or this Homemade Strawberry Pie Filling would be great too. You can also add cookies, sprinkles, mini chocolate chips, fruit, nuts, or other ice cream toppings.
Full Recipe - scroll down below all the pictures to see the whole recipe with amounts and instructions
How to make Vanilla Bean Blackberry Fudge Swirl Ice Cream
Make sure you freeze your ice cream container ahead of time. Most machines usually recommend at least 12-24 hours.
Whisk together the cream, milk, sugar, vanilla bean paste, and a pinch of sea salt. Make sure it is a coarse ground sea salt, so your ice cream is not too salty.
Pour it into the frozen container, close the lid, and start churning.
Once the ice cream is done churning, spoon half the ice cream into a freezer safe container.
Drop spoonfuls of blackberry preserves and hot fudge on top and swirl with a knife gently.
Repeat with the rest of the ice cream, preserves, and hot fudge. Freeze until solid.
Enjoy big bowls of homemade ice cream with lots of toppings.
Make ice cream sandwiches with the leftover ice cream...if you have any that is.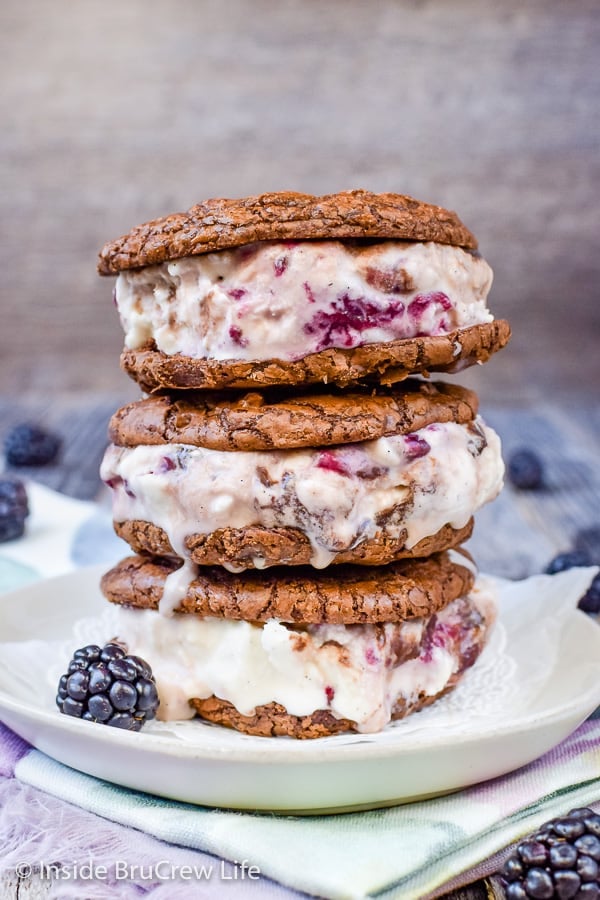 How to make Brownie Ice Cream Sandwiches
Sandwich scoops of homemade ice cream between two of these Chocolate Brownie Cookies. These brookie ice cream sandwiches are great because they do not freeze hard, so you can easily bite into them.
Make sure the cookies you use in your sandwiches are the same size. It helps to match them up before you start filling them with ice cream.
Use an ice cream scoop to place a scoop of ice cream on one cookie. Top with another cookie and gently press together.
Thaw the ice cream slightly, then spread it in a wax paper lined cookie sheet. Freeze until solid, then use a cookie cutter that is slightly smaller than your cookies to cut out ice cream circles.
Buy small pints of ice cream, open the packaging, and slice the ice cream to the width you like.
Other Easy Ice Cream Recipes
This easy no churn Funfetti Cookie Dough Ice Cream is a great dessert to enjoy on a hot summer day. No machine needed.
Peanut butter swirls and chocolate covered pretzels add a fun flair to this Chubby Hubby Ice Cream Pie.
Brownie Batter Coffee Ice Cream: swirls of brownie batter in a chocolate chip coffee ice cream makes a fun and delicious dessert to enjoy any time of year.
This easy Blueberry Banana Frozen Yogurt is a delicious and healthy treat to enjoy on a hot summer day.
This easy Reese's Fluffernutter Ice Cream only requires 5 ingredients and a mixer. And it tastes amazing!!!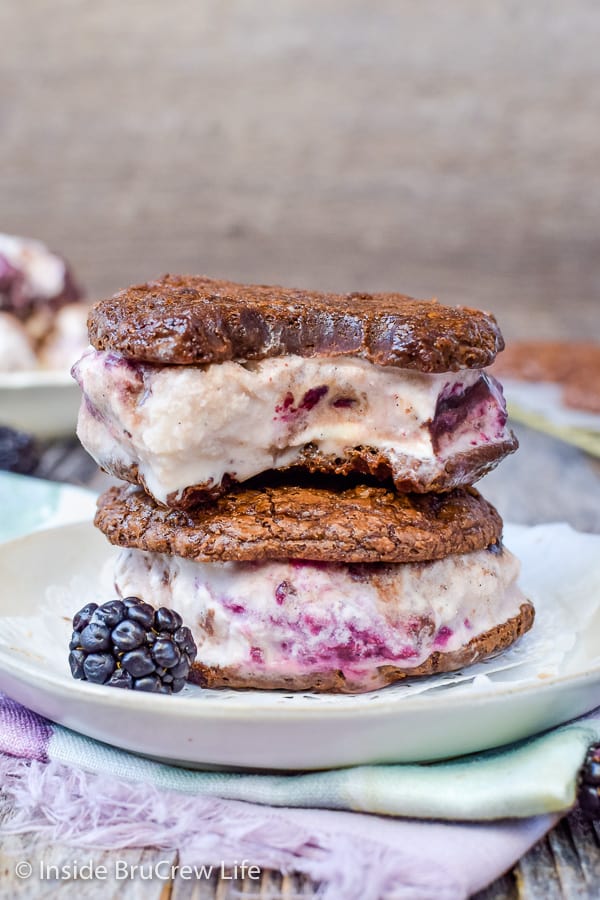 When you make a recipe from Inside BruCrew Life, don't forget to leave a comment and rate the recipe below.