These Coconut Oreo Strawberry Shortcakes will be the hit of every summer picnic. Strawberry shortcake is one of the most loved desserts for summer. Take that classic recipe to a new level with coconut and Oreo cookies and watch everyone dig in.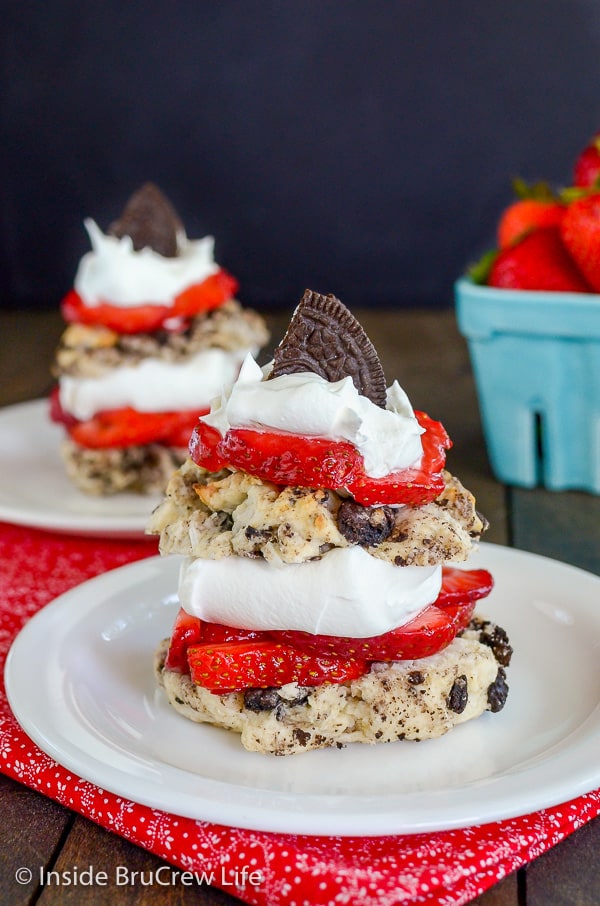 Strawberry shortcake is one of those summer desserts that makes just about everyone smile. Well, unless you are an alien or something. LOL!
Sweet biscuits topped with strawberries, homemade whipped cream, and milk. Yes, I just said milk. Now don't get me wrong. I'm not drowning my shortcakes in milk, just drizzling some over the top to soften them up a little.
Show me your hands if you like to add milk to the top of your shortcake stack. Ok, wait I can't see your hands, so you will have to leave me a comment if you are a milk fan too!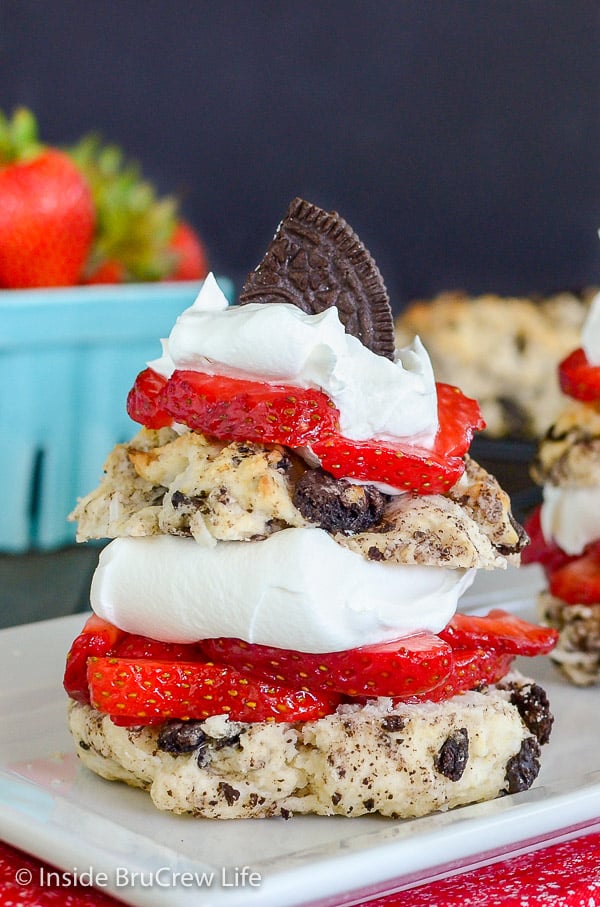 Years ago we were invited to an end of the year soccer party for our youngest son. They decided on a pool party and picnic with everyone pitching in with sides and desserts.
Since I keep up on food holidays, I knew that National Strawberry Shortcake Day was coming up. It's June 14th for anyone who cares. So, I had strawberry shortcake on my brain.
Plus, strawberries were on sale that week at our grocery store, so we had gotten quite a few boxes, so I could make more Homemade Strawberry Pie Filling. I decided that a batch of easy strawberry shortcakes and an Italian Veggie Salad would be the perfect thing to bring.
Now since I have this crazy baking mind that always insists I change things up in recipes, you knew that regular shortcake wasn't going to cut it, right?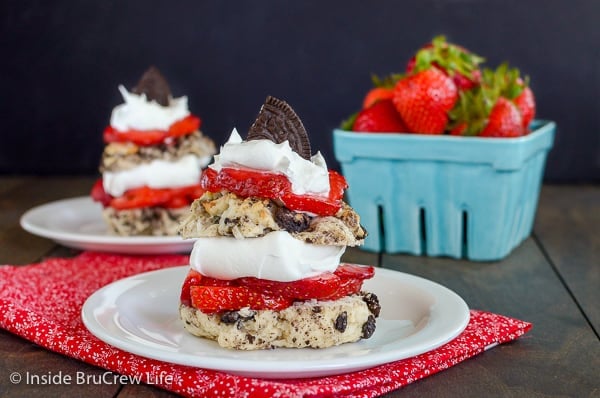 To give these homemade shortcakes a tropical twist, I added coconut milk and shredded coconut to this easy Homemade Baking Mix. Then for even more fun, I added chopped up Oreo cookies. Best. Idea. Ever!!!!
Cookies, strawberries, and coconut made these the perfect shortcakes. I'm drooling just remembering how good these cookies and cream shortcakes were.
How to make Coconut Oreo Strawberry Shortcakes:
Stir together baking mix, coconut milk, sugar, shredded coconut, and melted butter in a bowl. (full recipe at bottom of post)
Add cookie chunks and gently mix them in.
Drop 12 big spoonfuls onto a baking sheet and bake for 9-10 minutes.
Remove and cool slightly. Serve with fresh strawberries, whipped cream, and milk.
Recipe Tips and Tricks:
One great thing about these shortcakes is that they are made with coconut milk. Anyone who has a milk or dairy allergy will be able to enjoy these delicious shortcakes with you.
If you are not a big coconut fan, you can skip the shredded coconut and use regular milk.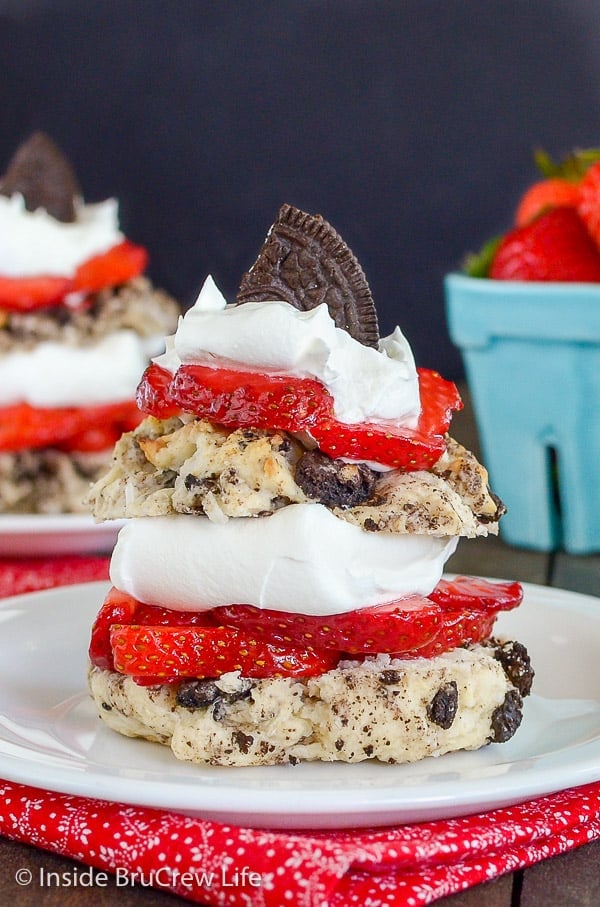 Make sure you add coconut milk, Oreos, and strawberries to your shopping list. You will want to celebrate all the holidays and things with these cookie shortcakes.
More easy strawberry desserts: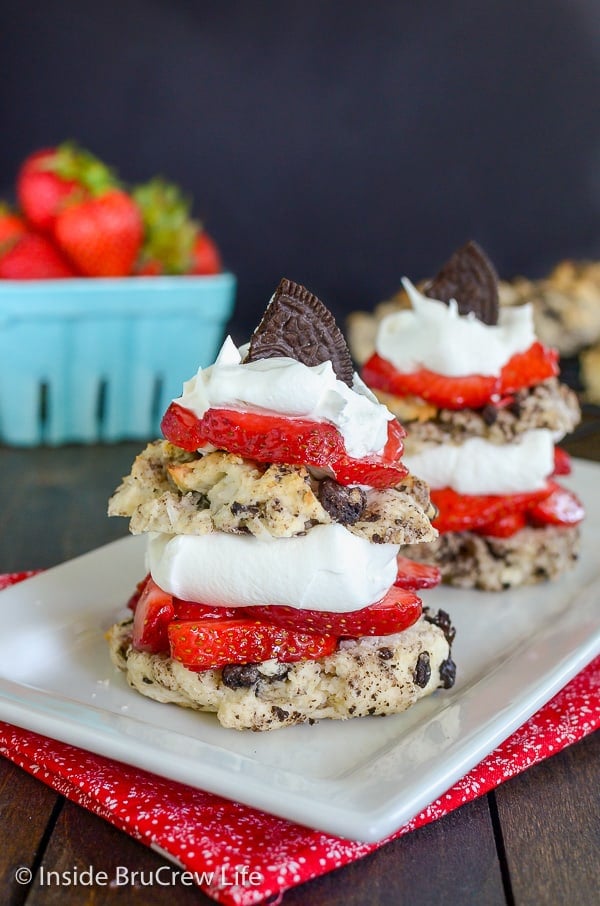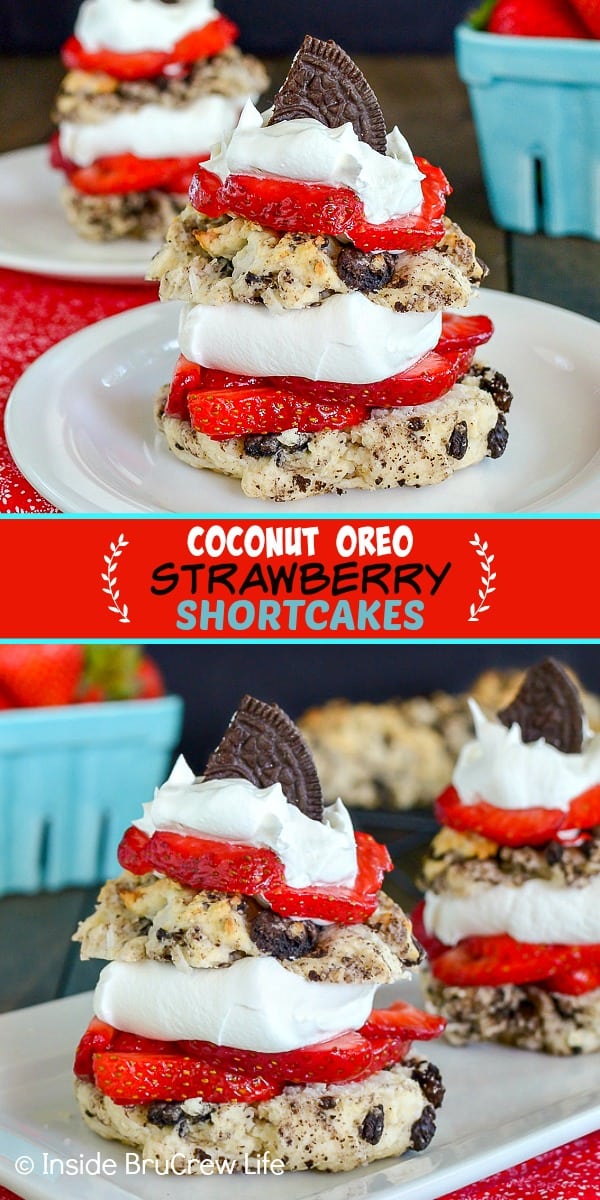 *The post for Coconut Oreo Strawberry Shortcakes was first published on June 10, 2014. The post and photos were updated and republished May 11, 2020.