Keep a batch of these Easy Dole Whip Popsicles in your freezer for a quick treat on a hot day. This refreshing and delicious treat was inspired by the Dole Whip soft serve at Disney World.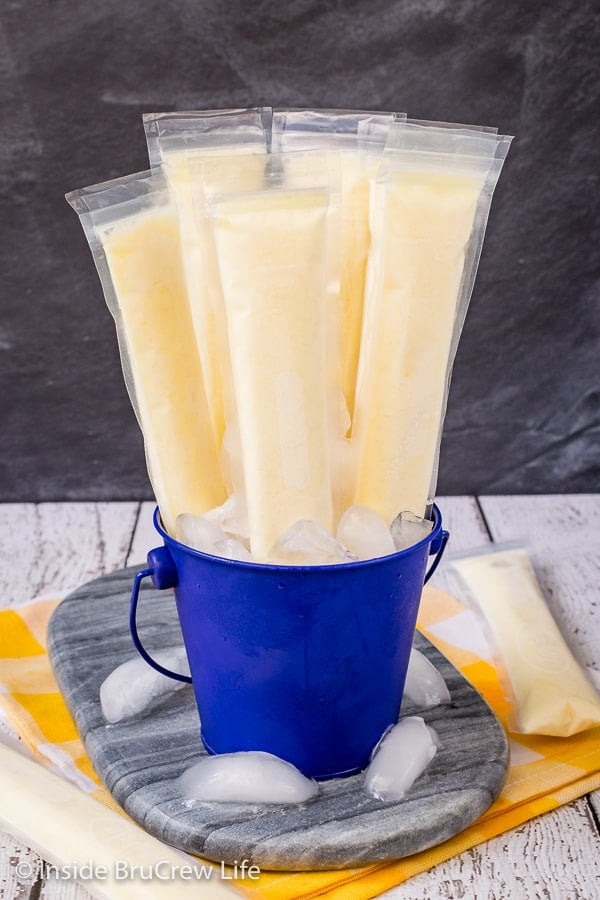 Day two of school has come and gone. We got this getting up early thing. Well, the kids do anyway. I set my alarm for a little bit later, and then I get up to make sure they are ready to go and to say goodbye as they walk out the door.
Then I get myself ready to workout, drink a S'mores Latte, and start the day. Florida is still crazy hot, so I have to really keep myself motivated to do a workout in our garage.
Lots of water and a big fan are just two things that are totally necessary in our garage gym. Knowing that the freezer is full of pineapple popsicles is another good motivator.
Of course, these are not sugar free popsicles, so I guess that kind of defeats the purpose. LOL! But they are small and only have about 129 calories in each one, so it's not a huge diet killer if you have one.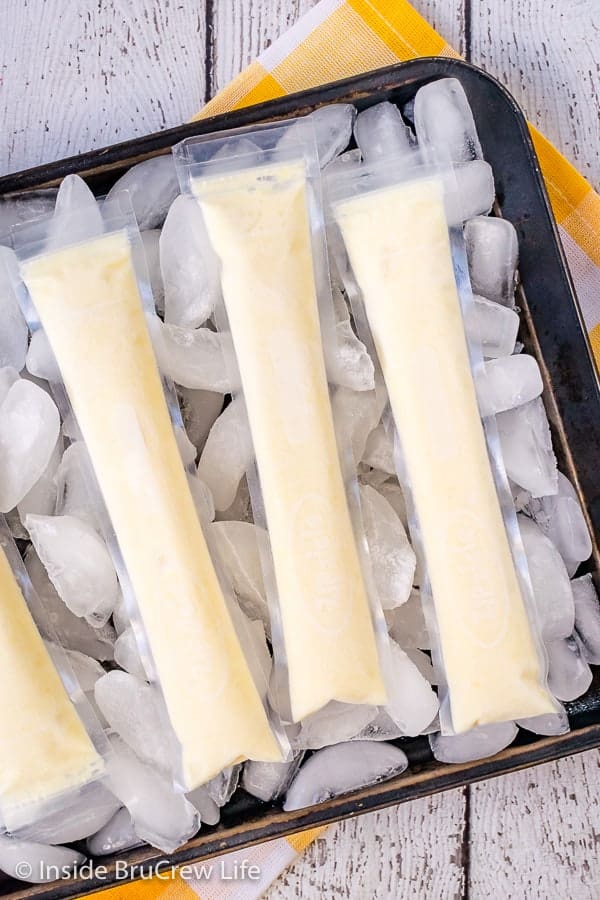 This summer we decided to get an annual pass at Disney. My kids are there for the rides, while I'm there for the churros, toffee, Mickey ice cream, and Dole Whips. There is something so delicious about those little cups of goodness!
Now that school is back in session, our trips to the happiest place on earth are going to be more limited.
Although, our daughter can drive now, so all I have to do is convince my hubby to take a day off work and we can still go enjoy some fun Disney treats.
While I'm waiting for our next Disney adventure, I'll keep trying to come up with some copycat recipes. These Marshmallow Firecracker Pops are a fun and easy one that I made earlier this summer. And now I have a copycat for the popular Dole Whips.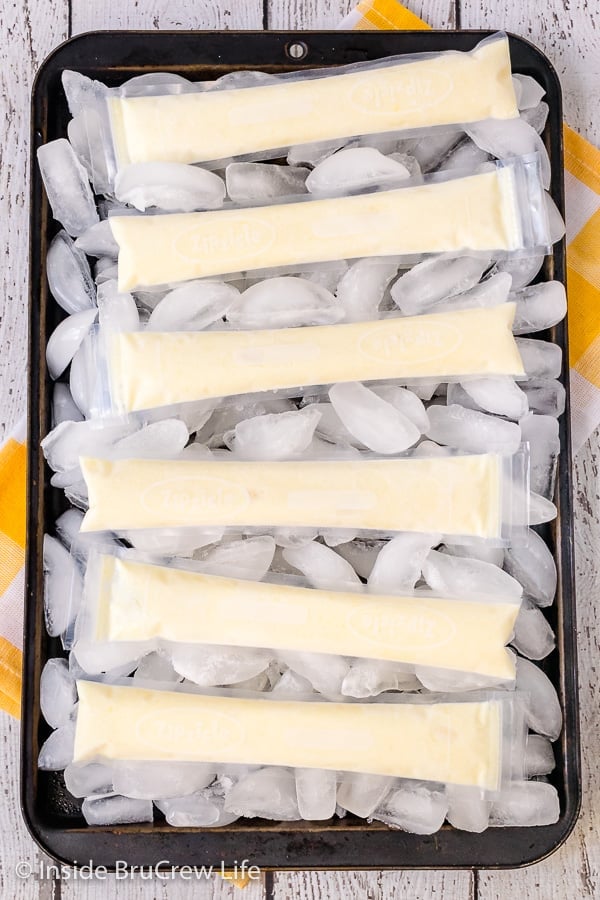 After one of our day trips this summer, I decided to make a Dole Whip into a fun freezer pop using a can of pineapple and a few extra ingredients.
Now if you haven't been to Disney, you may be wondering "what is a Dole Whip?" It is a pineapple soft serve dessert that you can only find in certain parks.
This sweet and magical treat has people lining up to get one all day long. There is just something about this tropical treat when it is blazing hot!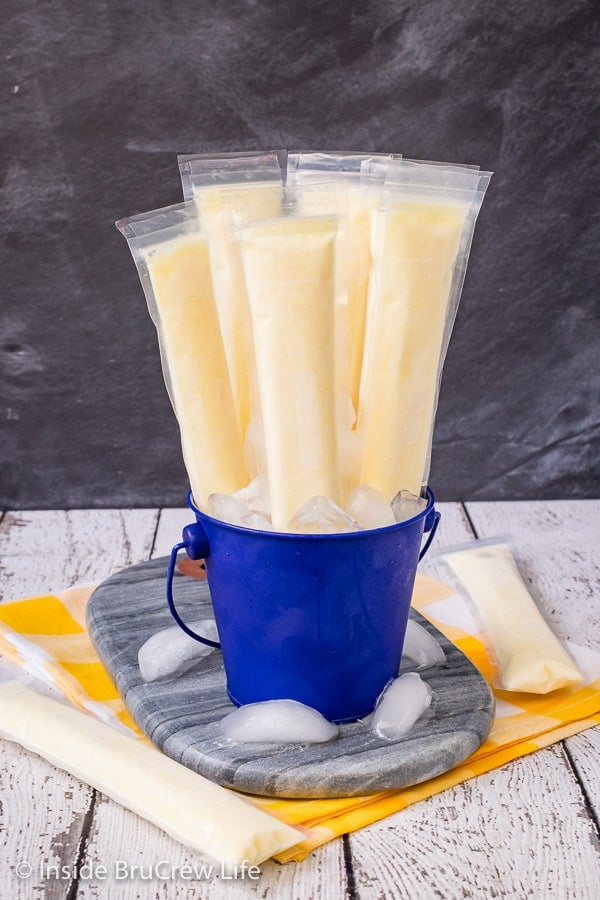 I bought these cute little Zipcicle bags last year and never used them. Since they were still sitting in a drawer it made sense to pull those out instead of popsicle molds. Plus, I like that they are are a smaller treat this way.
How to make Easy Dole Whip Popsicles:
Pour a can of crushed pineapple, a little bit of lime juice, heavy cream, and a packet of Dream Whip into a blender.
Pulse until blended and frothy.
Use a funnel and spoon the mixture into the freeze pop bags. Do not fill the bags all the way to the top. The mixture will expand a little bit as it freezes. Pro Tip: You can also use small Dixie cups and a popsicle stick if you have those on hand instead of the bags.
Place the filled bags flat on a tray and place in the freezer for 4-6 hours or until frozen solid. Store the frozen popsicles in a freezer bag.
Cut the top off of the Dole Whip Popsicle and enjoy.
Variations for Dole Whip Popsicles:
Dairy Free Dole Whip Popsicles - the classic Dole Whip is dairy free, so if you can use a full fat canned coconut milk instead of the cream if you like.
Boozy Dole Whip Popsicles - add a shot or two of rum or tequila to your mixture before pouring into the freeze pop bags. Make sure to label them and keep them away from children
Orange Cream Dole Whip Popsicles - use canned oranges instead of the pineapple.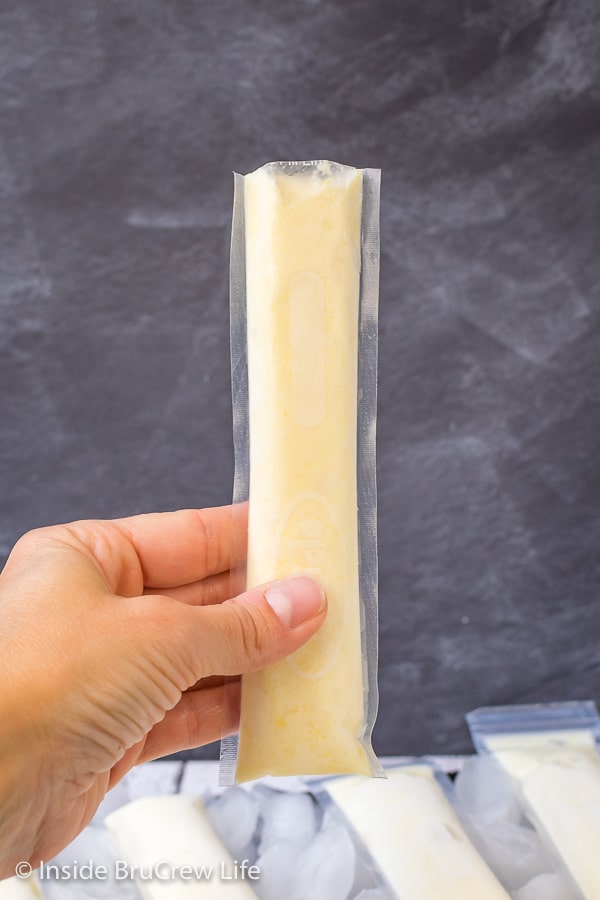 More easy frozen dessert recipes you may like:
These easy Peanut Butter Banana Popsicles are a fun and delicious treat to enjoy after school. Great protein packed snack.
Layers of fudge and candy make this easy Reese's Ice Cream Cake a stunning dessert for any party! So easy to customize with your favorite candies!
A batch of Caramel Frappuccino Pudding Pops are a fun cold treat for a hot summer day. Sweet coffee treat to give you the boost you need!
Swirls of peanut butter and chocolate chips make this Peanut Butter Banana Ice Cream a healthy treat to indulge in when you are craving something sweet.
This easy Funfetti Cookie Dough Ice Cream is a fun dessert to enjoy when it's hot outside. No machine needed.
Peanut butter swirls and chocolate covered pretzels add a fun flair to this Chubby Hubby Ice Cream Pie.