Pumpkin Butter is a delicious way to add a fall flavor to your breakfast or dessert. It is easy to make and has so many uses. Enjoy it on toast for breakfast, swirled with yogurt for an afternoon snack, or baked in a cake for dessert.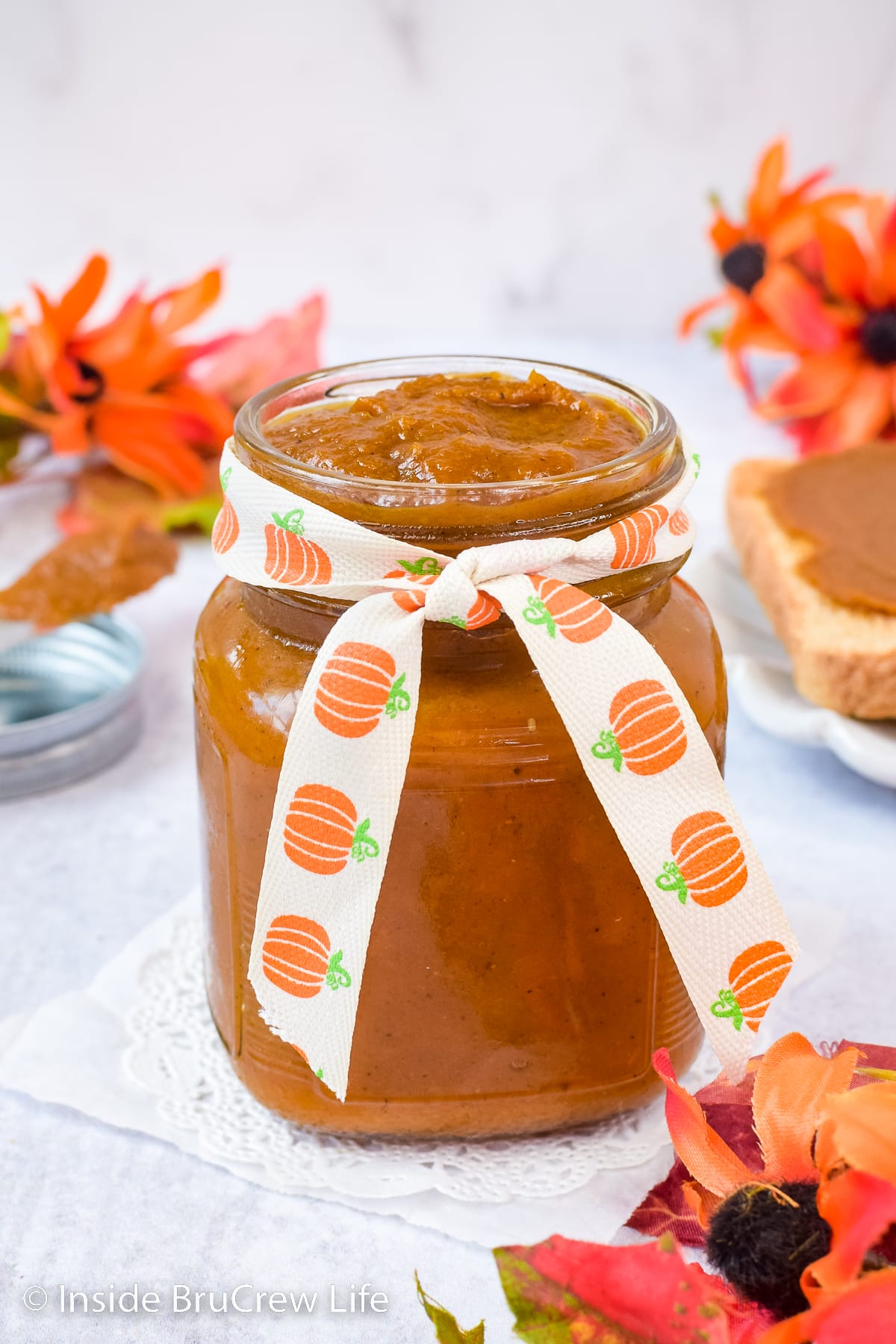 Jump to:
I love making fruit butter and sauces with different seasonal fruits. The most popular ones we enjoy all year long are apple butter and strawberry applesauce.
This fall I was craving pumpkin butter with biscuits, but I had a really hard time finding it in stores in our area. The one jar that I finally found at Target was really light in color, was super thin and runny, and did not taste very good.
I should have known that making a homemade pumpkin butter is always the best way to go. Plus, it's super easy to make on your stovetop or in a crock pot.
Why You Will Love This
Making pumpkin butter is easy to do with just a few ingredients and one deep pot. As the mixture cooks your house will be filled with the delicious flavor of fall.
You are going to love the smooth and creamy texture of this fruit butter. It is a delicious way to enjoy a taste of fall. It has a great pumpkin flavor, and the perfect blend of sugar and spice.
The best thing is that there are so many delicious ways to enjoy this pumpkin spread. You can eat it on toast, rolls, biscuits, cinnamon sugar waffles, pancakes, and so much more. The uses are endless!
Ingredients Needed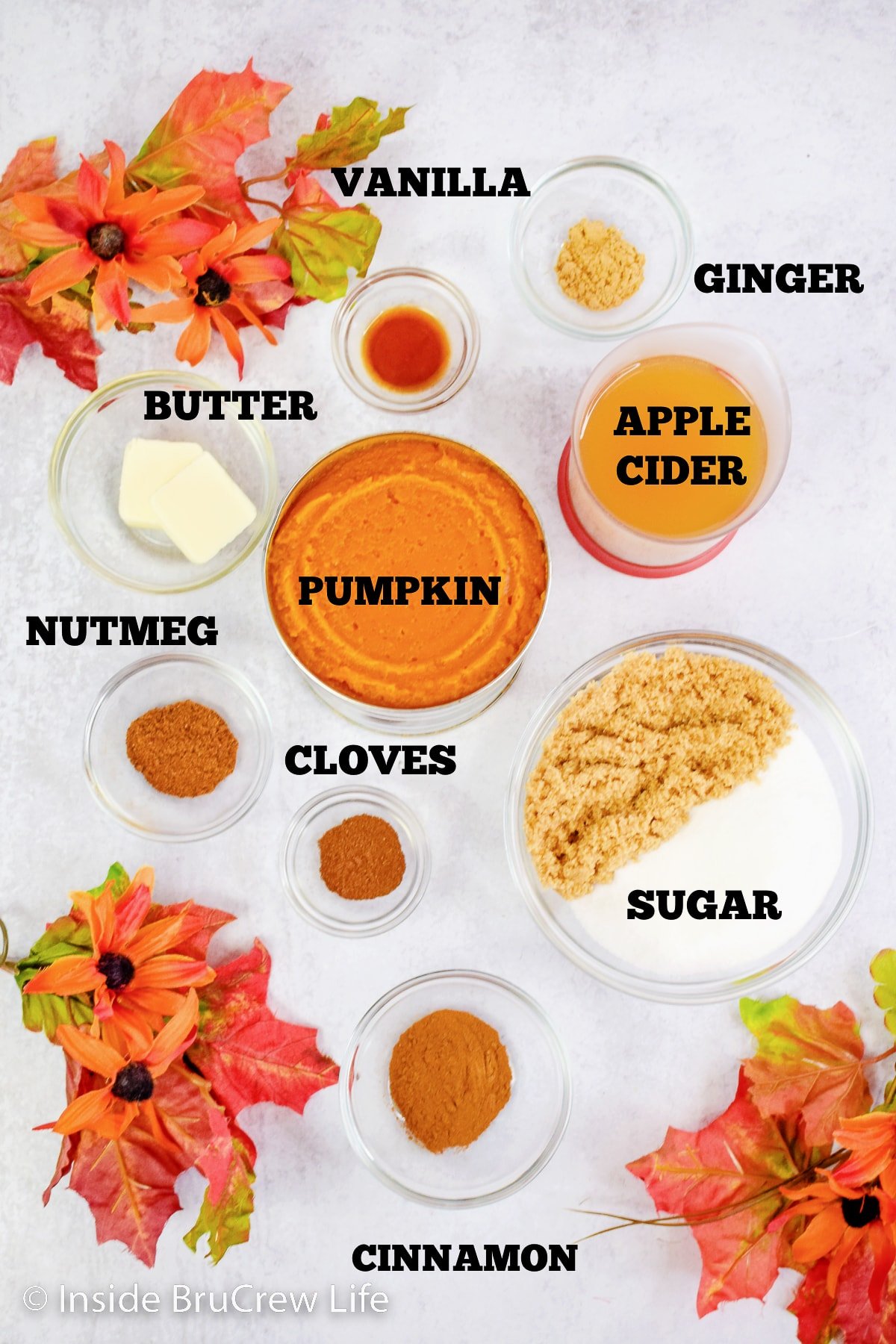 All you need are a few pantry staples, a big pot, and some time to make this easy pumpkin butter recipe.
Pumpkin Puree - You can use canned or fresh pumpkin puree for this butter. Do not buy the pumpkin pie mix because that has sugar and spices added to it already. You want pure pumpkin for this recipe.
Apple Juice or Apple Cider - Either one will work in this recipe OR you can substitute water instead.
Spices - A mixture of cinnamon, nutmeg, cloves, and ginger gives the pumpkin butter a great warm flavor. You could also use pumpkin pie spice instead.
Sugar - A mixture of granulated and brown sugar gives the spread a sweet flavor. You can also just use one or the other.
Butter - Adding just a little bit of butter to the mixture gives it a smooth and silky texture.
Vanilla Extract - Adds just a little bit of flavor to the end product.
How to make Pumpkin Butter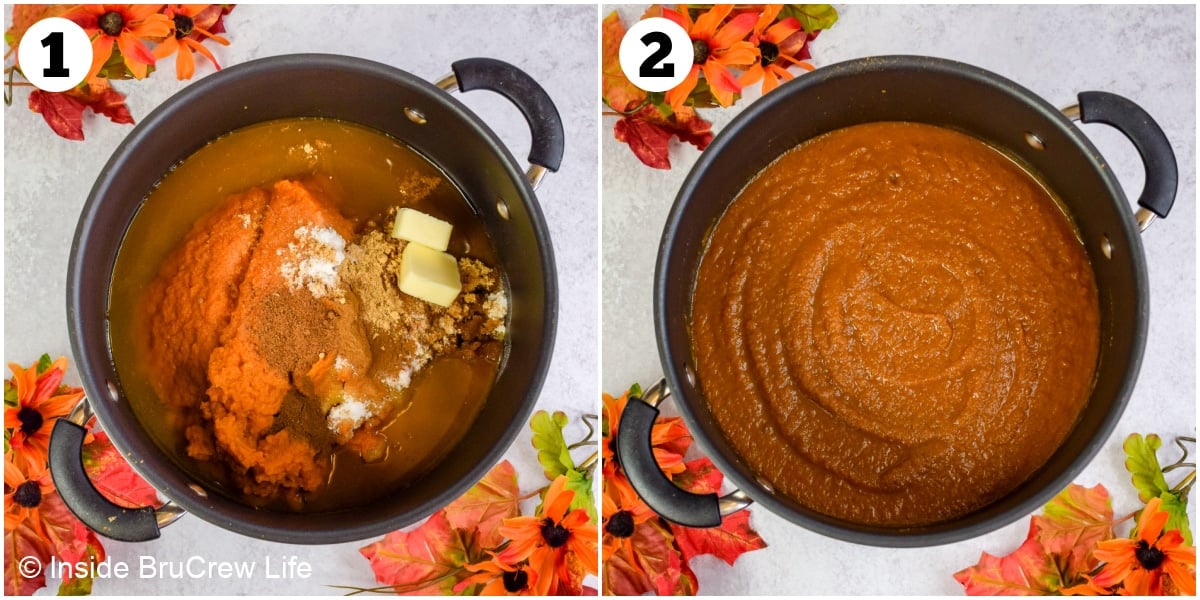 It really is quite easy to make your own pumpkin butter in a matter of minutes.
On the Stovetop
Combine the pumpkin puree, sugars, juice, spices, and butter in a large saucepan.
Heat it over medium heat until it is melted together, and it begins to bubble.Turn the heat down and simmer for 20-30 minutes or until it is thick and dark. Make sure you are stirring occasionally, so it does not burn or stick to the bottom of the pan.
Remove the pan from the heat and stir in the vanilla.
Let it cool to room temperature before spooning it into jars or containers and refrigerating.
Pro Tip: Place a lid over the top leaving a little bit of room for steam to escape as it thickens. This will keep the pumpkin splatters to a minimum.
In a Crockpot
Making crockpot pumpkin butter is an easy way to be more hands off with this recipe. Just know that you will need to stir it at least once every hour, so don't set it and forget it.
Place everything except the vanilla in your crock pot and stir until combined.
Cook on LOW for 4 hours or HIGH for 2 hours, stirring once an hour, until the pumpkin butter is to your desired thickness.
Stir in the vanilla and let it cool to room temperature.
Spoon into containers and place in the refrigerator.
Storage Recommendations
Let the pumpkin spread cool completely, then spoon into glass jars or plastic containers. Store in the refrigerator for 1-2 weeks.
Pumpkin butter can also be frozen if you would like to keep some on hand all year long. Spoon it into freezer safe containers and freeze for 6-8 months. Thaw in the refrigerator overnight before serving.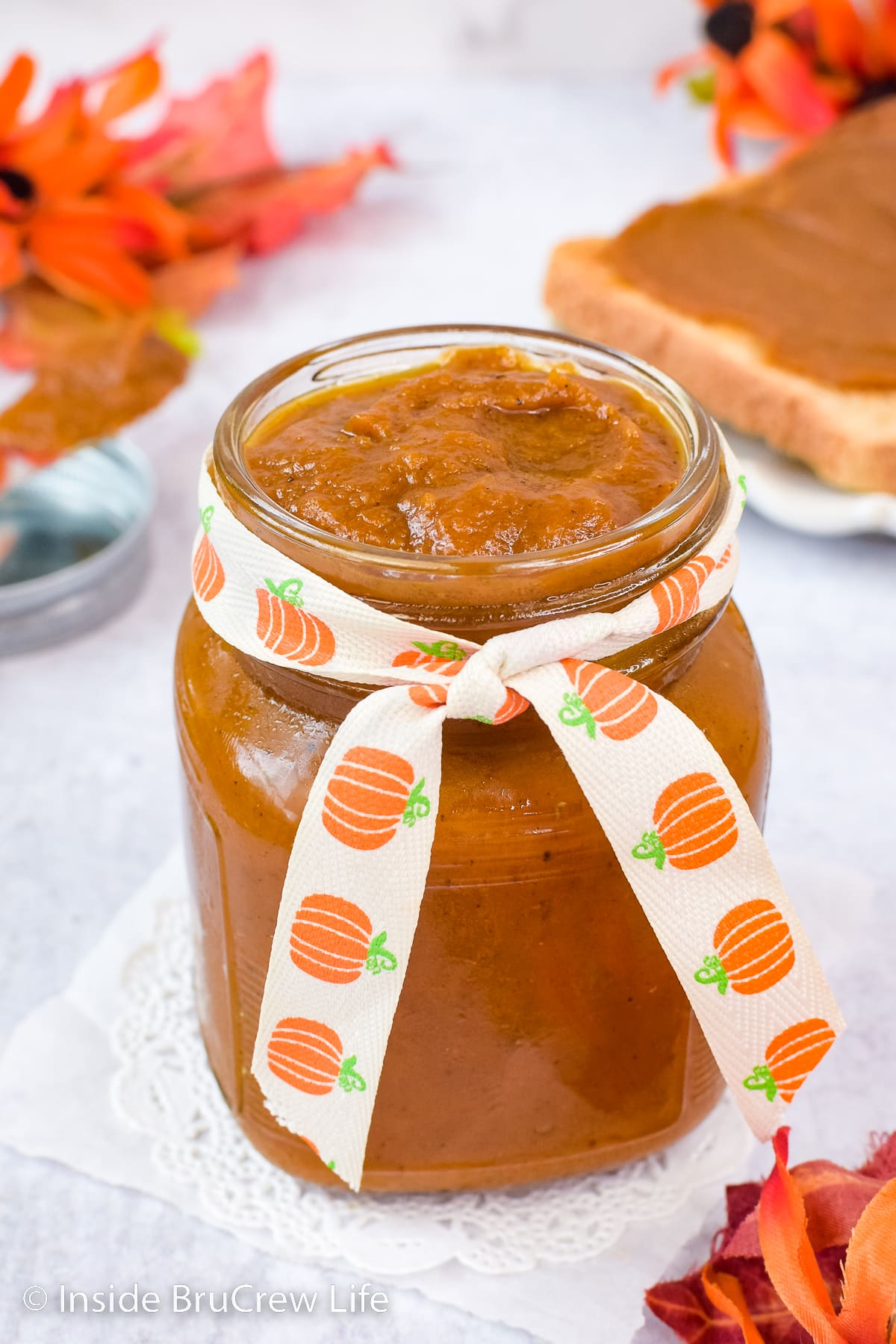 Tips and Tricks
Stir the pumpkin mixture often, so it does not burn or stick to the bottom of the pan.
If you are worried that the apple juice will give it an "apple-y" flavor, use water instead. I honestly use apple cider all the time and think it gives it a great flavor.
As the pumpkin butter simmers, it will splatter and spit all over your stove top. To keep the mess to a minimum use a splatter shield on top of the pot. You can also place the lid on slightly askew to let the steam out.
You do not want the pumpkin butter to boil. Reduce the heat as soon as it starts to bubble and let it simmer down to a thick spread.
Add a pinch of salt to help balance out the flavors.
Share jars of the sweet fall spread with friends and family. We love filling small mason jars and adding a ribbon and tag. Just make sure they know to keep it in the fridge or freezer.
Recipe FAQ'S
What is pumpkin butter?
Pumpkin butter is a fall fruit spread. It is made by mixing pumpkin puree with sugar and spices and then simmering it on the stove top or in a slow cooker until it becomes thick and shiny.
How long does homemade fruit butter keep?
Pumpkin butter will keep in the refrigerator for 1-2 weeks as long as you store it in an air tight container.
Can you freeze pumpkin butter?
Pumpkin butter can be frozen in freezer bags or containers for 6-12 months. Be sure to label your bags with what it is and the date it was made.
Can you can pumpkin butter?
Canning is NOT recommenced for pumpkin butter because of the low acidic content. Bacteria can grow and spread in these kind of conditions making it unsafe to eat canned fruit butters.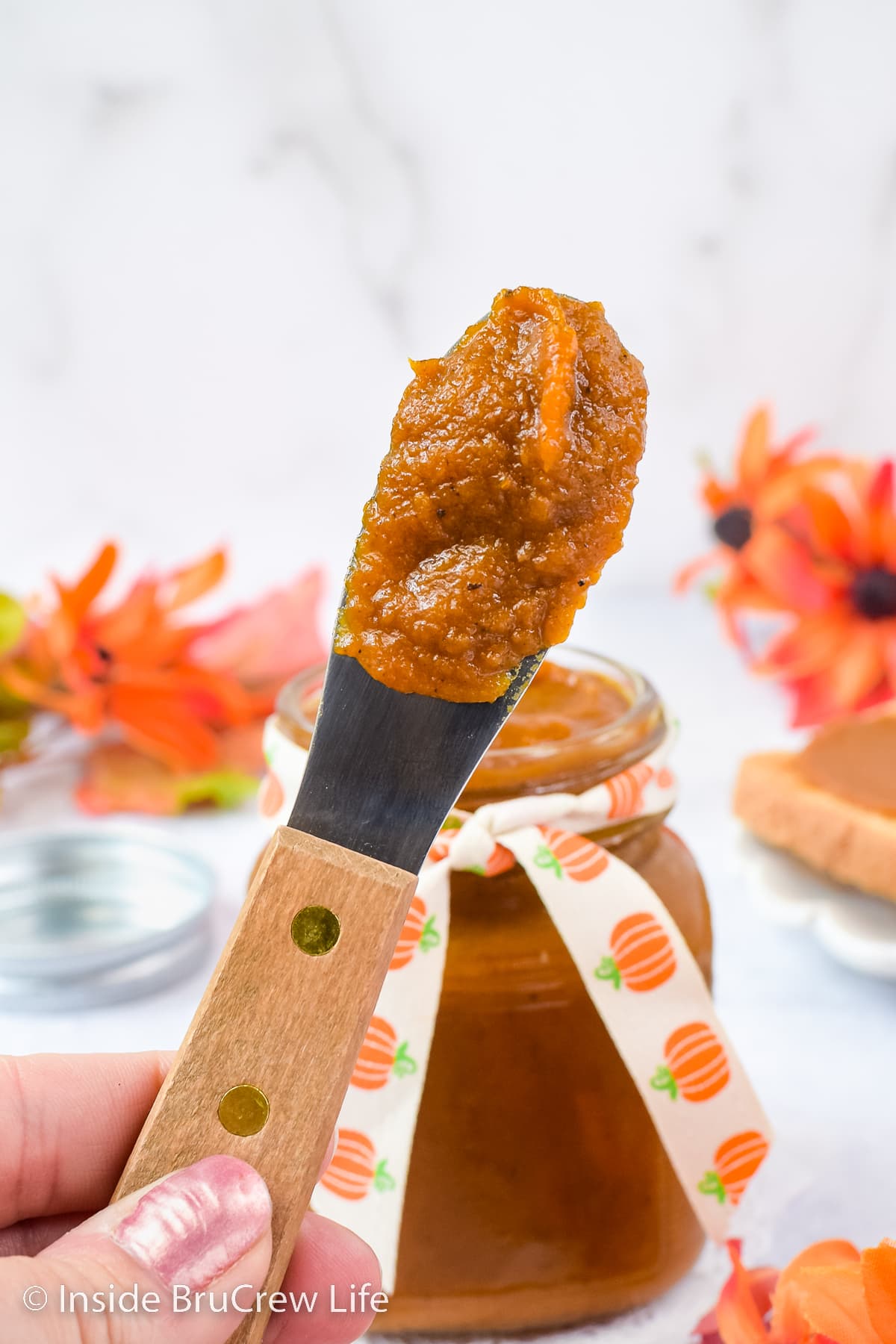 How to Use It
There really is no wrong way to enjoy this amazing spread. It is a staple in our house every fall because there are so many uses for pumpkin butter.
Spread it on toast, biscuits, puff pancakes, waffles, or bagels.
It is also delicious on pumpkin scones and pumpkin muffins.
Stir spoonfuls into hot oatmeal. It's also great in overnight oats.
Dip crackers, cookies, pretzels, or fruit into it.
Enjoy a yogurt parfait layered with pumpkin butter and honey nut granola.
Swirl it into cheesecakes, coffee cakes, or muffin batters.
Spread it on sandwiches with your favorite nut butter.
Bake it into this apple crumble cake or this apple butter cake.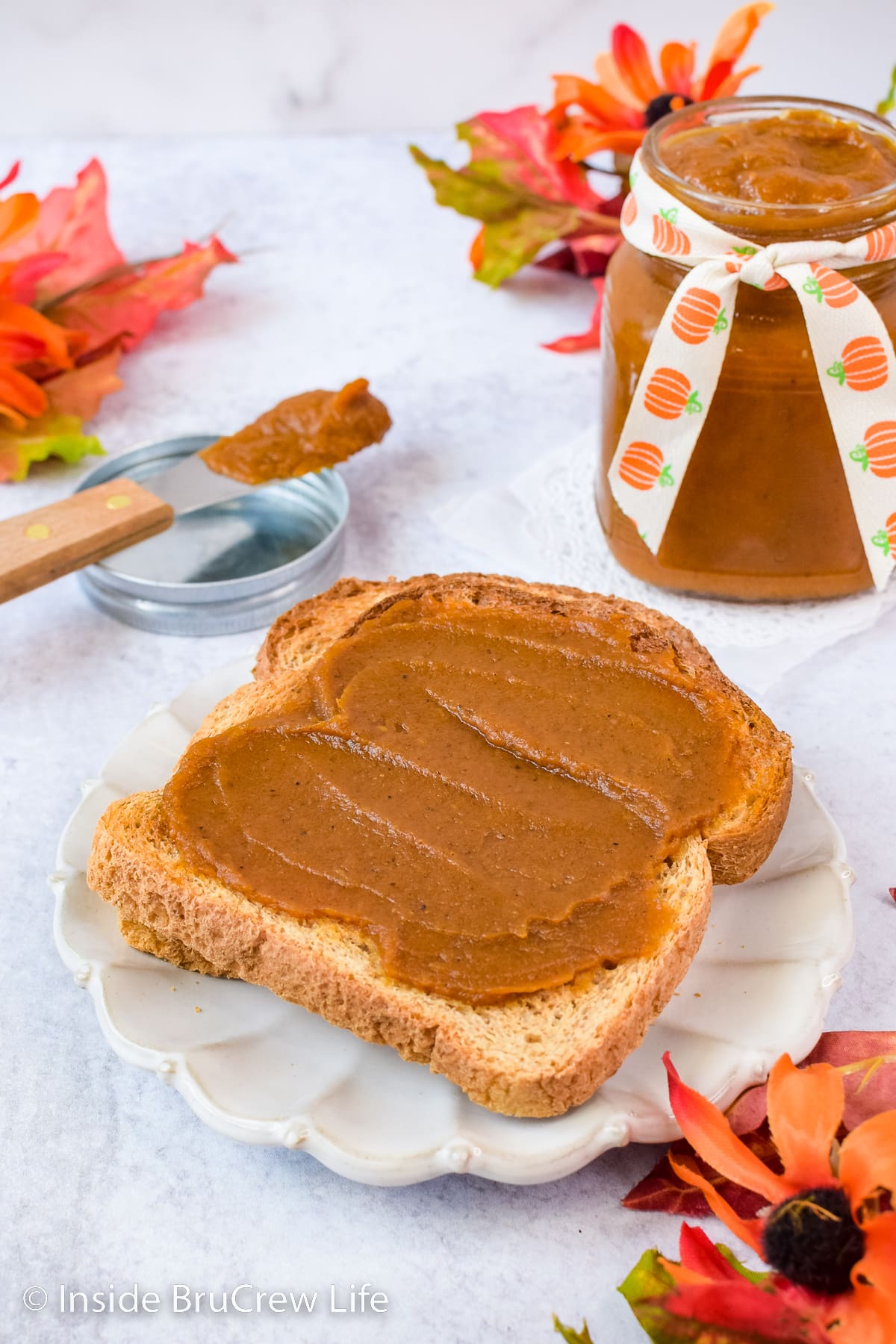 Do you love a recipe you tried from Inside BruCrew Life?
Please leave a 5-star ⭐️ rating and a review in the comments section below.
*This post was first published September 2019. It was updated and republished October 2022.
**We participate in the Amazon Services LLC Program, an affiliate program designed to provide a means for us to earn fees by linking to Amazon.com .