This Easy Homemade Pumpkin Butter is the perfect fall spread for breakfast and dessert. Add it to your toast, pastries, yogurt, or sandwiches for a delicious fall flavor.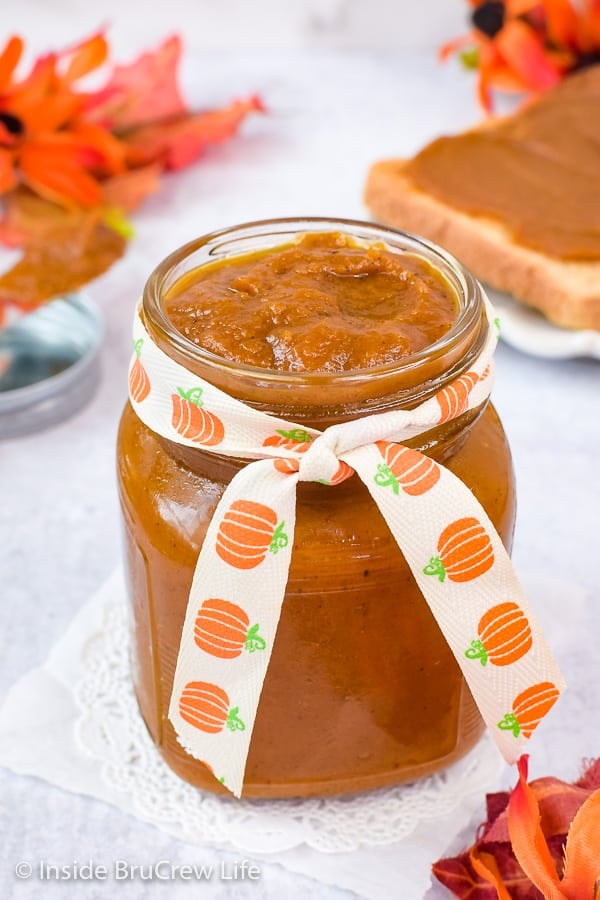 CLICK HERE TO PIN THIS RECIPE FOR LATER!
There is something about fall that makes me want to make different kinds of fruit butter and sauce. Now the most popular ones we enjoy all year long are apple butter and this Easy Crock Pot Cinnamon Strawberry Applesauce.
But when fall hits, I get the urge to turn all the summer fruit into a thick delicious spread that is perfect for toast or sandwiches.
Years and years ago, I used to make peach butter, Plum Butter, and pear butter as soon as the leaves started to turn colors.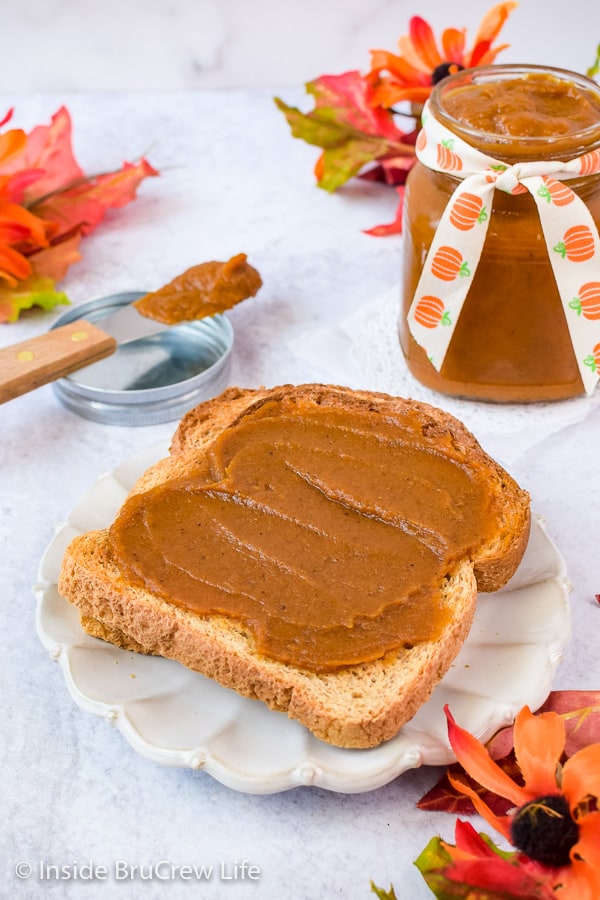 This year I wanted pumpkin butter to use in some sweet rolls, and I decided to go the lazy route and buy pumpkin butter. The only problem is that I couldn't find it in any store.
Finally, I found a jar at Target, but it wasn't the color I was really looking for. I bought it anyway, and regretted it as soon as I tasted it.
The store bought pumpkin butter was thin, runny, and didn't really have that homemade taste I was looking for.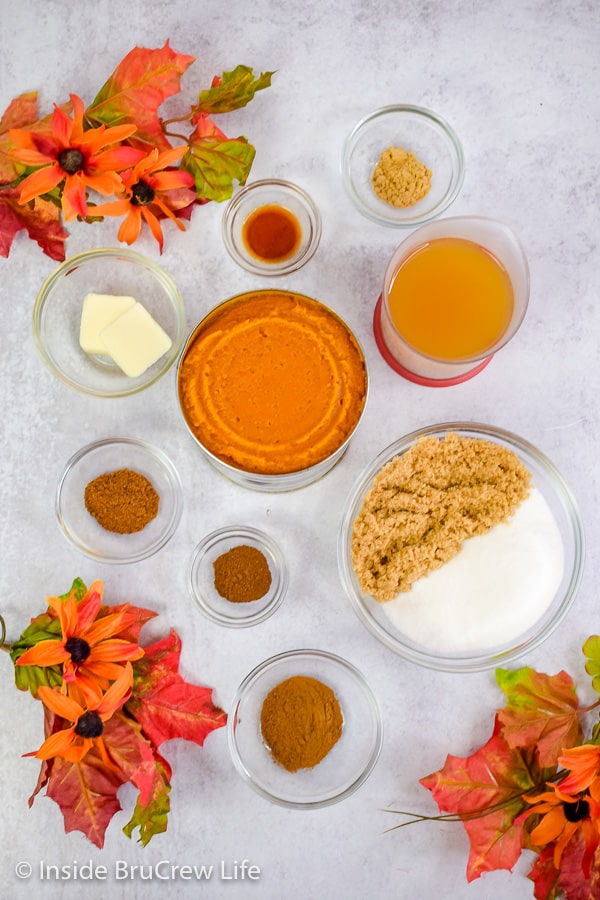 I should have known that making your own homemade pumpkin butter is always the best way to go. Plus, it's super easy to make on your stove top or in a crock pot.
All you need are a few ingredients, a big pot, and some time to simmer it down to a thick and delicious spread.
Ingredients for Homemade Pumpkin Butter:
Canned Pumpkin Puree – do not buy the pumpkin pie mix as that has sugar and spices added to it already. You want the pure pumpkin for this recipe.
Apple Juice or Apple Cider – either one will work in this recipe or you can substitute water instead
Spices – I used a mixture of cinnamon, nutmeg, cloves, and ginger. You could also use pumpkin pie spice instead.
Sugar – a mixture of granulated and brown sugar is how I like it, but you can also just use one or the other
Butter – a little bit of butter added to the mixture gives it a smooth and silky texture
Vanilla – adds just a little bit of flavor to the end product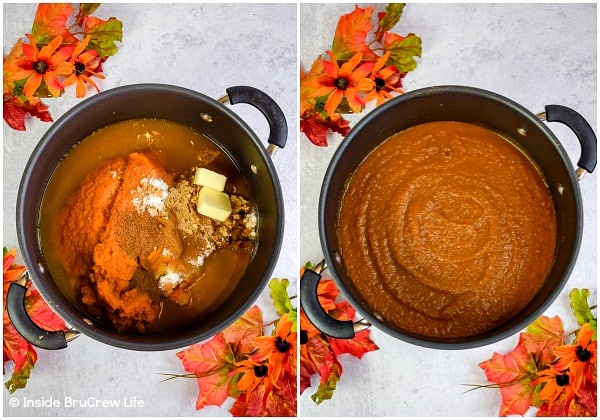 How to make Easy Homemade Pumpkin Butter:
In a sauce pan, combine the pumpkin, sugars, juice, spices, and butter. Heat it over medium heat until it is melted together begins to bubble.
Turn the heat down and simmer for 20-30 minutes, stirring often, until it is thick and dark. Pro Tip: Place a lid over the top leaving a little bit of room for steam to escape. This will keep the pumpkin butter splatters to a minimum.
Remove the pan from the stove and stir in the vanilla. Let it cool before spooning it into jars or containers and refrigerating.
Can Pumpkin Butter be made in a crock pot?
Place everything but the vanilla in a crock pot and stir until combined. Cook on low heat for 5-6 hours, stirring often, until the pumpkin butter is to your desired thickness.
Stir in the vanilla, cool, and spoon into containers to refrigerate.
How long does Homemade Pumpkin Butter keep?
Pumpkin butter will keep in the refrigerator for 2-3 weeks as long as you store it in an air tight container.
Can you freeze Pumpkin Butter?
Pumpkin butter can be frozen in freezer bags or containers for 6-12 months. Be sure to label your bags with what it is and the date it was made.
Can you can Pumpkin Butter?
Canning is NOT recommenced for pumpkin butter because of the low acidic content. Bacteria can grow and spread in these kind of conditions making it unsafe to eat canned fruit butters.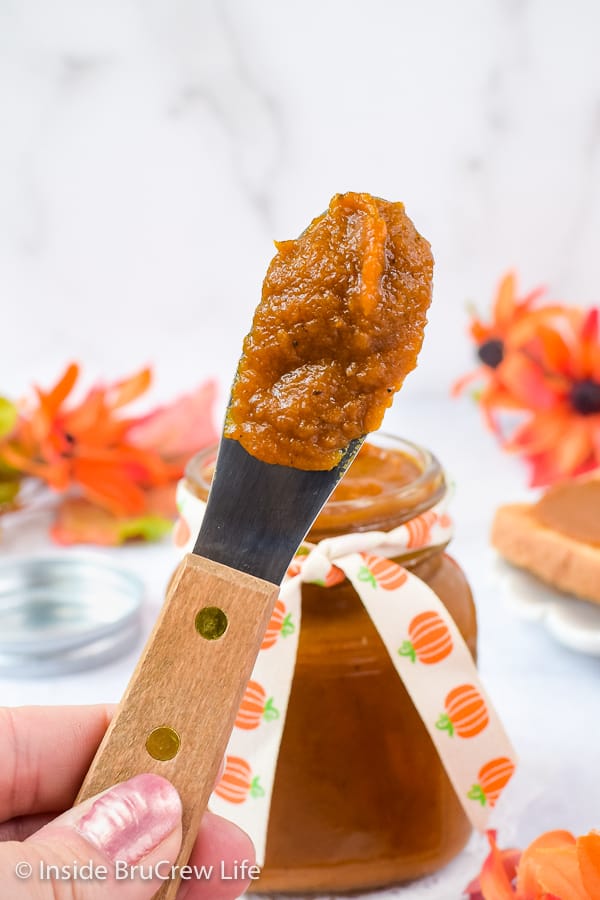 How to use Pumpkin Butter:
Spread it on toast, biscuits, pancakes, or bagels.
It is also delicious on pumpkin scones and pumpkin muffins.
Stir spoonfuls into Greek yogurt or hot oatmeal. It's also great in overnight oats.
Dip crackers, cookies, pretzels, or fruit into it.
Swirl it into cheesecakes, coffee cakes, or muffin batters.
Spread it on sandwiches with your favorite nut butter.
Other easy recipes to use pumpkin butter in:
This spicy and dense Apple Butter Cake is topped with a sweet vanilla bean glaze. This is a delicious dessert for fall parties.
These soft Cinnabon Pumpkin Muffins have a secret ingredient that makes them light and fluffy. Spread them with pumpkin butter and enjoy a delicious fall breakfast.
This Apple Butter Crumble Cake has layers of cake, apple butter, cinnamon oatmeal crumble, and a sweet glaze to top it off. It is the perfect cake for breakfast or an afternoon snack.
Enjoy a parfait made with Honey Nut Granola, yogurt, and pumpkin butter for a delicious breakfast or afternoon snack.
A pan of these easy Apple Butter Cinnamon Rolls makes a great breakfast or afternoon snack. It's like having a warm bite of fall on a plate.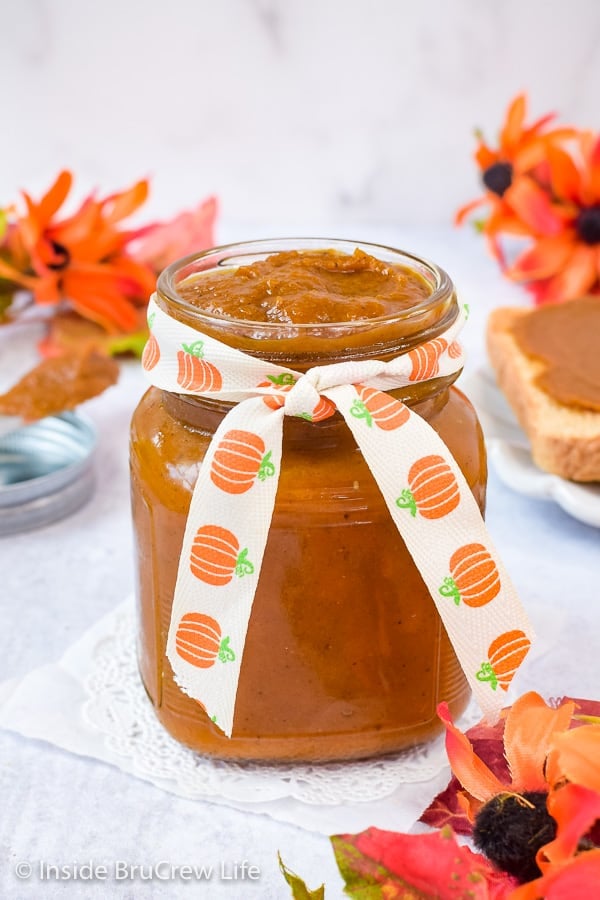 Connect with Inside BruCrew Life! Follow us on social media, so you never miss a post.
Email Subscription | Facebook | Pinterest | Twitter | Instagram | Bloglovin
I also have a fun Facebook group, and I would love for you to join. It's a group where you can share your favorite recipes, ask questions, share photos, and see what's new with the BruCrew. If you would like to check it out, you can request to join HERE.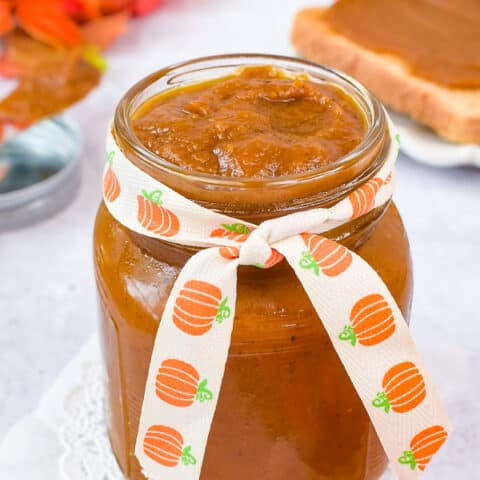 Easy Homemade Pumpkin Butter
This Easy Homemade Pumpkin Butter is the perfect fall spread for breakfast and dessert. Add it to your toast, pastries, yogurt, or sandwiches for a delicious fall flavor.
Ingredients
1 - 29 ounce can pumpkin puree
1 1/4 cups apple juice or cider
2 teaspoons cinnamon
1 teaspoon nutmeg
1/2 teaspoon ground ginger
1/2 teaspoon ground cloves
1/2 cup sugar
1/2 cup brown sugar
2 Tablespoons butter
1/2 teaspoon vanilla extract
Instructions
Cominbe the pumpkin, juice, sugars, spices, and butter in a large pot over medium heat. Stir until heated through and mixed and the butter is melted.
Bring the mixture to a bubble. Reduce heat and cover loosely.
Simmer for 20-30 minutes, stirring occasionally until thickened. (If you like it slightly thinner, cook 20. For thicker, cook 30 minutes.)
Remove from the heat and stir in the vanilla. Let cool 20 minutes.
Spoon into jars and refrigerate. Use 2 Tablespoons on toast or rolls.
Nutrition Information:
Yield:

32
Serving Size:

1
Amount Per Serving:
Calories:

47
Total Fat:

1g
Saturated Fat:

1g
Trans Fat:

0g
Unsaturated Fat:

0g
Cholesterol:

2mg
Sodium:

9mg
Carbohydrates:

10g
Fiber:

1g
Sugar:

8g
Protein:

0g