These Easy Mango Chicken Wraps are filled with chicken bites, onions, mangos, lettuce, and drizzled with ranch dressing. Such an easy recipe to have on the dinner table when you are short on time.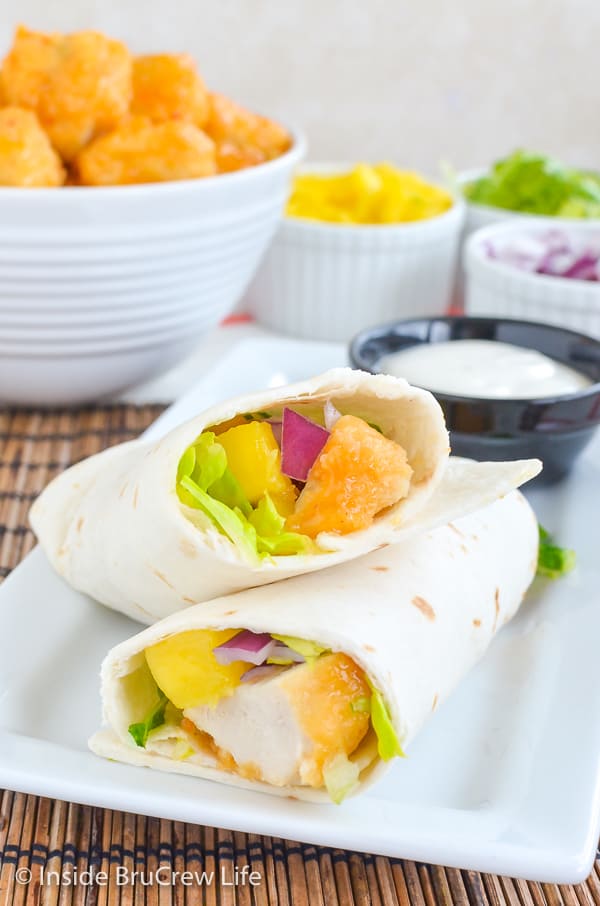 Sundays are one of our busiest days of the week. My husband is the worship leader at our church, I sing on praise team, and our oldest son changes slides on the screen during morning practice.
Our day begins early in the morning because we all have to be over at the church early for practice and sound checks.
The last thing I want to think about is cooking a big meal on Sunday afternoon. I have enough struggles getting to practice on time. The sad thing is that I live right next door...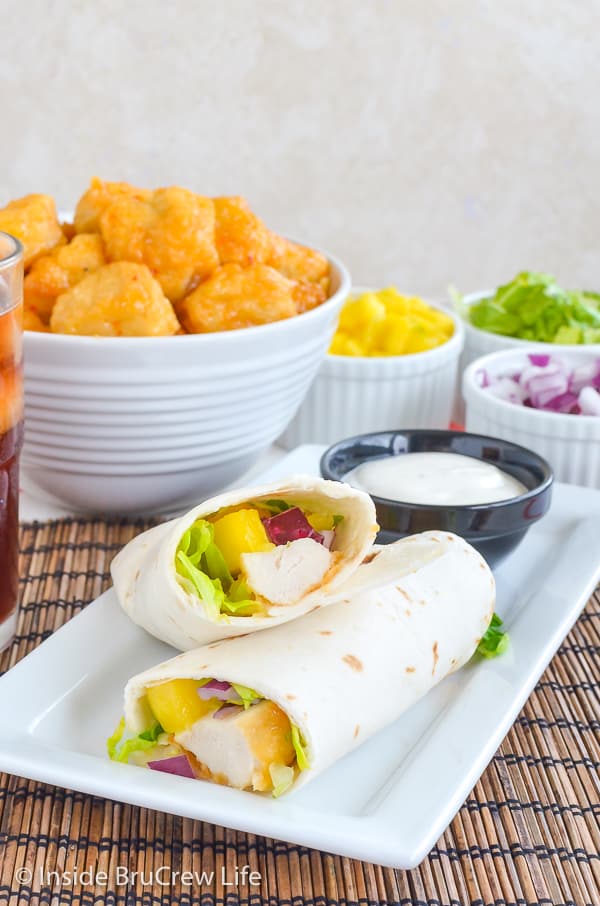 We have been trying to meal plan and prep ahead of time, so lunch and dinners are easy to put together on these busy days. These Buffalo Chicken Wraps and these Seven Layer Burritos are always a hit when we make them.
So, this week we decided to have another "build your own chicken wraps" for Sunday afternoon dinner.
As soon as we got home from church, we put the chicken in the oven and started chopping the toppings.
Pro Tip: Line your baking sheet with foil for easy clean up later. When I am busy, I don't want to spend time scrubbing baked on sauces.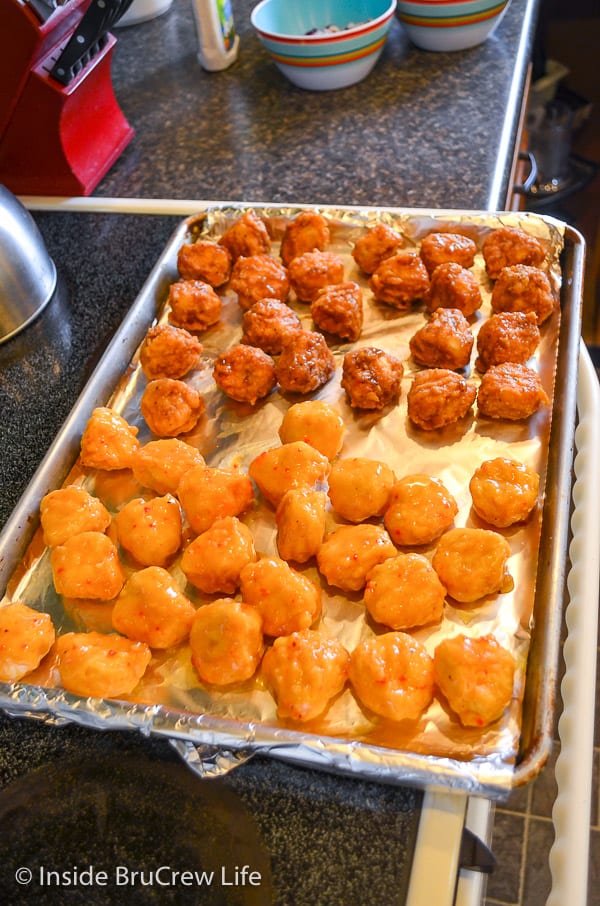 Our kids love being able to customize their chicken wraps because they are not fans of onions. I personally thought the onion and mangos were the perfect touch to the chicken bites.
This Pineapple Mango Salsa would also be amazing in these sweet and spicy chicken wraps.
How to make Easy Mango Chicken Wraps:
Line a pan with foil and place your frozen chicken on it. Bake as directed on the package. (full recipe at bottom of post)
Chop an onion, mango, and lettuce while the chicken is cooking and place them in small bowls.
Warm the tortillas right before serving dinner.
Let everyone fill their tortillas with chicken and whatever toppings they like.
Dip or drizzle with ranch dressing and enjoy.
Our daughter loves to dip everything in ranch dressing, so I had a small dipping bowl for her. The rest of us love a little heat in our food, so we used a spicy ranch dressing.
The combination of the sweet sauce on the chicken and the spicy dressing was so good.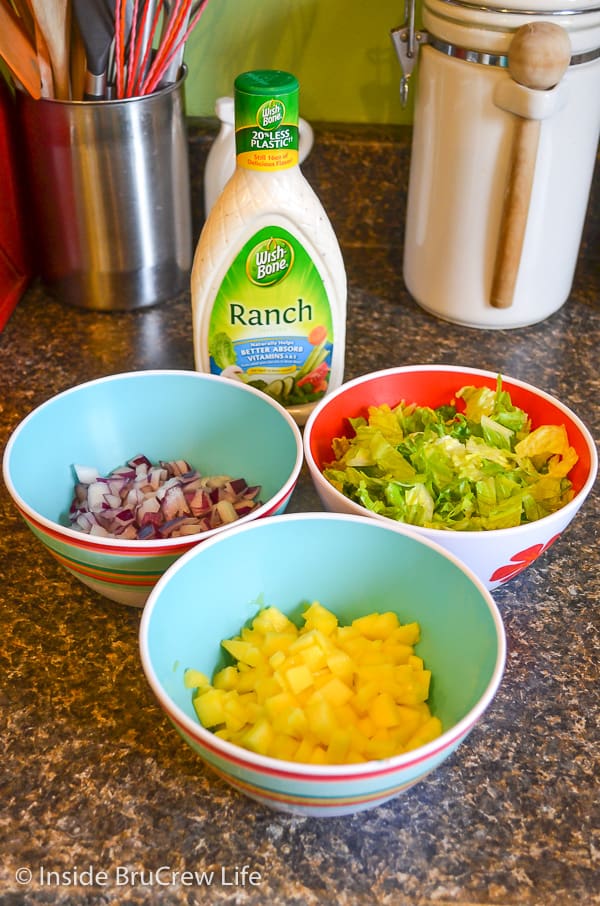 Other easy lunch recipes you may like: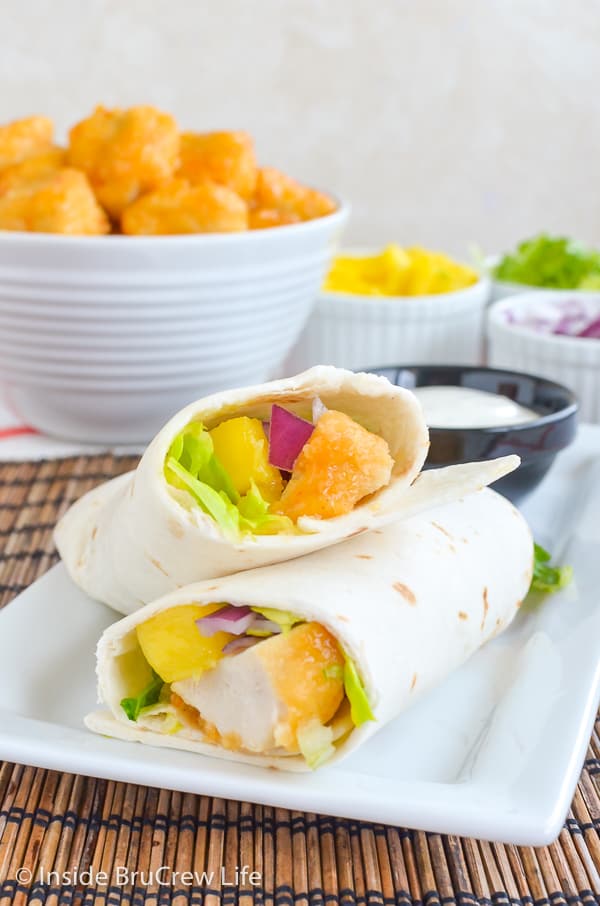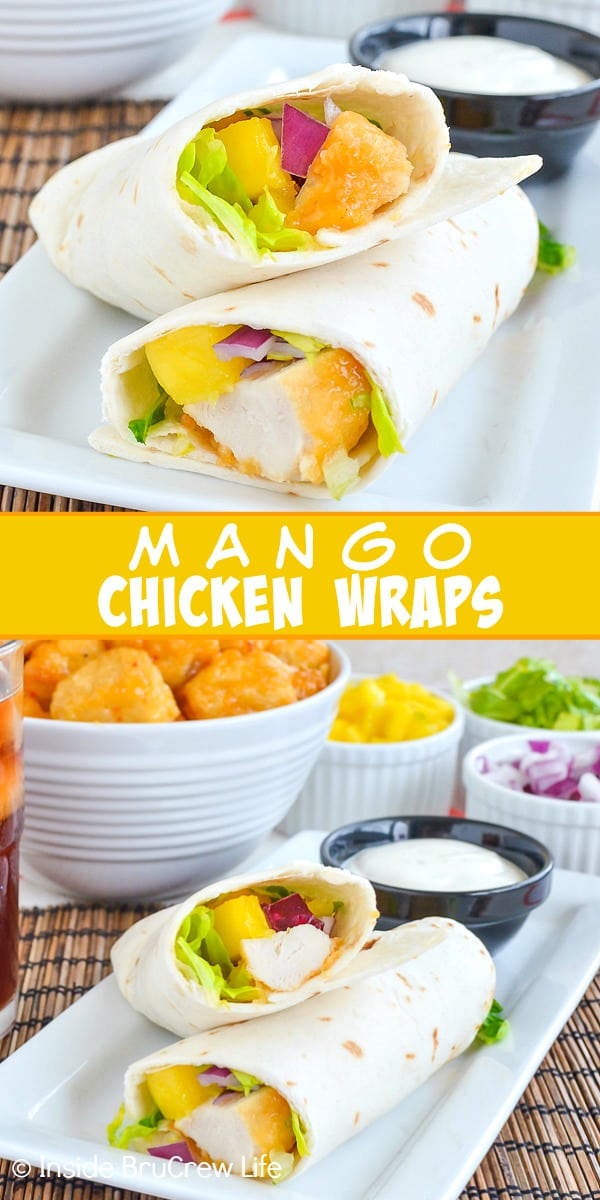 * The post for Easy Mango Chicken Wraps was first published April 16, 2013. The photos and post were updated June 17, 2020.